► Diageo (DEO) offered an improved near-term outlook, thanks to home consumption…
Last week, the global beverage giant issued a more upbeat business update ahead of its annual meeting.
I wrote about Diageo in the September 10 Empire Financial Daily – I think the stock is a long-term winner, despite having its steady growth interrupted by the COVID-19 pandemic. As I said at the time, the closure of bars and restaurants hit the Johnnie Walker maker particularly hard…
After consistently delivering its top-line target of 4% to 6% organic revenue growth in 2017, 2018, 2019, and the first half of its fiscal 2020 (which was the second half of calendar year 2019), Diageo saw organic growth plunge to negative 22% in the second half of fiscal year 2020.

On-premises sales represent between 20% and 50% of revenue for Diageo, depending on the country of operations. When up to half your business goes to zero in commercial channels, or even declines by a high double-digit amount, it's impossible to make up the sales in the retail channel that caters to drinking at home.
But based on last Monday's release, it appears things may be getting better in the spirits business faster than expected. Diageo began its 2021 fiscal year on July 1, and the new year is off to a better start than expected. As CEO Ivan Menezes explained…
We have made a good start to fiscal 21, with sequential improvement in our performance across all regions, driven by strong execution, robust demand in the off-trade channel and the gradual re-opening of the on-trade channel in most markets…

Our U.S. business is performing strongly and ahead of our expectations, reflecting resilient consumer demand and the spirits category continuing to gain share within the total beverage alcohol market. Increased retailer confidence is resulting in some re-stocking in the off-trade channel. The on-trade channel is now open in all states, with some capacity restrictions.
While Diageo is getting a bump from the re-opening of bars and restaurants, the strength of improvement in the "on-trade" bar and restaurant channel varies greatly by region.
For now, at-home consumption of alcohol bought at retailers – the "off-trade" channel – is carrying the day for Diageo, particularly in the U.S. We saw a similar channel shift with the growing retail demand for Beyond Meat's (BYND) plant-based meat products in the second quarter, when the loss of restaurant sales led to a big acceleration in purchases at grocery stores.
Whether it was Casamigos Tequila or a Beyond burger, people didn't skip the goodies they enjoy… they just enjoyed them in a different place this summer.
► All those people drinking at home probably aren't drinking well alcohol…
I suspect Diageo's commitment to premiumization is helping the company in the off-trade/liquor store channel.
You can make about 16 cocktails from a standard 750 ml bottle of spirits. Paying an extra $10 for a super-premium bottle of tequila or vodka only costs you around $0.60 extra per cocktail at home, where you may be drinking just one or two. You would have to consume five cocktails to spend even an extra $3 moving up from premium to super-premium when drinking at home, and $3 is a pittance compared to a restaurant or bar cocktail – which could cost $10, $15, or even $20 for just one.
With so many normal activities off the menu, people are looking to treat themselves where they can. And with the backyard resort season coming to an end, people need to find other ways to bring the "going out" experience home with them. As Menezes noted in the update…
As people are spending more time at home, they're much more interested in high-quality premium experiences [and] spirit brands are still a very affordable luxury.
The U.S. was a bright spot for the highly global Diageo not only because of an increase in drinking at home, but also because its U.S. business – the company's largest – was already weighted more to at-home consumption than its other geographies. Spirits have also been taking share from beer and wine in the U.S.
► Of course, the premiumization trend was well-entrenched before COVID-19…
And the pandemic didn't stop it, despite the financial pressures inflicted on many households. On Diageo's fourth-quarter conference call last August, Menezes explained…
In fact, if you look at U.S. industry data, the higher price points are the ones that are growing the fastest… The main source of our growth from spirits in the U.S. is still spirits growing faster than beer and wine. And younger Americans in the 21-plus are consuming much more spirits. And in the time of lockdown – where cocktails at home have only gone up. And so, I see the long-term trend here in terms of premium spirits brands continuing.
The move away from wine and beer – especially among younger people – and towards premium spirits drove Diageo's super-premium Don Julio and Casamigos tequilas up more than 50% in recent months.
Wall Street breathed a sigh of relief after learning that growth from July through December would be better than January through June. Investors sent DEO shares up more than 6%.
And yet, the stock is still down more than 16% this year. This reflects the challenges to the on-trade business, particularly in Europe. I still believe what I said last month – "Diageo's problems will end when the pandemic does." This is a consumer packaged goods ("CPG") stock that's also a recovery play – something rather unusual within the world of CPG, where stocks are usually more steady with earnings… even in times of turmoil.
► At the other end of the premiumization spectrum, during September, McDonald's (MCD) logged its best U.S. same-store sales growth in almost 10 years…
The burger chain has hip-hop star Travis Scott to thank, as his $6 meal featuring a Quarter Pounder with cheese, lettuce, and bacon, plus fries with BBQ sauce, and a Sprite, led to throngs of fans crowding stores to grab the meal, and sometimes steal the promotional posters, which have been cropping up on eBay (EBAY) at some pretty crazy prices…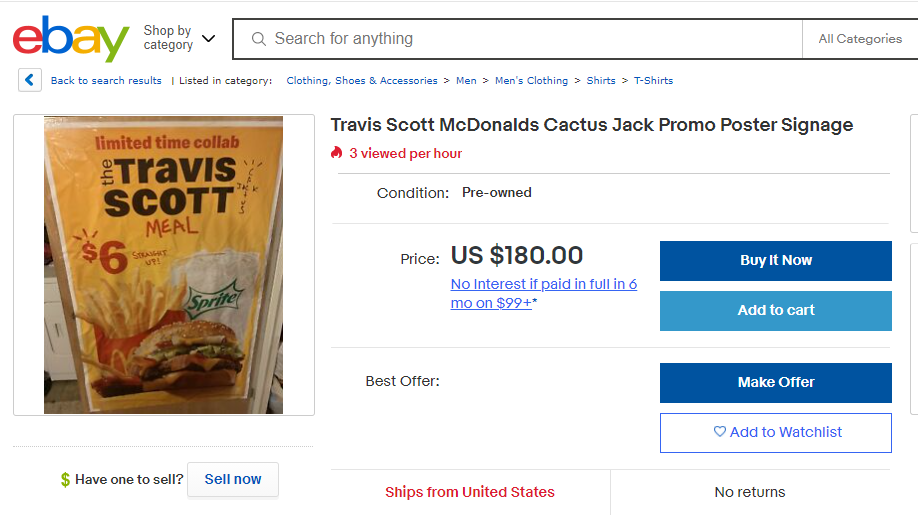 Source: eBay
While the collaboration with Scott ended this past Sunday and only lasted about a month, downloads of the McDonald's app increased 20% during the second half of September… making this a promo that could have some legs in its effort to boost sales.
Also contributing to the "low double digit" sales increases in September were the chain's emphasis on drive-thrus – which have been a hit during the pandemic – as well as the introduction of the well-received spicy McNuggets. This is the first flavoring to be added to the chicken bites since they were introduced nearly 40 years ago.
For the full third quarter, same-store sales in the U.S. grew a healthy 4.6% – a huge improvement from the second quarter, when comps were down 8.7% as dining room closures dragged on results.
On the other hand, business remained tougher overseas – which drove global comps down 2.2%.
Putting up such strong sales growth in the month is a true feat when you consider how much of a drag that work from home has been on the chain's breakfast business. While challenges remain – largely driven by work from home killing breakfast and lower drive-thru penetration in international markets, the unusual Scott collab shows commendable corporate willingness to shake it up in the interest of attracting younger, digitally savvy customers.
MCD shares are up about 22% since I first wrote about them at the beginning of July. That's around an 80% annualized return. While I think the shares could move higher with a recovery in the international business and are a solid hold for long-term investors, if you were lucky enough to buy them in July, I'd consider taking half off the table here.
► After all the burgers and booze, Americans probably need a workout…
Earlier this week, a U.K. study of physical activity during the pandemic found that most people have been less physically active since the pandemic began… although a small subset has markedly ramped up their activity. A good portion of the people who kicked their fitness routine into high gear over the past six months are over age 65, which was a surprise to researchers. As the New York Times speculated…
Older people probably had more free time for exercise than younger adults who are juggling childcare, work, and other responsibilities during the pandemic… They also might have developed greater concerns about their immune systems and general health, motivating them to get up and move.
The U.K. study measured activity using fitness trackers. In a much less scientific method, I asked readers to self-report whether they were exercising more or less since the pandemic hit.
I'm happy to report 70% of respondents are keeping up with their fitness… out of that number, 40% are exercising the same as before… and 30% have taken it up a notch.
► While Empire Financial Daily readers are mostly committed to their workouts, trepidation about the gym remains…
Only 27% of respondents are back at the gym, which is somewhat suppressed by the fact that gyms were still closed for 17% of respondents. A whopping 69% of respondents said however that the gym was a "No way!" for them.
With the gym off the table for many folks, about 50% of survey-takers have bought some fitness equipment since the pandemic began – although most of it has been smaller items such as free weights, yoga mats, or running shoes. Only 13% of respondents had bought a piece of expensive equipment… and 75% of those had bought a Peloton (PTON).
There were no takers for the Echelon or SoulCycle indoor bikes. Peloton may see some growing competition from SoulCycle, however, as that bike – previously only available in a few select markets – became nationally available this past Wednesday. The studio-based company is desperate to make a transition into the virtual market and also introduced expanded financing programs for its $2,500 bike.
The Variis app – which, like the Peloton app, features yoga, strength training, stretch, and other classes in addition to cycling – also became available to the general public this week after previously only being offered to owners of the SoulCycle bike and Equinox gym members.
Even with a strong offering on the app – and the famously strong roster of SoulCycle teachers – Equinox/Variis/SoulCycle has to do a lot of chasing after Peloton. I've been bullish on PTON shares, and they've defied even my most optimistic expectations. As you can see, the stock has been on a tear this year…
I think it's still early days for at-home exercise and home exercise equipment. Only one-third of survey respondents had tried a virtual workout. Of those that had, 30% had used Peloton, 20% met with a trainer or took a remote class with their gym, and half did something that was free.
Overall, we're likely still in the early days for virtual fitness. Most people I know who are doing it thought they would hate it, but are actually growing to love it.
► In today's mailbag, reactions to my colleague Enrique Abeyta's guest essays on special purpose acquisition companies ('SPACs') this week, which I will defer to him to answer…
If you missed Enrique's SPAC Investment Summit last night breaking down the massive investment opportunities in the sector and introducing his new Empire SPAC Investor newsletter, you can still catch a replay.
But don't delay… it will only be available for a limited time. Watch it here.
Have you been making more cocktails at home? Did you try spicy McNuggets? And if you tuned in for the SPAC Investment Summit last night, what did you think? Let me know by sending an e-mail to [email protected].
► "Hello this question is for Enrique and his SPAC team. First of all, thanks for making it easy to understand a whole new language of SPAC's. your presentations over the past week have been amazing. my question is regarding warrants when purchasing SPAC's. I just [purchased] all 3 SPAC recommendations. How do I know if I have any warrants for the 3 SPAC recs and if I do, what are the warrants exactly as far as the option to purchase additional stock at a set price. thanks again and keep up the great work." – Aram P.
Enrique comment: Good question, Aram. In our first issue – out last night after market close – two of our recommendations come with the choice to buy the stock, the warrants, or the units (which come with warrants). For now, we're just recommending buying the stocks.
► "I live in the UK and sometimes having difficulties in buying overseas shares. They have to settle in the CREST system. I use a mainstream provider called Hargreaves Lansdown. In the SPAC recommendations I cannot buy [one of your recommendations]." – Tim C.
Enrique comment: Tim, I had to redact and condense your question a bit out of fairness to other subscribers. I'd recommend giving your broker a call. SPACs are no different than stocks, but if you have trouble buying U.S.-listed stocks, you might run into some trouble with the recommendations in Empire SPAC Investor. Your broker should be able to help you out.
► "Thank you for the SPAC Summit. I was wondering how I will be finding out how and where to invest in the SPACs which Enrique is recommending? Will that information be forthcoming in the SPAC Deal Room? Again, thank you for the SPAC Summit." – Michael C.
Enrique comment: Thanks for tuning in last night, Michael! The monthly issue is where you can find our recommendations and analysis. The Deal Room is just an added bonus for subscribers, and I look forward to adding additional videos in the coming weeks and months.
► "Last night, I subscribed to Enrique's SPAC Investor. I'm ready to buy his recommendations but I'm wondering if there are any thoughts on holding these assets in a 401k or IRA account [versus] a taxable account?" – Rich M.
Enrique comment: We're planning to hold these positions for the long term, so you shouldn't run into any issues buying these SPACs in your 401(k) or IRA. But you may want to talk to your accountant just in case. With any luck, these stocks will go up a lot, making sensible tax management even more effective.
Regards,
Berna Barshay
October 9, 2020