► Beyond Meat (BYND) continues its push into grocery retail…
When I last checked in on Beyond Meat in the September 4 Empire Financial Daily, I discussed how the company had grown its wholesale business with food retailers 195% in the second quarter. In the wake of many restaurants closing, Beyond successfully pivoted its distribution away from the commercial foodservice channel and toward retail consumers.
The company scored a major victory in its efforts to grow its retail distribution on September 29, when it announced that retail giant Walmart (WMT) was tripling the number of stores carrying Beyond burgers, increasing availability from 800 to 2,400 stores.
In addition to expanding the number of stores where consumers can find the flagship Beyond Burger, Walmart recently added the company's frozen breakfast sausage patties to freezer aisles. This is good news for consumers like me who have enjoyed the patties in breakfast sandwiches at Dunkin Brands (DNKN) and Starbucks (SBUX) but haven't been able to enjoy them at home yet.
Investors applauded the news and sent BYND shares up nearly 10% on the day of the announcement. Shares are up another 10% since then…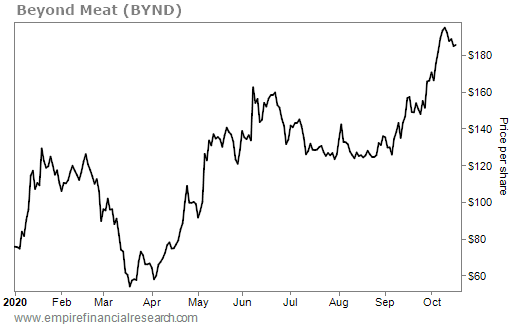 Walmart is the largest retailer of food in the U.S., so the move to deepen the partnership with Beyond could bring significant revenue as well as add profits to Beyond's bottom line.
Just as important, the expansion indicates that Beyond products are doing well in the Walmart stores where they were already offered. As America's largest retailer, Walmart focuses on products with broad, mainstream appeal… so the retailer's move to put Beyond's plant-based burgers in more stores is an important vote of confidence in Beyond's wide appeal beyond just committed vegans.
As I wrote in my initial July recommendation of BYND shares, this is not a cheap stock. But I believe we are in the early innings for plant-based meat, and the massive growth ahead for this corner of the food industry and the large addressable market will allow BYND shares to grow into their current valuation (and then some).
BYND shares are up 40% since my late July recommendation.

Pandemic-driven shortages – or the fear of them – continue to trigger an about-face on one of the biggest trends in modern business 'best practices'…
Starting in the 1980s, an entire cottage industry in lean manufacturing consultants and supply chain experts popped up. Initially, American companies were emulating the just-in-time manufacturing techniques that propelled Japanese automakers to drive costs – and prices – down, causing American cars to take a big hit in terms of relative competitiveness in the global market.
Over time, as stock buybacks came into vogue – and shareholders clamored for more of them, especially from low growth, mature companies, both consumer packaged goods companies and retailers began a seemingly endless quest to wrest ever more cash out of working capital. Each dollar that could be pulled from inventory was a dollar that could be used to repurchase stock, lower the share count, and juice earnings per share ("EPS") growth to a level that well outpaced revenue growth.
Companies that used to run with months of inventory had whittled that amount down to weeks. The result was that when everyone went to stock their pantries and cleaning cabinets at the same time, they were greeted with empty store shelves. As I discussed in the August 24 Empire Financial Daily, five months into the COVID-19 pandemic, manufacturers and retailers were still struggling to catch up to demand.
In a late September article, the Wall Street Journal confirms that the pandemic has caused retailers to temporarily abandon their cherished lean inventory practices, at least when it comes to food, beverages, cleaning products, key holiday items, and other in-demand goods. The Journal explained…
Supermarkets are stockpiling groceries and storing them early to prepare for the fall and winter months, when some health experts warn the country could see another widespread outbreak of virus cases and new restrictions. Food companies are accelerating production of their most popular items, and leaders across the industry are saying they won't be caught unprepared in the face of another pandemic surge.
It's a tremendous strategic reversal of what was the most unifying of corporate practices across the retail sector – relentlessly tight inventory management.

This appears to be the right strategy, however, as the supply chain doesn't have a lot of slack in it…
General Mills (GIS) told the Journal that it still "hasn't caught up with demand for Progresso soup, Betty Crocker cake mixes and Pillsbury refrigerated dough." In an effort to build manufacturing capacity and inventory reserves, the food giant announced in late September that it had added 30 new external manufacturing partners, which would increase its outsourced manufacturing capacity by 25%.
Outsourcing production comes however with a cost, as General Mills CEO Jeff Harmening explained on the call…
While this comes at a higher cost than our internal capacity, we still like the profitability of these sales, even if they are at a low percentage margin. 
General Mills is not alone in its struggle to catch up to demand. Campbell Soup (CPB) told the Journal that it is only halfway recovered to typical inventory levels. Hormel Foods (HRL) CFO Jim Sheehan told a similar story during the company's third-quarter conference call in August…
Due to the significant demand for our products in the third quarter and limiting factors on production of key brands, inventory levels were unseasonably low as we began the fourth quarter. To provide context, the current finished good inventory level is 24% lower than last year. The segments most impacted by lower levels of inventory are Grocery Products and Refrigerated Foods.
In addition to the processed meat and cold cuts that it is best known for, Hormel also makes Skippy peanut butter and SPAM.
In an effort to catch up to demand, food manufacturers are committing more of their precious manufacturing capacity to their greatest hits, and eliminating small niche varieties or limited time offerings, a phenomenon I discussed in conjunction with Mondelez (MDLZ) and Oreos.
We learned this morning that the pandemic will claim one cult favorite among its casualties. Sadly, for its diehard fans and general 1970s aficionados, the Journal reported this morning that Coca-Cola (KO) is pulling the plug on the iconic diet soda, Tab…
The soda giant's first diet cola was a pop-culture icon in the 1970s and early '80s, then faded after the launch of Diet Coke. Even after Tab's market share dwindled to almost nothing, the beverage company kept the brand going for decades to appease a fiercely devoted base known as Tabaholics.

But sentimental value doesn't go as far in 2020.
Tab joins Odwalla juices and smoothies and Zico coconut water in Coke's 2020 wastebin.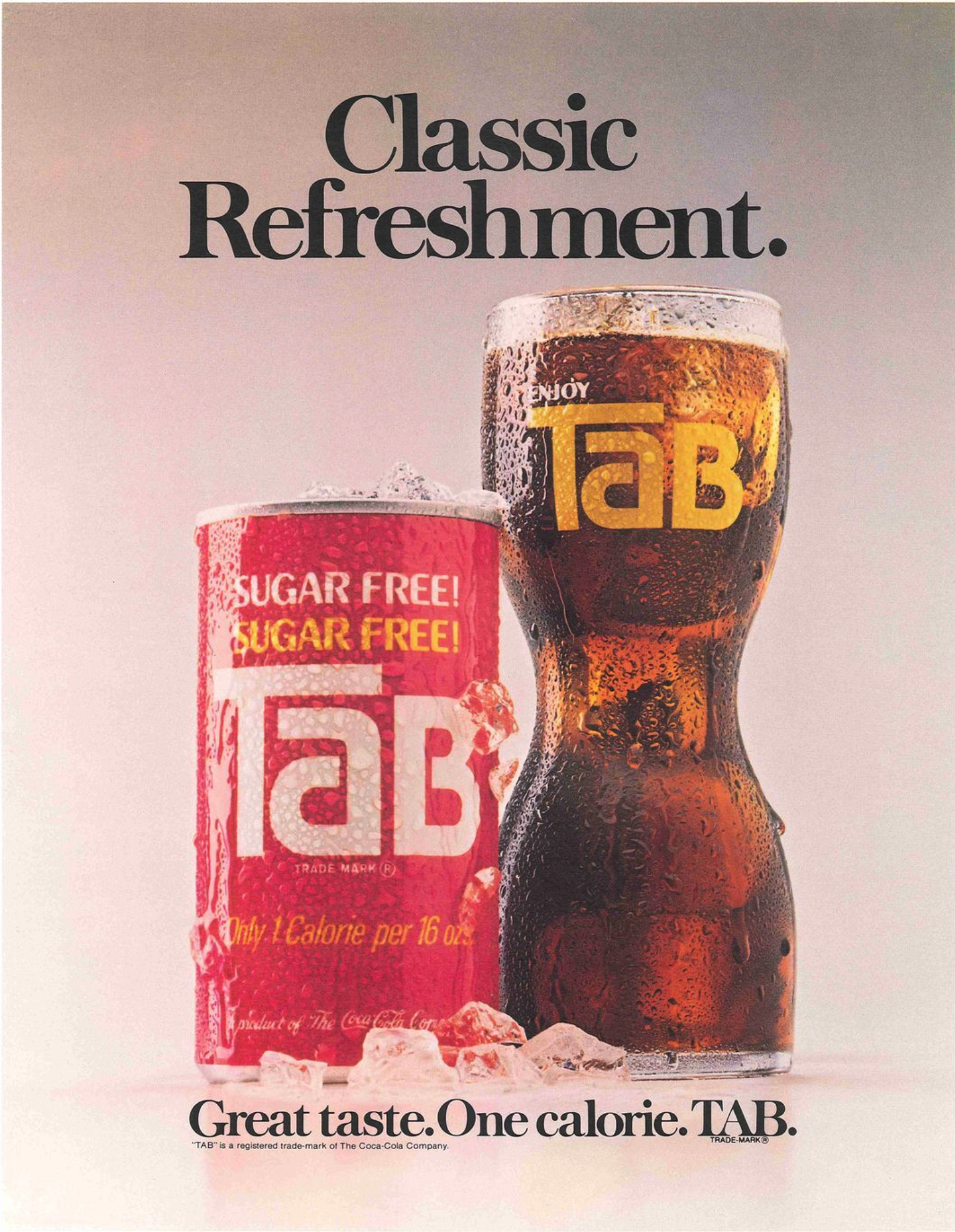 RIP Tab, 1963-2020

With manufacturers struggling to keep up, retailers are preparing for another potential demand shock…
Grocer Associated Food Stores told the Journal it's building "pandemic pallets" of products in warehouses. Darin Peirce, Associated's vice president for retail operations, said, "We will never again operate our business as unprepared for something like this."
Ahold Delhaize (ADRNY), the Dutch grocery giant that owns Stop & Shop and Food Lion in the U.S., told the Journal it's holding 10%-15% more inventory than it did before the pandemic.
Even Walmart is doing its share of hoarding. Given its considerable size, no other retailer has more pull on suppliers… But even with that heft, the Journal reports, "Chief Financial Officer Brett Biggs said the company is overriding its grocery-ordering algorithms in many stores to build up extra inventory now."
This abandonment of lean inventory practices – both upstream at manufacturers and downstream at retailers – may prove temporary and disappear when the pandemic does. But in the interim, the inventory hoarding will prove a weight on working capital requirements, and in turn, the conversion of earnings into free cash flow available for buybacks, dividends, and capital expenditures.

Speaking of shortages…
In the August 17 Empire Financial Daily, I wrote about developing coin shortages. Well, things are getting real… In the last few weeks, I've noticed several signs like these, which I spotted at Chase Bank (JPM) and Starbucks…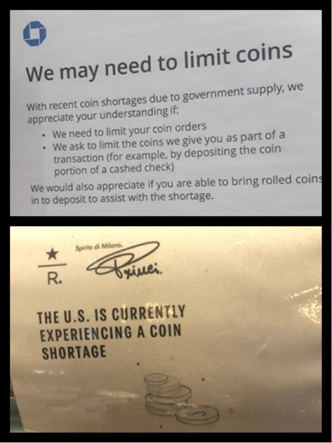 Finally, one special purpose acquisition company ('SPAC') deal has caught my eye…
It's about my heart, not my head… But even if the investment doesn't prove attractive, I will still probably buy a few shares in RedBall Acquisition (RBAC). The SPAC is rumored to be buying up to a 25% stake in Fenway Sports, which also owns the Liverpool Football Club. Such a minority stake would leave Henry firmly in control of the teams.
RedBall is co-chaired by a former Goldman Sachs (GS) banker and former Oakland A's General Manager Billy Beane, of Moneyball fame. The SPAC is rumored to be buying a stake in Fenway Sports, which also owns the Liverpool Football Club, which won't exceed 25% of the entity (leaving Henry firmly in control).
I have no idea if this will be a good investment or not – so take this recommendation with a grain of salt! But as a longtime member of Red Sox Nation, this one just might need a small place in my portfolio… because it wasn't easy growing up as a Sox fan in the New York City area.
One of my earliest memories is sitting up in the nosebleed seats in the old Yankee Stadium with my father, and when I cheered for the Red Sox scoring, the man sitting behind me poured his beer right onto my pig-tailed head. I think I was seven!
I have dabbled in SPAC investing before, but my colleague Enrique Abeyta is a true expert in it. There is a SPAC renaissance right now, with tons of new names coming to the market, some of which will be home runs, and others not so much.
Until Monday at midnight, you can learn how to get six free months of Enrique's brand-new Empire SPAC Investor newsletter. This corner of the market has had a historic year and has the potential to be very lucrative, so I encourage you to watch Enrique's presentation before it goes offline for good. Click here for the details.

In today's mailbag, a reader reaction to last week's SPAC Investor Summit and my colleague Enrique's guest Empire Financial Daily series on SPACs …
Will you miss Tab… or are there any other discontinued products you still pine for? Any other Red Sox fans out there eyeing RedBall Acquisition? What private companies are you a big fan of that you wish you could buy a little piece of? Share your thoughts in an e-mail to [email protected].

"Hi Berna, My third time to write… let's see if we can make it 3/3 on getting onto the readers' mailbag 🙂 I have been busy trading heavily (as Enrique espoused, if you are going to trade, then trade!) and doing well using Enrique's recommended trade list on Empire Elite Trader.
"I have been investing in SPACs for a while and it has been both rewarding (in terms of returns) and challenging (avoiding landmines). My comments on Enrique's presentations:
"a) While SPACs offer upside on a pre-IPO basis to investors, I think the use of charts showing investment growth of thousands of percent from seed/series A to post-IPO is misleading as SPACs usually come in on Round D+, when a bit of the appreciation from seed has already been realized. It would be a fair disclosure to say, on average, what pre-IPO round (in the traditional private equity or VC sense) a SPAC usually comes into a deal, and then look at historical returns from that stage onwards to post-IPO. The returns to SPAC investors will still look better than the returns buying the first day post-IPO, but this gives a more balanced view of what the historical pop for SPAC investments are.
"b) SPAC deal makers are of course 'democratizing' entry into the clubby private equity deals. It would also be fair to illustrate what is in it for the SPAC leads, whether it is through upside from the 'promote', or the fees, if any, earned. An important non-financial attribute is the reputation of the dealmaker involved in the SPAC, and that is not trivial. However, transparency in the financial incentives deserves mention as it emphasizes alignment and motivation.
"c) Nikola (NKLA) was shown as an example of how a SPAC was good for the issuer going to market. But this also highlights that even with strong due diligence by the promoter and SPAC lead, there may be cracks that lead to questions about the quality of the company listed. In the presentation, this was glossed over. However, in articles written by Whitney and Enrique, it seems that there were 'yellow flags' highlighted on Nikola along the way. It is fair to emphasize that the SPAC due diligence process, like a full IPO due diligence exercise, also has some potential vulnerabilities and blind spots.
"As always, I enjoy reading your writing and insights." – Renato L.
Berna comment: These are all fair and insightful points, Renato. SPAC sponsors are for sure in it to make money for themselves… They aren't charities!
But generally, they will only make good money if they choose a successful deal and the post-deal equity performs. The nuances of financial sponsor arrangements are something that Enrique keeps a close eye on in his Empire SPAC Investor newsletter.
With so many SPACs on the market now, the reputation, talent, and integrity of the SPAC sponsors are incredibly important to take into consideration. This is something that Enrique and his team are uniquely qualified to sift through and evaluate. They're on the hunt for SPACs with the most promising sponsors.
As you point out, any announced SPAC deal requires due diligence, just like any traditional initial public offering ("IPO"). This type of expert due diligence is a big part of the value Enrique's product will provide. The good news with SPACs is that if you don't like the deal, you can get your money back, and the downside is limited prior to deal completion.
Thanks for writing in. If anyone else out there is on the fence, I'd encourage you to watch Enrique's presentation, where he offers a detailed explanation regarding the current opportunity in SPACs. Again, you can watch it here before we take it offline for good.
Regards,
Berna Barshay
October 16, 2020