► It's the time of year when I feel like I'm drinking from a fire hose…
Earnings season is upon us.
With it comes a plethora of new information about how companies are performing… and often more important, how they see the future shaping up. It's a good time to go back and see what's changed since I last wrote about some companies.
► When I discussed auto dealer AutoNation (AN) back in July, I thought management sounded remarkably bullish despite a super rough second quarter…
Despite lockdowns pushing sales down 15% in the second quarter, CEO Mike Jackson sounded bullish as can be back in July. Avoidance of public transportation and a desire for personal safety was driving consumers to look for cars. The building strength in the auto market showed up first with used cars, and it seemed new cars couldn't be far behind.
When AutoNation reported third-quarter results on Wednesday, it was clear the earlier bullishness was well-founded. The company beat sales expectations by $200 million and blew away earnings per share ("EPS") estimates, reporting $2.38 for the quarter versus expectations of $1.65.
Jackson couldn't be more enthusiastic when he spoke to CNBC about the current conditions in the company's markets…
It's our absolute best quarter ever. The demand for individual mobility has gone through the roof, and I think this pandemic/shelter in place has shifted the American psyche in a long-term way, and it's hard to predict past five years, but for the next three to five years, there's been a shift in demand.
AutoNation cited strong demand at all price points for both new and used cars.
Low interest rates help with car affordability… and with rates expected to stay low for a long time, conditions are ripe for auto sales to continue to strengthen. In fact, the biggest constraint to growth may be the pervasive inventory shortages that resulted from spring shutdowns at auto plants around the world.
On the earnings call, AutoNation noted that inventories are still 25% to 30% lower than it would like. The flip side is that tight inventory should be supportive of strong pricing… which not only bolsters revenue growth, but also increases the profitability of each car sold.
Back when I first discussed AutoNation, I noted that the company had a strong history of both tight cost control and shareholder-friendly buybacks. With the operating environment having improved so dramatically, I wasn't surprised to see the company increase its buyback authorization by $500 million this week. With a market cap of around $5.5 billion, that bump to the buyback represents about 9% of its capitalization.
AN shares are up about 14% since I first wrote about the company back in July, and I still like them here.
► Sometimes when a company tells you not to be so bullish, you have to believe it…
Netflix (NFLX) told investors on both its first- and second-quarter calls that subscriber growth would slow down in the second half of the year, as lockdowns ended and the reopening of sports leagues, restaurants, and other venues would lead to increased competition for leisure time.
The COVID-19 pandemic had created a customer recruitment environment that I called "as good as it gets," and I told readers that they shouldn't chase the stock since the company was headed for more difficult comparisons. I added that "Netflix ranks dead last in terms of my personal rank of the FAANG stocks for new investment allocations."
Wall Street analysts believed the company was "sandbagging" its guidance, which led NFLX shares to rally about 13% in the three months from my mid-July write-up to mid-October.
But when Netflix reported earnings on Tuesday night, subscriber growth disappointed. The company added 2.2 million new subscribers in the third quarter, well short of the 3.3 million that analysts were looking for. Netflix even missed the 2.5 million net new subscribers that it had estimated when reporting second-quarter results… It turns out that the company wasn't sandbagging after all.
Netflix offers a great service at a very attractive price… But the business is maturing, and the company pulled forward a lot of second half growth into the first half of the year. I'm also worried about how first- and second-quarter growth will look in 2021, with the pandemic creating such tough comparisons. I'm still staying on the sidelines here.
NFLX shares sold off in the wake of the subscriber addition miss. After initially running up in the face of my skepticism, NFLX shares are now down 2% since my mid-July essay.
► Jeffrey Katzenberg and Meg Whitman are calling it 'Quitbi'…
Back in July, I first wrote about struggling short-form streaming video startup Quibi, which raised an astounding $1.8 billion prior to its launch. I said it could be the "Webvan of Streaming Video"… and it turns out I was right. Like that poster child for late 1990s venture capital excess, Quibi will be shutting down not that long after launching, and after burning through tons of cash.
Quibi launched on April 6 this year, so the service was barely six months old when it announced on Wednesday that it was shutting down. While founder and Hollywood hitmaker Katzenberg had been publicly blaming the streamer's weak start on launching during the pandemic, in an open letter to employees, investors, and partners, Katzenberg and CEO Whitman finally acknowledged that it wasn't all in the timing, and that the service just wasn't strong enough to make it.
There's no doubt there is demand for short-form video, just not Quibi's library of it. As I explained in the original piece…
While Quibi was fighting for eyeballs, another company with a similar mission filled that niche…

I'm talking about user-generated short video app TikTok. While TikTok wasn't new during the lockdown, it became its breakout star… and without paying $100,000 per hour for content, either.
In its post-mortem yesterday, tech site Protocol seemed to agree with me…
The thing about Jeffrey Katzenberg's crazy Quibi vision, which came to an abrupt end yesterday? He was kind of right.

The future is short-form, mobile video, some of it incredibly expensive and of high quality, in an app with a dumb name. Problem is, that name is probably TikTok or Snapchat, or maybe YouTube or Reels. It's definitely not Quibi.
But perhaps Quibi's biggest sin was how it locked down its content and made it difficult to share on social media. As I said back in July…
Quibi designed its service so that there was no way to take a screenshot or forward a clip of content to a user in a way where the recipient could view it without downloading the app. Without screenshots, nobody could create memes or GIFs. Without off-app clips, there could be no hassle-free sharing and viewing on Facebook or Twitter.

Locking down its content this way proved a cardinal sin. It's nearly impossible to create a buzzworthy show without social media, and producing these types of shows is how other streaming players have driven users to their platforms.

Netflix is a master of the meme-worthy campaign. Its original film Birdbox became a hit in large part because of memes related to the film. Even people with no interest in actually seeing the movie were bombarded by memes to the point where many relented and watched the film.
Quibi missed the fact we live in a world of "pics or it didn't happen." Protocol nailed it here…
But the biggest mistake Katzenberg and Whitman made was assuming that the future of entertainment was just about watching stuff. And it's not. It's about screenshots and memes; remixes and duets; deepfaking yourself into your favorite scenes; watching stuff with your friends; getting to know your favorite creators. Quibi was old-world TV dressed up like the future, while the actual future was happening elsewhere. It never had a chance.
While Quibi's initial $1 billion raise was led by a venture-capital firm, the other investors were mostly corporations… and old media ones at that, like Disney (DIS), Comcast's (CMCSA) NBCUniversal, and AT&T's (T) WarnerMedia. Looking at the Quibi cap table – full of media companies and investment banks – prompted a snarky response from a Silicon Valley venture capitalist…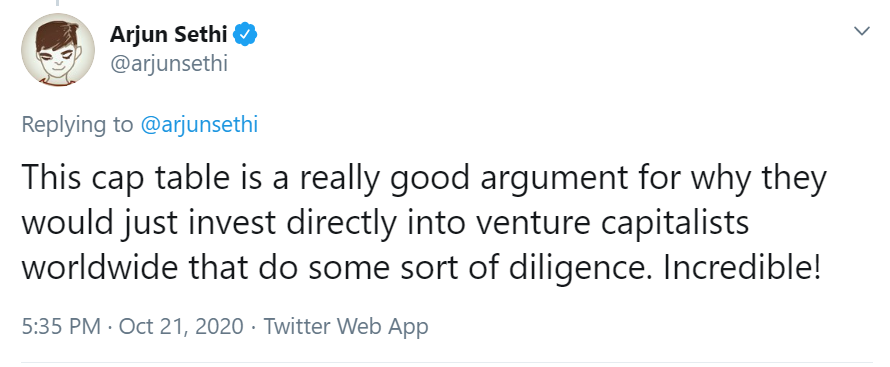 Source: Twitter.com/arjunsethi
So long to Quibi, although I suspect that, like Webvan, it will live on forever in the minds of those of us with long memories for high-profile disasters.
► There will be no 'Miracle on 34th Street' for Macy's (M) this year…
I've written a few times about how tough things are for department stores… and in yet another blow, Macy's announced yesterday that Santa Claus won't be greeting kids at its flagship New York store this year. The tradition of meeting Santa at Macy's dates back to the 1860s, but visiting Santa in a cramped and old department store poses obvious safety risks during the pandemic. As ABC News explained…
Before taking a picture with the jolly old man, crowds walk in tight quarters through a maze-like Santaland that's filled with Christmas trees, running toy trains and elves in green costumes.
This is a blow to Macy's, as Santa usually pulls in a quarter of a million visitors to the Herald Square store during the holiday season.
Before anyone gets upset about Christmas being canceled, rest assured that many malls are going forward with their planned in-person Santa visits. But this year will look a little different – no sitting on Santa's lap, and a six-foot distance will need to be maintained.
Despite growing up in the New York area, I never made it to Santaland at Macy's until just last year. I can attest it was indeed magical… but also like being in a sardine can. I feel lucky I didn't put it off another year…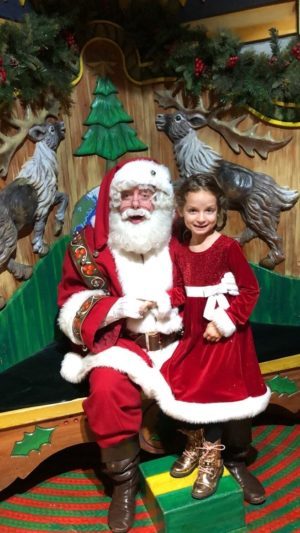 ► In today's mailbag, a reader asks why editors and analysts at Empire Financial Research don't own the stocks we recommend…
If you've been shopping for a new or used car, were you able to find what you wanted? Will you miss Quibi? Would you take your kids or grandkids to visit Santa at the mall with the social distancing protocols? Let me know by sending an e-mail to [email protected].
► "Hi There, my name is Christine, and I am a subscriber to three of your products –Empire Stock Investor, Empire Elite Growth, and Empire Elite Trader. I am currently considering your new Empire SPAC Investor service as well.
"I am confused about your internal policies. In your newsletter, you wrote: 'to prevent conflicts of interest, I can't own anything we recommend to our subscribers.'
"This seems strange to me. Obviously, you and 'Empire Financial Corporation' have your own capital to invest. If you can't invest in the recommendations made in your newsletters, then there appears to be an incentive to NOT recommend the best ideas and save those for your own investing capital. Doesn't this create a problem?
"In all of the research services that I participate in, there is a 'model portfolio' and the analysts themselves have 'skin in the game' by investing the company's capital into the model portfolio. This model portfolio is then tracked weekly and/or monthly for all to see. Some of the services actually have accounting firms verify the entry and exit dates of the stock purchases and provide this as a measure of performance to current or would-be subscribers.
"By having the analyst or research firm invest their own money into the stock recommendations, this creates an alignment of incentives to truly recommend what they believe are the best opportunities. Your policies, however, disincentivize this alignment. If Enrique Abeyta *really* thought SPACs provided a tremendous profit-making opportunity, why would he then want to create a subscription service and disallow himself from investing his own personal capital into such an extraordinary financial opportunity? With these policies that you have put in place, it seems to me, that Enrique is incentivized to evaluate all the SPAC opportunities, invest his personal money in the very best ones, and they recommend the rest to the service to pick up subscription income. Can you please explain??" – Christine I.
Berna comment: This is a great question, Christine… and I can see why you would ask it. The bottom line is that Empire Financial Research isn't a money-management firm, asset manager, or securities broker. Our business model is based on subscriptions. We sell subscriptions to our investment advice, and that's how we make our money… not through investing other people's money or making trading commissions from brokering securities.
If we were allowed to trade the stocks we write about, it would create conflicts of interest… As an example, if we knew we were going to recommend a smaller-cap stock, the temptation might be there to buy it ourselves ahead of releasing our recommendation. With a small enough stock that doesn't trade that much, we might be able to get a better price by buying it first. But that wouldn't be the best thing for our clients – to drive the price up potentially, before they get the chance to buy. Not owning the stocks in our paid subscription services ensures that we're never weighing our own interests versus those of our customers.
For what it's worth, at the past several hedge funds I worked at, I also wasn't allowed to buy any securities personally that I bought for the fund. In fact, at my most recent hedge fund, I wasn't allowed to own any individual securities at all. Sometimes that was frustrating when I found a stock that I was super excited about… but the idea was that I would make more if the fund did well overall than I would by buying one great stock. It's the same idea here… If we put our customers first and do well for them, we'll be well-compensated by a growing subscription base. Producing a winning track record for our clients is our skin in the game.
One more thing… there's a good legal reason for keeping our writers out of the stocks they write about. The U.S. Securities and Exchange Commission ("SEC") claims complete jurisdiction over anything that's written about securities in connection with their purchase or sale. But if we aren't buying the securities we write about, we have wide protection by the First Amendment to say everything we truly believe, because our speech isn't connected with the purchase or sale of any security. Because we don't trade, you're getting our most candid and uncensored views. We'll always tell it like we see it!
Regards,
Berna Barshay
October 23, 2020