► Tech giant Apple (AAPL) has been fighting fires when it comes to its fast-growing App Store...
The high fees charged by the App Store have drawn ire from app developers and attention from politicians and regulators.
Back in November, Apple tried to deflect criticism by offering small developers with less than $1 million in annual revenues a commission cut from 30% to 15%.
Following up on that concession, last Thursday, Apple announced a rule change that would give these smaller app developers flexibility to go around Apple for payment and avoid the 15% commission altogether. In the past, attempting to disintermediate the App Store from the payment process could have gotten developers kicked off the App Store (and famously did get Fortnite-maker Epic Games kicked off the App Store).
The rule change is part of a proposed settlement to a class action suit filed by app makers accusing Apple of breaching antitrust laws. It's also clearly a response to the heightened scrutiny in the media and halls of government over the incredible amount of power wielded by Big Tech.
As the biggest of Big Tech, with a roughly $2.5 trillion market cap, Apple doesn't make a particularly sympathetic character in the David-versus-Goliath story of small developers pushing back. So this concession probably wasn't just a legal strategy for settling the suit... It was also a deliberate act of public relations ("PR") – and possibly government relations – as well.
In addition to changing the rules so that app developers can reach out directly to users regarding payment alternatives, the proposed settlement also includes the funding of a $100 million payout fund for app developers and a commitment not to raise the commission rate in the App Store for at least three years.

While the move may seem generous on the surface, Apple may again be giving up less than it seems...
Back when Apple cut commissions in half for small developers, I explained that the tech giant may really have been giving up a lot less than it seemed...
CNBC estimated that App Store revenue totaled around $50 billion in 2019, which if accurate, would be nearly 20% of annual revenues. Analytics company Sensor Tower estimates that perhaps as many as 98% of developers would be eligible for the price cut.

That sounds like it could create a huge revenue headwind for Apple in 2021, but Sensor Tower also estimates that these small developers only account for 5% of App Store revenue... which equates to only about 1% of overall Apple revenue.

Putting that all together, the headwind from the fee cut to Apple's topline growth in 2021 will probably only be about half of a percentage point.
As Bloomberg tech columnist Tae Kim points out, we probably have yet another example of Apple creating a headline that serves to deflect criticism, while not really giving up very much...
Make no mistake, Apple isn't giving up much in this deal. For a company that earned roughly $22 billion in profit in its latest quarter, $100 million is nothing. And in this world of greater antitrust scrutiny, it is doubtful the company would be able to raise fees or change how its App Store search works even if it wanted to.
As for the rule change allowing apps to contact customers about payment alternatives, Kim writes that it might not be as big a concession as people think...
The company says it is clarifying its guidelines. But it's not clear the rules against this type of e-mail marketing were strictly enforced in the past. Spotify (SPOT) and Netflix (NFLX) have for years pushed their customers via e-mail to purchase services on their websites as a way of circumventing Apple's fees.

The agreement also does nothing to lift Apple's far more restrictive practice of forbidding links and descriptions to external, potentially cheaper, purchasing methods from within apps. That would have been a big deal, with significant implications for developers' bottom lines. But it didn't happen.
So basically app developers can offer users an alternative to paying through the Apple store... but they can't do that from inside the app. They can only do it by sending an e-mail or text, using information shared by Apple, with customer consent.
And these changes only apply to small app developers... but it's the large apps like music service Spotify and Match's (MTCH) dating site Tinder that make up most of the revenue that Apple generates on the App Store. As few as 2% of apps account for as much as 95% of the revenue, and these killer apps will not be getting any price breaks or rule changes.

Digging a little deeper proves that Apple isn't giving much up at all financially here, but there's one other thing that could theoretically derail revenue at the App Store...
The small developers' class action lawsuit isn't the only one Apple has been staring down... Still pending is a decision in Epic Games' antitrust lawsuit against Apple. That case wrapped up in May, and if Epic manages to win, it could lead to an adjustment to the 30% App Store commission for companies that do make up the bulk of revenues in the Store.
The Coalition for App Fairness ("CAF"), a nonprofit that represents developers like Epic and Spotify, did not pull any punches in telling startup news site TechCrunch what it thought of the deal...
Apple's sham settlement offer is nothing more than a desperate attempt to avoid the judgment of courts, regulators, and legislators worldwide. This offer does nothing to address the structural, foundational problems facing all developers, large and small, undermining innovation and competition in the app ecosystem.

Allowing developers to communicate with their customers about lower prices outside of their apps is not a concession and further highlights Apple's total control over the app marketplace. If this settlement is approved, app makers will still be barred from communicating about lower prices or offering competing payment options within their apps. We will not be appeased by empty gestures and will continue our fight for fair and open digital platforms.
Smaller developers weren't impressed either. As Ryan Jones, founder and CEO of flight tracking app Flighty, told TechCrunch...
I just keep praying Apple will wake up and change the rules themselves but today wasn't that day. It's not a great idea to let 70-year-old bureaucrats who get tech support from their grandkids write technology ecosystem law. I just have to believe Apple is realizing this is a ticking time bomb – they have to change it themselves, or we'll all pay the consequences for years to come.

There's real resentment building the way Apple PR keeps basically gaslighting us. Anyone who can read critically can immediately tell there's zero substance to this announcement. They need to step up and make changes before courts do it for them.
So it seems Apple's PR blitz for a concession, which had bark, but no bite, may have fooled headline readers and generalist newspapers... but it didn't trick anyone in the actual app community.
I'm not a legal expert and can't say how this Epic Games case will turn out, but to the extent that there is any risk here, I don't see it reflected in AAPL shares, which sit near all-time highs...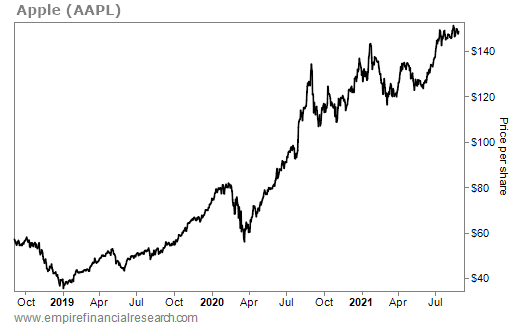 AAPL shares are also near all-time highs in terms of valuation, despite growth being expected to decelerate meaningfully over the next year. I've been wrong on this one, but I am still on the sidelines when it comes to AAPL shares.

Luxury retailer Saks Fifth Avenue announced another bizarre deal...
Following up on its March announcement that it would spin-off its e-commerce business, totally separating it from its brick-and-mortar department stores – in a move that makes absolutely no operational sense at all – Saks returned with an equally strange announcement that it would be opening WeWork co-working spaces in select stores.
Saks' parent Hudson's Bay plans to open the first five SaksWorks as early as next month. The first sites will be concentrated in New York City – including at the flagship location of Hudson's Bay's now bankrupt and shuttered Lord & Taylor department store and at Saks' now-shuttered downtown men's store. There will also be a SaksWorks on the 10th floor of the Saks flagship store on Fifth Avenue, where the children's department used to be.
But going forward, Saks is hoping to capitalize on the trend towards hybrid work – catering to suburbanites who want to get out of the house, but not commute all the way to a city. As SaksWorks President Amy Nelson told the Wall Street Journal...
We think about, 'What can we bring to the suburbs that we used to serve with retail concepts where our customers still live?'
Saks has closed many locations in the suburbs over the past several years.
Hudson's Bay owns many of the buildings that its stores used to – but no longer – occupy. The company is clearly looking to re-purpose these spaces.
I'm not sure why I would want to work in a SaksWorks as opposed to a regular WeWork... And I am someone who actually likes shopping at Saks! But this just seems like another desperate move from Hudson's Bay.
Meanwhile for WeWork, it seems the company is looking to use these kinds of landlord deals to address a core problem with its business model – the asset-liability mismatch of committing to long-term leases, while not locking in tenants for lengthy periods. Under this deal, WeWork runs the SaksWorks sites and takes a management fee... but doesn't pay rent.
As the Journal wrote...
A WeWork spokeswoman said the company expects to open around 70% of its new spaces in the future under revenue-sharing deals or other arrangements that avoid leases.

Congratulations to WeWork for finally recognizing that its business model is flawed and inherently risky...
The shift to becoming a management company instead of a real estate developer makes sense... if there are enough owners of excess real estate as desperate as Saks parent Hudson's Bay.
The new WeWork doesn't pretend to be a tech company anymore... And it might not be pretending to be a real estate developer, either. Now it's a real estate management and services company.
That may be a viable model... but it carries a much lower valuation than it would as a tech company, or even a disruptive real estate developer. Real estate services companies like CBRE Group (CBRE) and Cushman & Wakefield (CWK) trade at an enterprise value to sales ratio of 1.0 to 1.5. Those multiples applied to WeWork 2020 sales of $3.2 billion would imply WeWork is worth $3.2 to $4.8 billion... a far cry from the $9 billion valuation that special purpose acquisition company ("SPAC") BowX Acquisition (BOWX) is paying for WeWork. It's much closer to the $2.9 billon that WeWork's original backer SoftBank (9984.T) valued it at back in May 2020.

Back in April, I outlined in Empire Financial Daily why I am no fan of the 'WeSpac'...
Since then, shares of WeWork's SPAC acquirer BowX Acquisition are down about 14%...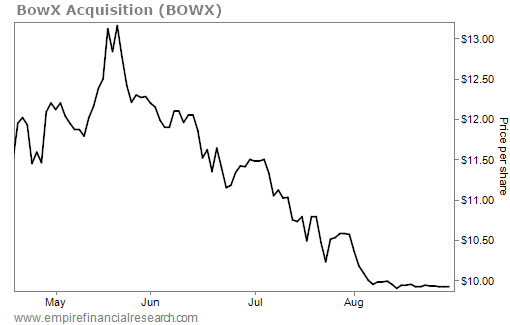 SPACS have been having a rough go of it since peaking in February, but BowX has underperformed the larger SPAC universe since the April essay. Since April 20, the Defiance NextGen SPAC Derived Fund (SPAK) has fallen just 4% versus BowX's 14% drop.
I remain bearish on WeWork and BOWX shares. WeWork getting into business with Saks is a case of the desperate reaching for the desperate.

In the mailbag, a reader extols the benefits of 'buy and hold'...
Do you think Apple's App Store commission of 30% is too high? How about 15%? Would you be interested in working in a WeWork located in a Saks? Share your thoughts in an e-mail to [email protected].

"Berna: Crocs (CROX) shares at $130 today. I own some at prices below $2 a share from 2009. I didn't buy when you recommended it. If I had seen your recommendation, I would have added to my position because it would have reinforced my conviction. I did however buy Capri (CPRI) not from your recommended list but from a slight remark that at $17 a share it was a good speculation. I bought it, because I've been following the stock since its initial public offering ("IPO") about 8-10 years ago. This was mentioned in the free newsletter.
"However, my philosophy is to hold forever because it's very hard to sell at a great price & buy back at a lower price later. Philosophically, it's just easier to hold all the portfolio and not play the sometimes powerful movements. This is also emotionally easier also. Emotion is the last but most important frontier in stock market investing. I know that you mentioned taking profits in both these issues at considerably lower prices. When giving advice, it's the prudent thing to do but I believe holding (forever) will give the greatest return even in such high tech issues as CROX & CPRI." – Gene N.
Berna comment: My early exit of CROX shares was probably my biggest investing mistake of 2020. That said, Empire Investment Report subscribers did have the opportunity to make 49% in Crocs in less than four months – a terribly early sale at $54 per share, but still a very respectable return.
While I do agree that I screwed up by exiting CROX shares too soon, I'm not sure I can bless a strategy to buy and hold forever. Things change, especially in the tech and consumer sectors – the two areas I spend the most time looking at. These are industries characterized by constant disruption and changes in leadership.
When I got into the investing business, the biggest tech stock by far was IBM (IBM). Let's take a look at what IBM has done over the past 10 years...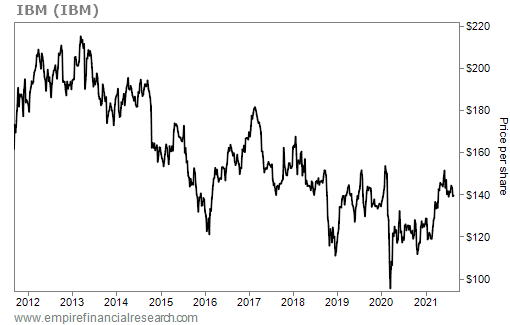 It's down about 15%. Meanwhile the tech-heavy Nasdaq Composite Index has been a 7-bagger. Things change, especially in tech.
I once met an investor at a conference who worked at a fund with a 100-year time horizon. When I asked what she owned, I wasn't surprised to hear her rattle off a list of highly branded consumer packaged goods companies. It makes sense – if I had to bet on something still being around in 100 years, I also might go with Procter & Gamble's (PG) Crest toothpaste outliving anyone reading this.
But the list of companies and businesses where you can have high confidence in the very long-term persistence of earnings is short, which is why I'm not a big believer in buying and holding forever for all but a handful of exceptional stocks.
Regards,
Berna Barshay
August 30, 2021
P.S. I'm heading out on vacation tomorrow, so Empire Financial Daily will feature guest essays until my return on September 13. Wishing all readers a happy Labor Day weekend!