► Apple (AAPL) threw a bone to developers who were annoyed with its 30% revenue share on App Store sales...
Last Wednesday, Apple announced the App Store Small Business Program, which will cut fees on paid apps and in-app purchases sold through the App Store for any developer that earns less than $1 million annually from the store.
Theoretically, 28 million registered app makers could qualify for the program, but it's unclear how many of them are small enough to see their fees halved from 30% to 15%... or how this change will affect App Store revenues.
CNBC estimated that App Store revenue totaled around $50 billion in 2019, which if accurate, would be nearly 20% of annual revenues. Analytics company Sensor Tower estimates that perhaps as many as 98% of developers would be eligible for the price cut.
That sounds like it could create a huge revenue headwind for Apple in 2021, but Sensor Tower also estimates that these small developers only account for 5% of App Store revenue... which equates to only about 1% of overall Apple revenue.
Putting that all together, the headwind from the fee cut to Apple's topline growth in 2021 will probably only be about half of a percentage point.
It may even be a bit less than that. When the program goes into effect in January, developers will need to fill out an application to qualify for the fee reduction. In other words, if existing developers who qualify fail to apply, they won't get their fee cut.
This is of course incredible news for the small app developers who will potentially see their single greatest expense line item cut in half overnight come January. In exchange for little sacrificed revenue, Apple bought itself an army of company apostles.
Capitalizing on the legion of pleased (but tiny) customers/partners, Apple put out a press release yesterday that was essentially a long list of app developer comments full of praise and promises to productively reinvest the money that they will be saving. Here's an excerpt...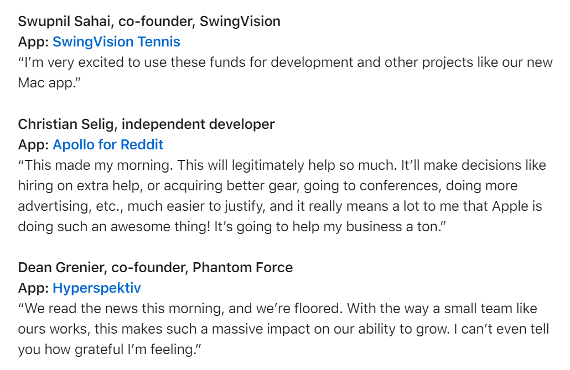 Source: Apple

This all adds up to a lot of positive press and not a lot of money sacrificed by Apple...
But the price cut to small developers is unlikely to appease the regulators and business partners that have kept the App Store and its fees under scrutiny all year.
As I explained in the August 25 Empire Financial Daily, Apple and Fortnite publisher Epic Games have been engaged in a dramatic legal battle over the 30% fee. This price cut will do nothing to alleviate the complaints of Epic and other large companies selling their software through the App Store.
Apple has also had spats with other big companies, such as Facebook (FB), music streaming app Spotify (SPOT), and dating app Match (MTCH), over app store charges and policies.
Unsurprisingly, Epic Games CEO Tim Sweeney was not impressed and accused Apple of trying to pit developers against each other with the move. As he commented to the Wall Street Journal...
Apple is hoping to remove enough critics that they can get away with their blockade on competition and 30% tax on most in-app purchases. But consumers will still pay inflated prices marked up by the Apple tax.
The European Union opened antitrust investigations into the App Store this summer, and Apple's allegedly monopolistic practices in the App Store have also drawn attention from Congress. I think regulators will welcome the break for small businesses but will also see through the fact that this doesn't move the needle on the antitrust issues.
While the program has likely pleased the scores of niche, small app makers who rely on the App Store, the larger issues around Apple's fees and strained relations with large developers are likely to persist. It's an important thing to watch as Apple increasingly bets on Services as a pillar of future growth.
Apple remains a world-class company, but as I wrote on August 25 and again on October 12 – both times when the stock was about $124, or about 7% above today's prices – I don't love the stock here and don't see anything that is going to propel it to new highs.

Elsewhere, streaming giant Spotify continues its shopping spree...
Having already spent $500 million acquiring podcast companies and hundreds of millions more for podcast content exclusives, Spotify has doubled down on podcasts and spent another $235 million earlier this month on a podcast acquisition...
About two weeks ago, the company announced it had agreed to purchase podcast-tech firm Megaphone from Graham Holdings (GHC).
Megaphone helps podcasters with production, ads, and audience metrics. The company hosts more than 5,500 podcasts, including shows from publishers like Slate, iHeartMedia (IHRT), Disney (DIS), and Vox Media.
The deal gives Spotify access to Megaphone's data, which will improve Spotify's proprietary podcast ad targeting software, Streaming Ad Insertion ("SAI"). SAI places ads in podcasts in real-time – somewhat similar to what Facebook does with its ads.
What's interesting about the deal is that it marks a decided shift in Spotify's podcast strategy...
In August, my colleague Alex Griese wrote that Spotify's ambition was to become the aggregator of podcasts.
So, the aim of the spend on podcast content over the last two years was presumably to bring in "ears" and gain market share within the podcast-listening population. And with more ears, the hope was that more content would follow, which would again lead to more ears... creating a snowball-type effect.
But the implications of the Megaphone deal are huge for Spotify's podcast future, as Alex explains...
As part of the deal, Spotify announced that Megaphone advertisers can use SAI, on any platform, and not just on Spotify. It indicates that management likely sees a multi-platform podcast future – not a Spotify-exclusive podcasting future.

This is a material negative for the company's podcasting aspirations.
                                                                   
If a significant portion of podcast listening is done off Spotify, then it means that the data the company can collect on each listener will be of lower quality. This reduces the company's ability to effectively target podcast listeners and lowers the dollar amount Spotify can earn.
Still, Alex likes the strategy shift. It acknowledges Spotify's willingness to adapt to a fast-changing and nascent market. He continues...
Podcasts have 100 million users, and the industry is on pace to earn less than $1 billion in revenues in 2020. This means that each listener monetizes at $2.50 per quarter. Compare that to Facebook's last quarter, in which it had 2.7 billion monthly users and earned more than $7 per user... and nearly $40 per U.S. and Canada user.

Ultimately, Spotify's goal of being an aggregator is so that it can be the marketplace where advertisers meet audio content... And the Megaphone acquisition indicates Spotify's intent and flexibility in achieving that goal.

While the uber bull case for Spotify is likely off the table – the one where it universally dominates the podcast landscape, Spotify's podcasting future remains bright.
As I wrote at the time of the original piece on Spotify's move into podcasting, I remain more skeptical than Alex that these bets will pay off. Time will tell which one of us is right.

Yet another celeb ventures into the premium alcohol fray...
Following on the heels of actors George Clooney and Ryan Reynolds selling their premium alcohol brands – Casamigos tequila and Aviation gin, respectively, to Diageo (DEO) for hundreds of millions of dollars, singer Bruno Mars has entered the fray with rum.
Since 2014, Mars has backed Panamanian rum company SelvaRey, but he recently decided to go high-profile with his involvement, which has historically included weighing in on product development and package design.
He recently took on the role of "creative visionary" for the company and began promoting it in interviews and on social media...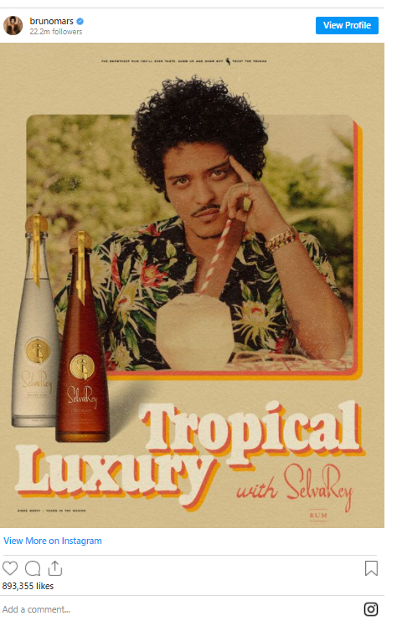 Source: Bloomberg, Instagram.com/brunomars
The brand had long been a hobby for the Grammy winner, but recent interviews indicate that he wants to take his involvement up a notch...
The goal is global domination. Rum takes you on an instant vacation. I drink it and I want to start dancing.... Tropical luxury... How can you say tropical luxury and not think Bruno Mars?
Like the celeb spirits brands that sold out at big multiples, SelvaRey is premium-priced, with a white rum that sells for around $30 and a darker, chocolate-infused rum that sells for about $35.
Mars has a bit of a tough slog with rum... The spirit has been losing popularity for years, first to vodka and more recently to tequila. But that may be changing, according to Bloomberg...
Rum has gained traction in recent years. The global market is valued at around $15 billion, and expected to reach $21.5 billion by 2025. A 2020 trend forecast by drinks analysts IWSR indicated that the long-running trend toward premium styles will continue in most global markets, moving away from perceptions of the spirit as a "low-quality party drink."
If what's holding rum back is its association with being a "low-quality party drink," the success of premium tequila offers a great roadmap for how to re-invent a spirit to turn it from pedestrian to coveted.
As I noted in the September 9 Empire Financial Daily, these seemingly vanity-driven, celebrity-backed consumer products ventures can prove extremely lucrative for those involved, as was the case with Casamigos...
A successful exit means a windfall for the celebrity owner... Forbes reports that Clooney's share from the Casamigos sale could be $233 million. Even making $20 million per picture with a healthy back end of profits, Clooney will make more on his tequila venture than he probably made on his past 10 movies.
Mars can only hope he can do for rum what Clooney did for tequila.

Today's mailbag is appropriately Black Friday–themed... and I got one submission formatted in free verse!
Are you a big podcast fan? What platform do you use to listen to them? Have you tried SelvaRey rum? How is it? Share your thoughts – and any Black Friday steals you want to boast about – in an e-mail to [email protected].

"I am thrilled that stores will mostly be closed on Thanksgiving! It is supposed to be a day to be thankful for what we have and spend time with our families by visiting, playing games, and just relaxing for a day. I agree with you that this is a pandemic-help... one of the only positive things to come out of it. People need to be happy with what they have and less greedy on Thanksgiving!" – Holly M.

"My wife and I are doing essentially all of our shopping online, and have for several years – for convenience, with no real relationship to COVID-19. My wife has picked up a few Christmas decorations here and there, but this has been done incidentally, while in a store for other shopping purposes. In those days of my youth when I had the money to buy gifts for my parents, and was still going to college & post-graduate training, Friday was the day I was home, and could buy their gifts and my Christmas cards, and stow the gifts away at home before returning to school. I note that I'm old enough that the stores were busy on that day, but the concept of Black Friday as a day for bargains, and for folks to storm the stores for them, had not yet arrived. Once it did, I would never go shopping on that day, and risk life, limb, and equanimity in the mad rush.
"We are especially pleased that very few stores are going to open on Thanksgiving Day itself. This is more in sympathy with the retail workers, for whom getting to a job that afternoon or evening puts even more pressure on an already-busy day, especially for those doing the cooking, and secondarily to preserve the sanctity of what is supposed to be a religious holiday, and remains at least partly so for us and for a goodly portion of the population." – Otto K.
Berna comment: I echo the sentiments from Holly and Otto about being thrilled fewer stores will open this year on Thanksgiving Day! Retail workers have been through enough, especially this year...

"Berna, It won't be Black Friday (as in get those pesky retailers into the black to live to fight another day/week/month/year).
"It won't be Blank Friday (as in zero, repeat zero, retail sales at traditional brick and mortar outlets).
"It probably won't be Blow-up Friday (as in some folks blew up the pundits' prognostications for some stores, while other stores should have blown themselves up rather than open).
"It won't be Blasé Friday (as in ho hum nobody even noticed anything different one way or the other).
"It might be Blemished Friday (as in 'best laid plans' and all that along with 'egg on some forecaster's faces' and even some spots of 'good' news here and there).
"It will probably be Blended Friday (as in a blend of lots of different factors, some general some specific, some not so good and some worse).
"It will be Friday (as in the sun came up again that morning, the day before was a reminder to be thankful, really thankful, no ... really thankful).
"Happy early Thanksgiving" – Tommy H.
Regards,
Berna Barshay
November 25, 2020
P.S. The Empire Financial Research offices are closed for the next two days. Look for your next edition of Empire Financial Daily on Monday. Happy Thanksgiving!