► Yesterday, tech giant Apple (AAPL) held its California Streaming event, providing its annual fall update to the product line…
This annual product reveal is always highly anticipated and closely watched, although expectations were perhaps a bit muted in terms of what to expect as 2021 is considered an off-year when it comes to revolutionary upgrades to Apple's largest product line, the iPhone.
Last year's iPhone 12 saw lots of improvements and pushed Apple to post record profits in recent quarters. The robust iPhone cycle led AAPL shares to return a strong 28% in the trailing 12 months. Last year's updates included 5G readiness, ultra-fast data processing capabilities, and new silhouettes.
The improvements encapsulated in the iPhone 13 are more incremental in nature. As it always seems to be every year, the camera is improved, and the microprocessor is a bit faster. Perhaps the biggest change is a larger battery offering 2.5 hours of extra juice. There will be an option to buy a model with 1 terabyte of storage, about twice the capacity of the model with the most storage from last year.
The new phones go on sale on Friday, with delivery beginning on Sept. 24.
In addition to the iPhone 13 launch, Apple updated its lower-end iPad and iPad Mini and introduced the Series 7 of the Apple Watch, featuring a larger screen and softer corners.

It's all fine in terms of the iPhone 13... but there's nothing earth-shattering that is likely to make consumers run to snap up the new offering if they already have an iPhone 12...
The lack of must-have flash was already reflected in analyst estimates... On average, Wall Street forecasters are modeling iPhone unit sales to be down slightly in its fiscal 2022 year, which begins in October.
Offsetting the lack of fireworks on the phone innovation front is a barrage of incentives from wireless carriers for consumers considering an upgrade to the iPhone 13. Telecom services giant AT&T (T) will be offering some customers a free iPhone 13 Pro – worth $999 – if they trade in another phone and sign a three-year voice and data contract. Rival wireless carriers Verizon (VZ) and T-Mobile (TMUS) will also offer discounts on the new iPhones in exchange for signing new contracts.
The competition among the carriers to secure customers for lucrative and predictably recurring service contracts is a relief for Apple, which is facing a big headwind in maintaining the blowout sales prompted by the iPhone 12 launch last year. According to The Wall Street Journal...
Sales also typically fall in the year following the first 12 months of major introductions, such as the iPhone 12. For example, after posting its previous best year for iPhone revenue in fiscal 2018 – thanks to the debut of the iPhone X, with a facial-recognition unlocking feature and a new look – device sales fell in the following two years.
Bottom line: There was nothing revolutionary or unexpected at California Streaming. If anything, the biggest takeaway for me is how much the carriers are willing to subsidize consumers and beat each other up in a quest for market share. I've always been negative on AT&T for its high debt levels and inconsistent strategy shape-shifting – as evidenced by its acquisition and disposition of Time Warner within just a few years. Certainly, the news of heightened wireless industry competition isn't going to make me more constructive here. I would still avoid shares of AT&T.
As for Apple shares... the event was a nonevent. We got what Apple watchers expected – no more, no less. We're entering a more difficult period for AAPL shares as determined by the product cycle, but this should be news to no one and thus is already reflected in the estimates and theoretically the shares.
The big challenge for Apple's continued growth is that people are holding onto their smartphones longer. According to an analysis from broker Piper Sandler (PIPR), only around 28% of smartphone users upgrade every year, and a surprising 27% of smartphone owners hold onto their devices for four years or longer...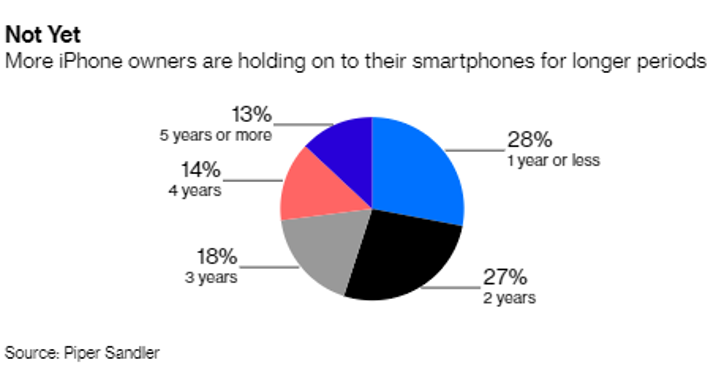 Source: Bloomberg
Last week, Piper Sandler released a consumer survey in which only 6% of respondents said they planned to buy the iPhone 13 when it came out. Last year, a much higher 10% of respondents said they would buy the iPhone 12.
On the margin, the biggest news was the carrier subsidies, which are a marginal positive. While there is little reason to run out and update your iPhone 12, if you are someone that skipped upgrading last year – and there are plenty of people who did – AT&T, Verizon, and T-Mobile are giving you some pretty good reasons to come in now for the iPhone 13.
My bigger concern about Apple is not a potential slowdown in iPhone sales – everyone is braced for that. I remain more concerned about a sequential slowdown in revenue growth at its highly profitable Services division, which, as I explained in Monday's Empire Financial Daily, could put Apple's price-to-earnings (P/E) multiple at risk. If the P/E contracts, that would be an insurmountable hurdle to big stock gains in the short term, given where we are in the product cycle... which is why I am on the sidelines with AAPL shares.

Plastic clog maker Crocs (CROX) announced a big move toward improved sustainability yesterday...
The footwear company announced a partnership with chemical company Dow (DOW), which will enable a lower carbon footprint version of its proprietary Croslite plastic that it uses to produce its molded shoes. Using Dow's ECOLIBRIUM technology, the new bio-based Croslite will be formulated with plastic made from plants instead of oil or oil derivatives.
Bioplastics are made from renewable, plant-based raw materials. Possible biomass sources include plants like sugar cane, various vegetable fats and oils, and woodchips.
Not only does using renewable feedstocks reduce the use of fossil fuels and greenhouse gas emissions, but Dow is hopeful that bioplastics created with its ECOLIBRIUM technology will be more easily recyclable than traditional plastics.
The initiative by Crocs to use bioplastics in its manufacturing is part of a broader sustainability initiative in which it has targeted a 50% reduction in its carbon footprint by 2030. The company is also transitioning to renewable energy in its offices and distribution centers.
These efforts should score the company some points with environmental, social, and governance ("ESG") investors and – more importantly – consumers seeking to shop with companies serious about protecting the environment, which is a rapidly growing cohort.

It's been 11 months since my three-part series on the pandemic-driven challenges to Broadway and the performing arts industry...
It's been a long 18-month shutdown for the 97,000 workers directly employed by Broadway. And last night, that nightmare period officially came to an end. Sept. 14 marked Broadway's official reopening, as it was the original date that the first Broadway shows were set to reopen.
In reality, Pass Over was the first Broadway show to open post-pandemic on Aug. 4. Two musicals made their comeback on Sept. 2 – 2019 Best New Musical Tony winner Hadestown and Waitress, singer-songwriter Sara Bareilles' musical adaptation of the 2007 movie of the same name. Bruce Springsteen had also returned to Broadway over the summer for a limited run of his solo Broadway show that he had performed in 2017 and 2018.
But despite a few shows leapfrogging Broadway's official opening date, last night felt like a big coming out party in New York as four long-running, and enormously popular shows reopened, including 2016's Best New Musical winner Hamilton, 1998's Best New Musical winner The Lion King, 1996's Best Musical Revival winner Chicago, and perennial fan favorite Wicked, a derivative of the Wizard of Oz story.
The Lion King and Wicked are the top two grossing Broadway musicals of all time, both topping $1 billion in revenue. Although only six years old and shuttered for 25% of the time since it opened, Hamilton is already No. 7 on the all-time Broadway gross revenue list, just a bit behind Chicago, which sits at No. 4.
So with four "big money" shows opening, last night was when Broadway really reopened with its biggest hits.
Also debuting in previews last night was Lackawanna Blues, bringing the total number of shows currently up and running on Broadway to eight, with many more set to open over the coming weeks.
Celebrations were numerous yesterday and included The Lion King livestreaming its opening number, Circle of Life, on TikTok.
Hamilton's Lin-Manual Miranda led the casts of Hamilton, The Lion King, and Wicked in a rendition of New York, New York outside the Richard Rodgers theater at 5 p.m. and returned to introduce his show at 8 p.m.
Actress Kristin Chenoweth, Wicked's original Glinda, opened that show then ran over to catch the Lion King, commenting that it was "like water in a desert." Rounds of applause erupted at each show as characters appeared and musical numbers started or ended.
The Broadway reopening is a big landmark moment for New York City and its tourism industry. Reopenings of live entertainment venues around the country have been building in recent weeks, hopefully boosting local economies.
Broadway ticket sales are only around $2 billion, but the total economic weight of the industry to New York is more like $15 billion when you count up all the ancillary tourism. Also celebrating a reopening last night was the landmark Times Square Italian restaurant Carmine's... with the big shows coming back, so can the big restaurants and the employment that comes with them.
Here are some links from Broadway's big, joyous night. If you're a theater fan like me, grab some tissues.
The Lion King's Circle of Life opening number livestream here.
See Lin-Manuel Miranda welcome back Hamilton fans here.
New York, New York #Ham4Ham with three Broadway casts here.
Wicked crowd goes wild for Kristen Chenowith here.

Lots of feedback came in on yesterday's article on Brandy Melville, most of them from people as disgusted as I was by the revelations, but also a few dissenters...
Will you be running out to buy the iPhone 13? If so, how old is your current phone? Are there any short-term Apple bulls out there who want to tell me what I am missing? Do you spend any time thinking about how sustainable the products you buy are? Are you comfortable attending live theater at this stage in the pandemic? Share your thoughts in an e-mail to [email protected].

"Berna, My stomach churned as I read your piece on Brandy Melville. In today's hyperconnected world, I'm shocked that this abhorrent behavior persisted for so long.
"You mentioned the ESG trend. As it relates to Brandy Melville, clearly, they have failed on the S and G. You mentioned the E but did not elaborate. I would argue that Brandy Melville also fails on the E component in that they are a fast-fashion brand. Their clothing is not high quality and is designed to be disposable. While many other brands are moving in the opposite direction (higher quality, less disposable, and designed for a circular economy), those that stay on the disposable, fast-fashion path will suffer IMO.
"I hope that BM's demise will be a warning to any other companies and serve to expose this despicable behavior." – Frank G.
Berna comment: I agree that fast fashion will be challenged as it is inherently not sustainable, and its disposable nature will be a roadblock when encountering ESG-driven investors. Companies like H&M (HMB SS) and Inditex's (ITX SM) Zara have a lot of work to do.

"Excellent article. Your subscribers could contact their local papers.
"I told the Boston Globe to investigate the Newbury Street store in Boston." – David P.

"Thanks, Berna, for the insightful article. I have never sent an e-mail like this but was compelled to do so. The 'S' is becoming more and more relevant all the time. Social media can sink your chances of a great job if you don't control what you publish and post. I'm glad to see that in this case, it has worked against the employer and management of a company that prominently has done really well. There is no room for this type of behavior in the world today and/or ever. I really appreciate the article and have a feeling that your predictions will be correct as I hope all that read and find out about the company and its reputation, will follow suit, and watch it crumble as it should.
"Thanks." – Darcy N.

"If I had a daughter or granddaughter, I would never let them work in such a toxic workplace environment. It always amazes me how this is allowed by other workers. No one needs a job that bad. There seems to be a predatory mindset among management which is sickening to say the least." – Anonymous

"It is the company's business what employees they hire, what staff policies they want, and how they want to sell their sizing! As long as they are strictly following the law, you have no business organizing a witch hunt against a company people have invested in. We live in an age where only Black Lives Matter and preferential racial treatment applies legally, so leave this company alone! Private message groups are private. Mind your own business!
"If Empire Financial wants to write about social conscience matters, then you should lay your liberal cards on the table so your customers can decide whether they are in tune with such social conscience! I am not- I am here for business not some liberal prejudice!
"You send me another message like that, and I will junk Empire altogether!" – Raymond H.
Berna comment: Companies are not allowed to discriminate by race – there are actually laws against paying people differently based on race. There are also laws against managers requiring employees to remove their clothing. The U.S. Equal Employment Opportunity Commission administers these laws, and they are 100% clear. If the allegations surfaced by the Business Insider article prove true, this company is in legal trouble.
As for whether the article was merely socially conscience commentary, it wasn't. It was about the importance of the social metrics to not only ESG investing, but also a company's long-term success.
Consumer companies need to sell to actual real-life people. If they anger enough customers through their practices, they will eventually have a smaller business with fewer profits... or no business at all.
I mentioned the dramatic underperformance at retailer Abercrombie & Fitch (ANF) due to some issues similar to the ones at Brandy Melville. If I had more time and space, I could have gotten into how the bankruptcies of denim chain True Religion Jeans and retailer American Apparel were related to similar transgressions to those occurring now at Brandy Melville. The very point of the article is that consumers are voting their social conscience with their wallets. This is a business truth, one that you can choose to ignore at your own peril when investing.
Regards,
Berna Barshay
September 15, 2021