1) Following up on Monday's e-mail, in which I shared a list of the best- and worst-performing stocks in the S&P 500 this year, Charlie Bilello tweeted a list of the 30 best performers over the past 30 years: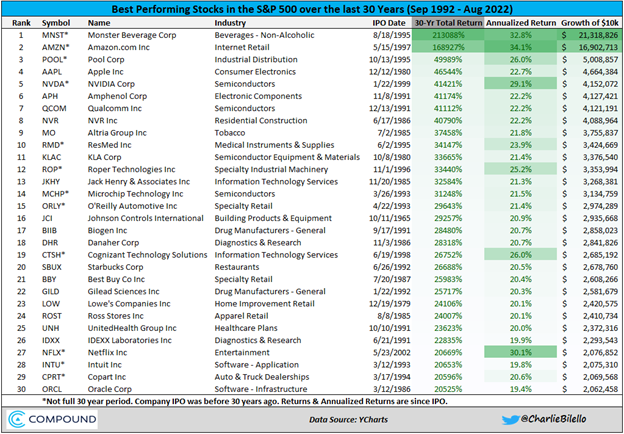 Some thoughts pop to mind as I review this list...
First, the importance of letting your winners run. I owned – and, even more painfully, publicly wrote about – four of these stocks: Amazon (AMZN), Apple (AAPL), Ross Stores (ROST), and Netflix (NFLX), but only made a little bit of money because I sold them way too soon. To repeat what I wrote on Monday about Netflix:
I "didn't want to be greedy" and worried that some of my smart friends were shorting the stock, so I sold half after it doubled, sold another half after it doubled again, and then exited as it doubled once more.

In total, I made seven times my money and thought I was pretty smart. But in reality, I was an idiot: I nailed the stock of the decade and should have made more than $100 million personally, but managed to snatch defeat from the jaws of victory...

A few times in your investing career, you're going to luck into a stock like this. When you do, BE GREEDY! Yes, trim it back a bit to manage risk and if the valuation gets truly extreme... But otherwise, ride it as long as your investment thesis remains intact...
Second, given investors' fascination with tech stocks and the extraordinary growth in this sector, it's surprising that only eight of the 30 are in this sector.
The lesson here is that fortunes can be made investing in even the most mundane businesses if they have good management, large addressable markets, and sustainable competitive advantages.
Who would have guessed that a beverage company would outperform Amazon, a pool supply company would compound at a higher rate than Apple, a homebuilder would surpass two leading semiconductor companies, and a low-brow clothing retailer would exceed Netflix, Intuit (INTU), and Oracle (ORCL)?
2) I enjoyed this interview with my old friend Alix Pasquet, who runs hedge fund Prime Macaya: The Learning Mindset for Investors with Alix Pasquet. Excerpt:
He recommends balance between solitary learning (read a book, listen to a podcast etc.) and learning by engaging with the world and being social. This can be particularly important for people living in intellectual bubbles that easily turn into echo chambers (looking at you, New York and San Francisco...). As Alix likes to quote: "A desk is a dangerous place from which to view the world." John le Carré

This one was a little tangent but a mindset worth pointing out:

The first mindset is don't do this job for the money. This is a very painful business. You're constantly faced with your mistakes. The sort of pain that you take on a daily, weekly, even yearly basis, you better love the business, if you're going to last at it. And if you're going to do this for the money, yeah, you might get lucky and start in 2011 and go through 2021 and you made a lot of money. But odds are the first time that the market teaches you a lesson, you're going to quit and not have the result.

The last sections contain frameworks, ideas, mental models, and books that can make you a better investor...

Futsal is soccer at the fraction of the size of a football team pitch. The number of players is smaller. You would think that it increases the number of strategic interactions by double but actually it increases the number of interactions by eight to sometimes 16 times.

And what that does is you're learning at a very, very fast clip. And one of the patterns that we've seen is great investors often have gone through a futsal period in their careers.

So Dan Loeb, for example, in the early 90s, he worked at Jeffries right at the moment when the Resolution Trust Corporation was selling off the problem assets of the savings and loan debacle at discounted prices in a two-year period.

He saw a deal every few days. And that increased the number of reps that he saw. But also, he had great customers, he had a young David Einhorn and a young David Tepper as customers. And the exposure and the reps were amazing.
3) Here's an interesting profile of Occidental Petroleum (OXY) CEO Vicki Hollub, who's made a lot of money for two of the most successful investors of all time, Carl Icahn and Warren Buffett: How a CEO Rescued a Big Bet on Big Oil; 'There Were a Lot of Doubters'. Excerpt:
Occidental Petroleum entered the thick of the pandemic among the worst prepared of its U.S. oil-and-gas peers. Struggling with debt from an ill-timed $38 billion deal, Chief Executive Vicki Hollub was fending off activist investor Carl Icahn, who controlled two board seats.

Two years later, the company has emerged as the top performer in the S&P 500, and Ms. Hollub has traded Mr. Icahn, who sold all of his Occidental shares in March, for Warren Buffett, whose Berkshire Hathaway (BRK-B) now owns more than 20% of the company.

It was touch and go for a time. After the deal closed, she cut thousands of jobs from the combined company through a voluntary buyout program and a smaller layoff. To stave off bankruptcy after oil prices collapsed in 2020, she slashed spending and nearly eliminated Occidental's once-sacrosanct dividend – "the biggest and toughest decision that I made and I've ever made in my career," she said in an interview.
4) Speaking of extraordinary CEOs, this is an incredible story from the front page of the business section in yesterday's New York Times: Billionaire No More: Patagonia Founder Gives Away the Company. Excerpt:
A half century after founding the outdoor apparel maker Patagonia, Yvon Chouinard, the eccentric rock climber who became a reluctant billionaire with his unconventional spin on capitalism, has given the company away.

Rather than selling the company or taking it public, Mr. Chouinard, his wife and two adult children have transferred their ownership of Patagonia, valued at about $3 billion, to a specially designed trust and a nonprofit organization. They were created to preserve the company's independence and ensure that all of its profits – some $100 million a year – are used to combat climate change and protect undeveloped land around the globe.

The unusual move comes at a moment of growing scrutiny for billionaires and corporations, whose rhetoric about making the world a better place is often overshadowed by their contributions to the very problems they claim to want to solve.

At the same time, Mr. Chouinard's relinquishment of the family fortune is in keeping with his longstanding disregard for business norms, and his lifelong love for the environment.

"Hopefully this will influence a new form of capitalism that doesn't end up with a few rich people and a bunch of poor people," Mr. Chouinard, 83, said in an exclusive interview. "We are going to give away the maximum amount of money to people who are actively working on saving this planet."

Because the Holdfast Collective is a 501(c)(4), which allows it to make unlimited political contributions, the family received no tax benefit for its donation.

"There was a meaningful cost to them doing it, but it was a cost they were willing to bear to ensure that this company stays true to their principles," said Dan Mosley, a partner at BDT & Co., a merchant bank that works with ultrawealthy individuals including Warren Buffett, and who helped Patagonia design the new structure. "And they didn't get a charitable deduction for it. There is no tax benefit here whatsoever."

"This family is an outlier when you consider that most billionaires give only a tiny fraction of their net worth away every year," said David Callahan, founder of the website Inside Philanthropy.

"Even those who have signed the Giving Pledge don't give away that much, and tend to get richer every year," Mr. Callahan added, referring to the commitment by hundreds of billionaires to give away the bulk of their fortunes.
The story particularly resonated with me for four reasons:
a) I'm a philanthropist and agree with the general spirit of what Andrew Carnegie said long ago: "The man who dies thus rich dies disgraced."
b) I'm an environmentalist, so I'm delighted to see so much money going toward this cause.
c) I love Patagonia's products – I wear their climbing pants and puffy jacket constantly!
And d) I've done lots of climbing in Yosemite and lived (at least briefly) the life of a "dirtbag climber," so I can relate to his early years:
In some ways, the forfeiture of Patagonia is not terribly surprising coming from Mr. Chouinard.

As a pioneering rock climber in California's Yosemite Valley in the 1960s, Mr. Chouinard lived out of his car and ate damaged cans of cat food that he bought for five cents apiece.

Even today, he wears raggedy old clothes, drives a beat up Subaru and splits his time between modest homes in Ventura and Jackson, Wyo. Mr. Chouinard does not own a computer or a cellphone...

Yet as Patagonia's sales soared, Mr. Chouinard's own net worth continued to climb, creating an uncomfortable conundrum for an outsider who abhors excessive wealth.

"I was in Forbes magazine listed as a billionaire, which really, really pissed me off," he said. "I don't have $1 billion in the bank. I don't drive Lexuses."
5) Thanks to many of you who shared ideas, personal experiences, thoughts, and prayers for my father after I wrote in my August 29 e-mail that he developed atrial fibrillation (A-fib) after getting COVID at the beginning of this year. (We'll never know whether it was the cause, though I suspect it was.)
To address this, his doctor recommended a surgical procedure called a "catheter ablation," which is taking place this afternoon at Dartmouth Health. (Though my parents live in Kenya most of the year, they have major medical work done at Dartmouth, as it's near our family's house on Lake Sunapee, New Hampshire, where they spend a few months every year.)
Susan and I drove up to be there when he checked in, hang out with my mom in the waiting room, and bring him back to Sunapee either tonight or tomorrow morning (depending on how he's feeling).
We're not particularly worried, as an ablation has become a routine procedure and my dad is super fit and healthy, but there's always some risk when you're dealing with an 80-year-old, so we welcome all good wishes and prayers...
Thank you!
Best regards,
Whitney
P.S. I welcome your feedback at [email protected].