► Over the past week, we got quarterly earnings reports from three of the biggest names in restaurants… and all of them beat expectations handily.
Chipotle Mexican Grill (CMG) was first of these three quick-service restaurants ("QSRs") – aka fast food – to report last Wednesday night, and it kicked off a pattern that we may be seeing a lot more of this restaurant earnings season: strong earnings per share ("EPS") beats paired with more muted sales results.
Chipotle reported adjusted EPS of $5.36, easily beating analyst expectations of $4.91, as restaurant-level operating margins of 22.3% increased dramatically from last year's 17.6%. Sales were up a healthy 23% off the back of a 17.2% comp, but missed analyst estimates slightly, coming in at $1.74 billion versus expectations of $1.75 billion.
For the first time ever, online orders – at 50.1% of revenue – were a bigger portion of sales than in restaurant orders, as digital sales rose an astounding 134%. The shift to digital sales supported the strong operating margin expansion, as digital orders are higher margin for the company than ones placed in the restaurant.
Also supporting margins were higher delivery prices that went into effect late last year. Management said that customers were accepting these increases, as they recognize the extra value and convenience that comes with a delivered order.
Chipotle had positive things to say about the performance of the customizable quesadilla that it launched as a digital-only item last month. Because it takes longer to make, it's only offered (at least for now) as an order-ahead item to keep the line moving in-store. Also new to the Chipotle menu: cauliflower rice. This isn't good news only for carb-phobic followers of Keto or Whole30 diets… It's great news for the company as the veggie-for-grain swap carries a $2 upcharge. This kind of average ticket booster really helps margins.
The company continues to see a strong demand environment and guided for same-store sales to rise as much as 30% next quarter, with the easy comparisons versus the lockdown period last spring.
Chipotle currently has about 2,800 stores and thinks that number can double over the long term.
It was a great quarter for Chipotle, and the future remains bright for this chain… but the report was greeted with a collective ho hum from investors.
CMG shares fell just under 2% the day after the report and, a week later, sit just under 3% lower than their pre-report level. Things are great at Chipotle, but with valuations sitting at record levels – shares trade at a price-to-earnings (P/E) ratio of 60 times – investors need either big beats on sales and earnings and/or an increase in long-term growth guidance to get stock price gains from here.
In the chart below, you can see that after making a quick recovery from the March lows and having a gangbuster 2020, CMG shares have been fairly range-bound in 2021. They've returned just over 5% this year, trailing all the major stock indexes…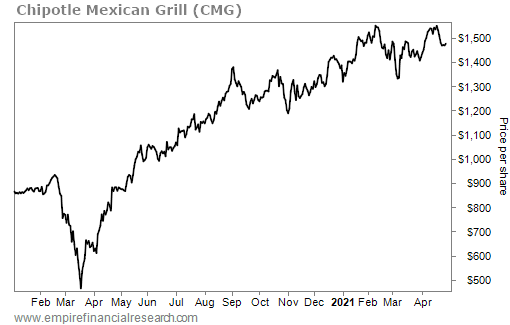 Starbucks (SBUX) also beat earnings handily but missed sales slightly on Tuesday night and similarly saw the results greeted with a shrug…
The coffee chain reported EPS of $0.62 versus expectations of $0.53. It missed sales a touch, reporting $6.67 billion in revenue versus expectations of $6.77 billion. Starbucks raised 2021 earnings expectations to account for the beat in its March fiscal second quarter. The company also declared that with the March quarter, its sales at U.S. units had made a full recovery.
Starbucks comps missed expectations slightly, coming in at 15% versus expectations of 17%. Most of the miss came from its international segment, which reported a 35% comp versus the 42% that analysts were looking for. Europe, much of which is still locked down, hurt international results. But results came roaring back in China, where comps were up 91%. This was driven by a 93% increase in transactions, as the country was locked down for most of the March quarter last year.
Back in the U.S., transaction volumes still sit 10% below prior-year levels. And yet, Starbucks put up 9% comps in the U.S. off the back of double-digit average ticket increases, which more than offset the decline in visits. The company noted people bought more expensive coffees and were more likely to tack food onto a coffee order than in the prior year.
With transactions still substantially negative, I'm sure Starbucks is eagerly awaiting the return of more people to the office. Management noted during the earnings call that stores in dense, urban areas were recovering more slowly than the rest of the store base.
SBUX shares dipped just over 3% yesterday following the report. They've recovered a touch today, but investors generally aren't reacting to the strong beat by rushing to buy shares. As with Chipotle, SBUX shares recovered fairly quickly from the March sell-off and ended up putting in a strong 2020…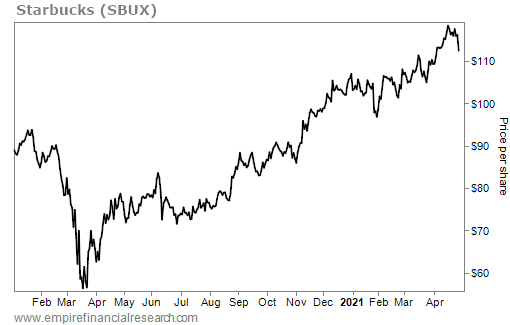 SBUX shares are up almost 7% year to date… but like CMG shares, the stock trails the major indexes. With the stock having done so well and trading near record valuation – in Starbucks' case, a P/E ratio of 39 times – investors on the sidelines are wondering what's next in terms of a catalyst upwards.

Some investors are worried that the 'what's next?' could be labor cost pressure…
Last night, President Joe Biden said in his address to Congress that he wants to raise the federal minimum wage to $15 per hour. Some state and local jurisdictions have already put in that minimum wage, but it will probably be a tough slog to get it through Congress.
But in many areas, the average wage is going higher because of market forces, not legislation. We've already seen a labor supply-demand imbalance push hourly wages higher at some of the largest private employers, such as Amazon (AMZN) and Walmart (WMT), and the restaurant industry is looking at similar labor market pressures.
After the permanent closure of tens of thousands of restaurants last year and the elimination of an estimated 2.5 million jobs in the industry, the restaurants that survived are ironically finding it hard to staff back up. As news site Axios explained last week…
Millions of restaurants are hiring all at once and, after a deadly pandemic, the jobs of waiters, cooks, and hosts seem more dangerous than they ever have before. All of this is contributing to a nationwide hospitality worker shortage as the economy opens back up.
According to a U.S. Census Bureau survey from earlier this month, 37% of small businesses in the hospitality and food sectors say they are experiencing challenges with worker availability. This is a particular problem for restaurants, as overall, only 16% of small businesses are reporting labor shortages.
Several things contribute to the shortage. First, everyone is trying to hire and expand at the same time as communities reopen. Second, some displaced restaurant workers have left the industry, having retrained to work in other fields during the shutdowns. Finally, it has been harder for foreign workers to come into the country. A temporary ban on foreign workers arriving for seasonal work expired on March 31, but restaurants in summer resort areas are still scrambling to fill positions.
In order to fill the jobs, restaurants are resorting to referral and retention bonuses to attract workers… which of course will take a bite out of the bottom line, as would higher wages.

The big chains aren't immune to this labor cost pressure…
Starbucks mentioned on its call that it is spending more on labor and expects its starting salary to increase to $15 per hour within the next two to three years.
McDonald's (MCD), which reported this morning, has also acknowledged that labor availability is an issue, and it is considering a company-wide wage increase. But as a primarily franchised company, any corporate wage action would only affect company-owned and -operated locations… which only make up about 5% of the roughly 14,000 McDonald's in the U.S.
Franchisees are already likely feeling the heat from a hot labor market. Axios reported on one McDonald's in Tampa Bay, Florida, that's offering applicants $50 just to show up for a job interview.
Turning to McDonald's first-quarter results, the company put up the cleanest beat of these three QSR chains. EPS came in at $1.92 versus expectations of $1.81 and global comps were 7.5%, topping expectations of 4.9%. Unlike Starbucks and Chipotle, McDonald's beat sales expectations – printing $5.13 billion of revenue in the quarter versus consensus expectations of $5.03 billion.
As with Starbucks, McDonald's was buoyed by results in the U.S. and Asia but hurt by European lockdowns. U.S. same-store sales were up a healthy 13.6%… and in the International Developmental Licensed markets, comps were up 6.4%, driven by strength in China and Japan. But Europe continued to struggle… This dragged down the International Operated markets comp, which was up just 0.6%, as many dining rooms remain shuttered on the continent.
McDonald's unsurprisingly noted that stimulus checks were helping sales and continued to tout the performance of drive-thrus, which are also an area of focus for Starbucks and Chipotle in their new unit builds.
Transaction volume remains negative at McDonald's, but like Starbucks, the company is making up for it with a larger ticket size as people order more items or lean into premium items. One encouraging note from the earnings call was that sales for all dayparts – including breakfast – were up double digits in the U.S. The disparity between results for McDonald's and Starbucks in the morning daypart suggests that the return to urban office towers is lagging the return to other types of jobs.
In terms of menu innovation, McDonald's called out chicken as a sales booster, including its new Spicy McNuggets and Crispy Chicken Sandwich.
MCD shares, like CMG and SBUX shares, recovered quickly last year. In 2021 so far, MCD shares have been the best of the bunch… They're up about 1% today in reaction to first-quarter results and are up almost 10% this year…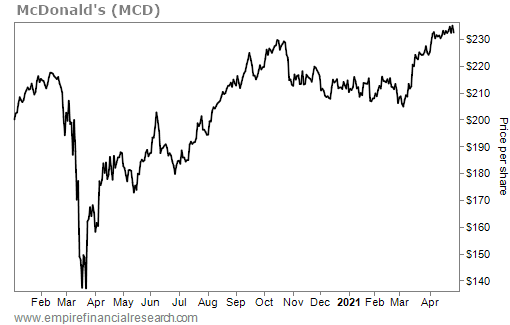 These are three great companies that did a great job moving into the digital era, innovating their menus, and reacting to the COVID-19 crisis…
With a 10- or 20-year time horizon, they're probably all great companies to own… but I wouldn't go chasing CMG shares today at a P/E ratio of 60 times. The company's greatness is already priced in.
When I last wrote about Starbucks and McDonald's in November, I expressed my preference for MCD shares because of their more attractive valuation. Since then, shares of both have done well… but SBUX shares have the edge, up 20% versus MCD shares' 10% gain.
I love Starbucks (and Chipotle) for their menu innovations, customer loyalty, early embracing of digital services, and excellent execution on their apps. But both of them are trading at a hefty premium – around 20% – to their five-year average multiples of enterprise value to earnings before interest, taxes, depreciation, and amortization ("EV/EBITDA"). McDonald's also trades at a premium on this basis, but one of less than 10%.
You can make an argument that these companies should have a multiple expansion over the past five years… Their investments into digital ordering and loyalty programs are proving a booster to margins, and all three got through the pandemic with minimal damage and will have higher earnings in 2021 than they did in 2019.
But I'm sticking with McDonald's as my favorite of the bunch as it trades at the best relative value, has a recovery at its European stores to look forward to, and has less direct labor inflation exposure due to its heavily franchised model.

In the mailbag, readers react to guest essays last week from Steve Sjuggerud at our sister company Stansberry Research…
Steve will be holding a special event at 8 p.m. Eastern time tonight explaining how to position yourself in the current market "Melt Up"… as well as how to prepare for the inevitable "Melt Down" that will follow. The event is free to attend, and you can sign up by clicking here.
Are you a loyal customer of Chipotle, Starbucks, or McDonald's? Do you think you'll be visiting these QSRs less as more sit-down dining options become available? What do you think of the apps from these three chains, and are there any new menu innovations you would suggest your fellow Empire Financial Daily readers try? Share your thoughts in an e-mail to [email protected].

"We all know what drives the market – GREED!
"Governments have been printing money like it's going out of style. Someone will have to pay for this, the question is who?
"One obvious fact is inflation.
"Who has benefited? Undoubtedly, it's China having managed to control the virus within 3 months.
"What's in store for the US and other western democracies? No doubt it's going to be a 'war' between the 'haves and have nots'. Without any action, the fragile democracy (as we know it) is going to collapse.
"Faced these challenges, how can you protect your wealth – if not your status quo?
"To prevent domestic unrest, governments will need to implement massive social programs at least of the magnitude of Bernie Saunders. Failure to do this will have its own consequences.
"What's in the future?
1. Massive tax increases (to pay for new social programs).
2. A 50% drop in market value.
3. A new commodity 'anything that has value to trade.'
4. The 'Super Rich' will move their money to favourable locations including international locations.
5. The death of 'Capitalism' as we know it.
"No doubt it's the beginning of the end of greed. Knowing this, we can take measures to secure a modest asset base. This will be based on the new economy.
"Good luck." – Paul S.
Berna comment: Paul, these are some dramatic predictions!

"Berna, there may be a simpler way to figure out when the melt-up ends: A persistent sideways market with narrowing volatility and transaction volume that is declining.
"A sideways market with narrowing volatility makes it harder for Wall Street firms to generate proprietary trading profits. Declining transaction volume affects the returns on order-execution desks. Both increase the chance of remittances because the fees charged in managed funds and ETF's cut into the narrowing returns.
"On behalf of Wall Street, the government will step in to crash the market (fed funds increases, taxes, some political event) with adequate lead-time given to investment firms. This will bring volatility and transaction volume back to profitable levels.
"One note: Can 'Seth' below explain what hash values bitcoin is solving for in order for a crypto miner to profit on mining a coin?" – O.P.
Berna comment: O.P., I think the government has been doing literally everything possible to juice the markets… I find it hard to imagine it would turn around and want to crash them.
As for the crypto mining question, I defer to Seth, who is free to write in with his thoughts!
Regards,
Berna Barshay
April 29, 2021