---
Recommended Link:
GM's next big release has no engine and no wheels

In a shocking move, auto giant General Motors is venturing into a whole new space (hint: NOT electric vehicles). While industry analysts see this as a way of catching up with Tesla, the bigger reason could be because this new space is getting the full backing of the current administration and could mean huge tax credits in the future. Or it could just be that this fledgling industry has more scope than the declining auto industry. Whatever it may be, this move could put GM into the same bracket as Apple, Google, Microsoft, and Amazon. Get the details of this massive trend here.
---

You could see the ESG mess coming from miles away...
ESG, of course, stands for "environmental, social, and governance," which sprang out of nowhere in recent years to become the centerpiece of institutional investment strategies everywhere. It's the old "socially responsible investing" on steroids.
Never mind that there are no real standards to signify what constitutes true ESG. There was that point, as I wrote about earlier this year, when companies were pulling out all the stops to become known as ESG... for no other reason, it seemed, than to be swept up by exchange-traded funds ("ETFs") and other institutions that had ESG mandates.
That mentality was the epitome of the market melt-up, as IPO after IPO tried to play up just how "ESG" it was. The poster child of that, as I wrote last November, was Allbirds (BIRD), which was so intent on gaming the game of ESG that it tried to create a new form of IPO...
The company claimed its offering should be known as a "sustainable public equity offering," or "SPO." (Allbirds later killed the idea for reasons not spelled out to the public.)
With the market's meltdown, that strategy has colossally backfired, as a quick peek at Allbirds' stock so aptly proves...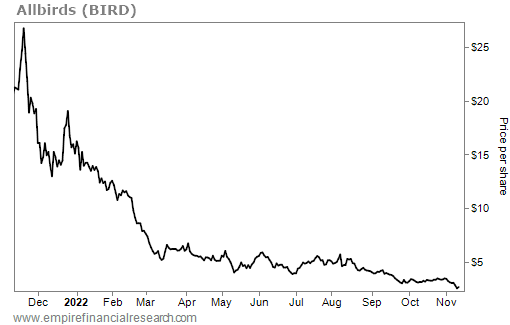 But nothing, and I do mean nothing, strikes to the farse and fallacy of ESG like this tale of two funds...
I'm talking about the God Bless America Fund (YALL) and the iShares ESG Aware MSCI USA Fund (ESGU).
YALL doesn't come right out and call itself "anti ESG" but it's easy to read between the lines of its prospectus, which says the fund intentionally excludes companies that have "emphasized politically left and/or liberal political activism and social agendas at the expense of maximizing shareholder returns."
As the prospectus goes on to say...
To determine whether a company emphasizes politically left and/or liberal political activism and social agendas, the Sub-Adviser analyzes articles, websites, newspaper advertisements, press releases, TV appearances, other forms of mass communication and comments made by company spokespersons.

The Sub-Adviser will avoid investing in companies that make left-leaning public statements about political issues unrelated to the company's business. The Sub-Adviser considers a political statement unrelated to a company's business if there is no meaningful nexus between the statement and the company's primary business activity (e.g., companies that issue press releases in response to U.S. Supreme Court rulings that do not directly relate to a company's primary business activity).
In other words, ESG need not apply. It's the total opposite of the old socially responsible funds, which later morphed into ESG.
Contrast that with ESGU, which seeks to "obtain exposure to large- and mid-cap U.S. stocks, tilting toward those with favorable environmental, social, and governance ratings."
Now let's have some fun and compare the holdings of both funds...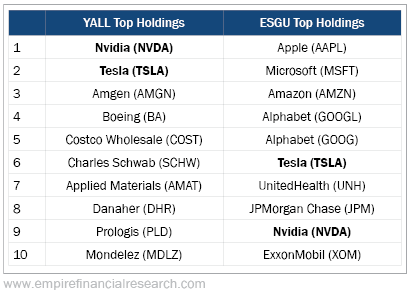 Empire's Editor in Chief Sam Latter noticed that nine of the top 10 holdings in YALL are also in the pro-ESG ESGU fund. Tesla and Nvidia are in the top holdings of both... while other crossovers include Costco, Amgen, Danaher, Applied Materials, Prologis, Charles Schwab, and Mondelez. 
All in, half the anti-ESG fund is among the top 50 holdings of the pro-ESG fund, and more than half cross over.
Therein lies the fallacy and farce of the whole thing. There are no rules, regulations, or standards governing what is or isn't ESG, or whatever it is that somebody wants to call it.
Therein lies what would appear to be... a big problem.

Moving on, a comment about the FTX fiasco...
I'm willing to bet that most of you have never, until this week, heard of Sam Bankman-Fried and the fiasco surrounding his crypto exchange, FTX.
And if you have – and if you're like me – you only paid a passing glance when you maybe saw him in the financial media, maybe on CNBC...
And if you're like me, maybe you also said, "Who is that kid and why is he suddenly always being interviewed?" It kind of reminds me of Chamath Palihapitiya, who out of nowhere was suddenly everywhere, but was being called the king of special purpose acquisition companies ("SPACs").
That's not the only thing they have in common...
One (Palihapitiya) called himself the next Warren Buffett. The other (Bankman-Fried) was referred to by Fortune earlier this year as possibly the next Warren Buffett...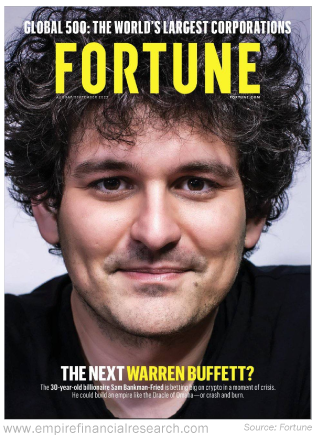 They had become so popular that everybody wanted in, to get behind the velvet rope – the biggest venture capital funds, hedge funds, the supposedly smartest of the smart...
Just like they wanted in on Palihapitiya's SPACs, they wanted a piece of Bankman-Fried's privately held FTX, too.
I often say that hubris can be very humbling... That especially applies to out-of-the-blue personalities. Too far, too fast, out of nowhere, and suddenly everywhere – it's a recipe for trouble. It's like somebody who wins the lottery.
As I tweeted yesterday...
Sometimes simple clichés really do say it best: "If it seems too good to be true, it probably is."
This time, as history will show, was no different.
As always, feel free to reach out via e-mail by clicking here. I look forward to hearing from you.
Regards,
Herb Greenberg
November 11, 2022