► Earnings season has kicked off, and it will be characterized by easy comparisons…
Earnings reports are starting to flood in from banks, industrials, and other large-cap companies. Everyone knows that when looking at year-over-year growth, we should expect some crazy numbers, as the second quarter this year will compare against the worst of the COVID-19 crisis in terms of shutdowns and economic disruptions.
In other words, every eye-popping revenue growth rate or jump in earnings per share ("EPS") deserves an asterisk placed next to it… And results will only get more distorted in a few weeks when we start getting earnings from companies like restaurants, hotels, and retailers, which took the biggest hit from the COVID-19-related closures.
To give investors a better sense of where things currently stand, plenty of companies – at least the ones that value transparency – will be offering results compared not just to last year, but to 2019 as well. This will give analysts a better sense of whether a company has fully recovered and what its true underlying growth trends look like.
But expect the year-over-year headlines to be exceptionally dramatic… Remember, a company that lost 50% of its sales last year during the shutdowns can have revenues soar a remarkable 80% and still be down 10% versus where it was two years ago. Investors will have to dig into the numbers – and look for those comparisons to 2019 – to really know what's going on.

After we get through these second-quarter earnings, the season of tougher comps will soon be upon us…
The second quarter of 2020 bore the biggest brunt from the pandemic. From there, things got better as shuttered businesses reopened, the pandemic subsided from the regions that got hit first, and the summer provided a bit of a seasonal respite. Even as additional waves of the virus hit, people adjusted – they learned how to shop, dine, and even travel with greater safety relative to the spring. As a result, things got a little better sequentially for most businesses as we moved through the year.
That was all good news. But it also means that as we go through this year and move into 2022, year-over-year growth will decelerate at many companies. Analysts who estimate forward revenue and earnings growth know this and have taken it into account in their models… but it still makes sense to acknowledge that for most companies, this quarter will be as good as it gets with respect to reported growth. A period of decelerating growth is upon us.
► One place where the tough comps hit first was streaming video services…
When people were told to stay home last March, the first thing many did was hit the couch and start binge-watching TV. We see can easily see this in the first-quarter global subscriber additions at streaming giant Netflix (NFLX). The company added an incredible 15.8 million subscribers in the first quarter last year, as many people stuck at home reached for the remote. This was more than twice the 7 million subscribers the streamer had added in the first quarter of 2019.
The first quarter is usually the strongest one for Netflix subscriber adds… But as you can see in the chart below, last year was off the charts. The second quarter – which tends to be the weakest of the year for net adds – was also unusually strong in 2020.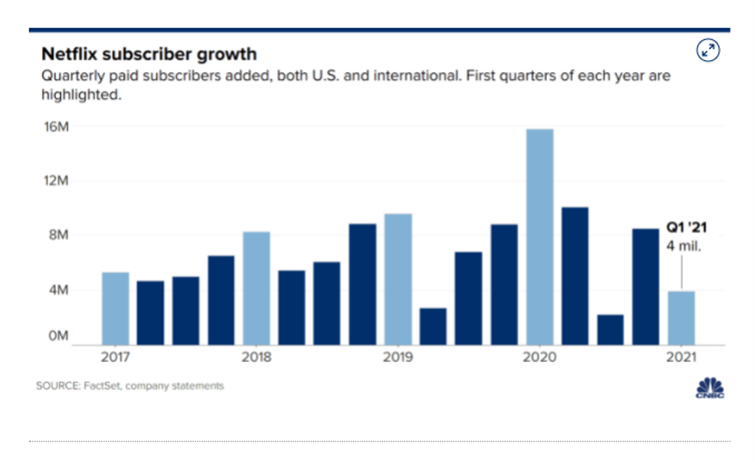 Source: CNBC
When it reported first-quarter earnings in April, Netflix had to comp against this incredible report… and ended up doing something it rarely does: come up short of expectations.
Netflix had guided for 6 million net new subscribers in the first quarter and analysts had been looking for 6.2 million. But when the report came out, Netflix had only added 4 million subscribers.
Despite handily beating EPS expectations – printing $3.75 versus expectations of $2.98 – NFLX shares fell 7% the day after the report. They drifted down another 5% from there, later rebounded, and now sit just about 1% below where they were going into last quarter's earnings…
When it reported the first quarter, Netflix blamed the miss on future demand being pulled forward in 2020 by the pandemic – meaning that the extraordinary growth in subscribers last year borrowed from future short-term growth. The company also acknowledged that pandemic-related production delays had postponed the debuts of some of its big-name shows, which affected subscriber demand.
The second quarter of 2020 saw Netflix add a remarkable 10.1 million subscribers. Acknowledging this pull forward and the likelihood of continued content shortages for another quarter, Netflix guided for just 1 million new subs in 2021's second quarter, which will be reported next week.
And it wasn't just Netflix feeling the streaming slowdown…
When Disney (DIS) reported its earnings last quarter, it stated just 103.6 million subscribers for its Disney+ streaming service – well short of the 110 million that analysts had been looking for. You can see the subscriber growth slowdown – as well as how far ahead they are of their closest competitors – in this graph from the Hollywood Reporter…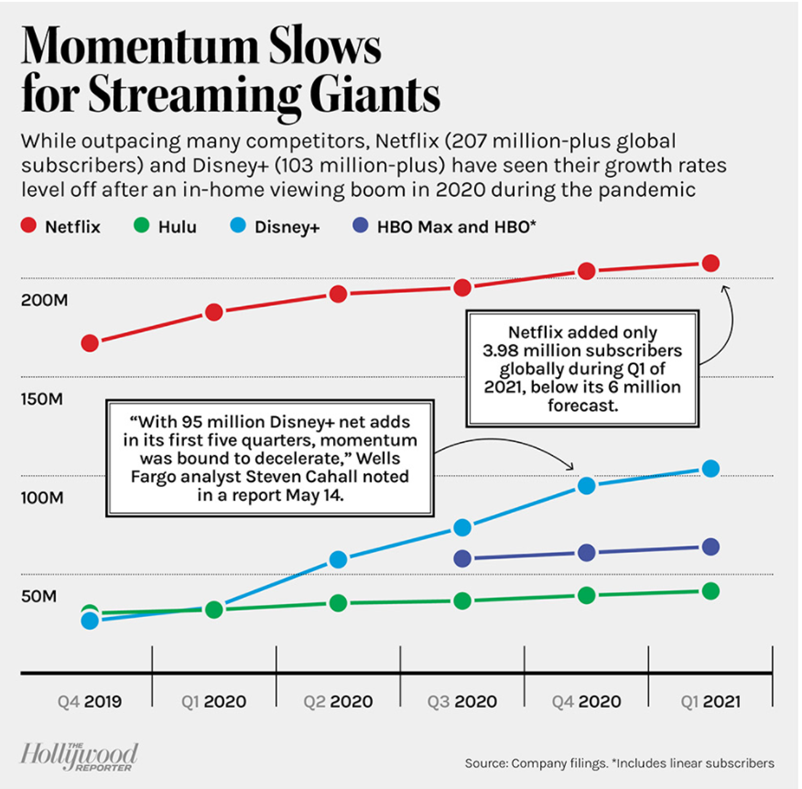 Source: Hollywood Reporter
Soon after the quarterly report, Disney CEO Bob Chapek explained that content delays had been a headwind for its service as well…
Content has been sort of stymied in the supply chain because of the shutdown of production. Now that we're pretty much up to full production, we expect to have full content flow by fiscal year 2022 or fiscal year 2023, when we're really in the kind of cadence that we want to have going forward.
Disney is on a September fiscal year, so Chapek was essentially guiding that the flow of new content should be back to where management wants it by the fourth calendar quarter of this year.
Netflix has guided for content constraints to go away a bit earlier – in the second half of the year – and remains optimistic that more content should be a "clear catalyst to a reacceleration of growth toward the backend of the year," in the words of Netflix co-CEO Ted Sarandos.

The pull forward of future demand in 2020 has made things lumpier for the streaming leaders…
My guess is that both Netflix and Disney+ should end 2021 with about the same number of subscribers they would have had if the pandemic had never happened. The net effect of the pandemic is that more of the additions came in 2020 versus 2021 than would have been the case had the crisis not happened.
But for the newer arrivals on the streaming scene, the end of the pandemic will likely pose a significant headwind to getting scale with subscribers.
Services like AT&T's (T) HBO Max, ViacomCBS' (VIAC) Paramount+, and Comcast's (CMCSA) Peacock don't have to contend with tough comps – they were nonexistent or nascent services during the period from March to June last year, when the pandemic drove subscribers to Netflix and Disney+ in droves. Peacock and HBO Max only launched in April and May of 2020, respectively, and missed the first big wave of new streaming subs, driven to their TVs by lockdowns… and the old CBS All Access didn't relaunch as Paramount+ until just March of this year.
So, while these newer services don't have to climb the wall of worry against tough comps as we come up to second-quarter earnings, they do have to deal with the effect of last year's production shutdowns. And perhaps the biggest challenge of all: Every streaming service has to compete against alternative forms of entertainment now that the world has reopened and choices are back.
Last week, I wrote about how tough it might be for DoorDash (DASH) and Uber's (UBER) Uber Eats to continue their torrid pace of growth now that restaurants have no restrictions and people feel protected from COVID-19. Similarly, Netflix, Disney+, HBO Max, and others all have to compete against people seeing friends and family and going to restaurants, movie theaters, sporting events, travel destinations, amusement parks, and pretty much everywhere else you couldn't go – or were afraid to go – last year. Now, the streamers will have to compete for your time, as well as for your money.
Recognizing the challenge ahead, the latecomers are getting more aggressive in seeking subs. According to the Hollywood Reporter…
Multiple streaming services are also trying to chart a path to growth with strategies that may deliver raw subscriber numbers in the near term, but risk delivering lower average revenue per user ("ARPU").

Paramount+ and HBO Max are betting that less expensive ad-supported tiers can bring in subscribers that may be feeling the pinch of having too many premium video options. HBO Max With Ads launched June 4 at $9.99 per month, a $5 discount. Paramount+, meanwhile, lowered the price of its ad-backed tier by $1 to $4.99 per month.
While the prices are lower in these ad-supported tiers, advertising revenue can possibly make up the difference. In Disney's second quarter, the average Hulu subscriber yielded $12 per month in revenue… even though far more subscribers opt for the $5.99 ad-supported version than the $11.99 ad-free option.
Streaming services will also lean hard into international markets to keep up the subscriber growth numbers, although the ARPUs in international tend to be much lower. As a result, many international subscribers are less profitable than the ones in the U.S.

Streamers were first to benefit from the pandemic and also first to feel the challenge of tough comps… So what happens next?
Analysts can – and have – modeled for the tough Netflix and Disney+ comps. What's harder to model is how the competition from a plethora of recreational choices hits these two services and their smaller peers.
My bet is when the dust settles, we will have fewer services. With HBO Max set to combine with Discovery's (DISCA) streaming service next year, the impetus will be for smaller services to consolidate. I think a combination of Paramount+ and Peacock would be wise, but a deal would be complicated, unless Comcast wants out of the entertainment business.
Netflix and Disney+ have in my mind cemented their No. 1 and No. 2 positions in the market. As for Netflix, given the recent rally, I would stay on the sidelines with NFLX shares ahead of the second-quarter earnings report next week.
I'm more bullish on DIS shares, as the company is still materially underearning in its Parks and Experiences division – meaning more recovery to come – and has pricing power to eventually hike the rates for Disney+. As the battle for subscribers shakes out, the investment headlines about streaming will likely pivot back to content capabilities from distribution reach. This is a positive for Disney… and DIS shares remain a compelling buy for long-term investors.
As for the broader market, expect the headwinds of tougher comps to cast a pall over earnings reports from "pandemic winners." We've already seen the specter of tough comps challenge the stocks of some of the pandemic's biggest beneficiaries, like home fitness company Peloton (PTON) and video-conferencing icon Zoom (ZM). With tough comps ahead, investors will likely focus on forward guidance over recent results even more than usual as the second-quarter reports trickle in.

In the mailbag, a reader weighs in on Netflix and another opines on the benefits of watching movies at home…
Are you streaming less content lately? If so, is this because nothing is interesting and new… or because you have better things to do? Have you canceled or added any streaming services lately? Share your thoughts in an e-mail to [email protected].

"I'll tell you why within the last year I quit Netflix, both DVD and streaming. The availability of good programs is minuscule, while the rest is crap and for the woke generation. Talk about dumbing down, this is it in spades!
"One particular irritation was that often you could not tell if a movie was in a foreign language until it started. Cut the crap!
"Netflix may do well, but without me. The stock is overpriced." – Earl W.

"Hi Berna, Interesting observations about the theatre industry future. I started messing around with projection systems a few years ago, and now I have a commercial grade, high resolution projector system with a 14′ wide screen surrounded by Bose speakers and hidden sub-woofers. I suppose the only thing missing would be a snack bar with a variety of goodies, but I can make my own popcorn… and best of all, I can control how I want to watch – in segments or all at once, with earth shattering sound effects, or through my wireless headphones. All while I am in my skivvies or birthday suit if I dare. Can't do that in a theatre……………." – T.P.
Regards,
Berna Barshay
July 13, 2021