---
Recommended Link:
GM's next big release has no engine and no wheels

In a shocking move, auto giant General Motors is venturing into a whole new space (hint: NOT electric vehicles). While industry analysts see this as a way of catching up with Tesla, the bigger reason could be because this new space is getting the full backing of the current administration and could mean huge tax credits in the future. Or it could just be that this fledgling industry has more scope than the declining auto industry. Whatever it may be, this move could put GM into the same bracket as Apple, Google, Microsoft, and Amazon. Get the details of this massive trend here.
---

Between overhyped IPOs, crypto scams, and meme stocks, it's never been easier to lose money in the markets...
At the same time, the prices of everything – gas, food, your electric bill, and just simple takeout – have shot higher.
While there are signs of relief in some areas, inflation remains near 40-year highs... According to the latest number from the U.S. Bureau of Labor Statistics, the Consumer Price Index ("CPI") is up 8.3% for August.
Adding to the worries about the future of the economy, layoffs seem to be accelerating. That's supported by a recent survey from consultant PwC, which shows that at least half the more than 700 executives and board members who were polled said that they're reducing staff or plan to... and slightly over half have already implemented hiring freezes.
As for your retirement account? Even if it's ahead of where it was just a few years ago, the market's comeuppance has made many people feel less wealthy. The benchmark S&P 500 Index, after all, saw its worst first half of the year since 1970, and recently crashed back below its June lows... for a year-to-date drop of more than 20%.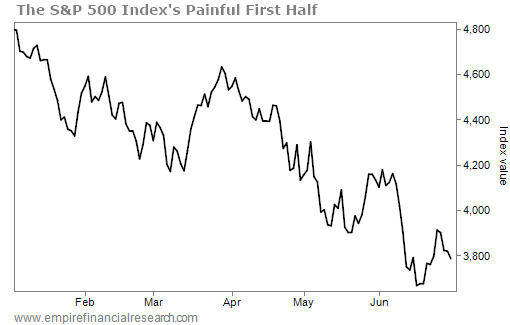 The very thought of investing right now might feel counterintuitive to downright nauseating...
And you're not alone... Millions of Americans are waiting for a "better" time to get in.
Good luck! Nobody can say exactly when the right time will be.
And there is no right strategy. It's one thing to run a fund, under pressure to show good returns every quarter... It's another to be a regular investor with a long-term view.
However, avoiding stocks entirely can mean missing out on big gains in the future. Just consider the numbers...
According to JPMorgan Asset Management, if you had invested $10,000 and missed the 10 best days from 2002 to 2021, your gains would have been cut by more than half. If you had missed 30 days, you would have missed out on more than 80% of potential gains.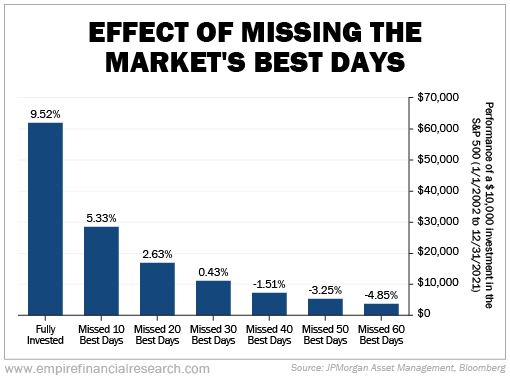 During market downturns like this is when you want to be putting together a shopping list...
That's exactly why I just launched my brand-new product, Empire Real Wealth.
My research partner Gabe Marshank and I have spent the past three months assembling a portfolio of nine world-class, blue-chip stocks that will help you safely grow your nest egg without blowing you up.

I've seen a few blowups in my nearly five decades in and around the markets, starting when I graduated from college in 1974...
My first job was as a business reporter in the then very sleepy town of Boca Raton, Florida. It was during one of the worst bear markets and recessions of all time. I remember seeing the shells of half-finished condos getting overtaken with weeds – the sign of a boom time gone bust.
Things were so bad that in his keynote at a convention I was covering at the Boca Raton Hotel and Club – the swankiest place around – one famous economist exclaimed: "There's a 50% chance that we slip into a recession greater than 1929."
Five years later, when I was a business reporter for the St. Paul Pioneer Press – two months to the day before I got married – BusinessWeek magazine ran its infamous headline, "The Death of Equities," with the subtitle, "How Inflation is Destroying the Stock Market"...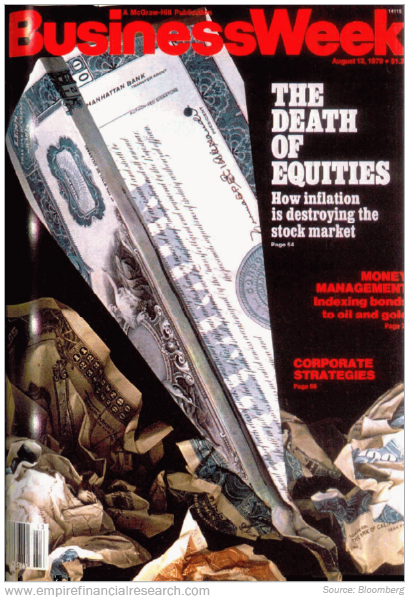 But look at what the S&P 500 did in the next two decades after that BusinessWeek issue...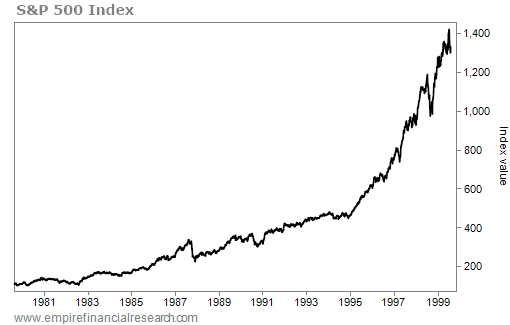 I was at TheStreet.com working alongside Jim Cramer in 2000 when the dot-com bubble burst. I remember the panic well – from its peak in March 2000 to the bottom in October 2002, the tech-heavy Nasdaq Composite Index collapsed 78%.
But over the next several years leading up to the next crash, take a look at the recovery...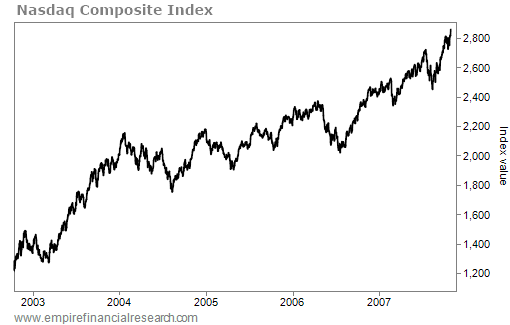 The point here isn't calling tops and bottoms... I'm saying that I've been there, I've seen it all, and now that I'm 70, I'm taking everything I learned and sharing that with anybody who will listen – anybody who wants to invest in real businesses, not speculate on lottery tickets.

The lesson is exceedingly clear...
When it comes to investing, even with the best companies, there is no straight line.
While the market can go down and stay down for extended periods, it's up substantially from each of those disasters. Or to put it in perspective... From its lows in 1974, the S&P 500 is up nearly 7,000%. So much for the death of equities.
With Empire Real Wealth, we're helping you take back control of your portfolio... your retirement account... and your future.

The stocks we've chosen for our inaugural portfolio are one great company after another...
They tend to be industry leaders with solid business models, proven track records, healthy balance sheets, and strong cash flows that also happen to be generous with their dividends and are reducing their share count through buybacks.
Some are cheaper than others valuation-wise, but on average they trade for less than the S&P 500, pay a higher dividend yield, and boast earnings that are growing at a faster five-year compound annual growth rate ("CAGR").
Better yet, this group of stocks really has gone "on sale."
Today, the Empire Real Wealth portfolio trades at a discount of nearly 25% to the S&P 500, while yielding 3.5% – more than twice that of the market.
Don't let the market's volatility stop you from taking advantage of this incredible opportunity to own some of the best businesses in the world... Learn more about a charter membership to Empire Real Wealth – and how to gain access to the full portfolio for what's likely the lowest price we'll ever offer – right here.
Regards,
Herb Greenberg
October 6, 2022