Note from Whitney: Today, we're wrapping up our special three-part series from my friend Steve Sjuggerud while I'm climbing The Nose of El Capitan in Yosemite National Park.
When it comes to the stock market, Steve is one of the best analysts I know. But the vast majority of his personal net worth is actually invested in real estate.
In today's essay – excerpted from last month's issue of his excellent True Wealth newsletter – Steve shares the name and ticker symbol of his favorite real estate investment in the market. Here's Steve…
---
In 2011, I personally "backed up the truck" to buy Florida real estate. I loaded up on it. To this day, Florida real estate (not including my home) makes up the largest percentage of my financial net worth.
I have been optimistic on housing ever since. So you might be surprised to hear that I am not always bullish on U.S. real estate…
I raised the alarm on the housing market in 2005. We were in a dangerous bubble. And I told readers that it couldn't last.
When the environment in real estate turns dangerous again, I'll be happy to sound the alarm. But let me be clear…
We are not there yet today.
The reason I continue to believe that is simple… supply and demand.
In a bad housing market, supply overwhelms demand. And prices fall when the housing market is overflowing with houses.
We aren't at saturation levels right now. In fact, we are far from it.
One way to see this is through the monthly home supply in the U.S. It measures how many months it would take to get rid of the current housing supply at current sales rates.
In January, the monthly U.S. home supply was five months. Today, it hovers around six. Take a look…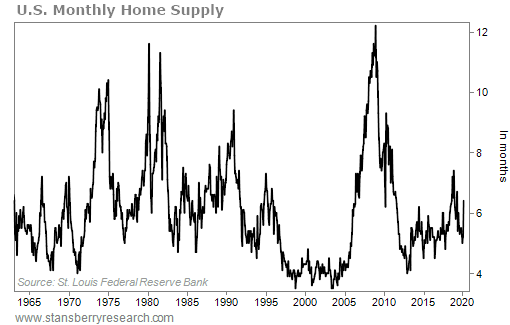 Supply has jumped up a little. But it's nowhere near saturation levels. We've seen monthly home supply jump to double digits in the past.
At six months, the current month's supply is hovering right around its long-term average.
This is a positive for companies that build homes. Supply remains in check. And we're not going to see a flood of new supply anytime soon.
That's because housing starts are down dramatically since the coronavirus outbreak began. They're down 45% since the January peak… And they have now fallen to recession levels. So we are about to have a severe shortage of new homes.
Of course, coronavirus is also going to slow demand. But with supply down so much, homebuilders are in a better spot than you might think.
That didn't stop their shares from crashing as the virus hit the U.S. Homebuilders fell 51% peak-to-trough from February to March.
That's right – the sector at the heart of a housing boom lost half of its value in roughly a month. Take a look…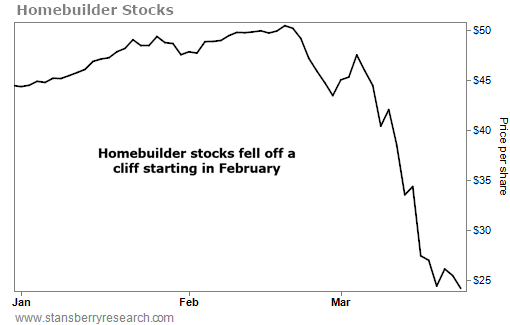 For folks who owned homebuilders, it was a painful loss. And most of them fled the sector during the bust.
We can see this through shares outstanding for the iShares U.S. Home Construction Fund (ITB)…
Funds like ITB can increase or decrease share count based on demand. If investors are excited to own homebuilders, ITB simply increases the number of shares available. And if folks want nothing to do with the sector, ITB cuts its share count.
Investors hate the idea of owning this part of the market today. Take a look…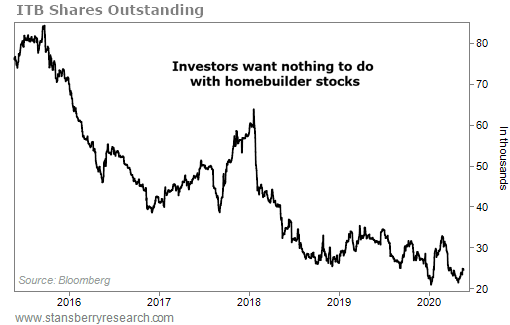 Shares outstanding for ITB are near multiyear lows. And you can see in the chart above that ITB's share count has been falling for years.
The pain of the recent pullback is fresh in investors' minds. It's keeping them on the sidelines. But that's a mistake… because homebuilders just staged a major rally off the recent bottom.
ITB is up more than 80% since bottoming in March. Clearly, the uptrend is in place. And with so many investors still on the sidelines, we have a great contrarian opportunity to buy right now.
The broad setup in the housing market remains solid. Homes are extremely affordable thanks to low interest rates. Supply remains near its long-term average, with a low rate of new-home construction. And investors are downright scared.
All of this, plus the strong uptrend we're seeing in homebuilders, is why we must take advantage of the opportunity right now.
Instead of trying to pick the winner in the homebuilder sector, we want to own them all.
And shares of ITB are the best way to do just that.
Good investing,
Steve Sjuggerud
Note from Whitney: If you're interested in learning more about the massive opportunity in real estate, you're in luck…
On Wednesday, June 24 at 8 p.m. Eastern time, Steve will explain why the timing is perfect right now to add more diversity, stability, and upside potential to your portfolio… by keeping some of your portfolio outside of the stock market.
During this free webinar, he'll share how regular investors can make huge gains in the next housing boom, as well as how real estate can be even more lucrative than stocks. Best of all, it has almost none of the normal stress that comes with investing. You won't want to miss this special event. Space is limited, so make sure you save your spot right here.