1) Though I am bullish on the stocks of tech giants Alphabet (GOOGL) and Facebook (FB), I agree wholeheartedly with comedian Sacha Baron Cohen that The 'Silicon Six' spread propaganda. It's time to regulate social media sites. Excerpt:
Yes, social media companies have taken some steps to reduce hate and conspiracies on their platforms. Yet these steps have been mostly superficial…

Unfortunately, the executives of these platforms don't appear interested in a close look at how they're spreading hate, conspiracies and lies…

Facebook, Google, and Twitter are unthinkably rich, and they have the best engineers in the world. They could fix these problems if they wanted to. Twitter could deploy an algorithm to remove more white-supremacist hate speech, but it reportedly hasn't because it would eject some very prominent politicians. Facebook could hire enough monitors to actually monitor, work closely with groups such as the Anti-Defamation League and the NAACP, and purge deliberate lies from their platforms.

But it won't, because its entire business model relies on generating more engagement, and nothing generates more engagement than lies, fear and outrage.
You can watch Baron Cohen's entire 25-minute speech here.
2) My bullishness on online-retail juggernaut Amazon (AMZN) was reinforced by this article about how most brick-and-mortar retailers are struggling to keep up… Chasing Amazon, Retailers Are in a Never-Ending Arms Race. Excerpt:
Retailers are trying everything they can to keep up with Amazon. Macy's offers same-day delivery and in-store returns for online purchases. Black Friday deals are already starting at Kohl's. And craft cocktails are served in the women's shoe department at Nordstrom.

By one measure, these strategies are working. After years when it seemed as if Amazon was swallowing the industry, many large old-school chains like Kohl's and Macy's have largely stabilized their lagging sales.

But those victories may be short-lived because retailers are caught up in a seemingly never-ending race against Amazon. The more they spend to compete, the more their profits are sapped. And even when they succeed in attracting customers, Amazon responds with new ways of delivering inexpensive items as quickly and conveniently as possible.

"Is this an arms race that never stops?" asked Christina Boni, a senior credit officer at Moody's focused on retailers. "That has still to be determined."

And it's not just Amazon that has been shaking up the roughly $3.6 trillion retail industry. Dozens of start-ups, backed by private investors not concerned with immediate profits, have been chipping away at department store offerings, section by section.

The costs are weighing on many retailers, even in a relatively strong economy when consumers are expected to spend heartily during the holiday shopping season, which begins in earnest this week.
3) Unfortunately, Amazon's success means it's the target of more and more scammers. I don't see how the company can police this particular type of fraud… Her Amazon Purchases Are Real. The Reviews Are Fake. Excerpt:
Third-party sellers know what it takes to make it on Amazon: Get good reviews and a high search ranking. But attracting genuine customers is tough, so some sellers use a reliable cheat – bribes. Because of Amazon's vast scale, inscrutable algorithms, and capricious enforcement of its own rules, unscrupulous sellers and paid shills largely get away with it.

Amazon has banned giving away free products in exchange for reviews, so Jessica requested anonymity out of fear that the company would suspend her account.

Sellers reach out to Jessica through targeted Facebook ads touting free items or dedicated review groups with thousands of members, and give her a specific set of instructions to purchase their products on Amazon. After she leaves a 5-star review, the sellers reimburse her via PayPal or an Amazon gift card, and let her keep the items she reviews.

Jessica's activity, as far as Amazon is concerned, looks legitimate. She makes purchases from her own Amazon account and credit card, so her reviews are labeled as a "verified purchase." After the sellers confirm Jessica has left a 5-star review, the payment is made out of Amazon's view. The credit card, an Amazon-branded rewards card, gives Jessica an extra bonus for the purchase. In other words, third-party sellers aren't the only ones paying her to leave fake reviews and superficially boost sales – Amazon is too.
And this is no surprise whatsoever…
Jessica said the majority of sellers she messages with are Chinese. They respond to messages only between 9 p.m. and 6 a.m. Eastern time, which are working hours – 10 a.m. and 7 p.m. – on Beijing time.
4) One of the ways I keep life fun and interesting is by adding excursions onto existing trips.
One of my favorite tricks is booking long layovers in new cities. For example, a few years ago when I was flying home from my annual Value Investing Seminar in Italy, Alitalia wanted $1,200 for a one-way flight back to New York City. Yeah, right! I did a little digging and found a $100 flight to Budapest on Wizz Air, where I spent a marvelous 24 hours. I then took a $650 flight home on LOT Polish Airlines, which had a six-hour layover in Warsaw – just enough time to hop a taxi into the old city and take a private Segway tour I'd arranged (Segways are a fun and fast way to cover a lot of ground)…
I wasn't quite so clever the past few days, but had an even more epic adventure. I flew to Zurich on Friday for Guy Spier's daughter's bat mitzvah (I included a photo of us in that day's e-mail), and rather than just flying home on Sunday, I instead realized that I could squeeze in an extra three days in Switzerland and still get home for Thanksgiving.
So I called my climbing guide, who guided me up the Jungfrau and Mönch mountains in summer 2017 (click here for a description and pics), and he said we could find great climbs. So on Sunday, I took the train to Grindelwald, and thanks to getting very lucky with the weather, we did two days of amazing climbing. Here are some pictures: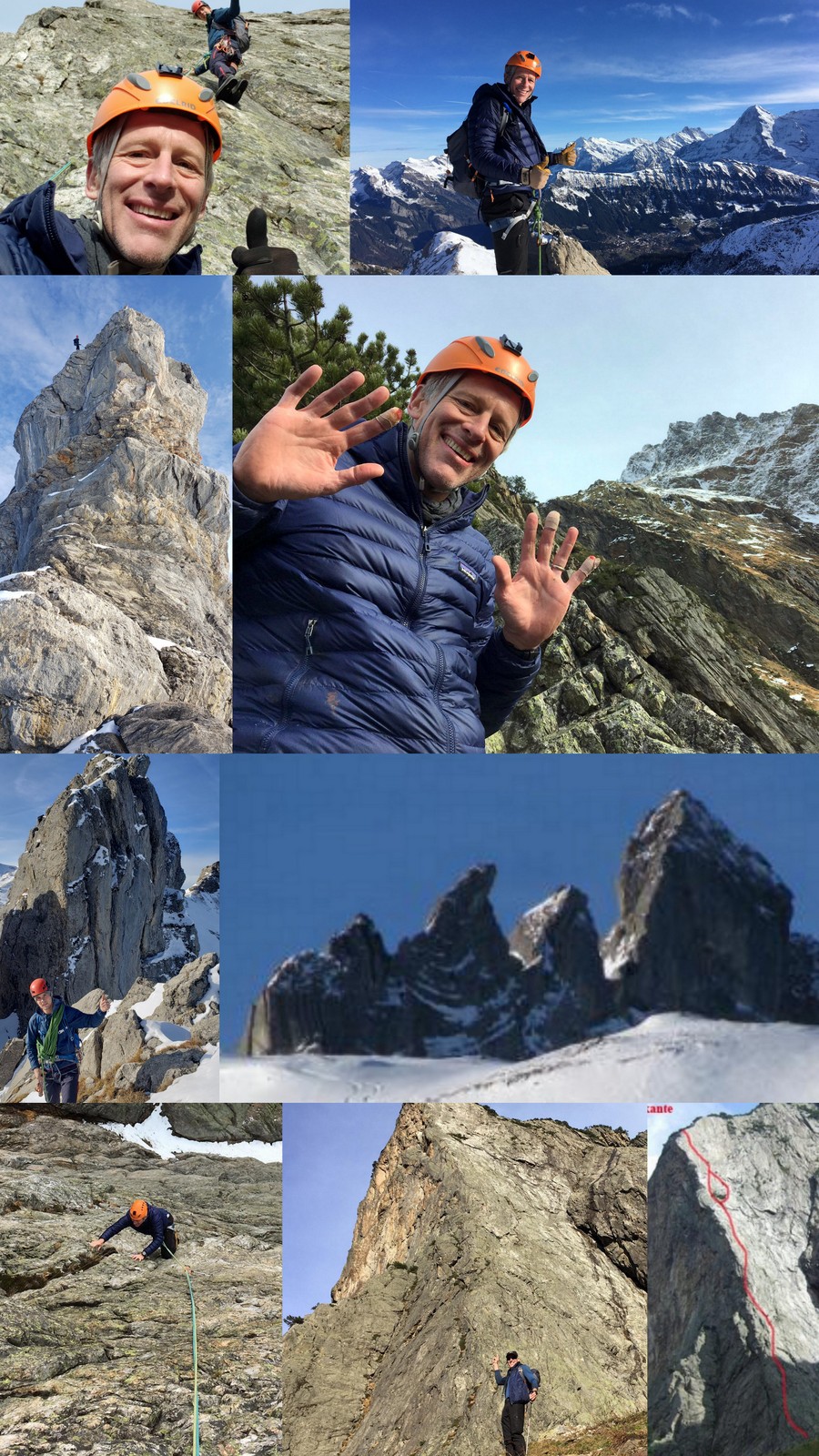 Best regards,
Whitney
P.S. The Empire Financial Research offices are closed tomorrow and Friday for the Thanksgiving holiday. Look for the next Empire Financial Daily e-mail on Monday. Have a great holiday!