► Victoria's Secret was once the envy of everyone in the retail business…
Last week, Les Wexner stepped down as Chairman and CEO of L Brands (LB).
For years, Wexner ran the parent company of lingerie chain Victoria's Secret and Bath & Body Works, which sells soaps, lotions, and other fragrance-driven personal care and home products.
When Wexner bought the Victoria's Secret chain in 1982, it had $4 million in annual sales spread across five stores and a catalog operation. He paid $1 million for the company. Today, Victoria's Secret has more than 1,100 stores, a massive online presence, and generated just less than $7 billion in sales last year.
That 1982 purchase was the beginning of a spectacular run for the lingerie chain. No other specialty retailer put up more consistent growth, and with industry-leading margins. From 2001 to 2016, Victoria's Secret grew at a 6% compounded annual growth rate, and had an average operating margin of 16%, dipping below 15% only during the years of the financial crisis. (For perspective, most specialty retailers have 7%-12% margins). Take a look…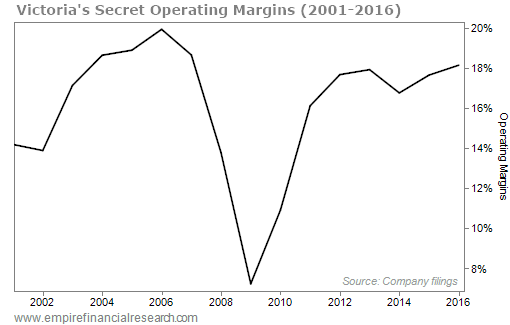 Retail concepts tend to grow rapidly early in their corporate life, as new store openings propel sales. But once the market for new stores becomes saturated, specialty retailers grow only with same-store-sales (or "comps"), which on average gravitate to the low single digits, with occasional spikes or troughs due to fashion hits or misses. The 15-year run at an average of 6% growth was spectacular and enabled Victoria's Secret to grow to peak sales of almost $8 billion.
► At its peak, Victoria's Secret controlled about one-third of the U.S. lingerie market…
The company got there through a combination of lucky timing, an attractive niche within apparel, good strategy and consistent execution, and great marketing.
As for timing, Wexner's purchase coincided with the golden age of malls in the U.S. As new upscale malls opened in the 1980s and 1990s, Victoria's Secret suddenly had lots of places to put new stores.
In terms of the niche within apparel, lingerie is both a fashion item (fulfilling wants) and a necessity (fulfilling needs). The replacement cycle (underwear eventually wears out) helps keep demand up even in bad times. But marketing around holidays, color trends, and product innovations can also help stimulate demand.
For a long time, bras were a great business. Their technical aspects make them harder to design and manufacture than any other apparel item, building some competitive moat within an apparel industry that has almost no barriers to entry.
But the company didn't rest on its laurels. For a long time, it avoided the pitfalls that put so many other specialty retailers out of business. As the core Victoria's Secret lingerie brand approached saturation, the company found new avenues of growth by revamping the brand and launching a new one.
The company introduced Victoria's Secret Beauty, which capitalized on secular growth in that market. It also created a new lingerie chain, PINK, which skewed younger than its flagship brand.
► Another contributor to Victoria's Secret's enduring financial performance was its mass aspirational status…
While the company didn't invent the supermodel, it made many of them household names to consumers who didn't read Vogue or follow runway shows.
Marketing campaigns featuring the Victoria's Secret Angels and the annual televised fashion show were huge for the brand's popularity and growth. The Angels were tall, thin, and busty. They were who every woman aspired to be, but they also represented a standard of beauty that was unattainable for 99.9% of women. Here's a catalog cover from the '90s…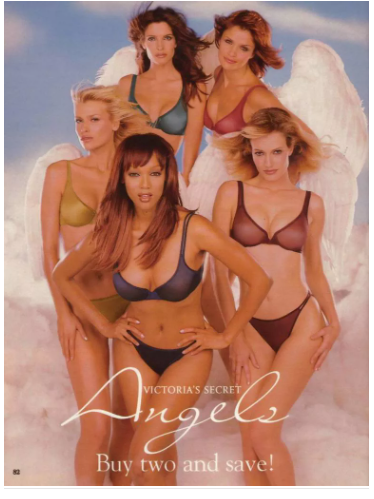 Source: Victoria's Secret, racked.com
The models that personified the brand for 20 years and drove its growth would also turn out to be at the root of its rapid decline.
► The times changed, but the company didn't…
Consumer preferences are never static, and by the 2010s, big changes were happening in how women thought about beauty. As millennials came into economic power, they brought with them a new attitude toward inclusiveness and standards of beauty.
Younger women started wanting to see models that looked a bit more like them. That meant a broader range of sizes, shapes, skin tones, and ethnic backgrounds. During this period, Victoria's Secret failed to pivot its marketing, and stuck with the same sort of picture-perfect, overtly sexy models that it had been using since the 1990s.
New brands popped up that sensed this cultural shift and seized the opportunity. Some were e-commerce startups, like Third Love, which directly targeted Victoria's Secret's highly profitable bra business by pitching better quality, fit, and a broader, more inclusive size range.
Others were traditional retailers, like American Eagle Outfitter's Aerie (AEO) lingerie chain, which aimed straight at PINK's positioning as a wholesome but sexy brand for women in their teens and 20s. Aerie gained popularity by using real customers – or "non-model" models – in their ad campaigns, which featured photos that didn't "photoshop" out every imperfection. Pop star Rihanna's Fenty line – which was aggressively sexy but also aggressive in its racial diversity and use of plus-sized models – also started eating into Victoria's Secret's business. By 2018, market share for Victoria's Secret of U.S. lingerie had fallen from percentages in the low 30s to 24%.
The company became a frequent punching bag for fashion bloggers and journalists, who accused the chain of using misogynist and anachronistic imagery. When the #MeToo movement took off and the company failed to pivot its marketing, the attacks accelerated. Victoria's Secret was applying 1990s cultural norms to the world in 2019, had lost the pulse of the market, and the financial results showed it. Sales started declining and margins plummeted…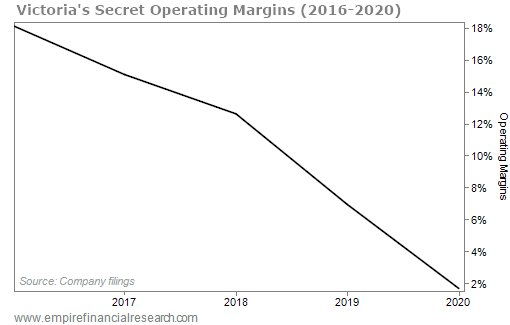 ► Investors blamed Wexner for the company's loss of relevancy and continual emphasis of non-diverse models that seemed out of step with the times…
Wexner is a legendary retailer who founded many successful chains, mentored many business leaders, and became a self-made multibillionaire in the process. But he was in his late 70s at the time that Victoria's Secret started getting out of sync with its young, female customers.
Things only got worse when sexual predator Jeffrey Epstein was arrested last summer. Epstein's association with Wexner was splashed all over the papers. Wexner had already cut ties to his former financial advisor way back in 2007… But it was indisputable that Epstein's original association with Wexner was the source of his wealth and influence. Before he met and began advising Wexner, Epstein was a college dropout, who after a brief stint on Wall Street, turned to teaching high school math. After his arrest, accusations surfaced that Epstein had used his unofficial Victoria's Secret association to prey on underage women. It was the last thing that the company needed when it already had a PR problem.
By 2019, Victoria's Secret was on a trajectory for its worst financial performance as a public company. Tabloids continued to dig into the connection between Wexner and Epstein. An activist hedge fund was pressing for changes to the board and management team. And with its stock hovering around $20, parent company L Brands had lost about 80% of its market cap over the previous four years.
Over that time, margins at Victoria's Secret had imploded from almost 18% to less than 2% as the company was forced to discount unwanted product as demand dropped, and lower sales volumes led to a deleveraging of fixed costs. But L Brands had an ace in the hole with its other asset…
► As Victoria's Secret was unraveling, Bath & Body Works was shining…
Bath & Body Works sells affordable liquid soaps, moisturizing creams, candles, and home fragrances. From 2014 to 2019, it grew at a 9% compounded annual growth rate while maintaining an industry-leading operating margin of 23%.
As a standalone company, Bath & Body Works would have surely garnered great returns for shareholders… but Victoria's Secret was weighing it down.
Activist investors pushed for a transaction that would release Bath & Body Works from the dead weight of Victoria's Secret. This past February, they got their wish when L Brands entered into an agreement to sell a majority stake in Victoria's Secret to private-equity firm Sycamore Partners.
► At the time, I hated the deal…
I thought L Brands was potentially selling at a "fire sale" price. Perhaps even more frustrating, I believed the company had never given it a real go at a turnaround. While the turnaround kept getting more challenging as the hole management dug for themselves deepened, the situation could have still been salvageable if it modernized its marketing and recruited and empowered a new, talented management team.
Fast-forward two months and one pandemic that closed the country and retailers with it… and suddenly I liked the deal. Pre-pandemic, the turnaround would have been difficult to pull off. Now, it's virtually impossible. L Brands had caught a lucky break… until the deal fell apart. Sycamore used the temporary store closures and missed rent payments as legal justification for walking away from the suddenly riskier deal.
► L Brands is a compelling speculative buy for long-term investors who can handle a little volatility…
The company reported first-quarter earnings on Wednesday night that were terrible, as expected, due to store closures, but the stock popped 18% yesterday.
The contrast between the problems at Victoria's Secret and the strength at Bath & Body Works was stark. While store closures drove Victoria's Secret sales down 46% and the division lost $200 million, Bath & Body Works was more resilient and still made $69 million in profits despite stores being closed half the quarter. Before having to close, Bath & Body Works stores were running 20% same-store sales, buoyed by demand for soap and hand sanitizer. After the stores shut, online sales at Bath & Body Works exploded – they were up 85% for the quarter.
During its earnings call, management announced store closures and a commitment to separating Bath & Body Works and Victoria's Secret into separate entities. Investors celebrated this news.
Whether L Brands finds another suitor for Victoria's Secret (which seems unlikely in the current environment) or attempts to spin off the lingerie chain, investors will still get a chance to own Bath & Body Works on a standalone basis.
While mall traffic and results at both chains will likely remain under pressure from the coronavirus crisis for several quarters, Bath & Body Works is still a gem.
On its own, I estimate it's worth between $12 billion and $14 billion. Subtracting all of L Brands' $8 billion in net debt – assuming the corporate debt is assigned 100% to Bath & Body Works in the separation, which is unlikely to happen – the equity value of just the Bath & Body Works chain would be $4 billion to $6 billion.
While the lingerie chain is suffering, I don't think it's permanently down for the count. Despite its well-documented issues, Victoria's Secret still has the leading market share in U.S. lingerie, and generated almost $7 billion in sales last year.
The coronavirus crisis has admittedly made repairing the brand and financial damage at Victoria's Secret much harder. But with Wexner out of the picture, a new generation of management that is hopefully more in touch with the chain's target customer base will take over and can begin to return the storied chain to profitability.
On the strength of its Bath & Body Works business and in the wake of its stated commitment to separating the two businesses, L Brands is a buy for long-term investors who can tolerate a little volatility along the way.
L Brands closed yesterday with a market cap of $4 billion. So even after the 18% jump, you're buying the retail gem Bath & Body Works at an attractive valuation and getting a free call option on its fallen angel sister company, Victoria's Secret.
► In today's mailbag, Empire Financial Daily readers share their brick-and-mortar shopping preferences…
I know my readership is largely male, but I'm curious whether you enjoyed today's essay. Let me know your thoughts – good or bad – at [email protected]. And one administrative note: Our offices are closed on Monday in observance of Memorial Day. Look for your next Empire Financial Daily essay on Tuesday.
► "Ever since my divorce (2002), as a single parent (mom), clothing my children was far more important than being fashionable. The 'tweens are so impressionable by their peers; I had a boy and a girl. They stayed hip, while I went thrift. I'm not sad to see Penney's go. I haven't been in their stores (by choice) since 1974. Never was a contender for my family. I do not buy clothes at retail prices anywhere. Way too wasteful of my hard earned money." – Beatrice C.
► "Yes, will be sad to see J. C. Penny go. I like going into a store and actually examining products. Less hassle with returns, usually less of them. Plus the more these stores go, the bigger and more monopolistic AMAZON becomes. When that happens Amazon can charge what it wants, nobody is left to compete and keep them honest." – Mike E.
Berna comment: As a consumer (not an investor), I fear that is the end game for Amazon as well!
► "I prefer shopping in person at stores such as Penney's, Kohl's, and Dillards. I like to feel the texture of clothing material and try it on if need be. An outfit that looks good in a catalog or on a hangar may not necessarily look the same way on an individual's body. Sometimes it's just tight in all the wrong places! I am also able to solicit a second opinion on the look and the fit of the garment from an attentive clerk in a good department store.
"I often shop under deadline. I can usually find what I need, try it on, and carry it out with me in the same trip. Department stores provide a needed and appreciated convenience. I regret we are losing them." – Barbara R.
► "I shop at Dillards for large retail in a mall. I used to shop at Penny's a lot but in the last 10 years I hardly shopped with them. I usually bought kitchen items/sheets and towels at Penny's and now I go online." – Kay C.
► "I would be sad to see JC Penny close all their stores for good. At 60YO I still shopped at the store. I still remember going to JCP to get my First Holy Communion suit in the 1950's at a small JCP store in a strip mall in Central NJ which closed more that 30+ years ago.
"I still go to Macy's and JCP. I had always gotten suits at both stores; but preferred JCP because the suit salesmen at the local store really knew his craft and would suggest styles, etc. Their tailor shop was second to none.
"Then, JCP made a disaster of the business by hiring an ex Apple exec (I think) who cut coupons and redid their stores to make them look less cluttered. The men's suit department went strictly off the rack and guys that worked in the suit department their whole lives and career were now floor people in home goods. So sad.
"I did try Joseph A Bank; but did not like it. Their [shtick], buy 2 suites and get 1 free; buy 10 free shirts and ties were a gimmick.
"I do hope Macy's survive. I am not an Amazon guy who pays $100+ yearly to get cheap China stuff delivered free in 2 days. According to Stansberry, the company brings in $1 billion+ a month on fees. Other than Walmart, no stores can compete with that model." – Frank S.
► "Berna, my thought is that Macy's might be one of the better positioned department stores. Still not a good position to be in. We know that as Cramer likes to say you either need to be online or off price in this environment. Macy's was going down that road with their Backstage concept. Why not merge by offering JCP creditors shares (As long as JCP can clear some real estate as well) and then use the JCP brand as your discount and take share from TJX or Ross. You'll have a brand to dump your inventory into farther removed from your name brand which allows you to better sell full price items and you should have either better margins than TJX or the ability to undercut their prices?" – Christopher P.
► "Hello, yes, shopping on line is convenient, however, I like going into both TJ Maxx and Home Goods to see the variation in colors and textures that cannot be seen on-line. I'm looking forward to my shopping trips to TJ Maxx and Home Goods." – Carol M.
► "I am very fond of Penny's and really hate to see it about to go under. And that is not just for the many (some long time) employees. In part my feelings are probably from knowing that my parents were socially involved with the Cash family (I think in Kansas City or St. Louis) back in the early 1920s. They spoke very highly of the family.
"I also have sad feelings about Sears for a different reason. They gave me my first credit card back in the 1940s. And I shopped J C Penny and Sears for many years. Sadly, now (as a nonagenarian) is Amazon more often than not!" – Bob B.
► "I Do shop regularly at department stores, mostly Dillards and Kohls for certain things. However, I did buy sheets from J C P in January and the store was a true delight: wide aisles, beautiful merchandise well displayed, etc. And for many years, I have bought jeans for my sons and husband there. I really wish now I had supported them by shopping there more and would truly hate to see them go. They are also a mall anchor here in Fayetteville, AR along with Dillards now – with Sears having left over a year ago." – Janice S.
Enjoy the long weekend!
Berna Barshay
May 22, 2020