► When the land of plenty becomes the land of out-of-stocks…
The Wall Street Journal took a deep dive over the weekend into the question of "Why Are There Still Not Enough Paper Towels?" According to research firm IRI, 21% of household paper goods were still out of stock at retail as of August 9.
The last five months have been characterized by shortages both serious and comical. While everyone enjoys a good toilet paper meme, the possibility of running out of meat or the reality of running out of medical-grade masks for health care workers have been no laughing matter.
Beyond paper goods, personal protective equipment, and food, we've experienced shortages in everything from inflatable pools to yeast.
Take a look at just how broad-based shortages have been, even this summer, a full five months after the first shelter-in-place orders took hold…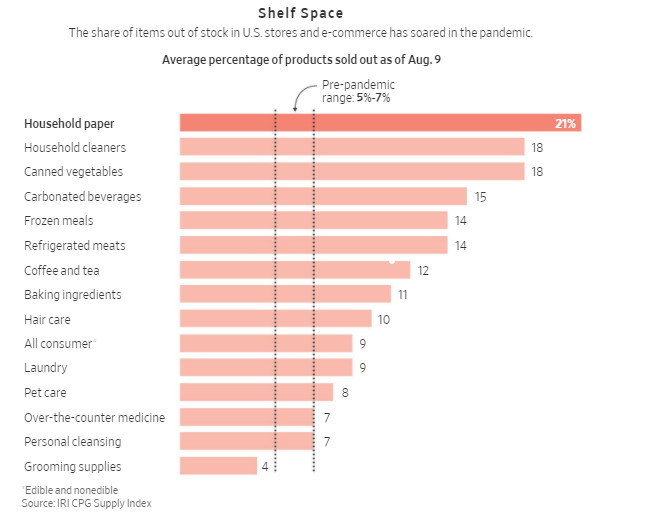 Many hard-to-find items are back in stock now, but shoppers are left with fewer choices… often forced to buy private labels or unknown brands… or sometimes visit the store more frequently to secure an elusive item.
Almost everything that's in short supply is the result of a demand surge. In some cases, the surge in demand may have been temporary… and supply/demand has come back into better balance. I'm happy to report that my social media feeds are finally rid of everyone's home-baked bread photos.
In other cases, the demand surge has been so persistent that manufacturers can never catch up and out-of-stocks persist. Shortages of disinfectant sprays and wipes remain severe.
► The lack of preparedness for demand surges is intentional…
Companies at both the wholesale and retail level have been pursuing lean inventories for my entire 20-plus-year career as a professional investor. The Journal explains…
The scarcity is rooted in a decades long quest by businesses at all levels, handling many different products, to eke out more profit by operating with almost no slack. Make only what you can sell quickly. Order only enough materials to keep production lines going. Have only enough railcars for a day's worth of output. Stock only enough items on a shelf to last till the next batch arrives.
This quest for efficiency and leanness dates to the 1980s. The movement to matching production as close as possible to the time of consumption, eliminating inventory and storage traces its origin to the auto industry. Back then, Japanese automakers started taking share from the Detroit Big Three as they were able to undercut the pricing for American cars while offering similar (or better) quality. They could do this because their lean manufacturing techniques lowered their cost structure relative to American automakers.
What started with cars ultimately made its way into all areas of manufacturing, as well as the retail industry.
Just-in-time manufacturing and supply chains became gospel in the U.S. Even businesspeople like me with no experience in manufacturing were aware of these concepts, and leanness of supply chain as well as production became an unquestioned best practice in every business I can think of.
► No one questioned this modern business theory until "just enough" became "not enough," as was the case with paper towels…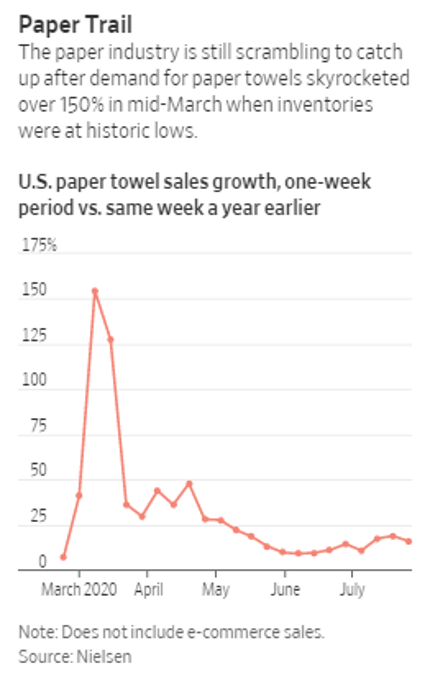 Source: Wall Street Journal
While demand for paper towels is no longer at 150% of normal, it still has settled in at about 25% above normal according to Bounty manufacturer Proctor & Gamble (PG). This is still more than the system can handle, which is why the out-of-stocks persist.
Whether it's because we're cleaning more, cooking more, adopting more pets, or some other reason, five months into the pandemic, paper towel demand is higher than before and doesn't look like it will return to normal.
So why don't they just make more?
The problem is that it takes years to build a new paper towel plant. The same is true for the factories that make disinfectants and many other consumer goods. When manufacturers for years have been judged by analysts on their capacity utilization at their factories… no surprise, there isn't much slack in the system.
► Experts issued warnings that these shortages could happen, but I don't remember hearing them…
The Journal article asserts that disaster preparedness experts told us this could happen, and offers one example from the Bush administration…
Michael Leavitt, who was U.S. Secretary of Health and Human Services in 2006, faced dual crises that year, an avian flu and public fears that tainted food and consumer products were being imported. He spoke at the time of what he called the Albertsons syndrome, where shoppers strip supermarket shelves of key products at the first sign of a threat.
But those voices from the government or academia were drowned out by the universal praise heaped on companies with lean manufacturing and supply chains by Wall Street…
Analysts who follow the consumer-goods industry say they don't recall substantive conversations with either executives or investors about the risk of shortages from lean-manufacturing and lean-inventory operations. Instead, they say, Wall Street seemed to reward companies for each emptied warehouse or closed factory.
I'm fully guilty of being one of those analysts who not only ignored the risks but doesn't even remember them being discussed. I do remember, however, reading the case study during the first semester of business school when we were taught lean manufacturing principles. That case discussed Japanese automakers having back-up suppliers lined up in case things went wrong.
According to the Journal, American (and European) companies apparently did some picking and choosing from the Japanese manufacturing playbook…
Companies that adopted the lean-inventory approach largely omitted tenets of the system as it had been devised. Originally, it called for having extensive backup plans in case of an event that interrupted plant operations or caused a sudden demand surge. Prescribed strategies included developing relationships with backup suppliers so that factories could always have enough materials.
► The quest to minimize working capital and squeeze out cash led to systemic shortage risk at every consumer-packaged goods ("CPG") company…
For years, CPG companies were steady growers. Big brands crowded out secondary and tertiary ones and grew by taking market share. Busy households with two parents working out of the home drove demand for convenience and the consumption of more and more packaged goods. The time and interest mothers had to dedicate to making cleaning products or foods from scratch waned.
But once domestic market share was consolidated, and foreign markets were reasonably conquered, organic growth became harder to come by for many big CPG firms. As volume gains abated, more emphasis was put on price increases, but there are limits on how many of those you can do.
There are three core ways companies can grow earnings per share – sales increases, margin increases, and share count reductions, or buybacks. As sales growth ratcheted lower, focus on margin increased. One way to increase product margins is to have fewer plants running all the time. When your paper towel plants already run 24 hours per day, seven days per week, there is no adding a shift to respond to a demand surge.
As it got harder and harder to eke out additional margin efficiencies from the income statement, CPG companies looked to squeeze efficiency from their balance sheets… and one of the primary ways to do that was to decrease inventory on hand.
As recently as February of this year – when the pandemic had already begun and was weeks away from hitting the U.S. – CPG companies were touting that their free cash flow was exceeding their net income. Two of the most common ways to get free cash flow to exceed net income are reducing inventories and capital expenditures on new facilities. What to do with all that extra cash? Pay dividends, reduce debt… and buyback shares.
► The motivations were similar at retailers, and the industry was led down this path by the largest retailer in the world…
The desire to match inventory to likely demand makes sense with goods that are literally perishable, like produce and meat, as well as figuratively perishable, like holiday merchandise and seasonal fashion items.
But that desire for inventory leanness has been dominant for over a decade in non-perishable goods as well, according to the Journal…
At the retail level, one spur was a decision by Walmart (WMT) in 2006 to thin out the inventory it held by $6.5 billion. Executives said the move would free up capital to help the company manage rising expenses such as a store makeover plan and fuel costs.

Walmart imposed its discipline on suppliers, penalizing them for delivering either too soon or too late. Suppliers that shipped full trucks of products to Walmart had to deliver within a specified two-day window around 80% of the time or be fined 3% of the cost of the goods. Competing retailers also demanded deliveries on precise schedules to lessen their need for bulging warehouses.
These retail-level initiatives had upstream implications for manufacturers as well…
Pushed hardest were makers of bulky paper products, because they take up so much space and are costlier to store, said Mike Hsu, the chief executive of Kimberly-Clark (KMB), which makes Scott paper towels. P&G launched a downsizing in the early 2000s. Colgate-Palmolive (CL) and Kimberly-Clark followed suit, closing dozens of factories that make various consumer products.
► Lean manufacturing and supply chain aspirations have left us caught short, but it's worse when the supply chain is global…
One of the reasons that things have loosened up with paper goods but less so with disinfectants and wipes is that paper goods generally have a domestic supply chain. Paper towels and toilet paper are made from pulp that is largely produced in North America, while disinfectants are made with chemicals largely sourced from China.
It's hard enough to wrangle extra production out of a plant that was already running 24/7, but if you add raw material shortages into the mix, it becomes nearly impossible.
Clorox (CLX) and Lysol-maker Reckitt-Benckiser (RBGLY) both said this spring that they expected to catch up to demand by the summer. It's late August, and I still can't find products from either company.
While this has been an unprecedented demand surge, Clorox – unlike the paper goods makers – does plan on building new plants, expecting that demand could become permanently elevated, especially for wipes, as a result of the pandemic. No matter how dark its implications are, this is why CLX's stock chart looks more like it belongs to a tech company than a CPG company…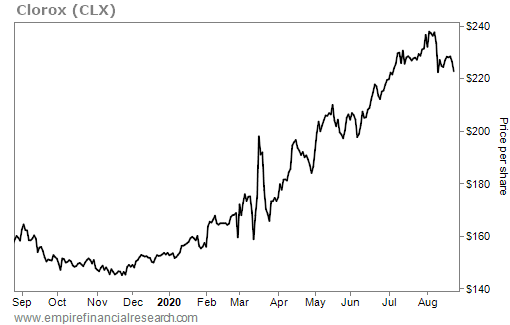 Despite its inability to meet demand, Clorox recently took the top spot in the 2020 Axios Harris poll ranking American corporations by reputation. For the curious, the runners up were Hershey (HSY) and Amazon (AMZN).
I'm not sure what to make of CLX shares and its parabolic rise… for investors seeking a CPG name for their portfolio, I still like Mondelez (MDLZ), which has also seen a demand bump, but not the same kind of price to earnings (P/E) multiple expansion.
But the clear takeaway from this year of shortages is that CPG and retail have a lot of thinking to do about manufacturing and supply chain optimization. Maybe outsourcing everything to plants across the globe while limiting inventory on hand to only 30 days of supply wasn't such a great idea after all…
► Reader letters reinforce my view that Airbnb will be the most durable unicorn of the sharing economy, and one reminder about the dark side of short-term home rentals…
Which product shortages have hit you the hardest? What are you using to clean your house? Share your tales of woe and workaround solutions with your fellow readers by sending an e-mail to [email protected].
► "I have an Airbnb rental unit and kept it out of circulation through August 1. I was doing this in large part to house family members fleeing NYC. Since August 1, every date has been filled through late September. I can see growth coming back, especially if big cities don't become killing grounds again with people fleeing.
"On the other hand, pre-covid, much of my work was in DC or NYC. I used ride share options constantly. I wouldn't use now if they paid me to take me to my destination." – Keith W.
► "I used to take Lyft to commute an hour to and from work daily or anywhere else I went during the week, but that went away with work from home. I haven't taken a Lyft or Uber since California's shelter in place started.
Our family has also rented a VRBO house typically twice per summer, but we didn't travel or rent any places this year with Airbnb or VRBO. With roads much clearer than in the past and restaurants not open, I feel much less desire to use the transportation services but would be ok renting a house again." – Gordon C.
► "Hi Berna, Love your insights! I am an Airbnb Superhost and VRBO Premier Partner with a property in the Adirondacks. When the pandemic broke out, I had cancellations all the way until the end of July. I lost almost $7000 in rentals. I had been on my way to best year ever.
"As people got fed up and, I assume, had 'Pandemic dollars' in their pockets, I started to rebook. May was a banner month, and September and October are almost completely booked every weekend. A first! I've also had inquiries for booking the entire month of November. Another first. I have no doubt that November will sell out too.
"Overall, I consider myself fortunate and have come out more than financially whole, and most importantly, healthy." – Carlos V.
► "Hi Berna, I cancelled my WeWork membership in April. I haven't used Uber or Lyft since then, either. My family has gone on three short vacations this summer, all in Airbnbs. So, I think your hunch is correct." – Bill G.
► "Hi Berna, I support Airbnb being made illegal wherever possible. People pay to live and raise families in residential areas, not to co-exist with de facto hotels in every other suite or house which do nothing but drive property prices higher while disrespecting neighbors. I'm normally as laissez-faire as they come, however the rights of wannabe-hoteliers end where the rights of residents begin." – B.F.
Berna comment: I empathize with you, B.F. It's a big issue in New York City, and I don't love the strangers who traipse in and out of my building with suitcases. We're lucky that we haven't had any problems with noise, damage, or theft. I know it's been a problem for others.
Regards,
Berna Barshay
August 24, 2020