1) Following up on yesterday's e-mail about Elon Musk, the Wall Street Journal just published an extended excerpt from the forthcoming biography about him, Elon Musk: The Real Story of Musk's Twitter Takeover. Excerpt:
In April 2022, things were going surprisingly well for Elon Musk. Tesla stock had risen 15-fold in five years, making it worth more than the next nine auto companies combined. SpaceX in the first quarter of 2022 launched twice as much mass into orbit as all other companies and countries combined. Its Starlink satellites had just succeeded in creating a privately owned internet, providing connectivity to 500,000 subscribers in 40 countries, including Ukraine.

It promised to be a glorious year, if only Musk could leave well enough alone. But that was not in his nature.

Shivon Zilis, who manages Neuralink (Musk's company working on implantable brain-computer interfaces) and is the mother of two of his children, noticed that by early April he had the itchiness of a video-game addict who has triumphed but couldn't unplug. "You don't have to be in a state of war at all times," she told him that month. "Or is it that you find greater comfort when you're in periods of war?"

"It's part of my default settings," he replied. As he put it to me, "I guess I've always wanted to push my chips back on the table or play the next level of the game."

This period of unnerving success coincided, fatefully, with a moment when he had exercised some expiring stock options that left him with about $10 billion in cash. "I didn't want to just leave it in the bank," he says, "so I asked myself what product I liked, and that was an easy question. It was Twitter." That January, he had confidentially told his personal business manager, Jared Birchall, to start buying shares.

The way that Musk blustered into buying Twitter and renaming it X was a harbinger of the way he now runs it: impulsively and irreverently. It is an addictive playground for him. It has many of the attributes of a school yard, including taunting and bullying. But in the case of Twitter, the clever kids win followers; they don't get pushed down the steps and beaten, like Musk was as a kid. Owning it would allow him to become king of the school yard.
The article paints a picture of Musk that's consistent with what I've long thought of him: he's a maniacally driven genius, but also incredibly immature, impulsive, and often petty and cruel.
I have to give Musk credit for immediately seeing through FTX founder and notorious fraudster, Sam Bankman-Fried. Here's more from the WSJ article:
That led Bankman-Fried to call Musk in May. "My bullshit detector went off like red alert on a Geiger counter," Musk says. Bankman-Fried began talking rapidly, all about himself. "He was talking like he was on speed or Adderall, a mile a minute," Musk says. "I thought he was supposed to be asking me questions about the deal, but he kept telling me the things he was doing. And I was thinking, 'Dude, calm down.'" The feeling was mutual; Bankman-Fried thought Musk seemed nuts. The call lasted a half hour, and Bankman-Fried ended up neither investing nor rolling over his Twitter stock.
The new book, which will be released in 11 days, is written by Walter Isaacson, author of the magnificent biography, Steve Jobs. I can't wait to read it!
2) This is the craziest story about one of the most obvious frauds I've ever seen... I warned my readers about it on June 7, writing:
Nate Anderson of Hindenburg Research exposed another obvious fraud, New Jersey-based Tingo Group (TIO), which claims to be operating a wide range of businesses in Nigeria, most of which, Hindenburg claims, don't even exist.

The stock was cut in half yesterday in the aftermath of this report: Tingo Group: Fake Farmers, Phones, and Financials – The Nigerian Empire That Isn't.
The stock closed that day at $1.45 per share and steadily sunk to an intraday low of $0.83 per share on Tuesday. But then it soared yesterday to an intraday high of $1.84 per after the company reported second-quarter earnings, in which it claimed the revenue rose 8,072% year-over-year from $12 million to $977.2 million (I'm not making this up).
Hindenburg immediately published a response, showing the absurdity of the company's claims: Tingo Forges Ahead With Its Brazen Scam as $725 Million in Claimed Cash Disappears From Its Balance Sheet in One Quarter. Excerpt:
These reported numbers and stated guidance would of course be exciting, were it anywhere close to reality. However, a careful review of the company's recent releases indicate Tingo has done little but continue to lie about every key aspect of its business – all while failing to address every question we've raised.

It bears repeating: we have never seen a scam so thorough, obvious and brazen as Tingo – a true outlier, even in a market rife with fraud.
The stock is down around 20% this morning, quickly on its way to zero. Regulators should halt it immediately.
3) Over six e-mails from January through March (archive here), I also warned my readers about another obvious scam that Hindenburg exposed, India's Adani Group (you can read Hindenburg's report here: Adani Group: How The World's 3rd Richest Man Is Pulling The Largest Con In Corporate History).
Two days ago, Financial Times reporter Dan McCrum, who exposed Europe's most notorious fraud, Germany's Wirecard, published this bombshell (subscription required): Secret paper trail reveals hidden Adani investors. Excerpt:
From the outside, the Global Opportunities Fund in Bermuda looked like any regular investment fund: broad, bland, and uncontroversial.

On the inside, however, two men were using the fund for a specific purpose – to amass and trade large positions in shares of the Adani Group, one of the biggest and most politically connected private conglomerates in India.

The two men – Nasser Ali Shaban Ahli from the United Arab Emirates and Chang Chung-Ling from Taiwan – are associates of Vinod Adani, brother of the conglomerate's founder Gautam. Their investments were overseen by a Vinod Adani employee, raising questions over whether they were front men used to bypass rules for Indian companies that prevent share price manipulation.

The intricate paper trail that shielded their identity from regulators and the public is laid bare in documents shared with the Financial Times by the Organized Crime and Corruption Reporting Project, a network of investigative journalists.

It is the first time that potentially controversial owners of Adani stock have been identified since the American short selling firm Hindenburg Research published an explosive report in January that accused the Adani Group of running the "largest con in corporate history."

Hindenburg alleged that entities controlled by associates of Vinod Adani manipulated the share prices of some of the group's 10 listed entities, sparking a furor that has knocked more than $90bn off the conglomerate's valuation. The allegations in the report were strenuously denied by the group.

In response to questions from the FT, an Adani spokesperson also said its listed entities are in compliance with all laws. Lawyers for the company that set up the investment structure denied there was any wrongdoing associated with it.

The new documents identify Ahli and Chang as two of the most significant investors in the broader scheme outlined by Hindenburg.

They outline a series of bespoke investment structures within the Global Opportunities Fund that were used by Ahli and Chang exclusively to trade Adani stocks.

People familiar with the structures claim parallel sets of books at the fund provider and a Russian doll of companies and funds masked their stakebuilding. "Two sets of accounts were done. One was for regulators. The second set was for each investor mapping their holdings," says one of the people.
4) I arrived home Tuesday night at 2 a.m. after a spectacular 14-and-a-half-hour round trip climb of Mount Shuksan via the Fisher Chimneys on Monday. While not the most technical, difficult, or dangerous climb I've done, it was the most varied... with hiking, scrambling, ice climbing, glacier trekking, and rock climbing – see photos and details below – so I was very grateful to be led by my long-time professional guide, Paul Koubek!
Below is a picture of me at the top, wearing my nearly two-decade-old KIPP T-shirt that I've worn on all of my climbs for KIPP over the past eight years (it's not too late to support the 8,100 KIPPsters in NYC who are climbing the mountain to college – you can do so here):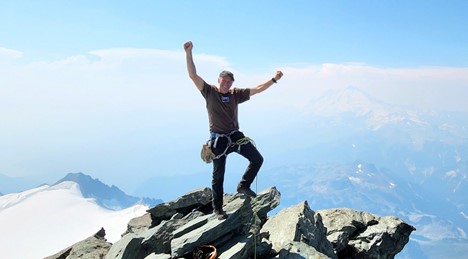 I was supposed to climb the West Ridge of Forbidden on Wednesday, Sharkfin Tower yesterday, and return home today, but the weather didn't cooperate: torrential rain and lightning started mid-day Tuesday and continued through yesterday, so we'll have to come back and bag the other two peaks next year...
I ended up getting home a mere 69 hours after I left – Paul thinks it's likely an FKT ("fastest known time") for Mount Shuksan from New York City (or anywhere on the East Coast). That's a joke – there's no such thing as an FKT that includes travel time to and from the route – but if there were such a thing, Paul highly doubts that anyone has ever done what I did... He also had a funny climbing term for our quick in-and-out: it's called a "smash and grab" – LOL!
For further details and two dozen pictures, see my Facebook post here.
Best regards,
Whitney
P.S. I welcome your feedback at [email protected].
P.P.S. Empire Financial Research and the market are closed on Monday for Labor Day. Look for my next daily e-mail on Tuesday, after the Weekly Recap. Enjoy the holiday!