A recent headline in The Economist couldn't help but catch my attention...
Bypassed: are heart surgeons dying out?
The sub-headline was equally compelling...
For years, they swaggered atop the medical profession. Now the machines are coming for their jobs
So was the cover photo...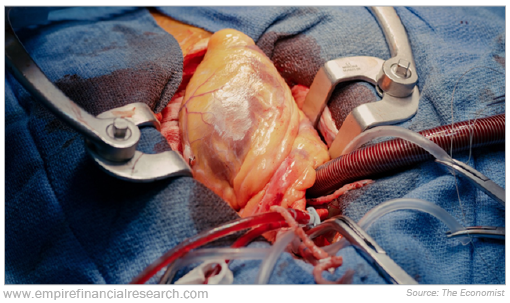 A few quotes in the story were equally eye-catching – including the one from a cardiologist who suggested that...
[S]urgeons were practitioners of a dying trade, unable to accept that cutting open chests was going the way of leeches and bloodletting.
And as one surgeon said...
I don't think that the conventional cardiac surgeon, as we know it, will exist in a few years' time.
The reason, as the story points out...
Surgery can save lives, but it is also physiologically and psychologically traumatic, and can take months to recover from. Today, many heart problems are treatable without it. Running catheters into the heart through blood vessels has become a mainstream approach for dealing with both blockages in the coronary arteries and problems with the heart valves.
As somebody who had significant heart surgery a few years ago to replace a defective valve, my aortic root, and part of my ascending aorta – with a single bypass thrown in as a bonus – I obviously have a thought or two...
---
Recommended Link:
Overheard at Apple's Secret Meeting…

A thousand people attended… NO CAMERAS were allowed! One invitee said every iPhone was wrapped with "tamper-proof stickers" to prevent photographs. At the event, Apple unveiled a device that "could eventually replace mobile phones." Apple codenamed the device "N421"… But Michael Robinson calls it "iPhone Killer." To see how you could potentially profit from iPhone Killer… Click here before April 26.
---

Specifically, for quite a few years, concerns have been growing about a shortage of heart surgeons...
Among the reasons: Open heart surgeries are getting displaced by new technologies, especially transcatheter aortic valve replacement ("TAVR") procedures.
You can see it in the numbers for medical devices firm Edwards Lifesciences (EW), whose valve is ticking away in my own chest...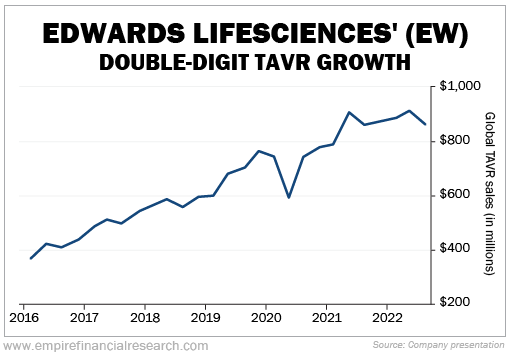 And while mine was replaced at the Cleveland Clinic via a nine-inch incision in my chest – using an old-school approach – most of the TAVR sales growth at Edwards is from procedures done through the groin.

TAVR is an enormous advancement...
It has allowed for surgeries that never might have been done because the person was too old... or scared. And there are studies underway to see if with the advent of transcatheter replacements, valves should be replaced earlier than they tend to be – before the heart becomes damaged.
But the story in The Economist mentioned something else that shouldn't be easily dismissed...
Diseased aortic valves always require replacement one way or the other. But some heart conditions may not require any form of intrusive intervention.
That's why they needed to crack open my chest – and that's why there will aways be patients like me who need surgery. So, for example, when my current new valve fails – and it will fail at some point over the next 12 years or so, maybe sooner, maybe later – the new valve has been sized to accept a transcatheter replacement.
That doesn't mean I won't instead be referred to open heart surgery, which was less of an ordeal than I ever could have expected. But it was still an ordeal.
Obviously I'd prefer to go the transcatheter route next time, but we won't know until then.
In the meantime, here's to the great heart surgeons. It may be a dying art, but it's an art that when needed can help keep people from dying.
One thing is for certain: Even as their numbers decline, heart surgeons won't be replaced by ChatGPT or other types of generative artificial intelligence ("AI").
It's not that there already hasn't been a place for AI in heart surgery. The CT scan you get prior to surgery creates an AI-generated 3D version of your heart – giving the surgeon a better idea of what will be on the table.

But as for ChatGPT, every day there's yet another story of an industry that can't see life going forward without something like ChatGPT...
The latest – real estate agents. As CNN reported recently:
If you came across a four bedroom, 3.5 bathroom home listed for sale recently on a quiet cul-de-sac in Cedar Rapids, Iowa, you might not think twice about the online listing. It included typical real estate descriptions like "ideal for entertaining" and "ample space for relaxation."

But JJ Johannes, the realtor for the home, created the description in less than five seconds by typing a few keywords into ChatGPT, a viral new AI chatbot tool that can generate elaborate responses to user prompts. It's a task, he said, that would otherwise have taken him an hour or more to write on his own.

"It saved me so much time," Johannes told CNN, noting he made a few tweaks and edits to ChatGPT's work before publishing it. "It's not perfect but it was a great starting point. My background is in technology and writing something eloquent takes time. This made it so much easier."
But to be fair, these descriptions in real estate ads already were somewhat cut-and-paste to the point of being commoditized. With conversational AI, pretty soon all real estate ad copy will read the same... more than it already does.
We all know that "cozy" means "small" and "updated" means "new paint."
Maybe we'll reach a point where the true winners in real estate will be those who put some effort into it and don't use ChatGPT. Unless, of course, they wind up being the chumps?
Mediocrity should never be a means to an end.

Finally, shifting gears a bit...
I came across an interesting statistic from the Washington Post – if you're riding a motorcycle, don't forget to wear your helmet...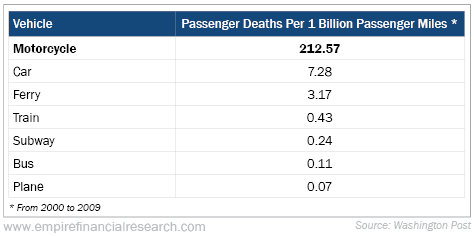 As always, feel free to reach out via e-mail by clicking here. I look forward to hearing from you.
Regards,
Herb Greenberg
February 3, 2023