It's so easy to want to call this a Ponzi market...
Ponzi, of course, refers to Charles Ponzi, the 1920s swindler whose claim to infamy was promising big, fast investment gains, and did... but only because he would funnel money from new investors to old investors. The catch is that the scheme needs a steady supply of suckers – in the form of new investors – to buy in.
I couldn't help but think of that when I was writing Friday's column, which mentioned venture capitalist Fred Wilson's comment on the amount of money flowing into funds designed to fund the riskiest of companies...
I think they are being delusional, comforted by the likelihood that someone will come along and pay a higher price in the next round. But it seems that person may also be delusional. Because when you model things out, the numbers just don't add up.

But it's not just in the melt-up in private markets...
It's hard to find anybody, even among the most bullish, who hasn't wondered even privately about the greater fool feel of this stock market.
The recent mania surrounding all things electric vehicles ("EVs") is just the latest to have a Ponzi-like feel to it. You just know somebody will be the bag holder... you just hope it's not you.
Fear of missing out while everybody else appears to be easily getting rich is a powerful driver into lower-quality investments... especially those driven by a sexy story or seemingly credible narrative.
In his Adventures in Capitalism blog, Harris Kupperman – who started hedge fund Praetorian Capital – refers to some of these stocks as "The Ponzi Sector." As he explains:
To me, these are businesses that sell a dollar for $0.80 and hope to make it up in volume. Just because Amazon (AMZN) ran at a loss early on, doesn't mean that all businesses will inflect at scale. In fact, many of the Ponzi Sector companies seem to have declining economics at scale – largely the result of intense competition with other Ponzi companies who also have negligible costs of capital.

One of his current favorite examples is Peloton Interactive (PTON) because, in his view, it hit peak saturation... and burned through a boatload of cash getting there. Or as Kupperman says...
They have zero path to profits but continue to incinerate capital to grow profitless revenue and sell a story to Wall Street so that they can continue to raise capital and set it on fire.
There are plenty of others, but nothing stands out quite like this year's near-historic bumper crop of initial public offerings ("IPOs"), most of them profitless.
They include last week's sizzler, Sweetgreen (SG), a restaurant chain. In a note over the weekend to his subscribers, Renaissance Capital CEO Bill Smith, whose firm specializes in IPOs, referred to Sweetgreen this way:
[It's] the latest example that the market will pay almost any price for the right growth story. The fast-growing but unprofitable salad chain opened 86% above the offer price. In the past decade, only one other restaurant has gone public with negative EBITDA [earnings before interest, taxes, depreciation, and amortization] (China's Luckin Coffee).
As a fast-growing coffee shop chain in China, Luckin's 2019 "upsized" IPO was a headline grabber, as was its soaring stock... before an accounting scandal caused it to plunge to less than $2 from a high of $50 in a matter of months.

Nobody suggests anything like that at Sweetgreen, but the first-day frenzy over its stock underscores something more important...
It's the public's sudden appetite for investing in restaurants, widely regarded as one the riskiest and toughest of all businesses.
This year there already have been five restaurant deals, with another three more getting prepped... sparked, no doubt, by the run-up in restaurant stocks starting late last year. While that's still a fraction of the nearly 400 non-special purpose acquisition company ("SPAC") IPOs this year, for perspective, the prior peak was 17 in 1996. And since 2015, when there were four, there have been virtually none.
You can't blame the restaurants or any company for taking the money while it's there for the taking. Investors, after all, are tripping over themselves to get in while the getting is good... even if the performance of IPOs hasn't been there.
If you knew nothing else, it would be this one stat: Despite all the hoopla and headlines, after years of outperforming the S&P 500 Index, the Renaissance IPO Index of the largest most liquid U.S.-listed newly public companies has been underperforming for the past year.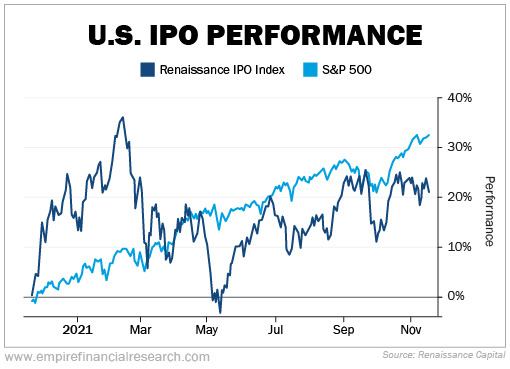 You wouldn't know it by deal activity, which is the busiest for IPOs since 2020... or the value of deals, which is the highest ever.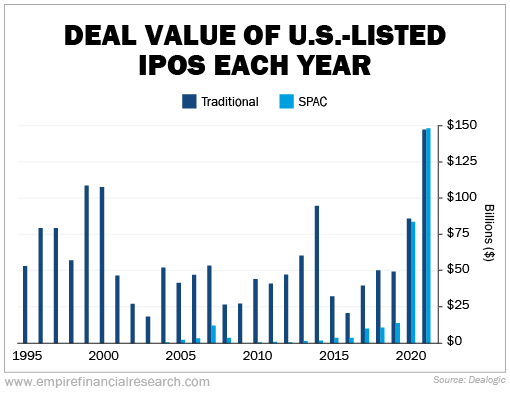 And that's the point: Nobody knows when that window will close, in turn causing a near-panic rush to go public.
This gets us back to the EV IPOs, with deals for Rivian Automotive (RIVN) and Lucid (LCID) sparking interest in any EV name that wasn't nailed down.
While some initial euphoria has faded, analysts have been pulling out all stops to justify the seemingly crazy valuations.
As New York University professor Aswath Damodaran, an authority on valuing companies, told the New York Times last week:
Let's be quite honest, Wall Street analysts are not valuing Rivian or Lucid. They are chasing the price and finding ways to rationalize it.
Right, almost like they're trying to lure in more new investors... you know, like Charles Ponzi.
P.S. I'm old enough to know I could have written this same story three years ago and maybe will be writing it again three years from now. For some inexplicable reason, this feels like a good time to do it, too.

Moving on... one way around the valuation trap is finding companies with "defensible market positions"...
The phrase "defensible market position" is something my colleague Gabe Marshank harps on whenever we talk stocks. As I wrote last week, it's one reason he hates the idea of EV charging stations as an investment... it's a business that invites competition.
That's the problem with some of the companies rushing to go public. Regardless of how good their story is, or their food may be – or how much you like their shoes or what they claim their software does – many are either easily knocked off, not scalable, or are likely to find themselves in a race to the bottom in pricing... ultimately resulting in struggling, broken or failed business models... with battered stocks.
A recent and great example of a business model that wasn't hot – and one that investors figured out surprisingly early – is Casper Sleep (CSPR), the mattress company.
With its popular bed-in-a-box, it seemed like it could be a poster child for the burgeoning direct-to-consumer space. Now it's more like a poster child of a company that should have never gone public.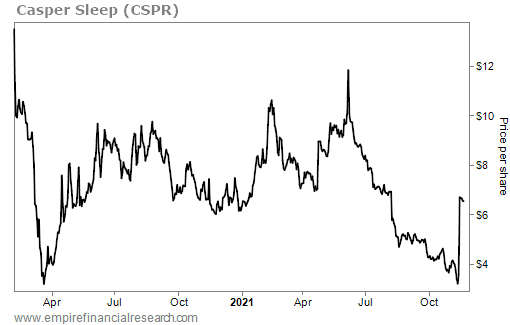 Casper had the misfortune of doing its IPO right before the pandemic collapsed the markets. The stock never quite recovered... and the company is now getting folded into another company at a steep discount to its IPO price.
Even before going public, Casper's fate as a public company was so dubious that I wrote a column headlined, "Is It Better to Stick Money Under a Casper Mattress, or Invest In It?"
The dead giveaway that the "sleep arc" hype being spewed by Casper was little more than a dream was its use of the word joyful in its IPO prospectus... it appeared 19 times.
Equally dubious was Casper's claim that it was a pioneer in the sleep economy. (Sound familiar? See my recent column on Allbirds (BIRD).)
But the one thing the company itself admitted could be its comeuppance was the boilerplate risk included in its IPO filing... that its industry is highly competitive. Not just the mattress industry but bed-in-a-box competitors were springing up like the way these beds pop out of a box.
This is otherwise known as an indefensible market position.
And trust me... there are plenty more where Casper came from...
As always, feel free to reach out via e-mail by clicking here. And if you're on Twitter, feel free to follow me there at @herbgreenberg. My DMs are open.
I look forward to hearing from you.
Regards,
Herb Greenberg
November 23, 2021