► Last quarter, I speculated that the pandemic would create a positive inflection point for discount retailers Walmart (WMT) and Target (TGT)...
My thesis was that years of investment in omnichannel capabilities and e-commerce capacity – which had been weighing on operating margins – would finally pay off as quarantines and lingering pandemic fears created a permanent shift to online shopping. Not only would the pandemic kick e-commerce into hyperdrive, new consumers would like it when they tried it for new categories or new online retailers – making it a sustainable shift.
As I said back in June...
With e-commerce growth rates up 75%... 150%... even 300% at some retailers in April and May, we saw several years' worth of migration from in-store to online shopping compressed into a matter of months.

Some companies grew by attracting brand-new customers online. For others, it was a matter of converting their normal in-store shoppers to buy online.
As far as the two big-box giants Walmart and Target were concerned, I saw a window for them to pick up share from Amazon (AMZN) as the e-commerce titan slowed shipments of non-essential items to prioritize essential goods...
These two companies clearly killed it in quarantine e-commerce. With first quarter e-commerce sales up 74% at Walmart and 141% at Target due to a combination of new customer acquisition and existing customers shopping more online, both companies are clearly long-term winners from the short-term quarantine orders.

Amazon slowing shipments of non-essential items opened a window for other retailers to acquire customers looking for faster fulfillment. Other consumers went online shopping in categories that they previously bought in-store, like groceries. Walmart noted the number of new customers trying its online grocery pickup and delivery services quadrupled from mid-March to mid-May.
After the first quarter, we could see that both companies were seizing on the opportunity that their physical stores offered them to excel in not just e-commerce... but also omnichannel commerce. This includes all the transactions that are part online and part in-store – such as buy online, pick up in store ("BOPIS") and buy online, return in store ("BORIS"). During the pandemic, curbside pick-up has been an extra feature added to BOPIS transactions.
► Walmart and Target reported earnings this week, and both companies beat expectations handily...
On Tuesday morning, Walmart blew through expectations and reported that sales grew to $138 billion – up 6%, which was 2% higher than analyst estimates. Same-store sales came in at 9% versus expectations of 6%.
While the pandemic added an extra $1.5 billion of incremental costs, good cost containment elsewhere drove margins up a little bit year over year... as opposed to last quarter when pandemic expenses pulled margins down slightly versus the prior year.
Better-than-expected sales and solid margins led to a hefty earnings per share ("EPS") beat, with Walmart reporting $1.56 versus analyst estimates of $1.25. Inventory down 5% in a quarter in which sales were up 6% suggests that the company is having trouble keeping up with demand, and while supply chains have largely been repaired, there are probably still a few challenging spots.
Over at Target, sales rose a staggering 23% to $23 billion. Analysts were only looking for 8% top-line growth, so the retailer blew away estimates by 14%. Second-quarter sales growth was the highest in Target's history... and same-store sales of 24% also broke a record.
The strong sales performance led to massive operating leverage, with operating margin up almost 3 percentage points over the prior-year second quarter, rising from 7% to 10%. This was a much-improved trend from the first quarter, when COVID-19 expenses dragged the operating margin down by 4 percentage points year over year.
Blowout sales and strong margins led Target's second-quarter EPS to almost double to $3.38, from $1.82 in the prior year. Analysts expected Target to post earnings of just $1.60, so the company bested estimates by more than 100%. That's not something you see every day from a company of this size.
Both Walmart and Target acknowledged a boost from stimulus payments, which led to strength in higher-priced (and often higher-margin) categories such as electronics, home goods, and patio furniture. Somewhat surprisingly, both companies saw a rebound in apparel sales later in the quarter. This is encouraging for the battered sector.
For both companies, same-store sales growth was highest at the beginning of the quarter and tapered off sequentially as some competitors reopened up again and an increasing sense of normalcy returned in most regions. At Target, May comps were 33%, June came in at 21%, and July was 20%.
Walmart wasn't as specific in its month-to-month trajectory, but did indicate that like at Target, things started out strongest and the above-normal growth slowed as the quarter went on.
The standout for both companies was clearly digital sales. Both Walmart and Target saw an acceleration in their e-commerce growth rates from the first quarter to the second quarter, despite the increased competition from reopened bricks and mortar stores in the latter two-thirds of the quarter.
Walmart saw digital sales growth accelerate from 74% in the first quarter to 97% in the second. At Target, second-quarter digital sales almost doubled – growing 195%, versus the already explosive 141% pace in the first quarter.
Both companies rapidly outpaced the growth of Amazon's Online Stores segment (which does include its sizable global e-commerce operations)...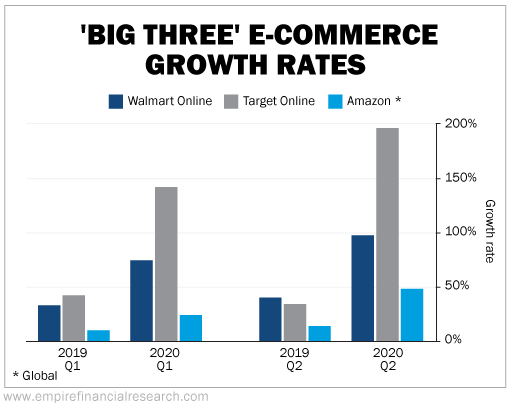 E-commerce operations in May, the first month of the quarter, clearly benefited from continued store closures around the country... but physical stores were generally open again for June and July. This acceleration in e-commerce – and the overall torrid pace of digital sales – indicates that more people are shopping online, even when other options opened up.
The permanent closure of some physical retail competitors, particularly independently owned mom and pops is also a tailwind to the e-commerce trend, as well as in-store sales at Walmart and Target.
► Investors cheered Target's results while shrugging off Walmart's...
Both stocks had been solid performers since reporting earnings last quarter. But WMT shares have sold off about 4% since reporting on Tuesday morning, whereas TGT shares are up 11% since yesterday morning's release...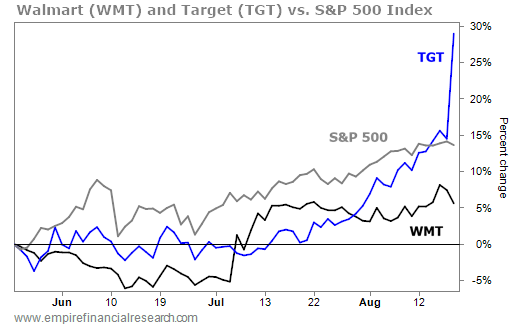 ► While both companies reported outstanding results, Target's were clearly better (and possibly more sustainable)
Target's physical stores clearly had a better quarter than Walmart's. Target's 23% comp sales gain was comprised of that 195% gain in digital and a majorly above-trend 11% comp at brick-and-mortar locations. Walmart reported overall comps of 9.3%, and noted that e-commerce contributed to two-thirds of the comp – implying that the comp at brick-and mortar-stores was just 3%. This was much more in the normal, expected range than Target's 11%.
As customers consolidated visits during the pandemic, basket size increased at both retailers. The size of the average transaction at Walmart grew by 27% and by 19% at Target. But traffic at Target held up much better than at Walmart... Target reported a jump of 5%, versus Walmart's drop of 14%.
Walmart expressed caution on how the expiration of stimulus – such as the extra $600 per week in unemployment payments that ended in August – would affect the business going forward, and also noted that overall comps had slowed to 4% by July (the last month of the quarter).
Target did acknowledge that it saw a tailwind from stimulus payments... but seemed much more upbeat that the strength will continue.
Both companies got a boost from food and beverage sales, which have been strong across retail due to people eating at home more and some continued stockpiling. Grocery sales at Walmart were up high single digits. While strong, this didn't keep pace with many competitors that reported food and beverage sales growth in the teens or higher. At Target, sales in food, beverage, and essentials were indeed up 20% in the quarter.
This is an area where Walmart's much larger size may be hurting it... The company defended its high-single-digit growth rate by noting that it added $3 billion in grocery sales in the second quarter. If you run the numbers on that, it implies that second-quarter grocery sales at Walmart were around $40 billion – almost twice Target's total second-quarter revenue of $23 billion.
► If I had to choose between the two, I'd be putting my money on Target…
While both companies will undoubtedly see a slowdown in sales as the effect of stimulus payments fades, Walmart customers on average have materially lower income than Target shoppers. Walmart probably got a bigger tailwind from stimulus payments than Target, and it's going to have a bigger headwind from the end of them.
People aren't stockpiling like they used to... but I wouldn't be surprised to see the pandemic have a lingering effect on how people think about their on-hand inventory of basic essentials – shelf-stable and frozen foods, beverages, personal care items like toothpaste and shampoo, cleaning supplies, and of course... paper goods like toilet paper. Target's customers are more likely to have the funds to keep a little extra of everything on hand on a permanent basis. "Light hoarding" may benefit Target more than Walmart for the next quarter or two.
Target's smaller size relative to Walmart also makes future growth easier. Target also set itself up for future success with its incredible customer recruitment – the company noted that it added 10 million digital customers in the first half and had $5 billion in market share gains.
Both companies are doing extremely well online, so both can benefit from the future growth of e-commerce. Online shopping is expected to grow 18% to total more than $700 billion in the U.S. this year, according to market research firm eMarketer. But even with that growth, e-commerce will still only comprise about 15% of total U.S. retail sales.
But Target has the edge in taking advantage of the hybrid omnichannel model. Buy online, pick up in-store grew 273% in the quarter. And acquiring multichannel customers will be critical for future share gains. As Target explained on its earnings call...
Our most recent data indicates that a multi-channel guest spends four times as much as a store-only guest and 10 times as much as a digital-only guest. Our research also continues to validate that after a guest tries Drive-Up for the first time, we see a nearly 30% increase in their overall spending including an increase in our conventional store shopping.

It's particularly notable that this increase in-store shopping is occurring despite the unusual environment in which consumers are minimizing time spent in public places. However, the data certainly provide some additional context for the unprecedented growth of more than 10% in conventional store sales we reported this quarter.
The final thing that makes me excited about Target is the same thing that I've always loved about the company: its exceptional merchandising. There's nowhere where someone is more likely to go in for a pint of ice cream and come out with a sun dress. As evidence of the retailer's merchandising prowess, it launched the private-label grocery brand Good & Gather just last year... and sales have already exceeded a $1 billion annual run rate.
As I said back in June, the pandemic presented a huge opportunity for Walmart and Target to sustainably ratchet up their growth by acquiring digital customers during the crisis – a time when industry leader Amazon's logistics capabilities were overwhelmed for the first time in memory. These companies have both seized the opportunity and should be good long-term investments... But after the latest report, Target clearly has the edge.
► In today's mailbag, readers react to this week's essays on the music industry and hard seltzer...
Have you shopped more at Target, Walmart, or other big-box stores during the pandemic? Has it been online, offline, or omnichannel? What drove you there more than usual? Send an email with your thoughts to [email protected].
► "Hi Berna, I really enjoyed today's email. I would say I listen to more of a variety of music since the start of music's digital age. Spotify and the internet have allowed smaller and previously undiscovered artists to reach more ears. I would agree that Spotify algorithms could do a better job; I wish they would take into account an artist's influences along with their contemporaries and followers when they release my weekly discovery playlist. Yet with music at my fingertips I still prefer checking out opening acts and weekly trips to my local record store." – Ed Z.
► "Berna, How do you know that someone age 69 'still has time?'" – M.S. (age 72)
Berna comment: Good point... we never really know how much time we have, do we? Even at 40, 50, or 60... I guess I was assuming he is in good health at the moment, but my gut reaction was based on the vibrancy of many executives I've witnessed or worked with much older than that.
There are so many examples... to name a few: Berkshire's (BRK-B) Warren Buffett (89), Ralph Lauren (RL) (80), Penske Automotive's (PAG) Roger Penske (83), and Las Vegas Sands' (LVS) Sheldon Adelson (87). ViacomCBS's (VIAC) Sumner Redstone, who recently passed at 97, famously stayed on with the company a little longer than he should have... but I remember seeing him present to investors in his late 80s, when he was still quite sharp.
Many of these founders and CEOs don't ever want to quit! I find the vibrancy and work ethic encouraging!
► "Yes, hard to beat the convenience and relatively less nutritional deficit. But I'd rather mix my own (and control the potency) with a LaCroix or Bubbly and some decent vodka such as Belvedere, now available itself with a variety of real fruit flavors. Been doing that on occasion since before hard seltzer was a thing. But never heard of 'Aperol spritz', I think you made that up. ;)" – John W.
Berna comment: John, I recommend you try Spindrift flavored seltzers as mixer – they are great with vodka. I like the grapefruit one with Ketel One Botanical Grapefruit and Rose vodka, which I first tasted at the Diageo (DEO) investor day. As for Aperol Spritz... this was the drink of the summer apparently in 2018, but I missed it. I had my first one last year after a meeting with the producer Campari (DVDCY). Apparently, everything I know about fancy booze I learned at work!
► "Last year, I was making fun of my friend for drinking them. I think he got them because they were something he could buy that he and his fiancé both liked. While visiting earlier this year, I brought them some just because I knew they liked them. Well, as the AZ summer goes, I started replacing my beers with them. Seltzers are much easier and more refreshing to drink when it's 104 climbing to 114 while golfing. Holds true for just about doing anything in this heat. It really doesn't matter which brand, either. I'd much rather buy seltzer's bulk from warehouse stores, but if need be, I'll get them anywhere instead of a beer if they sell them. More alcohol and less calories/carbs/etc. =Win/Win.
"Time to buy some shares!" – Kip K.
Regards,
Berna Barshay
August 20, 2020