► In yesterday's Empire Financial Daily, I discussed the strong growth in the resale economy…
Younger generations are increasingly being drawn into buying used designer and other branded clothing, shoes, and accessories out of a combination of eco-consciousness, thrift, designer aspiration, and a quest for "newness" on a budget. 
It also looks like Gen Z may be pulling their parents along for the ride. The chart below from person-to-person (P2P) resale site Poshmark shows where different demographics are shopping. As you can see, all cohorts except Baby Boomers are turning from the department store, and embracing secondhand…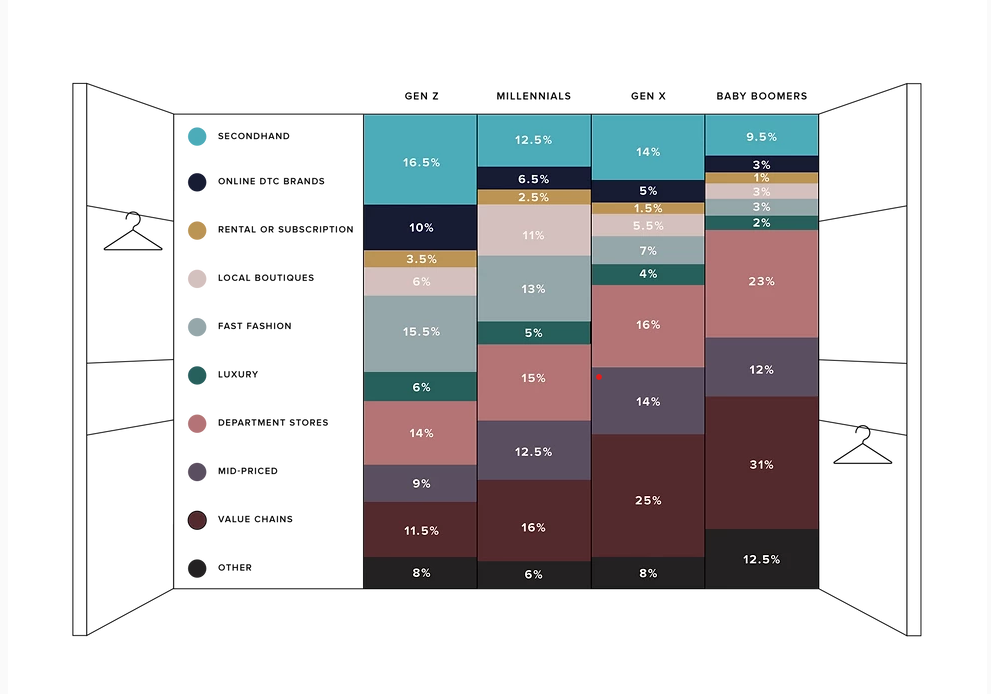 Source: Poshmark 
I discussed the demand side of the equation yesterday, but it's important to understand the trends driving the supply side as well. Consumers will only buy secondhand if quality inventory is there to tempt them. 
It's probably no coincidence that the recent surge in the resale economy synced up with another big consumer trend: the Marie Kondo clean out. The Japanese organization guru burst onto the scene around five years ago, with a message centered on reducing clutter and keeping only those items which "spark joy." In her books that have sold millions of copies and her Netflix (NFLX) reality series, Tidying Up With Marie Kondo, a constant theme is getting rid of clothes and other items you don't wear or that no longer fit, even if they're in great condition or unused. Plenty of items that have failed to spark joy with their original owners have made their way into the resale economy.
More recently, during spring COVID-19 lockdowns, quarantine cleanouts added to the inventory coffers at many resale sites. At thredUP, requests for clean out kits were 6.5 times higher in April 2020 versus the months prior.
I mentioned yesterday that many aspiring Instagram and TikTok influencers are buying secondhand so they can afford to constantly appear in new outfits in posted photos and videos. After wearing these clothes, they sell them on sites like Poshmark so they can go buy more "new" stuff. According to Poshmark, 48% of sellers have used some of their earnings to make a purchase on the site.
Knowing there's a secondary market also makes it easier for many consumers to take the plunge into a large purchase, like a handbag or jewelry. Poshmark's surveys indicate that 76% of their site's users consider an item's resale value before purchasing.
► The secondhand economy has always existed, but the Internet has revolutionized it… 
There have always been thrift shops, ranging from the local Goodwill on the low end to high-end designer resale shops in major cities. On the designer side, luxury goods often ended up in the resale economy after being worn once by celebrities or socialites photographed on a red carpet. 
I discovered this market on a business trip early in my career. While visiting London in the 1990s, well-before e-commerce had exploded for anything other than books and DVDs, a friend pointed me to a boutique selling used Prada shoes and Chanel bags in perfect condition… at 25% of their normal cost. When I asked where the inventory came from, the salesperson told me the two biggest sources were British soap stars unloading clothes the tabloids had photographed them in, and wealthy Saudi women disposing of items they had purchased at famed London department store Harrod's and tired of after a few months. That store was a treasure trove… but it happened to be in London, and I lived in New York, so I only went once. 
In so many corners of retail – from used cars to rare books – the Internet has allowed geographically distributed buyers and sellers to meet in a common marketplace online. The trade in many designer secondhand goods initially moved to eBay (EBAY), but concerns persisted about authenticity, and customer service levels – such as shipping times when purchasing – could vary widely between eBay sellers. 
In stepped these specialty players – like The RealReal (REAL) and Poshmark – to provide authentication services, weed out the fakes, and provide customer service and transaction transparency. 
One area that has particularly benefitted from the corporatization of resale has been "sneakerhead" culture. With limited runs and instantly sold out drops, players like StockX, Stadium Goods, and GOAT have cropped up to facilitate the trade of rare and coveted athletic shoes, which can sometimes cost in the thousands of dollars. These vintage Air Yeezys from Kanye West (before he moved over from Nike to Adidas) cost a mind-blowing $12,360!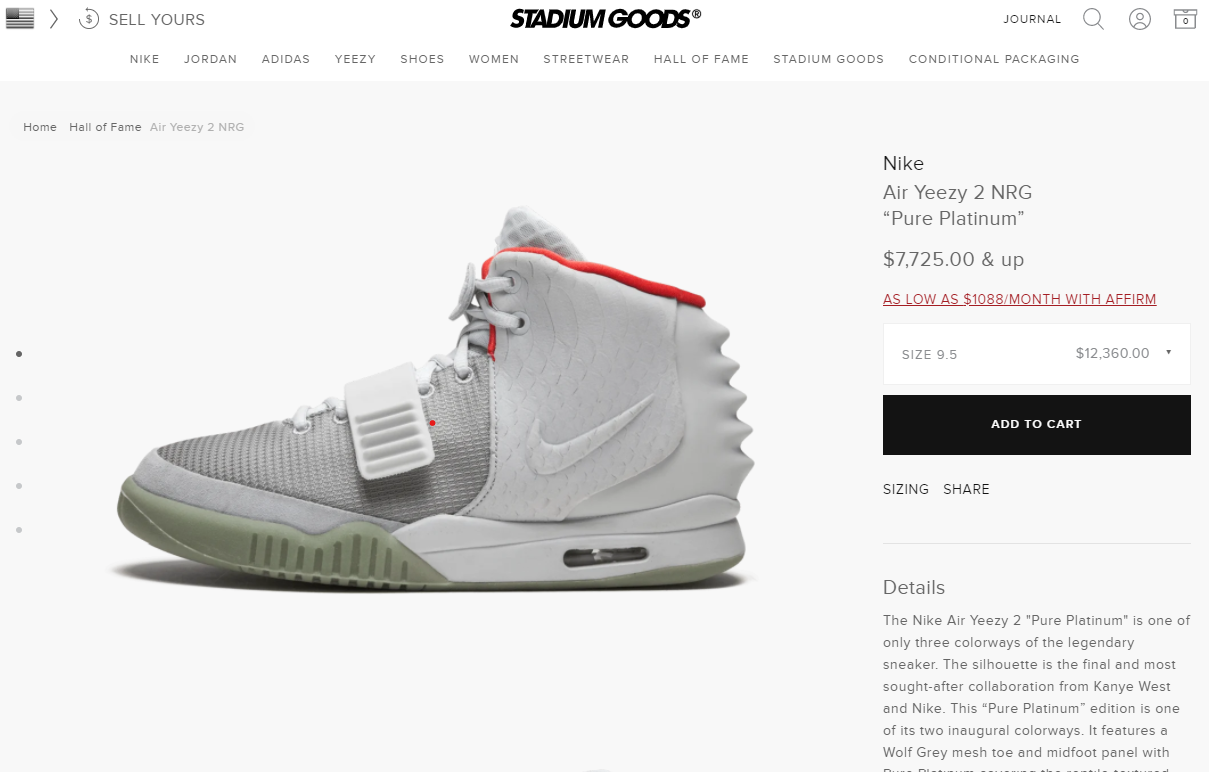 Source: Stadium Goods
► The development of a professionally run, large-scale resale industry along with Gen Z's environmentally motivated embrace of used goods has stripped 'wearing used' of its stigma…
While there are plenty among us who may have childhood PTSD from wearing hand-me-downs or thrift store goods, a study by reseller thredUP found that 70% of consumers are open to buying secondhand.
In fact, many people now feel pride in secondhand purchases… and according to a consumer survey, buying used goods ranks similarly to adopting a rescue dog in terms of eliciting a "euphoric mood boost." Conversely, the same survey found that "shoppers feel as guilty about buying fast fashion [like H&M or Forever 21] as they do about eating fast food."
Established retail players see these persistent consumer trends and are jumping into the resale market as well. Levi Strauss (LEVI) recently launched its "Levi's SecondHand" online store – joining brands with similar sites, such as Patagonia's "Worn Wear" and Eileen Fisher's "Renew" shop for lightly used clothing.
Patagonia – known for its aggressive environmentalism – is a natural candidate for encouraging the resale of its products. At Eileen Fisher – which caters to Baby Boomers – such an initiative was a surprise… But the company uses the Renew site to emphasize the durability and quality of its clothing, in an apparel world increasingly dominated by lower-quality, disposable goods.
On the department store side, Dillard's (DDS) has offered used designer handbags in its stores, Nordstrom (JWN) has launched the "See You Tomorrow" resale site, and both Macy's (M) and J.C. Penney (JCPNQ) have tested thredUP resale shops in selected stores. 
These resale experiments are unlikely to be needle-moving to sales at any of these traditional retail players… But brick-and-mortar operators are trying to learn from these trials. As Achim Berg – global leader of the apparel, fashion, and luxury group at consulting firm McKinsey – explained to industry news site Business of Fashion…
"It provides interesting data… How long do people keep certain products? When do they sell them off? What [is] the market price for vintage goods? What is hot? What's not?"

That's particularly valuable at a time when companies are grappling to understand what to do with large volumes of unsold inventory in an uncertain market. 
Resale sites are increasingly becoming another channel for both retailers and wholesalers to offload goods that are left over after not meeting sales expectations, an alternative to discounting deeply in their own stores or turning to off-price retailers like TJX Companies' (TJX) TJ Maxx.  
► Somewhat counterintuitively, the pandemic isn't slowing down the resale market…
The pandemic didn't only lead to closet cleaning, it also brought scores of new buyers. According to an April article in Business of Fashion…
The platform [depop] says U.S. sales are up 150% from the same time last year in mid-April and have doubled in the U.K. At Poshmark, a rival resale site where sellers tend to list low-price fashion from brands like Anthropologie and Kate Spade, the third week of April was the company's best ever in terms of sales.
Poshmark later disclosed that its sales were up 50% year over year from mid-April through May, with listings up 25%. Vestiaire, a designer resale site big in Europe, saw April sales up 20%. At Vestiaire, interest continued to accelerate, with orders up 119% in May and 144% in June. Sneaker site StockX saw April sales surge 75%, with high volumes of lower-priced product driving the increase. 
Things were a little rougher at The RealReal, where second-quarter sales dropped 19%. This was presumably because of its higher-priced merchandise, which was hurt by economic uncertainty and fewer occasions to wear designer duds. But by The RealReal's second-quarter call in early August, things had already improved markedly… and sales are expected to be flattish in the second half of this year. 
What people have bought has also changed during the pandemic, with Poshmark calling out strength in designer sweat suits, other athleisure goods, and fancy pajamas. At The RealReal, Zoom life drove demand up 24% for designer scarves, and men's handbags saw a 20% sales jump, as many men needed somewhere to put their masks and hand sanitizer. 
This surge in demand feels a bit counterintuitive. With so many people avoiding contact with strangers, they were surprisingly open to taking goods from strangers. Consignment sites that take possession of inventory however made a quick pivot to communicating their sanitization processes for incoming goods.
► The surge in demand for resale items during the pandemic probably has two big drivers…
The more obvious one would be that in times of heightened economic uncertainty, consumers tend to get more thrifty.
On the other hand, there's an entire class of people whose income has been unaffected by the pandemic… or in some cases, even enhanced by it (think anyone working at a big tech company who gets stock options or grants). People who are doing fine financially have fewer places to spend their money these days, which has contributed to a resilience in both first- and secondhand luxury goods demand.
As Sasha Skoda, head of Women's at The RealReal told young women's fashion and news site Refinery29…
"It's been interesting to see where shoppers are choosing to invest during the pandemic, particularly millennials as a generation known for investing in experiences, which are heavily restricted in our current climate… Millennials actually purchased more Hermès handbags last [second] quarter than any other demographic. We've also seen strong interest in high-value watches since March, with the greatest year-over-year increase among millennials."

In the first half of the year, The RealReal also saw demand for Louis Vuitton handbags rise 38%, and Gucci rise 24%.
Not only did the pandemic bring buyers and closet cleanout inventory, but it also brought an increasing number of retailers with excess goods left over from the spring season – many of which ended up as "New With Tags" items on sites like The RealReal. 
For these reasons, resale retail may be yet another trend that has been accelerated by the COVID-19 crisis.
► Turning back to where I started yesterday… what will the deal between Gucci and The RealReal mean for the future of resale, as well as the stocks of the companies involved?
While somewhat unexpected for a top-tier luxury goods company, the move by Gucci to embrace resale seems "on brand" for the design house, which has seen 60% of its growth driven by millennial purchasers. Reaching out to the younger generations is critical for a brand's long-term health and encouraging participation in the brand for those who can't otherwise afford it through the secondhand market may prove a way to recruit fans for the long haul. 
But for an industry famous for burning unsold goods in a bonfire before selling it at a discount, the move is a sign of just how much things have changed (although perhaps not yet at the traditional "big three" of LVMH, Chanel, and Hermès).
As for The RealReal, I've been hesitant to jump into the stock. As much as I'm a big believer in the long-term growth of the resale market – and have participated in it happily as both a buyer and a seller – I have concerns about the company's ability to grow profits.
I have no doubt that its wide selection, treasure hunt shopping experience, sustainability positioning, and mobile app prowess – as well as overall resale industry growth – will drive healthy double-digit sales gains into the future… but I'm more skeptical on profits.
I've taken a dive into The RealReal's per-order economics, and I think it may be hard for the company to make money on a unit basis when considering the costs of authentication, photography, shipping, and warehouse handling. I haven't counted The RealReal out and think it offers an amazing customer experience, but with Wall Street expecting operating losses through 2022, I'm not ready to dive in. 
However, as a big believer in the resale sector, I'm eagerly awaiting the rumored Poshmark initial public offering ("IPO"). I think the P2P model at Poshmark pushes a bunch of expenses back to the seller – things like the labor involved in photography and shipping. Unburdened by this per-order overhead, I'm hopeful Poshmark can translate the resale industry's hypergrowth into profits better than The RealReal has done so far.
I'll have an eye out for that IPO and will keep you posted… stay tuned.
► In today's mailbag, more reader reactions to the Broadway series and various shortages…
If you've never ordered or sold something on a resale site, have the last two essays piqued your interest in doing so? Have you bought anything to spiff up your cyber wardrobe, like a "Zoom shirt," or a power scarf or tie? Let me know in an e-mail to [email protected]. 
► "Hi Berna, Great series on the impact of the pandemic on Broadway! I haven't seen this topic covered anywhere else in such depth and from so many different angles. You mentioned in one of your essays that Broadway hasn't ever closed for this long. Is that also true of the flu epidemics in 1918, 1957, and 1968? I know the first was more severe than what we are going through now (and killed young healthy people to boot), while the latter two caused similar per-capita deaths in the US as our current situation so far. (It's true there were many cholera epidemics in the 19th century, but I'm not sure if Broadway was a big industry back then, nor was public health knowledge very advanced.) I wonder if Broadway shut down during those pandemics, if so, how it adapted, and if not, why not despite the similar or greater severity (at least in terms of death rates) to what we are experiencing today." – Munir Z.
Berna comment: Good question, Munir! Broadway has never actually closed before for public health reasons, not even in 1918! It has closed for four Actors' Equity Association strikes, two musicians' union strikes, a stagehand strike, the 9/11 attack, Hurricane Sandy, one blizzard, and the Blackouts of 2003, 2011, and 2019. 
As for why Broadway didn't close during 1918 – during a deadly flu outbreak and a world war – I think we knew a lot less about the science of public health back then, and we also lived in a less litigious society (at least that's my guess!).
► "I'm a Cherry Doctor Pepper drinker. While production hasn't been fully halted, its availability has been drastically reduced. The 2-liter size is still readily available, but I live alone and don't want nearly that much. I've not been able to find cans at all and I've only been able to find the 16oz bottles at Kroger very intermittently. Oh well, it's definitely better for me to not drink sodas (concentrated sugar water)." – KHL
► "Berna, this coin shortage is ridiculous. It costs more to make pennies and nickels than they are worth – the Mint has admitted that. Give 30% bonus for under $100 and 50% for over $100 turned in at any federally insured bank. No muss, no fuss. This is such a no brainer – are these Mint guys clueless how to save money?" – Dave V.
Regards,
Berna Barshay
October 21, 2020