► 2020 is shaping up to be the worst year for hotels since the Great Depression…
In fact, according to a recent presentation put out by the American Hotel and Lodging Association ("AHLA"), 2020 hotel occupancy is projected to be lower than it was in 1933. The Journal Tourism Economics calculated that the effect of the COVID-19 pandemic has been 9 times worse for the travel industry than the 9/11 attack.
The widely followed metric for judging the health of an individual hotel, a geographic region of hotels, or a hotel company is its "RevPAR," which is short for revenue per available room. Two factors influence RevPAR: price – also known as average daily rate ("ADR") – and occupancy, which measures how many rooms are filled.
According to STR Global, the firm that tracks RevPAR around the world, total U.S. RevPAR was down 49% in the third quarter.
But this figure actually understates the problem because according to the methodology employed by STR to measure RevPAR, any hotel that is closed for 30 days or more is excluded from the calculation. With many hotels still closed because they can't attract enough business to open profitably, the industry is down far more than 49%.
Looking at it another way, STR estimates that eight out of 10 hotel rooms are currently empty. This has led to 70% of hotel employees being laid off or furloughed – hitting 1.6 million people directly and another 2.6 million working in ancillary hotel-related businesses.
STR projects occupancy to be only 38% in 2020, versus 66% in the three prior years. Of course, the 38% number includes roughly two months of normal operations bolstering the total.
Rates are also down, with STR predicting industry ADR down 21% for the year, and only rebounding 6% in 2021 from its depressed 2020 level.
Unfortunately, no one is predicting quick snapback for the industry, since the initial recovery of late spring and summer appears to be losing steam. As industry site Hotel Business explained…
Morgan Stanley still forecasts U.S. RevPAR falling 47% in 2020 and not returning to peak (2019) levels until 2026, with the stronger Q3 being offset by a weaker Q4. It now expects 2021 RevPAR to be 25% below 2019 levels vs. 21% prior, but 2022 to be 13% below vs. 17% prior. Its expectation for a slower recovery is supported by recent U.S. RevPAR data, which shows that improving trends have stalled. September RevPAR fell 46% vs. August 47%, compared to the prior four months that had each seeing a 5%-10% month-to-month improvement.
Most industry observers are predicting a long, slow climb back to 2019 levels. As hospitality-focused website Travel Weekly reported earlier this week…
The pandemic is projected to erase roughly a decade's worth of RevPAR gains for the U.S. hospitality sector, hotel data firm STR reported Tuesday, with nationwide room demand and average daily rate (ADR) unlikely to bounce back to 2019 levels until 2023 and 2025, respectively.
► Global gateway cities that rely on international arrivals and business travelers are doing the worst…
While industry RevPAR declines of 49% sound bad, things are much worse on the high end of the industry and in large urban centers. According to Hotel Business, "higher-end chain scales (luxury/upper upscale) and urban RevPAR all fell 72%, and these declines do not include closed hotels while the companies' reports do."
Lower-priced economy, midscale, and extended-stay properties have outperformed upscale and luxury brands in cities and resort areas because group and corporate travel are dead. According to STR, group travel is down more than 80%, and Marriott (MAR) recently disclosed that its corporate business is down 79%.
Speaking to Travel Weekly, Jan Freitag, the senior vice president of lodging insights at STR commented…
There really is no group demand. This is going to be the lead balloon for 2020. We're going to continue to see drag on the performance of higher-end properties just because of the complete lack of corporate and association groups.
Lack of group business is terrible news for hotels in high-capacity, convention-oriented cities like Las Vegas, Orlando, and Miami. Just this week, it was reported that Las Vegas Sands (LVS) – which has big exposure to group travel in Vegas – is contemplating the sale of its two properties on The Strip: the Venetian and the Palazzo.
No market has been hit harder than New York, which is suffering from both a lack of tourists and business travelers. According to the New York Times…
Mr. [Vijay] Dandapani [the president of the Hotel Association of New York] said in late summer as few as seven percent of the roughly 120,000 hotel rooms in the city were filled with traditional guests. The overall occupancy rate for the city's hotels was close to 40 percent, down from more than 80 percent a year before, according to STR, which tracks the hotel industry.
Many hotels in New York and other urban centers remain shuttered, which explains the difference between STR measuring occupancy at 40% and the Hotel Association measuring it at as low as 7%. Some temporary closings are likely to become permanent. Last month, the 478-room Hilton Times Square announced that it wouldn't reopen… and it's expected to be one of many hotels in large cities that remain permanently closed.
New York had seen massive supply growth into a bull market, and many industry observers now diagnose the market with overbuilding and expect many hotels to permanently shutter. Demand was so strong that apartment buildings in residential neighborhoods converted into hotels. Now the expectation is that many of them will convert back to residential use. Many have already been converted into temporary homeless shelters.
Things are similar in other large cities. Los Angeles recently saw the permanent closure of the Luxe Hotel on famed Rodeo Drive, and Heather Rozman, executive director of the Hotel Association of Los Angeles, told the Los Angeles Times…
We anticipate many hotels won't survive. Industry data shows one in four properties already are struggling to pay mortgages, risking foreclosure.
► The trouble at hotels could ripple through the financial industry and is a meaningful systemic risk…
According to CNBC, 34% of New York City hotels are currently delinquent on their debt payments. Among them are high-profile ones like the Standard Hotel in the Meatpacking District and big brands like the Holiday Inn in the Financial District.
As Doug Hercher, a banker at Robert Douglas explained to CNBC…
Most hotels are using capital reserves to help cover interest payments in the near term and the vast majority of hotels in New York City have missed debt service coverage tests that will result in cash flow sweeps and will limit the ability, absent lender agreement, to get loan extensions that would normally be automatic. This is the tip of the iceberg.
And it's not just New York… Delinquencies are on the rise in Houston, Chicago, Los Angeles, and most other large cities. Even when hotels are shuttered, mortgages and real estate taxes still need to be paid.
This is putting commercial mortgage-backed securities ("CMBS") at risk. According to Fitch Ratings, payments on 17% of hotel loans that have been bundled into CMBS are currently late, up from 2% before the pandemic.
And things will likely get worse before they get better… Lenders have been granting hotel borrowers forbearance, but may soon be out of patience. According to a mid-October Hospitality Asset Managers Association survey, 32% of respondents believed non-CMBS lenders had been flexible throughout the crisis and another 40% thought they have been "somewhat flexible."
But of the 32% who thought lenders were being flexible, almost half (42%) think that lenders will run out of patience by the end of the year. A full third of respondents are worried about ending up in foreclosure or a forced fire sale of their property.
With interest and tax payments piling up and no ability to spur demand in the short term, hotels are trying to pivot into new business lines. Hilton (HLT) has discussed converting empty hotel rooms into offices for workers weary of work from home and loathe to dive into the shared space of a WeWork. Upscale chain CitizenM is offering a $600 monthly subscription, which includes three nights stay plus full access to common spaces and meeting rooms. Other hotels are exploring offering pool passes, gym memberships, and renting parking spaces.
► While hotels grasp for new business models that can get them through the drop in traditional demand, one company has already cracked the code of the future of hospitality, with or without a pandemic…
I'm talking about Airbnb, which is expected to have an initial public offering ("IPO") by year-end. While the company suffered in the initial weeks and months of the pandemic, its business came roaring back this summer – people's wanderlust returned despite the pandemic, but they preferred the real or perceived safety advantage of standalone homes free of common spaces and elevators.
Airbnb was already an existential threat to the hotel industry before any of us had heard of the word "coronavirus," but the pandemic has increased the threat level from nascent or theoretical to tangible and real.
Airbnb already has more than 7 million global listings, which as NYU business professor Scott Galloway pointed out in a recent essay is…
… more than Marriott International, Hilton Worldwide, InterContinental Hotels Group, Wyndham Hotel Group, and Hyatt Hotels, combined. More impressive, and singular, Airbnb is the only hospitality brand that has the global awareness to generate unrivaled demand.
Galloway continues…
It's difficult to identify another sector, this large, that has one player more ascendant while the rest of the industry can't touch its nose. The hospitality sector has experienced an unprecedented shock that dwarfs 9/11 or any recession. Recessions, even wars, take occupancy levels down to 60%, or even 50%. No hotel owner or management firm modeled occupancy dropping to 0%. The result is an entire industry on its heels, except for one player that's on its toes, waiting to spring forward with an information-age Super Bowl ad, the Initial Public Offering, and begin firing a howitzer of capital as other firms return fire with squirt guns.
You can see how much more quickly Airbnb is rebounding versus the traditional industry through website traffic…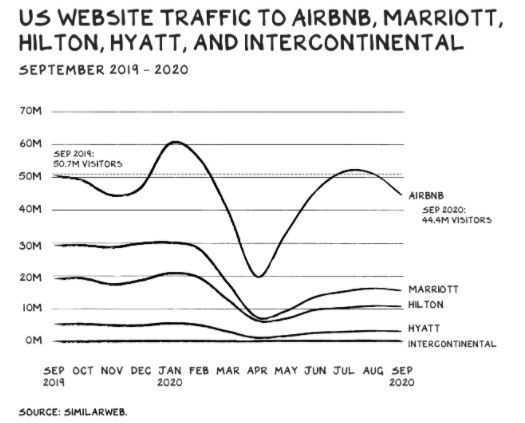 Source: ProfGalloway.com
Airbnbs seem safer, and they've always been cheaper than hotels. This is something that's more important to leisure travelers than business ones, and the leisure segment is currently dominating the travel industry for now. During a recession, lower prices also become more compelling.
The demand factors are lining up to support Airbnb accelerating its already in progress market share capture of the hospitality industry during the pandemic. And as Galloway points out, the pandemic also gave the company an excuse to cut costs, and come out of the pandemic not only bigger, but also leaner and meaner…
A crisis is a terrible thing to waste, and COVID afforded the CEO the cloud cover to cut costs and refocus on the core business. In May Airbnb laid off a quarter of its staff (1,900 employees). CEO Chesky was seen as a hero for his empathetic approach to layoffs (generous severance, extended healthcare, and a website of Airbnb employees who were laid off to help them find new leads)…

Chesky and co-founders relinquished their salaries, cut pay in half for executives, and slashed nearly $1 billion in marketing expenses. The firm is in fighting shape.
Airbnb's most major risk has always been regulation. Hotel industry lobbyists are trying to keep Airbnb at bay… homeowners and apartment dwellers are fighting back against Airbnb owners in their area pushing up real estate prices for residents… and Airbnb guests occasionally cause safety or quality of life issues.
But given how big the industry has become, the genie is out of the bottle… and I would argue that lobbyists and residents will have less sway now than pre-pandemic over local governments desperate to get tourists back.
► What could Airbnb be worth?
Reports indicate Airbnb is looking to raise around $3 billion in a fourth-quarter IPO. In April, when it raised $2 billion in debt to get through the crisis, the company was valued at $18 billion. But the business has bounced back, and the most recent independent appraisal pegs its market value at $21 billion, and rumors are that it could price as high as $30 billion in the IPO.
Galloway is even more bullish…
The only firms I can think of that have global demand/supply and brand equity, and an asset-light high-margin business are the credit card companies, which trade at 20+ multiples of revenue. Airbnb projects 2021 revenues of $5 [billion] to $6 billion, yielding a potential $100 [billion] to 120 billion valuation.
I'm not sure the credit-card companies are the right comparables here, and instead turn to the online travel agencies ("OTAs") like Booking Holdings (BKNG), Expedia (EXPE), and TripAdvisor (TRIP) earlier in their life cycles. Those companies often traded at an enterprise value to sales ("EV/Sales") ratio of 8 or more. Applying that kind of multiple gets you to around $50 billion – less than Galloway's estimate, but above the current range discussed for the IPO. In several years, I could see Galloway being right about his $100-plus billion valuation for Airbnb.
I'll be keeping an eye out for this deal.
► Another long essay today, so tomorrow I'll dive into the many comments I've received so far on The Social Dilemma…
Do you feel safer staying in an Airbnb than a traditional hotel these days? For any Airbnb owner-operators out there… how are your properties doing? Have there been major hotel permanent closures in your city? Are you worried about the systemic financial risk from CMBS? Let me know by sending an e-mail to [email protected].
Regards,
Berna Barshay
October 29, 2020