► The nation's largest mall owner could soon be converting space into e-commerce distribution centers…
Over the weekend, news broke that mall real estate investment trust ("REIT") Simon Property Group (SPG) was in talks with Amazon (AMZN) to convert vacant mall space into fulfillment centers.
Such a deal would solve problems for both companies…
For Simon – which is facing an onslaught of empty space as department stores go belly-up or reduce the number of locations they operate – a deal could mean resuming rent collection on currently or soon-to-be vacant space. In this particular deal, Simon is negotiating to lease up to 74 spaces that could be abandoned by J.C. Penney (JCPNQ) and Sears (SHLDQ) as they work through their bankruptcies.
For Amazon, a broad deal for so much space convenient to highways and residential neighborhoods could provide a big jumpstart to expanding last-mile logistics capacity… just like the deal to buy Whole Foods in 2017 greatly accelerated the development of Amazon Fresh grocery delivery.
There's undoubtedly mountains of irony though in the country's largest mall owner seeking a Plan B from the very company that spurred the decline in mall traffic – and consequently, the lack of demand for space in malls.
► Leasing large parcels of space won't be a quick fix for Simon's problems…
The company may be able to replace the rent that exiting department stores paid, but an Amazon distribution center won't replace the traffic that the stores generated. In fact, many of the department stores that occupy space in enclosed malls actually pay little rent, especially if they've been there a while, like most Sears and J.C. Penney stores.
Department stores historically paid little to no rent to mall landlords. Instead, they attracted shoppers to the mall.
When planning a new mall development, two to four anchor tenants – usually department stores – would be secured to take 100,000 square feet (sq. ft) or more each at opposite ends of the mall. The mall owner would collect the majority of its rental income from inline tenants – the smaller 5,000 sq. ft to 40,000 sq. ft stores and restaurants that pay a full fare rent. Examples of these include small-box retailers like Abercrombie & Fitch (ANF), large-box retailers like Zara, and restaurants like Cheesecake Factory (CAKE).
While department stores historically consumed the majority of space at the mall – typically 50% to 70% – they were the minority of rent collected.
Theoretically, Simon might get more money from Amazon for the former department store spaces than it did from the stores when they were open. But that doesn't mean this will be a net positive for total rent collected at the mall.
► Most inline tenants have co-tenancy clauses in their leases…
These clauses trigger rent reductions in the event certain conditions are no longer met. Lease terms vary widely, but some events that could trigger a rent reduction would include a four-anchor mall dropping to just two anchors, the loss of one particular department store anchor named in the lease, or general occupancy by retail, restaurant, and entertainment entities dropping under a certain threshold.
When co-tenancy provisions are breached, rent can reset to a certain lower fixed rate… or often to a fixed percentage of a tenant's revenue. And with revenue down 40% or more at many stores, that would be a disaster for Simon that would likely offset any gains made by leasing to Amazon versus a department store.
Additionally, an Amazon distribution center won't bring any shoppers and will fill a parking lot designed for cars with instead a constant flow of trucks. This is something that will make the mall less attractive for consumer-oriented legacy tenants – many of whom are looking to reduce their location fleet right now.
And such a deal would be a slap in the face to any retailer of physical goods that sees its business under assault specifically from Amazon… which would include sellers of electronics, books, clothing, toys, furniture, etc.
► Simon wasn't the only one to think of using mall space for distribution centers…
Three months ago, Washington Prime Group (WPG) – a mall REIT that operates lower rated "B" and "C" malls announced its "Fulventory" initiative. As the company stated in its early May press release…
Washington Prime Group (WPG) today announced that it has launched Fulventory, an initiative which allows tenants to utilize space within the Company's assets for last mile fulfilment and BOPIS (buy online and pickup in store), as well as inventory clearance. As BOPIS and BORIS (buy online and return in store) continue to gain traction with consumers, Fulventory captures the nexus between physical space and eCommerce and advances the symbiotic relationship which exists between the two.
No one really paid much attention at the time because by May, WPG shares had already fallen 80% on the year and were trading at a tiny market cap of slightly more than $100 million. Plus, Washington Prime had already been filling its vacated spaces with outpatient branches of hospitals, community colleges, gyms, and other non-conventional mall tenants out of desperation.
For several years, the general consensus was that operators of low "B" malls and "C" malls were in trouble, as many people saw the writing on the wall for the eventual bankruptcies of Sears and J.C. Penney. Retail experts also saw problems just a little farther down the road for Lord & Taylor and knew that even then-healthier chains like Macy's would be continuing to right-size. This meant shutting down locations in the lower traffic, often older or more rural "B" and "C" malls.
I started selling short shares of WPG and its "B"/"C" mall peer CBL & Associates Properties (CBL) in 2017… and their shares were down 30% and 50%, respectively, that year. These stocks have both seen double-digit declines every year since, and CBL is expected to file for bankruptcy imminently.
When I began shorting the mall REITs, prevailing wisdom was that owners of higher-quality assets ("A" or "A+" malls) like Simon would be fine.
You can see this underperformance of WPG and CBL shares until March of this year, when the broader mall index started to catch up to the decline of the low end of the sector.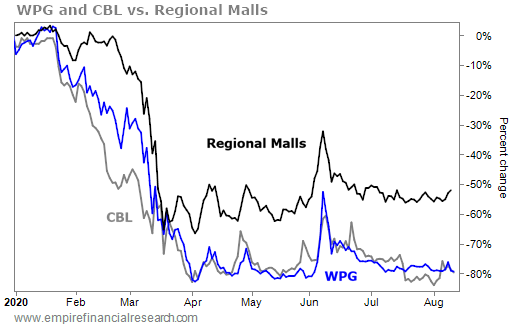 ► The pandemic likely permanently altered the value of even "A+ mall" real estate…
While people may temporarily avoid enclosed spaces, the damage done to the mid- and high-end department stores universe is likely permanent. As I discussed on Monday, the negative trends at department stores predated COVID-19 and were merely accelerated by the crisis. Macy's, Saks, Neiman Marcus, Lord & Taylor, Nordstrom (JWN), Dillard's (DDS), and other stores that have closed (or are closing) are never coming back.
"A" malls had already been experiencing the exit of Sears and J.C. Penney pre-pandemic, but frankly, that was a good thing… As these malls got fancier, those lower-end retailers were out of sync with what the rest of the mall had become.
High-end malls would "re-tenant" the space from departed anchors by chopping it up into two to three spaces that could be occupied by large format 35,000-plus sq. ft stores that served as mini-anchors, like a Zara, Forever 21, or Dick's Sporting Goods (DKS).
When those higher-growth, large-format retailers stopped opening new stores, landlords pivoted to bringing in entertainment anchors, like movie theaters, gaming concepts like Dave & Buster's Entertainment (PLAY), or sprawling, high-concept restaurants. This was a great pivot that brought traffic to the mall, thus pleasing retailer tenants. And this new breed of anchors, or mini-anchors, were in businesses not susceptible to Amazon.
But they were susceptible to a pandemic, and many of these entertainment and dining locations are now shuttered or at limited capacity. They certainly aren't traffic drivers right now, and they may or may not be paying rent.
So that's how we got here… the nation's largest mall owner doing a deal with the devil.
Simon's decision to cancel its deal to acquire mall REIT Taubman Centers (TCO) – owner of one of the highest-end collection of malls in the country – after coveting it for years, and then turning around to do a deal with the largest e-commerce player in the world is a big signal on where the company thinks the retail world is going.
Avoid shares of all the enclosed mall REITs… including Simon, Taubman, Washington Prime, CBL, Pennsylvania REIT (PEI), and Macerich (MAC).
► A pair of thoughtful responses to the Robinhood essay in the mailbag today…
I've gotten so many really amazing responses this week to the essays on fashion and Robinhood… I will hopefully have space to bring you more of them in the coming days. Love your letters!
Have you been back to the mall since it opened? If so, what did you observe? Any Interactive Corp or MGM Resorts shareholders out there with a different take on the deal? Share your thoughts in an email to [email protected].
► "[Raises hand meekly] I consider myself a value investor – I've been to many Berkshire meetings over the years, read all the requisite value 101 books and manager letters, attended a few of Whitney's Value Investing Congresses (and one of the workshops) – and stop me if you've heard this before, I've had a miserable go of it lately. To top it off I've been goofing off on reddit for years and just followed the Wall Street Bets community with amusement from the sidelines, actively steering my non-finance-professional friends away from stocks like TSLA (one of my friends sold 500 shares he'd bought at $35 for $100… crap).
"After pulling my hair out the last several years in the 'stocks only go up' market, only to get about a month of reprieve during the worst economy since the Depression, I realized during the covid rally that for my own sanity I absolutely had to put 5% of my portfolio in absolute dogsh*t YOLO bets… what Meb Faber (or whomever he borrowed it from) calls the 'regret minimization bucket.' I finally gave in and opened a Robinhood account with a few bucks in June. I tried and just couldn't bring myself to pull the trigger on any of the SHOP or Square or FB or GOOG or ZM or TDOC or TSLA calls, and in the meantime Dave Portnoy was waxing eloquent about how Buffett was completely washed up, so in a fit of rage the best stupidity I could come up with was… .buying near-term out of the money Berkshire Hathaway calls. My first ones expired last Friday for a 500% gain. Holy s**t!
"Now, a true Robinhoodie would plow that right back into something like NKLA or SLV calls, and probably turn that over 4 more times before riding it to zero, but alas I pulled out my initial capital plus a little profit and used some of the proceeds to buy a new laptop as a treat. So now I'm playing with 'house money.' (Get it? Because it's a casino. Ok yeah, you get it.)
"Rest assured: the fact that I've gotten this momentary taste is almost certainly a sign that we aren't actually to the 'tech-to-value' rotation yet. I'm virtually certain in the next few months I'll come to regret having pulled any of my money out, because that's how it works now. In the meantime, godspeed to my Twitter and Dropbox calls!" – Rohan R.
Berna comment: I love the idea of a regret minimization bucket, Rohan. Like you, I am a value investor at heart, but I have started writing about some of the stocks that would go in my personal regret minimization bucket, like Peloton (PTON) and Beyond Meat (BYND). It's good to stretch yourself as an investor, but probably best to minimize your bets (pun intended!) while you learn new tricks.
► "You asked if I use the Robinhood app. The answer is I have the app and am 'watching' many stocks. I still have the free one I got when I signed up a few months ago but as far as 'using' it… I am just learning about all this. I haven't bought anything yet. I'm a 37-year old working mom of three. I don't really know what I'm doing but figured I'd rather be late to the game than not show up at all. I'm not into day trading. I'm in for the long haul. I want to see the stocks I invest in grow for my future retirement and hopefully start to create some generational wealth for my family. No one in my family is investing like I plan to do. I've got no one to turn to there. Say some prayers that I make some good choices. My future is riding on it." – Chris K.
Berna comment: Chris, I have the same advice that I have for Rohan above… start small until you get comfortable. The FOMO (fear of missing out) risk is high these days, but if you are going to win in the long-term, you need to be able to stay in the game. As a newbie, make smaller investments to learn and hopefully make money. You can size up your positions once you find your investing legs.
Regards,
Berna Barshay
August 12, 2020