► The rapid plunge in shares of ViacomCBS (VIAC) wasn't the only unusual market move last week…
When I was writing Friday's update on the decline in VIAC shares, rumors were already swirling that the catalyst for the plunge was forced liquidations at a major hedge fund, thanks to Goldman Sachs (GS) tipping off some clients that it was selling several big blocks on behalf of a forced seller. By Friday night, the rumor had a name attached to it, and papers reported a confirmed source of the selling by Saturday morning.
The character at the center of the margin call is Bill Hwang, the founder of Tiger Asia – one of the many wildly successful hedge fund "Tiger Cubs" initially backed by legendary hedge fund manager Julian Robertson.
Bill Hwang's family office, Archegos Capital Management, was identified as the seller of large amounts of ViacomCBS, Discovery (DISCA), and GSX Techedu (GSX) last week. The three stocks were down 50%, 46%, and 55% respectively last week… and 27%, 27%, and 42% just last Friday.
Other stocks caught up in the downdraft were the U.S.-listed shares of Chinese companies Baidu (BIDU) and Tencent Music Entertainment (TME) – which were down 19% and 34%, respectively, last week.
Sources told Institutional Investor over the weekend that Hwang probably had between $10 billion and $15 billion in capital – other sources reported possibly as much as $20 billion in equity – and leveraged those funds roughly five to one. This would imply the fund could be behind as much as $50 billion to $100 billion of equity selling pressure.
Institutional Investor also reports that another fund out of Asia suffered sizable losses in last week's rout. Tao Li, a protégé of Hwang, runs the fund Teng Yue Partners, which was also caught up in the carnage and suffered large losses, although reportedly not as large as the ones at Archegos.

The dislocations in the stocks will eventually right themselves, but the questions about risk management at the banks offering that level of leverage to Archegos may endure…
Tiger Asia was closed after Hwang settled an insider trading case with the U.S. Securities and Exchange Commission ("SEC"), in which he admitted to using inside information to trade Chinese bank stocks. Hwang paid $60 million to settle the case. A couple of years later, Hwang was subject to a four-year trading ban in Hong Kong.
One might ask why the banks doing business with Archegos decided to extend 5 times leverage to a family office at all, let alone one associated with a trader who had been subjected to disciplinary actions in two major markets. Bloomberg reported yesterday that Hwang had been on a firm blacklist at Goldman Sachs as recently as 2018, but the bank reversed its position when the opportunity cost of missing out on his hefty commissions became too much.
Another possible head-scratcher to some market watchers is how Archegos had such a large position in these companies without anyone knowing. In the case of ViacomCBS, there was at least one $2 billion block being shopped on Friday by Goldman… and on Sunday, another block worth around $2.2 billion was being shopped by broker Morgan Stanley (MS).
At its $48-per-share closing price last Friday, ViacomCBS had roughly a $31 billion market cap. A $2 billion block therefore represents more than 5% of the shares, which should trigger a mandatory filing for the position with the SEC. Yet the ViacomCBS shareholders list doesn't name Archegos or Hwang, despite speculation that Hwang's position could have totaled 10% or more of the company.
One explanation for the lack of disclosure on this sized position would be that Archegos held its position in VIAC shares through an equity swap entered into with a bank.
In an equity swap – a type of derivative – the holder purchases the synthetic return of a stock without actually owning any shares outright. The return is provided by a counterparty – usually a bank – which on its end buys large amounts of the stock to hedge itself.
If Archegos owned its exposure in ViacomCBS (and some of these other companies) through equity swaps, that would explain why the fund wasn't on the holders' lists.
It would also mean that counterparty banks – not Archegos itself – would have been dumping all the shares in the market to unwind these swaps.

So what exactly happened here?
Bloomberg did a good job explaining it…
As the bets went wrong, Hwang's prime brokers started demanding he provide more collateral and then exercised their right to liquidate his positions to recover their money.

Prime brokers are the investment banks that lend hedge funds and family offices securities and cash and also process trades for them. Once some banks began to liquidate positions, a dash to sell was triggered among others to avoid losses on stocks that would soon be plummeting in value.
The prime brokers on the other side of the trade could be on the hook for losses.
The catalyst for this big unwind was likely the more modest initial moves some stocks in Hwang's portfolio started to make for fundamental reasons… ViacomCBS did its secondary overnight last Monday and caught sell-side downgrades later in the week, as did Discovery. These fundamental factors got the ball rolling down the hill, causing the broker calls for Archegos to put up more capital – which it couldn't, because it was so leveraged.
So which banks are on the hook here?
A press release out of Tokyo overnight offered the first clue. Japanese bank Nomura Holdings (8604.T) notified investors on Monday morning…
Nomura Holdings today announced that on March 26, 2021, an event occurred that could subject one of its U.S. subsidiaries to a significant loss arising from transactions with a U.S. client. Nomura is currently evaluating the extent of the possible loss and the impact it could have on its consolidated financial results. The estimated amount of the claim against the client is approximately $2 billion based on market prices as of March 26.
Bloomberg reported early Monday morning that sources identified Hwang's Archegos as a prime brokerage client of Nomura's.
Credit Suisse (CSGN.SW) also warned this morning that one of its clients' failure to meet a margin call could have a "highly significant and material" effect on its first-quarter results.
Nomura shares traded down 16% in Tokyo on Monday, and Credit Suisse shares were down 14% in Zurich.
Also listed as large holders in ViacomCBS: Morgan Stanley and Goldman Sachs, who were the banks first witnessed marketing huge blocks of stock. Goldman has already come out with a statement indicating that it doesn't expect large losses from this situation. Of course, if Goldman avoids losses that all the other prime brokers suffer, this will lead to questions about whether the bank knowingly front-ran its spiraling client.
We'll surely learn more in the coming days and weeks. But long after Archegos and any other funds wrapped up in this have finished their unwind, questions will likely linger for the banks that allowed so much leverage and position concentration at one client, and one with a dodgy regulatory record at that.
The role of equity swaps – in granting excessive leverage to customers, creating bank balance sheet risk, and shielding stockholders from mandated position disclosures – is likely to come under scrutiny as well.
The Archegos situation leads me to wonder what other big equity swaps out there could prove a ticking time bomb to individual securities. Even if such positions don't go bad… does it subvert the intention of regulation around disclosure to allow investors to amass such a meaningful economic interest in a company without letting anyone know?
What other funds could be lurking with huge derivative positions in a single stock without disclosing it to anyone?
The fact that Archegos could amass such large positions anonymously in momentum stocks in which price had temporarily divorced from fundamentals even has a few people wondering if the fund might have been a driving force behind the short squeeze we saw in GameStop (GME) shares earlier this year. This is pure speculation… but I've heard crazier things.
A tweet from well-known short seller Marc Cohodes speculated that the troubles we saw earlier this year at Gabe Plotkin's Melvin Capital could be intertwined with the actions of Archegos. Cohodes implies that Archegos purposefully used leverage and secrecy to drive runs in its positions, some of which happened to also be heavily shorted…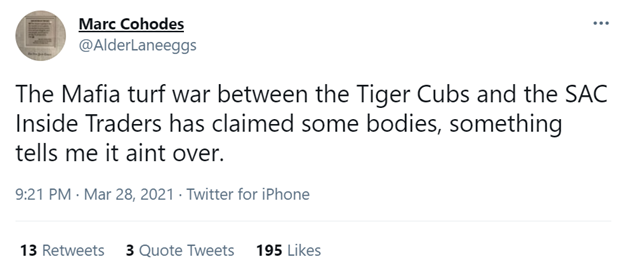 Source: Twitter.com/AlderLaneeggs

There are a couple of other big, outstanding questions…
First… is the selling related to Archegos over? Rumors abounded that $20 billion to $30 billion in positions could still be left to unwind coming into today… but the only ones who know with certainty what remains in this liquidation are the fund's prime brokers.
Traders are also wondering how much contagion there will be from overlapping counterparty risk – basically whether this event could have systemic implications across the markets.
I think the biggest risk to the markets here may be that this episode gets prime brokers across Wall Street nervous at the same time.
If every prime broker decides to pull back on leverage granted to clients at the same time, that could trigger more selling. Multibillion-dollar losses in prime brokerage at Nomura and Credit Suisse – and possible losses at Morgan, Goldman, and others – means that these banks were playing it too loose for a long time… Will they overcorrect as they try to reign it in?
Even if Archegos and its counterparties get through all the selling they need to in specific securities, we could see more downward market pressure from the psychological fallout of the fund's blowup on risk managers at banks. If banks make all their prime brokerage customers de-leverage – or "degross," as hedge funds like to call it – at the same time, stocks will go down.
While all this is dramatic, we've seen these kinds of rapid unwinds before… Long-Term Capital Management, Amaranth Advisors, and Lehman Brothers spring to mind.
Massive leverage-induced margin calls happen periodically, taking out major players in the process and spewing shrapnel all over the markets. Expect hemming, hawing, and potentially regulatory hearings. But also expect this to happen again, likely with no warning.

It's hard to believe it was only at the beginning of this month that I first wrote about non-fungible tokens ('NFTs')…
At the time, I called the NFT market "fast-developing" and moving at "warp speed"… and I may have undersold it…
When I wrote that Empire Financial Daily on March 4, many people told me that they hadn't even heard of an NFT before. Fast-forward just over three weeks, and the NFT market is getting spoofed on Saturday Night Live.
While I would normally hold this kind of thing for a Friday update, I found it too funny to not share immediately. Click here for a great Janet Yellen impression and some fun surprises I won't spoil for you.

In the mailbag, reactions to Friday's piece on the drop in shares of ViacomCBS…
Do you think regulators should take a hard look at the role of equity swaps in the aftermath of the Archegos situation? Do you think that buyers of swaps should be required to disclose their economic interest, even if they don't directly own shares? Share your thoughts in an e-mail to [email protected].

"Berna, You call a more than 50% drop in less than a week 'a little rough?' You either have nerves of steel or are the mistress of understatement. Or did I miss the sarcasm? 😊" – M.S.
Berna comment: Definitely sarcasm! Although I have developed nerves of steel over the years… when it comes to markets only!

"Hi Berna, There were a handful of stocks getting hit hard today, including the following: GSX, EDU, BIDU, DISCA Media stock, VIAC Media stock, SHOP, TME.
"The significance of the price drops seemed odd given the market caps of some of these companies. So first, I looked at the holdings at the ARK Funds, but I didn't see a great match that they may be dumping stock. Then, I headed over to Tradestops and looked at the Billionaires.
"These heavy losers were all holdings of Ray Dalio [of hedge fund Bridgewater] as of the last quarterly filings. This seemed especially interesting given his recent 'cash is trash' comments, along with the 'Bitcoin will probably be banned' comments.
"Thoughts?" – Curtis C.
Berna comment: Curtis, I like the sleuthing, but as you read in today's essay… we know who was at the center of this now. Sometimes it's hard to backtrack into this stuff from filings because giant investors with a lot of assets tend to file on so many stocks. As an example, it's hard to find a stock for which Fidelity or Vanguard aren't on the holders list.

"Hi, Sorry, but you are wrong on why VIAC fell. There was a hedge fund liquidation (possibly more than one). DISCA fell 50% too. Block sales in both companies were marketed by Goldman. Margin calls on the VIAC drop Tuesday, spiraled all week. Check out GSX, another long position held. Your 'overvalued' call on VIAC was luckily timed but you didn't say they were diluting, nor got the facts right for a -28% closing and -40% peak drop today." – A.L.
Berna comment: I was certainly lucky on the timing of how this played out… but my analysis that this stock was not moving on fundamentals was dead-on.
ViacomCBS was being manipulated by Archegos through the use of large amounts of financial leverage to amass an outsized position… Owning 10% of a large-cap public company isn't normal, except at the largest of long only investors – ones like Fidelity, Vanguard, and BlackRock (BLK) which manage literally multiple trillions of dollars each. Certainly not by a guy with $10 billion or $20 billion of net worth.
I heard the rumors on Friday as I was writing the piece… but it was all hearsay at that point, so I didn't write about them. The secondary that ViacomCBS did was completely unexpected and caused a 9% drop in the shares on Tuesday. This was likely was likely a major catalyst for the initial margin calls at Archegos, which it couldn't meet because of excess leverage.
When stocks divorce from fundamentals, it always ends eventually. I was indeed lucky with the timing… It could have taken nine months instead of nine days for VIAC shares to come back to earth, which is why I said the stock could lose "a third – or even half – of its current value over the next year." The timing was, as always, uncertain… but eventually, fundamentals always matter.
Regards,
Berna Barshay
March 29, 2021