► Unless you are a teenage girl – or the parent of one – you may not have heard about Brandy Melville...
While this retailer may not be a household name if you don't have a female teen in your life, the Brandy Melville chain was founded in Italy and has been a major retail success story in the U.S. since it first landed in Los Angeles in 2009.
The company has 34 stores in the U.S. and another 60 in international locations spread across 14 countries. These retail boxes are highly productive and can do as much as $10 million per year in revenue out of a relatively small space.
The chain, privately held by the Italian Marsan family, has 3.4 million followers on its U.S. Instagram account and has global sales rumored to approach $300 million. Financial details are hard to come by – the company keeps quiet, and its CEO and founder, Stephan Marsan, has never given a single interview to the press. As you read on, you will come to understand why he prefers to keep a low profile.
But Brandy Melville is definitely well-known among its target customers – young girls and women in middle school, high school, and college. The Brandy Melville hashtag on TikTok has 1.6 billion views, with "haul" videos – in which young customers chronicle what they bought on a shopping spree – racking up tens or even hundreds of thousands of views.
All signs point to this being a very profitable business. Business Insider noted that when the chain explored an initial public offering ("IPO"), Goldman Sachs (GS) bankers were shocked to learn the company had no debt, something incredibly rare for a retailer.
The company sells affordable clothing – most items are less than $40. The chain combines a West Coast aesthetic with an Italian flair. The company's primary merchandising quirk is that it sells clothes in just one size, in a "one size fits most" approach. Clearly that isn't truly possible, especially in items like jeans or fitted dresses. In reality, most Brandy Melville clothing best fits a size 0 to size 4 woman, with some women who are a size 6 or 8 able to squeeze into some items from the brand.
This isn't an exceptionally inclusive way to merchandise a store, but it probably contributes to the company's profitability, as offering just one size reduces inventory complexity and sourcing costs

Brandy Melville has long come under fire for offering just one size, with that size falling somewhere between an extra-small and a small...
And by offering "one size fits most," some perfectly healthy girls end up thinking of themselves as unattractive or not normal because they don't fit into the definition of "most" in this instance. I have seen professionals who treat eating disorders criticize Brandy Melville for its restrictive sizing, which is way too small for many young girls with a perfectly healthy weight.
In my research, I was particularly disturbed to see TikTok videos like this one that I screenshot (which I will keep anonymous because a minor posted it), depicting a young girl clearly distressed over not fitting the way she thinks she should into Brandy Melville clothing, despite looking perfectly healthy and not being overweight...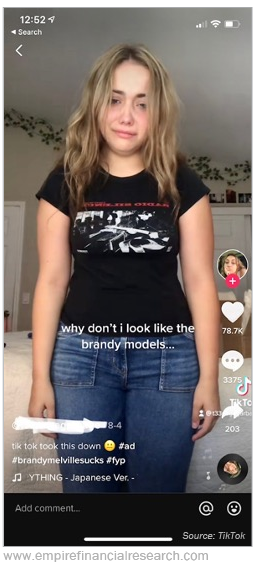 Brandy Melville's critics would be even angrier if they knew the backstory of how the company ended up offering just one size.
Business Insider published an explosive exposé last week, based on interviews with more than 30 current and former employees in eight cities, and it became clear that the executives at the company have been incredibly intentional in promoting a vision of beauty that excludes anyone who isn't white, blonde, and extremely thin. According to a former employee, this directive comes straight from CEO Marsan. The employee also offered an origin story for the "one size fits most" strategy...
There was a day when Stephan told us, 'Take everything but the three smallest sizes off the floor' ... From that moment on, we did not carry anything above a size 4.
This backstory would strike most women as quite offensive, but it is only the tip of the iceberg of what Business Insider uncovered...

The article chronicles a culture of misogyny and exploitation of young girls that is enough to make your stomach turn...
And if that weren't enough, there is a healthy dose of racism as well.
Hiring decisions were made on appearance, according to company insiders. From Business Insider...
Every day, girls who work at the fast-fashion stores are required to send a full-body photo to executives. Some are as young as 14. If Marsan thinks a girl is too heavy or unattractive, he demands that she be fired, according to Luca Rotondo, a former senior vice president. If Marsan decides a Brandy Melville store has too many Black employees, he has them replaced with white women, Rotondo said.

During Rotondo's nearly nine years at the company, Marsan instructed him to fire hundreds of employees, Rotondo said.

"If she was Black, if she was fat ... he didn't want them in the store," Rotondo told Insider.
While Brandy Melville's corporate parent denied that it "has ever fired an employee on account of his or her race," current and former employees offered many contradictory pieces of evidence.
Stephanie Legros, a Black employee in Brandy Melville's New York City flagship, told Business Insider that in late September 2017, she was approaching her first anniversary at the store. On her day off following multiple visits from Marsan, she was fired and told the dismissal was due to a "lack of funds." But Legros told Business Insider...
A week earlier, though, the store had hired two new employees, one white and one Asian, Legros said. The newly hired white teenager told Legros she was earning $13 an hour, $2 more than the more experienced Legros.

"I felt like they were trying to get rid of some of the Black girls because that's not Brandy's look," Legros said.
Of course, any individual employee's termination can be a matter of "he said/she said," which is why the accusations made by Lucas Sorgi, who brought the brand to Canada under license and once owned 11 stores, is so damning.
Sorgi embraced a more diverse approach to running the Canadian Brandy Melville stores, which he alleges in a lawsuit led to his right to operate being yanked by the company. According to Business Insider...
Sorgi says he pushed back on Marsan's modus operandi and began hiring employees based on merit. The girls featured on Brandy Melville Canada's Instagram grew more diverse, while the U.S. account continued to be overwhelmed with comments asking why almost all the models were white.
After Marsan and other corporate executives visited Canada, Sorgi alleges he was told to close stores in areas that weren't predominantly white. When he didn't comply, his deal was terminated.
Five current and former New York employees said that Black employees would be routinely fired when white workers became available. One commented, "Even if they were the best employees ever, they would only keep the ones that were pretty or mixed [race]."
And it gets even worse...

Brandy Melville's top executives, including CEO Marsan, maintained a text chat that contained large amounts of pornographic, racist, and Nazi content...
Business Insider obtained 150 screenshots from the group text called "Brandy Melville gags," which 30 top male executives at the company shared. Among the group text members: CEO Marsan, his brother Yvan, and CFO Salvatore Rianna. The text group was active from 2017 to 2020 and largely contained content I won't print here. Business Insider describes "photos of naked or topless women."
While sharing porn at work is not acceptable, it isn't unprecedented.
But what was unprecedented in this corporate group text was a large amount of content glorifying Nazis, something that I have literally never encountered during the last several decades.
Business Insider noted 24 mentions of Hitler in the 150 screenshots and described the content in brutal specificity...
One image featured Hitler with the text "Premio Nobel per la brace," or "Nobel Prize for barbecue." Another screenshot showed an image of Hitler with the text "Happy New Year My [N-word]." Yet another included an edited image of a severely emaciated woman wearing underwear and a sash reading "Miss Auschwitz 1943."
The group chat also contained equally horrific racist imagery...
A photo of the cast from the TV show "Happy Days" was shared with text that translates to "There were no Black people in this show – that's why it was called 'Happy Days.'" ... Another featured someone holding up a National Geographic magazine with an ape on the cover next to a young Black man.

While racism and anti-Semitism are wrong, they are not crimes. The sexual exploitation of underage women, however, ventures into criminal territory...
Executives not only reviewed female workers for their appearance through photos they were required to submit, but they also often evaluated them in person... and pressured young female workers to strip down in front of older male execs. Business Insider writes...
People said that teenage employees as young as 14 would frequently undress in front of male executives to try on new clothing for them. Four former employees in California and New York told Insider there was a belief among some retail workers that if you went fully topless in front of the executives, you might get paid more.

Mina Marlena, who started working in the Santa Monica store in 2012 at age 17, said that the first time she tried on clothes for Marsan and Longo, she went to the bathroom to change. After she did this a few times, they told her to "just stay down here and change here," she recalled. In an effort to stay in their good graces, she began to change in front of the executives, typically wearing nothing but thong underwear.
Reports also abound of adult male executives bringing alcohol to share with teenage workers at the store.
There is also at least one allegation of rape made by a former employee against an executive.
Brandy Melville maintains a luxurious five-bedroom apartment in New York City where favored employees are invited to stay and enjoy shopping sprees. One 21-year-old employee says she was raped by a 30-something executive while staying at the apartment...
In July 2015, she asked if she could stay at the Brandy apartment for a night.

Andrea Castagnasso, who owns some Brandy Melville stores in Italy, showed her the room she'd be staying in, she said. Castagnasso said his room was next door – something that surprised her. She'd thought the apartment was primarily for store employees and models visiting from out of town, not older executives.

Castagnasso, in his 30s at the time, took the then 21-year-old manager out for drinks and dinner, she said. She said she had a few drinks with Castagnasso at a bar in Brooklyn. Then, she said, her memory went blank.

"I do not recall getting in the car or coming back to the apartment, I do not recall how my clothes were taken off, and I do not recall how I ended up in his bed or engaging in any sexual activity," she told Insider.

"I did not recall consenting to have sex with this person," she went on. "I was very sick and disoriented when I woke up the next morning in his bed. He told me I was very drunk and wanted it, although I do not believe I was in any way in a state to consent to this."

It's all pretty sickening, and you might wonder what this has to do with investing since Brandy Melville is a private company...
Last month, I wrote about the big trend in environmental, social, and governance ("ESG") investing, with a heavy emphasis on the "E" part – the assessment of a company's environmental impact and sustainability efforts. I think it is intuitive to most people why the "E" matters.
And the "G" – or governance – part of ESG is obviously important too... with a board that is corrupt or asleep at the wheel, management teams can overpay themselves or pursue short-term strategies for personal enrichment that will do long-term damage to the company. These things aren't good for shareholders.
Where I get the most pushback is on the "S" – the social responsibility metric – which a lot of people call a bunch of politically correct, "woke" mumbo jumbo.
But Brandy Melville is a case study in how failing on the "S" can sink a company in the long run. I predict that Brandy Melville will crash and burn. While the Business Insider article is sitting behind a paywall, all of this will eventually get out, and teenagers will reject this company for its overt racism, anti-Semitism, and misogyny. Marketing to wannabe Hitler Youth in 2021 America is not a viable business strategy.
Word is clearly already getting out – the company has turned off its comments on Instagram, its primary marketing vehicle. This indicates the company was getting bombarded because Brandy Melville has not censored negative comments in the past...
I heard about the article through a mom of a teen customer who sent it around, adding the family will not be shopping there ever again.
Its sole wholesale customer – retail chain Pacsun – may sever ties after e-mailing Business Insider that it is "deeply troubled by the allegations raised, as the conduct described runs fully counter to Pacsun's values... We are taking this matter very seriously and looking into the situation to make a determination on next steps."
I've seen this movie before, albeit in a less jaw-dropping version.
Teen retailer Abercrombie & Fitch (ANF) was notorious for its size exclusivity and its overreliance on a narrow definition of beauty as it ascended in the early 2000s as a beacon of teen cool and aspiration. But the times changed, and it didn't.
In 2008, Abercrombie denied a job to a Muslim teen for refusing to remove her hijab – a religious head covering. The company got a lot of bad press over the incident, which eventually went to the U.S. Supreme Court, where the woman won her case in an 8-1 decision.
This was one of just many examples of bad judgment by the former management. For years, the company ignored the trend of inclusivity, and it has suffered dearly for it.
Since the beginning of 2008, Abercrombie has underperformed the S&P 500 Index by more than 250%. It's even worse considering dividends – it has underperformed by over 330% considering dividends as well as price. And lest you think that Abercrombie's underperformance can be attributed to being a mall retailer, it has underperformed its teen retail peer American Eagle Outfitters (AEO) by nearly 150% over this same period...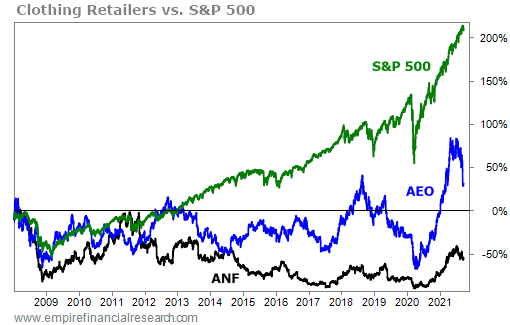 The moral of this story is to not ignore the "S" in ESG. It can have a real impact on company performance, especially in consumer industries.
Also, don't let your daughter or granddaughter work at Brandy Melville!

This was a long piece – but important – so I will skip the mailbag today as a result.
Would you let your daughter or granddaughter work at Brandy Melville after having read this? Would you let her shop there? If you found out a company selling a product you enjoy was run by this type of management, would you give up the product? Share your thoughts in an e-mail to [email protected].
Regards,
Berna Barshay
September 14, 2021