► As you've probably already heard way too many times today, it's the one-year anniversary of the World Health Organization's ('WHO') official declaration of COVID-19 as a pandemic...
As we mark this unwanted anniversary, elements of the pandemic's early weeks and months seem absurd (or even comical) in retrospect. Not knowing how COVID-19 spread, we did some things that, with the benefit of hindsight, seem silly now.
Perhaps some of you wiped down the packaging of your groceries with Lysol? Guilty over here.
My camera roll is also filled with ludicrous pictures from early March last year doing things like posing in close selfies with friends holding Clorox wipes as I was about to walk into a crowded indoor cycling studio, confident that I was being clever for wiping down my bike when I was about to share air with 60 people in a tiny room with limited ventilation.
There was a lot we didn't know then about how you did – and didn't – get COVID-19... enough to leave me chuckling at my former follies.
But that wasn't the only mistake we made in assessing our then-current circumstances...
Does anyone remember this popular meme from mid-March 2020?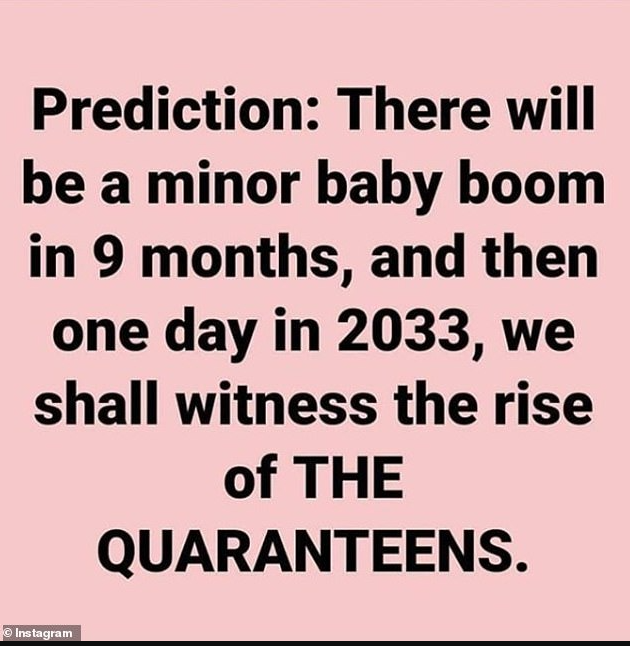 Source: Daily Mail, Instagram
Or perhaps this one?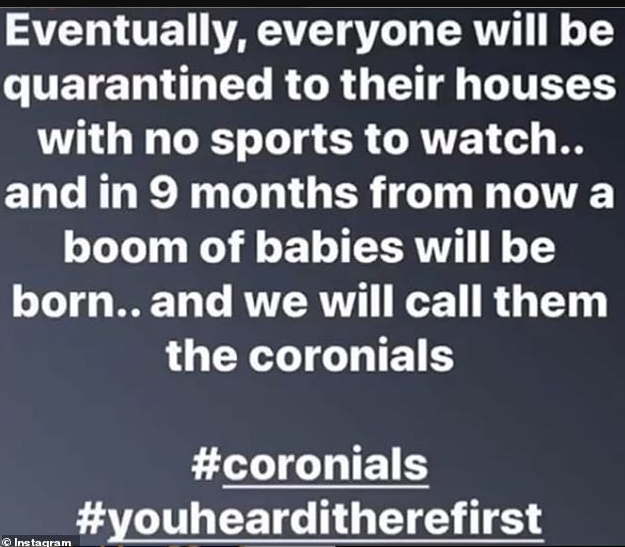 Source: Daily Mail, Instagram
Well, these predictions were about as prescient as wiping down your groceries with materials that if ingested would send you to the Poison Control Hotline!
Economists from think tank Brookings Institution predict that the U.S. will actually see an 8% decline in the birth rate this year... and that there will be 300,000 fewer babies born as a result.

Why is this happening?
"It's the economy, stupid."
The call for a baby bust comes not from an obstetrician industry association or other medical source, but instead from a pair of economists.
It turns out that the birth rate is intrinsically tied to the economy. As Professor Melissa Kearney of the University of Maryland and Professor Phillip Levine of Wellesley College explain in their Opinion piece that appeared in the New York Times last week...
There is a well-documented cycle to the nation's birthrate: When the labor market is weak, aggregate birthrates decline; when the labor market improves, birthrates improve. At the individual level, there is also a well-documented link between changes in income and births: When income increases, people often expand their families; when people experience job or income loss, they have fewer children.
A 1% increase in the unemployment rate has historically been associated with a 1% drop in the birth rate... This would imply about a 5.5% drop this year in birth rates.
But Kearney and Levine think the birth rate will drop more than changes in employment might suggest, because this wasn't just another recession. Pandemics have their own unique effect on birth rates...
The demographic history of the1918-19 Spanish flu pandemic is instructive. That pandemic was not associated with a major recession in the United States, and contraceptive options were much more limited at the time. Yet, every spike in pandemic-related deaths was associated with a large drop in births exactly nine months later.
The authors add, in a conclusion that will surprise absolutely no one who has had to homeschool children this year...
School closures, public-gathering limits and social-distancing mandates are also likely to have an effect. Millions of parents are dealing with the stress of combining their work responsibilities with the need to supervise and teach their children, who no longer attend school five days a week. This raises the "cost" of rearing children and can be expected to lead to fewer siblings being conceived this year.

The economists offer a long list of empirical evidence suggesting they're right about a baby bust...
Among the items cited, a survey from last spring conducted by reproductive health think tank Guttmacher Institute in which 34% of women said they wanted to delay pregnancy or have fewer children in the future because of the pandemic. An October study from the IZA Institute of Labor Economics looked at pregnancy-related keyword searches and found they had dropped meaningfully and were predictive of a double-digit drop in births in early 2021.
The data on aggregate births is still trickling in, but it looks like the economists will be proven right. As Kearney and Levine note...
In January 2021, which would be the first month in which all full-term babies born were conceived after the lockdown began, births fell by 7.2% in Florida and 10.5% in California, after adjusting for secular trends, seasonal variation and the use of provisional birth data.
While it's possible that some of the couples who postponed pregnancy in 2020 catch up later, the economists speculate that some of these births will never get made up. This has personal consequences for families both negative – some kids end up unintentionally only children... and positive – the "COVID cohort of babies" might experience smaller class sizes or a slightly easier time getting into college.
But on a macro level, a drop in births has consequences. Kearney and Levine continue...
The real societal challenge of a COVID baby bust will be a smaller work force, which portends lower economic productivity and fewer workers to contribute to the tax base. It also means a lower ratio of workers to retirees, which stresses Social Security since current workers fund benefits paid to current beneficiaries.
It also comes in the context of a well-established trend of falling birth rates in the U.S., as well as in many other highly developed nations. The birth rate in the U.S. had already dropped 12% in 12 years, as 4.3 million annual births in 2007 fell to 3.8 million by 2019.

What can we do to address the economic challenges posed by a falling birth rate?
Various governments around the world have tried to drive birth rates up through economic policies – such as child tax credits, publicly funded child care, and mandated maternity leaves... but they have had little effect.
The U.S. has historically solved many of the economic problems that derive from fewer births with immigration, but that has become a more hotly contested policy of late.
Kearney and Levine conclude...
To maintain economic growth without immigration to offset the decline in births, we would need an increase in the share of working-age individuals employed or an increase in the productivity of workers, or both. But both employment rates and productivity have also been falling. Turning things around will require a significant investment of public resources to improve our country's economic competitiveness.
An immediate increase in the labor force will clearly require there being more jobs available. Another prerequisite to getting a greater share of adults working is getting kids back in school full-time, as it has been well-documented that school closures have forced many women out of the workforce.
But the overarching message is that we need more jobs.
We also need to find ways to keep people working for more years. Despite longevity increasing, it's not easy for people to stay employed in their fields as they age.
A ProPublica piece from 2018 has been stuck in my middle-aged brain for three years due to the harsh picture it painted for older U.S. workers. According to research conducted by ProPublica and the Urban Institute economic think tank over nearly three decades, 56% of older Americans get laid off or otherwise involuntarily pushed out of their jobs at least once. Of them, only 10% will ever earn as much again as they did before losing their job.
It seems we have a structural problem not only birthing new workers, but also keeping the ones we already have engaged for all their productive years.
Perhaps the answer to our economic problems lies not in coaxing people to create more future workers, but rather effectively utilizing the ones we already have?

Shifting gears, congrats to my colleague Enrique Abeyta on booking a big winner in his brand-new options-trading service...
Enrique launched Empire Elite Options last month, drawing on the strategy he used during his two-plus decades on Wall Street to outperform the broad S&P 500 Index over the long term on a net and risk-adjusted basis.
Today, he just booked his first winner with buying call options on a special purpose acquisition company ("SPAC") called FinServ Acquisition (FSRV) – closing the position for a 131% gain in just six days.
If you're looking for a way to take your trading to the next level, you don't want to miss out on Enrique's approach in Empire Elite Options... Learn more here.

In the mailbag, a reaction to the essay on Cathie Wood and ARK Invest, and two readers share their shopping habits...
Do you think the baby bust in the U.S. is a problem that should be addressed by the government... or does the world have enough people anyway? If you delayed a child because of the pandemic, will you catch up later? Do you believe there are structural challenges to staying employed in the U.S. as one ages? Share your thoughts in an e-mail to [email protected].

"Berna, This is a very enlightening article about Cathie. I read a short note last week in Barron's that Tesla (TSLA) stock owners need to watch out because she is about to release her new price target on the stock.
"If she has 'lost her luster' would her new prediction make that much difference in Tesla's stock price?" – Debbie B.
Berna comment: Debbie, I think the mass of devotees to Tesla goes so far beyond the followers of Cathie Wood, that a fall from grace for ARK Invest is unlikely to take down TSLA shares. I also believe TSLA shares are wildly overvalued and reflect a future in which the company captures nearly 100% of the market for electric vehicles, which I just don't think is realistic.
It's more likely that a drop in TSLA shares brings down ARK, than ARK bringing down TSLA shares.
If TSLA shares fall materially, that would affect many of the ARK funds directly, as they hold a lot of Tesla stock. The largest fund – the ARK Innovation Fund (ARKK) – has almost 11% of assets in TSLA shares. A big drop in TSLA would probably reverberate into drops in many of the other high-valuation, future tech stocks that ARK holds across its funds... so a drop in Tesla would likely have an effect on those funds beyond just the direct losses in TSLA shares.

"I will return to the grocery store as I enjoy picking my own groceries. Also, I'm not that good of a planner and usually forget a few items I need as I cook more than your basic meals." – Simon R.

"Berna, I am a female baby boomer, retired from a corporate career that took me to over ten large metropolitan areas. Shopping at luxury brick and mortar stores was almost a hobby for me. At retirement, my husband and I moved to a smaller western town for a more outdoor lifestyle. Since I missed my shopping hobby and still wanted the same great styles, I began to shop my 'former' favorite stores online and haven't been to a store in three years. I smile when my neighbors ask me where I bought my latest outfit. My husband also buys all of our outdoor gear and home maintenance needs online. Our UPS driver is our best friend!" – Sharon O.
Regards,
Berna Barshay
March 11, 2021