They say trees don't grow to the sky, but Sweetgreen's (SG) stock is acting like an organic lettuce plant can...
The salad chain made its market debut on Thursday, rising 77% in its first day of trading to close at $49.50.
At its current market cap of a little less than $5 billion, Sweetgreen is trading at about 17 times its trailing 12-month sales. This kind of sales multiple is more typical of a software stock.
Sweetgreen's hefty valuation, along with its emphasis during its roadshow on how many people order through its app, has prompted some to joke that Sweetgreen is a "SaaS" – or Salad as a Service – company.
(The real meaning of the acronym SaaS is, of course, Software as a Service, referring to the class of software companies that live in the Cloud and deliver their code on a monthly subscription.)
Jokes aside, restaurants are sort of the opposite of software in terms of variable costs. You can only service so many customers from one "box," (or restaurant location). A single kitchen can only put out so many meals, and a customer will only drive so many miles to eat there. So to keep growing, restaurant chains open more boxes.
With each box, the restaurant has to pay more rent and more employees. Even growing within a box that has excess capacity in its kitchen, each extra meal served will have food in it, which costs money to buy. As more people come through the box, it requires more chefs and counter or wait staff. There is the opportunity to get operating leverage on fixed box costs like rent or utilities, but other costs like food don't leverage at all... and labor costs only leverage to a fixed point.
Restaurants just aren't as good a business model as software companies are. That doesn't mean you can't make money in restaurant stocks... But you need to pay the right price for them, which, as you've probably figured out, I don't think investors are doing with Sweetgreen.
So why are they overpaying?

Let me start off by saying that Sweetgreen salads are delicious...
The company uses fresh ingredients, combines them in interesting ways, and gives customers the option to customize to their personal preferences, which is great for accommodating different tastes, as well as allergies and other medical or caloric considerations.
Sweetgreen proudly displays on a board in each restaurant the names of the farms where it sources each ingredient. Not only is the food fresh and healthy, but the customer also knows where it came from.
To serve consistently fresh, organic food in its 140 stores in 13 states plus Washington, D.C., Sweetgreen had to really invest in developing a complex food supply chain. It has clearly cultivated great direct relationships with farms, and that is probably a bit of a defensible moat when it comes to competing with other upstart salad chains.
The restaurants are popular, and those who don't order ahead online for pickup will often find themselves in long lines, reminiscent of restaurant successes of the past, like Chipotle Mexican Grill (CMG).

Investors are excited because Sweetgreen sits at the crossroads of some powerful trends...
The limited-service restaurant category – essentially counter service restaurants where you can grab and go – is outpacing the growth of waiter-service restaurants. This is partly because busy lives and more working women have led to more people eating prepared foods instead of cooking. Growth in limited-service restaurants is also being aided by the proliferation of restaurant-delivery apps, like DoorDash (DASH) and Uber Eats (UBER).
Organic food, like Sweetgreen offers, is also growing at three times the rate of the overall food market, or 9% annually. The salads and bowls that Sweetgreen offers also accommodate many of the diets that you hear a lot of people embracing these days... from low carb to keto to paleo to vegan and vegetarian.
Sweetgreen also has a tremendous origin story. The company was founded 14 years ago by three friends at Georgetown University who were foodies in search of quick, healthy, and affordable food. When they couldn't find what they wanted, they built it... and all three are still there running it.
The co-founders are aiming high and talk about wanting to bring healthy, plant-based food to the masses, ultimately making Sweetgreen as ubiquitous as burger chain McDonald's (MCD).
It's a lofty and ambitious goal, but the 140 stores that it has opened so far have been highly productive. While it has seen productivity dip a bit with the pandemic, as most restaurants located in central business districts have, the average Sweetgreen box did $2.5 million in revenue the last 12 months. That number was $3 million in 2019, before the pandemic. Both are respectable figures. Sweetgreen eaters tend to eat there a lot – often several times per week – which helps keep the boxes productive.

When Sweetgreen aims for McDonald's-level ubiquity, it's aiming really high...
McDonald's has about 14,000 locations in U.S. That is 100 times the number Sweetgreen has. If Sweetgreen could get to even one-fifth the size of McDonald's, it would have 2,800 locations, and be 20 times the size it is now.
It's a small company, theoretically early in its growth cycle... and that's exactly why people are paying such a big multiple of sales right now for this company. While Sweetgreen won't ever be as profitable as a real SaaS company, it has the potential to be 20 times bigger than it is now... which is something you can't say for companies that are already tremendous and dominate their markets, like McDonald's or real SaaS companies Microsoft (MSFT) or Salesforce (CRM).
Sweetgreen also did a great job in its roadshow of giving Starbucks (SBUX) vibes. Early investors in the coffee chain made a lot of money. SBUX shares have been an absolute home run since their initial public offering ("IPO") in 1992...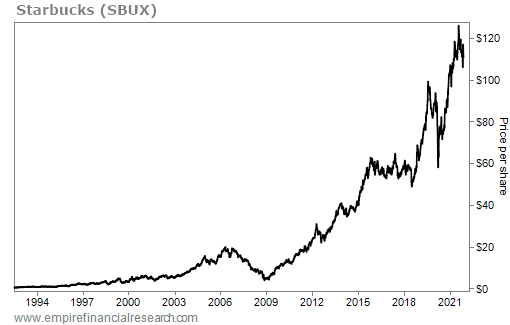 Starbucks was a more than 325-bagger in the last 29 years... who wouldn't want to find the next Starbucks? Sweetgreen even counts Starbucks alumni as its COO, CTO, and head of HR.
Also, like Starbucks, Sweetgreen has a strong founder-led story, emphasizes quality, ethical sourcing, customization, and treating hourly employees far better than the typical fast-food restaurant, with health care coverage provided for entry-level hourly workers, something Starbucks does but most other restaurants don't.
Sweetgreen also emphasizes community engagement, giving workers paid time off to vote and paid parental leave, something almost unheard of with hourly jobs.
Its exceptional treatment of its low-skilled workers, combined with its deliberate sourcing of organic foods from local vendors with sustainable farming practices renders Sweetgreen a prototype for a restaurant that would check all the boxes for the environmental and social factors that make up two-thirds of a company's environmental, social, and governance ("ESG") rating. Sweetgreen is explicit about its conscientious approach to capitalism.
Borrowing from the Starbucks playbook of good corporate citizenship and a high-frequency customer base, Sweetgreen captures the imagination of near limitless growth. If you believe that more people will come around to wanting to eat whole foods, plant-based, and organic... of course we are in the early innings for a company like Sweetgreen.

But will everyone enjoy eating organic salads as much as Wall Street people in New York, Boston, and San Francisco do?
I kind of chuckled to myself each time that the word "affordable" was uttered during the Sweetgreen roadshow. Here are the menu options that pop up when I visit the Sweetgreen website...
Source: Sweetgreen
In case it is hard to read, the prices on these featured items are $13.95 and $14.95. Gross that up for tax, and you are at $15... that's without a beverage or a delivery fee.
"Wall Street bros" looking to optimize their abs for a pending trip to South Beach or the Encore pool party in Las Vegas might love a $15 salad... but will America really love a $15 salad as much as they love a McDonald's Big Mac Value Meal, with fries and a coke, for $5.99? Sweetgreen is three times the price and one-third the calories as McDonald's...
If the founders' vision for Sweetgreen revolutionizing eating in America comes to fruition, we will have a healthier nation with less obesity and heart disease... but is this realistic?

The stock market is littered with stocks that soar because they sell something that rich people on Wall Street love, but are too myopic to have a broader appeal...
A lot of people would argue that home fitness company Peloton (PTON), which recently ran into a rather large wall in terms of growth fits this description.
But you don't have to stick to the world of health and fitness to see the risk when Wall Street types become overly enamored with a company that sells expensive stuff that may not resonate as deeply when you leave the isle of Manhattan...
Sweetgreen is reminiscent of another better ingredient, founder-led, urban-born quick service restaurant concept: Shake Shack (SHAK). New Yorkers with money generally love Shake Shack, and most Wall Street types would be loath to admit that they went to McDonald's and not Shake Shack.
Shake Shack went on a torrential run when it went public in 2015 at $21. It was up over 100% on its first day of trading, and then doubled again in the months after its IPO. But then it crashed when it couldn't keep up with growth expectations and went sideways for a good two years before starting to climb again...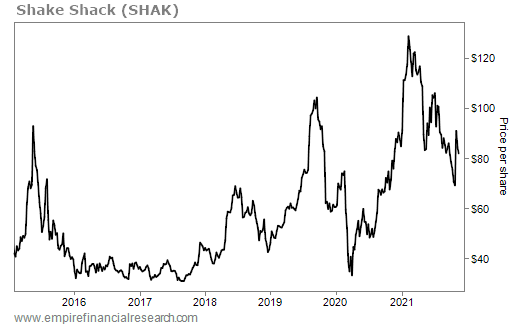 One of the challenges to Shake Shack has been that new locations haven't had as of high unit sales as its original ones did in New York City, where the population density is unrivaled and salaries tend to be high. That helps people pay for a higher-quality burger, fries, and soda that costs twice as much as the same offering at McDonald's.
But when Shake Shack got outside of New York City, it found that its new boxes couldn't always generate quite as much revenue as the originals did, rendering some early analyst growth projections too high.

Sweetgreen is more Shake Shack than Starbucks...
Sweetgreen claims that it tackled the hardest markets first, like New York, D.C., and San Francisco – where real estate and labor are expensive, and farms may be farther away. But I would counter that these are the opposite of the hardest markets when it comes to getting people to pay $15 for a salad.
Simply put, I think it picked the lowest-hanging fruit in terms of regions first. I'm not sold on people paying $15 for organic salads made with artisanal ingredients when you move past the largest, highest-income major metro areas.
Salad as a service isn't a thing, and this company will never have the margins of the software companies. And the growth outlook as laid out may never come to pass.
I love a Sweetgreen salad, but I would skip the Sweetgreen stock at the current quote. I think this company can be much bigger than it is now, and I would look to buy it when it falls to a more realistic valuation.
From a 30,000-foot level... Sweetgreen is valued around $5 billion, versus Shake Shack at $3.3 billion. Shake Shack generates about $3 million per location, similar to Sweetgreen. But there are way more Shake Shacks in the U.S. than Sweetgreens... about 205 versus 140, so the market is putting a lot higher value on each Sweetgreen than each Shake Shack.
Shake Shack also has a highly profitable business licensing its brand internationally, something that might be harder for Sweetgreen to pull off given its captive and integrated supply chain. Plus, before the pandemic, Shake Shack had reached profitability, something Sweetgreen has yet to achieve.
Most people I know would say Shake Shack at five times sales is a pricey stock... but it's a bargain next to Sweetgreen.
Shake Shack hit a road bump in its growth and then a long slump... and I think Sweetgreen is destined to do the same eventually. So while I love the food and the ambition, I'll sit on the sidelines and stick to just eating the salads until Sweetgreen's shares fall to a more palatable level.

This ran long, so I will keep the mailbag short today with just one reader letter about malls...
Any Sweetgreen fans out there – of the stock, not the salads – with a different take? Would you pay $15 for a takeout salad on a regular basis? What about $13 for a burger, fries, and a soda? For those of you outside the major coastal metro areas, do you think there is a sizable market in your area for $15 organic salads? Share your thoughts in an e-mail by clicking here.

"My preference is for outdoor malls, like the Grove in Los Angeles.
"Currently, I am in Phoenix, and I found the most amazing shopping area in North Scottdale. It is a massive outdoor mall. It has it all, you just have to decide which store you want to go in and park close to the store. The parking lot was packed.
"In Prescott, AZ, they have an old inside mall, but they have expanded and added some outdoor shopping stores. They even have two non-denomination churches. LOL
"Some cities like Valencia, CA where I lived, have one main shopping mall but even there they have added outdoor stores. Personally, I feel trapped inside an indoor mall." – Sheila L.

Berna comment: Sheila, your preference for outdoor malls seems to be a popular one... even before the arrival of the pandemic.
Regards,
Berna Barshay
November 22, 2021