1) I did a 20-minute interview yesterday morning with the folks at Benzinga's PreMarket Prep morning show.
In it, I commented on the IPO bubble, the difference between the speculation in the cryptocurrency versus the cannabis sectors, Tesla (TSLA), Lumber Liquidators (LL), and the importance of being open to disconfirming information and being able to change your mind.
The audience of day traders is pretty much the exact opposite of my approach to investing, so I credit PreMarket Prep with inviting me as a guest, even though I was (as usual) the skunk at the garden party – LOL!
Here is a link to the video (or if you prefer, podcast).
2) Benzinga posted two articles that capture a good bit of what I said: Whitney Tilson: 'I Think We Are In An IPO Bubble'. Excerpt:
"I have never bought an IPO in my life. I think we are in an IPO bubble," Tilson said.

He said today's environment isn't as crazy as the dot-com IPO bubble in the late 1990s, but roughly 90% of the recent IPOs aren't profitable companies.

"That's a pretty good barometer for how overheated the IPO market is and how badly investors are likely to get incinerated. Ninety percent is pretty close to the all-time historical high back in 1999. So my general advice to most people is you're the last sucker coming into the poker table in any of these recent IPOs now, so avoid it like the plague," Tilson said…

"Mathematically speaking, they've done studies and it's the single worst place to invest. There is no surer way to lose money in any strategy than buying hot IPOs," he said…

Instead of chasing the hottest tech IPOs, Tilson is bullish on big tech companies Amazon, Alphabet, and Facebook despite regulatory and political pressures.

"I think it's important to distinguish between business headwinds and headline headwinds. The headlines are real about government investigations and regulatory scrutiny, which by the way I think is healthy for these companies," he said.

"Over a multiyear period, I believe these stocks will follow their earnings trajectory, and the businesses are actually booming."
Tilson Talks Tesla Deliveries and Guidance, Staying Adaptable as a Trader. Excerpt:
"I still have that [$100] price target on it despite the capital raise, which gives them some more breathing room. The problem with Tesla is it's burning large amounts of capital, and it used to be it wasn't clear they could produce all the cars, but now it isn't clear they can sell all the cars. I actually think they will sell all the cars they produce, but they'll just have to cut prices massively," Tilson said.

Tilson attributed last week's bullishness in Tesla to reports that sales numbers are picking up, despite the fact that Tesla will come nowhere near its second-quarter guidance.

"They're still going to blow their guidance of 90,000 to 100,000 cars. My best estimate is a little over 80,000, so it's still going to be a big miss in Q2… The problem is I think they've had to cut prices a lot in order to move the cars they're producing and so it's going to be another terrible quarter in terms of profitability," Tilson said.

As Tesla continues to burn cash, he predicted the company's financing issues will become a problem in the near term.

"I'm looking at sort of a distress financing later this year. I don't think the stock goes to $0 because there are people like Larry Ellison and others who just believe in the story, so they'll probably raise the capital and avoid bankruptcy and a $0 on the stock. That's why I put a $100 price target on it, not zero," Tilson said…

Tilson admits he has changed his stance on shorting Tesla multiple times throughout the years and said adaptability is essential for any successful trader.

Tilson recently made a 180-degree turn on Lumber Liquidators, one of his most famously successful short calls several years ago. Tilson is now a Lumber Liquidators bull.

"It's a great case study of one of the most important things you must be able to do as an investor, which is keep an open mind and be willing to accept disconfirming information and be willing to either admit that you were wrong or simply say this story has played out and it's time to take my profits," Tilson said.

He said it's even more important to recognize when to admit defeat and cut ties with a losing long position.
3) I went to a lunch yesterday at which Major General Frank Muth, commanding general of the U.S. Army Recruiting Command (and many other officers) spoke about how the Army recruits.
With 1 million people, the U.S. Army is the second-largest employer in the U.S. after Walmart (WMT) and needs about 68,000 new soldiers each year. It's a big job recruiting them, especially since only 29% of young Americans meet the basic standards, as shown in the slide below. Meanwhile, 32% have one disqualifying factor and 39% have MULTIPLE disqualifying factors – egads! (Obesity, medical/physical, and failing a drug test are the three biggest.)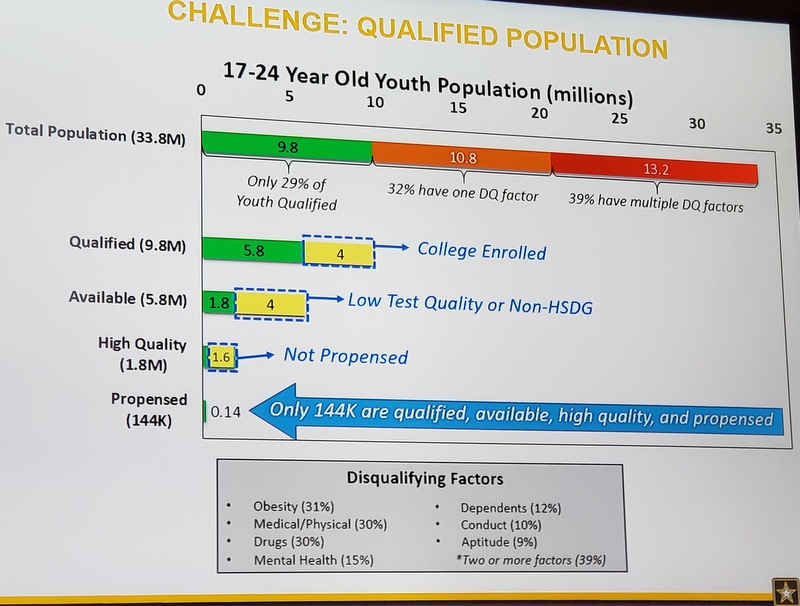 4) As part of this, a few dozen of us get to skydive with the famed Army Golden Knights, so that's what I'll be doing tomorrow morning out on Long Island. It'll be like the picture below, but I'll be strapped to a Golden Knight. We'll jump at 14,000 feet and have a one-minute free fall before he pulls the chute. For some folks, this would be their worst nightmare… But for an adrenaline junkie like me, it's pure bliss!
Wish me luck! (Not that I'll need it – I'll be jumping with the best in the world!)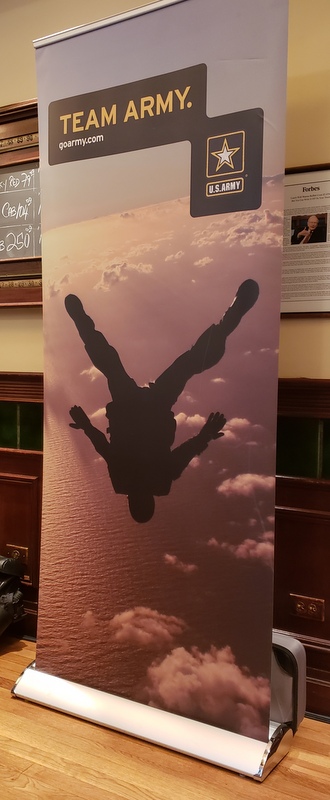 Best regards,
Whitney