► The shift to digital advertising has hit traditional print media hard…
Over the past 10 years, the time we spend on social media and the amount of shopping we do online have exploded. These new habits have drastically altered the landscape for advertising, as marketing dollars have followed the eyeballs and shifted from traditional media to digital media. Today, dollars that were previously directed to television, radio, and print media are increasingly allocated to digital media.
Digital advertising takes many forms, including online video and display ads which mimic what you traditionally saw on TV or in the newspaper. Other forms include Internet search engine advertising, social media marketing, affiliate (referral) marketing, pay-per-click advertising, and remarketing – which uses cookie technology to follow a user around the web and offer them ads later based on their prior search and surf history.
If you've had the experience of searching for an item on your phone and seeing an ad for a similar product hours later on your Facebook feed, you know how effective digital marketing can be in finding out who you are and what you want. Digital advertising techniques allow companies to push ads at you that are targeted to your needs, wants, and demographics.
Therefore, it's no surprise that digital advertising has taken a huge chunk of the total advertising pie away from traditional media. As you can see below, digital advertising was roughly 50% of the advertising pie last year, up from just 15% in 2009…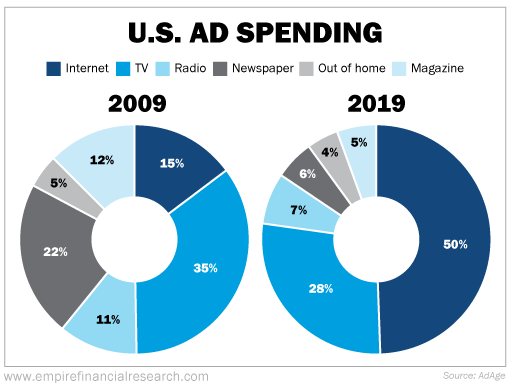 Almost 60% of digital advertising dollars have gone to Alphabet's (GOOGL) Google and Facebook (FB), which is a big part of why these companies have performed so well over the past 10 years.
Print media has been the biggest share donator to these digital giants. In 2009, newspapers and magazines accounted for 34% of U.S. ad spending. Last year, that share was down to just 11%.
► Even the best print assets in the world took a huge hit during the digital transition…
The New York Times has one of the largest circulations of any newspaper in the U.S., trailing only USA Today and the Wall Street Journal. The paper dates to 1851, and has won 130 Pulitzer Prizes – more than any other newspaper. But even this storied legacy couldn't save its parent company from seeing its business model obliterated during the rise of the Internet…
From 2000 to 2011, sales at the New York Times Co. (NYT) were cut in half, bottoming at $1.6 billion. The hit to earnings before interest, taxes, and depreciation, and amortization ("EBITDA") was even worse… falling from $845 million in 2000 to $103 million in 2008 – a drop of nearly 90%. Even using 2011 EBITDA to normalize for the effect of the global financial crisis and recession, EBITDA fell by more than 70% from its peak.
In 2002, the New York Times' daily print circulation was 1.1 million. Today, it's about half that number. While the company saved some printing costs as things went digital, that wasn't enough to protect the profit margins. Because of the high fixed costs to maintain newsrooms all over the world, NYT couldn't offset the loss of revenue when subscriptions declined, and profits tanked.
I had seen the writing on the wall in 2003 and shorted the stock at my hedge fund (betting it would go down with its profits), and stayed short until I closed that fund a few years later. Unsurprisingly, NYT shares proved to be terrible performers as profitability collapsed at the hands of Google and eventually Facebook…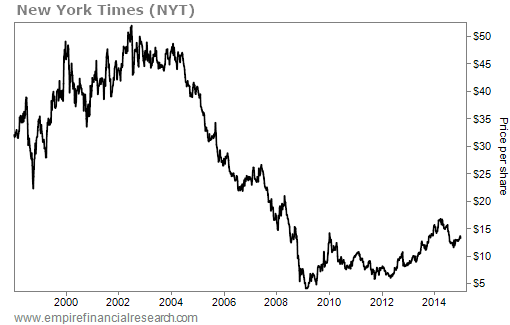 ► In March 2011, NYT put up a paywall and stopped the revenue slide…
It's no coincidence that revenues troughed the year of the paywall implementation, limiting the amount of content non-subscribers could consume on the New York Times website. With hindsight, it was an obvious strategic move. But at the time, it was controversial, people weren't used to paying for content on the Internet, and many were angry to see something that was free suddenly have a fee. But NYT wasn't a nonprofit and realized its content was something to be monetized.
The company's revenues had been falling by 7% per year from 2000 to 2011. The addition of the paywall stemmed the bleeding but didn't immediately lead to increases in revenues. From 2011 to 2016, revenues were flat. The paywall saved the company… but didn't fix its problems as EBITDA continued to shrink by 6% per year over the same period.
However, the real turnaround began in 2017, when NYT grew revenues by 8%. This was the first time revenue growth meaningfully outpaced GDP growth since 2003, and was the biggest top-line growth since 1997. Revenues increased in 2018 and 2019. Since 2016, NYT has grown its top line by a healthy 5% per year… And due to the high fixed cost structure, EBITDA has grown faster at 13% per year.
As financial results improved, stock performance followed. Shares are up 250% since the beginning of 2016…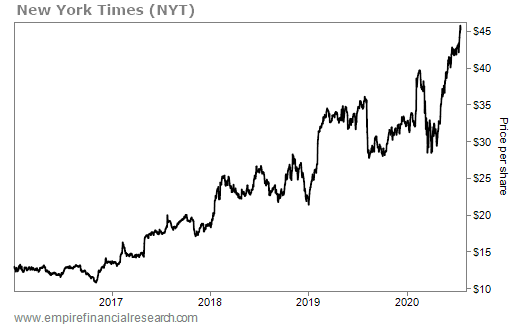 The catalyst for the revenue turnaround was the election of President Donald Trump in November 2016. While the New York Times may be President Trump's least favorite newspaper, the company should send him a thank you note. The divisiveness of his policies and presidency – and even his frequent bashing of the paper on Twitter (TWTR) – made it a must-read for his critics.
► My colleague Enrique Abeyta thinks this renaissance at NYT will last beyond the Trump presidency…
In a private e-mail, his reasoning draws on the history of journalism…
Look back 150 years ago (remember that "journalism" is only that old), and typically what you had were a couple of media outlets (newspapers) that were restricted to a single geographic market.

In that scenario, it benefitted the outlet to appeal to as many people as possible. These newspapers couldn't easily go into other markets. Given their limited geography, they wanted the most people possible in their local region to buy the paper. Newspapers tried to keep their appeal broad by being as "centrist" or objective as possible. This would lead to the most readers and the best economic outcome.
But as Enrique explained, things have changed…
Today's world is the polar opposite of how things used to be. There are literally thousands of media outlets and news sources. Furthermore, in the digital world, these sources can have global reach.

It's no longer necessary to appeal to the most people regionally when you can reach everyone globally…

With the ability to reach any English-reader anywhere in the world, it makes the most sense to drive the most engagement or passion to get the hardcore readers.
Enrique believes polarized politics have created a business opportunity. I agree. We already see this kind of segmenting being successfully employed with opinion-journalism television, with Fox News occupying the right and MSNBC the left, and CNN sitting somewhere in the middle.
He went on to explain why he likes the stock so much…
Consciously or unconsciously, NYT has eagerly embraced this strategy… and the results have been outstanding.

In the first quarter of 2020, the company added a total of 587,000 new digital subscriptions, including 468,000 to core new products. This brought paid digital-only subscribers to more than 5 million, and enabled the company to actually grow revenue during the quarter – despite a 15% collapse in advertising. Subscription revenues also now make up 65% of total revenue, with digital being almost half of that.

Combined with a pristine balance sheet (almost $700 million of net cash, or $4 per share), the company is in an excellent position to continue to grow.
While I may not agree with Enrique that the entire paper has veered left in terms of its reporting content, there's no doubt that its op-ed pages have become increasingly progressive during the Trump era…
This was highlighted last week by the high-profile exit of conservative opinion writer and editor Bari Weiss, who accused the paper of having no tolerance for conservative voices or opinions. The left-leaning opinion page caters to a devoted fan base: One that's willing to pay for content that reinforces its world view.
► A divided nation is bad for the country, but great for shareholders…
Enrique thinks the current political environment will drive future subscriber and earnings growth at the company. As he concluded…
I think the New York Times will continue to super-serve the political passions of its readership… And in the current political environment, the company could double or even triple the current digital subscriber base. That means a lot more upside for the stock from here – even though it is trading at new highs.
I agree… and I think NYT has done a fantastic job of recruiting subscribers and will continue to do so.
When the company reports second-quarter results, I wouldn't be surprised if it's another pandemic winner on the subscriber front (of course, advertising will be weak), as quarantine orders gave many people more time to read and the news flow from COVID-19 was non-stop.
► But the secret to success at the New York Times goes beyond its journalism…
The company has done more than put up a paywall and target the paper's opinion page… it has invested in digital marketing – so it not only attracts subscribers, but keeps them.
Just look to Los Angeles, and what was once the country's second-largest newspaper. In 2002, the Los Angeles Times had a daily circulation of 966,000 – 87% of its market-leading peer in New York. In 2019, the Los Angeles Times had just 170,000 digital subscribers – only 6% of the 2.7 million paying New York Times digital subscribers. It's an astounding collapse in relative positioning.
The Los Angeles Times' journalism hasn't gotten 90% worse relative to the New York Times… The difference lies in the digital packaging of content. The New York Times drives engagement through e-mails, newsletters, quizzes, videos, podcasts, app alerts, and other digital techniques to pull readers deeper into its "ecosystem."
Last year, in a leaked internal memo, the Los Angeles Times revealed it added 52,000 digital subscribers in the first half of the year but lost 39,000 for a net gain of just 13,000. This high churn is a big reason why the company missed its internal goal of adding 150,000 subs last year, and instead added less than 20,000.
The sad case of the Los Angeles Times is proof that the success of the New York Times is only partially created in the newsroom. NYT has not only built a journalism engine that can attract paying clients, but it has invested in the technology and digital marketing techniques that allow it to hold on to these clients.
The company has clearly benefited from its journalistic moat in these divided times. But it's the investment in building the tools of digital marketing that makes its content monetizable in a sustainable way. These two core strengths – great content that plays to a passionate audience and digital marketing prowess to increase audience engagement and retention – suggest NYT shares have plenty of upside from here.
► I'd love to hear your take on the Old Gray Lady…
Are you a reader or investor? What newspapers and magazines do you consume? Where else do you get your news? Are you are getting information from more or fewer places since information went digital? Send your thoughts to [email protected].
► "Berna, this [Netflix/FAANG letter] is probably the best daily written by you. It is stock specific plus your views and recommendations. Additionally, the learnings of stock investing (or what not to do) in the comments make this letter outstanding. This seems to contravene your principle of confining such materials to subscribers. Although I am one of them, I welcome every one from the broader Empire team (free or fee)." – M.C.
Berna comment: Thank you, M.C. I obviously can't make an investment recommendation every day, but when I can offer a well-informed view within the constraints of researching a daily piece, I'll share them. There's a stable of companies that I have followed for a long time. For these, I can sometimes come to high level conclusions relatively quickly.
Each issue of our paid services like the Empire Investment Report have many days or even weeks of full-time research applied to them. I only have hours to put together each newsletter – so I only offer actionable recommendations that I think draw on my prior experience thus can be well-reasoned despite not having the endless hours to dig in.
► "FAANG? = old school
"SMART[EST] = current disrupters" – Joel K.
► "I bought Marvel stock, I believe it was in 2001, but I know it was before the first Spiderman movie, I sold it, made about $3,000 and bragged that Spiderman paid for my trip to Europe. Should have held on to it… OBVIOUSLY. I could afford a private jet to Europe.
"I think I'm learning my lesson – as I bought Trade Desk (TTD) at around $60/share. While I did sell 100 shares back at $250 from a covered call, I needed some cash at that time, and I still have over 100 shares and am holding tight. Not saying I won't sell it but I will check analyst data carefully before I do."– Jen A.
Berna comment: I was briefly short Marvel stock in the early 2000s based on the recommendation of a $100,000-per-year service I subscribed to that sold short recommendations to hedge funds. Thank goodness I realized the error, but I wish I had the foresight to go long.
Selling too early, which you mention, is a common mistake. Unlike your astute selection of Marvel, I had the position all wrong… but fortunately I did not fall into another common investing trap… not being willing to admit when you are wrong.
For those not familiar with the story of Marvel's stock… It was around $2 when Jen bought it in 2001. Disney (DIS) bought Marvel in 2010 for around $54 per share… a 2,600% return in nine years.
► "Berna, the biggest mistake I have made was not taking a 30% profit in both JNUG and NUGT recently. Both ETFs had a nice run because of the gold excitement. I should have sold but gold is the place to be I thought. Then the problems with gold trading in Europe and Comex showed up and then came a letter from the SEC telling investors both issues may not be traded going forward. Wow another 90% drop in these two issues in the last few years only to have another reverse split right back to where they started dropping. The only gold traded issues that dropped and had a reverse split. How many times will we have to see such manipulation?" – Rich K.
Berna comment: Rich, I'm not familiar with these particular exchange-traded funds ("ETFs") nor do I spend much time looking at gold… but I will point out that both these ETFs appear to be leveraged ones. Their objective is to return twice the gains – and will deliver twice the losses – of the underlying securities that make up the index. It's extra important to be right when using leverage because you'll be punished more for mistakes.
► "One of my mistakes was listening to advice like selling company ESPP stock – it went up 14% per year! One size does not fit all…" – Dan T.
Regards,
Berna Barshay
July 21, 2020