1) I think Bill Ackman is 100% correct in this tweet in which he lays out the case for the Fed to, in a "temporary pause," not raise rates tomorrow: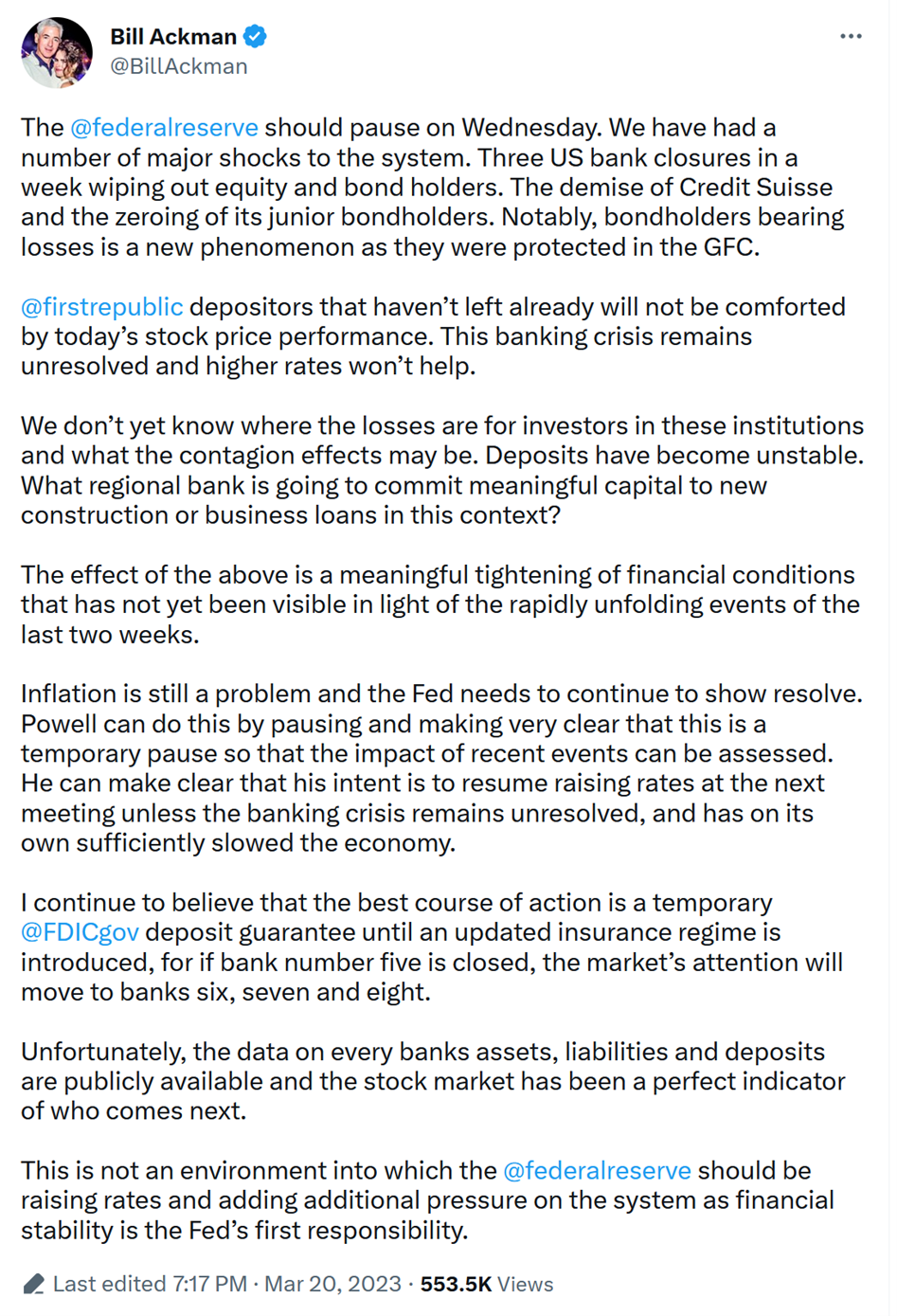 2) Tesla (TSLA) CEO Elon Musk responded to Ackman with this tweet:

A friend's (likely spot-on) take: "Hey, now we know Tesla's Q1 results are tracking for a major miss."
---
Recommended Link:
| Elon Musk is creating Tesla Automotive's biggest competition. He's just launched Tesla Energy Ventures that will deal in "PVAB" energy. As Musk recently said: "I expect [PVAB] to be roughly the same size as Tesla's automotive business." According to global energy research agency Wood Mackenzie, Tesla's energy business is already growing faster than its car business. Unfortunately, Tesla Energy Ventures is not yet publicly traded. But there is still a way to get in to the PVAB energy space right away. Click here for more details. | |
| --- | --- |
---
3) Speaking of Musk, here are two recent articles that caught my eye regarding what has happened to Twitter since he bought it...
Antisemitic tweets soared on Twitter after Musk took over, study finds (Washington Post). Excerpt:
In the months after Elon Musk's takeover, antisemitic posts on Twitter skyrocketed, according to a report shared first with The Technology 202, which offers a new detailed look into the growing prevalence of hate speech on the site.

The study, which used machine-learning tools to identify likely antisemitic tweets, found that the average weekly number of such posts "more than doubled after Musk's acquisition" – a trend that has held in the months after Musk took over.

The analysis found an average of over 6,200 posts per week appearing to contain antisemitic language between June 1 and Oct. 27, the day Musk completed his $44 billion deal to buy Twitter. But that figure rose to over 12,700 through early February – a 105% increase.
Inside Elon Musk's cost-cutting drive at Twitter (Financial Times). Excerpt:
From a secretive "war room" at Twitter's San Francisco headquarters last month, Elon Musk's trusted lieutenants pored over a list of employees showing how much they cost the social media company.

The billionaire owner's "transition team" headed by Steve Davis, who leads the Musk-owned Boring Company, then began to phone staffers. Some were asked to justify their role; others to recommend which colleagues to retain.

Those deliberations informed Musk's latest lay-offs at Twitter, as part of his efforts to bring the lossmaking company to financial health while also battling an advertiser exodus and unwieldy debt servicing bill.

The February cuts removed more than 200 staff, but were still broader and deeper than many employees had anticipated, because they came after Musk had already laid off half of the company's 7,500 workforce following his acquisition of Twitter in October. The move wiped out large swaths of its business development and product teams, leaving Twitter leaner – and more unstable.

This account of the billionaire's ongoing efforts to wrestle Twitter's finances under control with his inner circle is based on interviews with current and former Twitter staffers, people aware of Musk's thinking and his public statements on Twitter and to investors.

Musk, Twitter, and most members of the transition team did not respond to a request for comment.

Formed in November, the transition team has often refused to immediately pay many of Twitter's vendors, landlords and partners in the hope of keeping down costs, in some cases irking clients and leading to frosty stand-offs.
4) My 20-year-old daughter is horrified at the thought, but I would actually be delighted if TikTok can't find a buyer and the U.S. simply shuts it down.
Irrespective of its Chinese ownership and resulting national security risks, our country would be much better off without it... Finding a Buyer for TikTok May Not Be So Easy. Excerpt:
TikTok has what many Silicon Valley companies lust after: A culture-making machine beloved by 100 million Americans and deep-pocketed advertisers.

That doesn't mean they will line up to buy it.

TikTok said on Wednesday that the Biden administration was pushing the company's Chinese owners to sell the app or face a possible ban. But there are probably few companies, in the tech industry or elsewhere, willing or able to buy it, analysts and experts say.

At a price of $50 billion or more – the value some analysts said TikTok could command – the social media platform would be too expensive for many companies, including competitors like Snap. The tech giants that could afford it, such as Facebook owner Meta, Google and Microsoft, are likely to shy away for fear of getting caught in years of antitrust scrutiny in the United States. Then there's the headache of owning a social media company, and figuring out how to handle the endless flood of toxic content.

In addition, it remains unclear how TikTok would fully unravel itself from ByteDance, its parent company in China, or whether any deal would be approved by the Chinese government.

TikTok "has a lot of baggage, and that baggage means that it's hard to make this a reality," said Brian Wieser, an independent consultant who focuses on the media and advertising industries.
5) One of my friends put together this chart, which shows that Instagram – owned by Meta Platforms (META) – has been catching up with TikTok in terms of Americans' time spent on each app: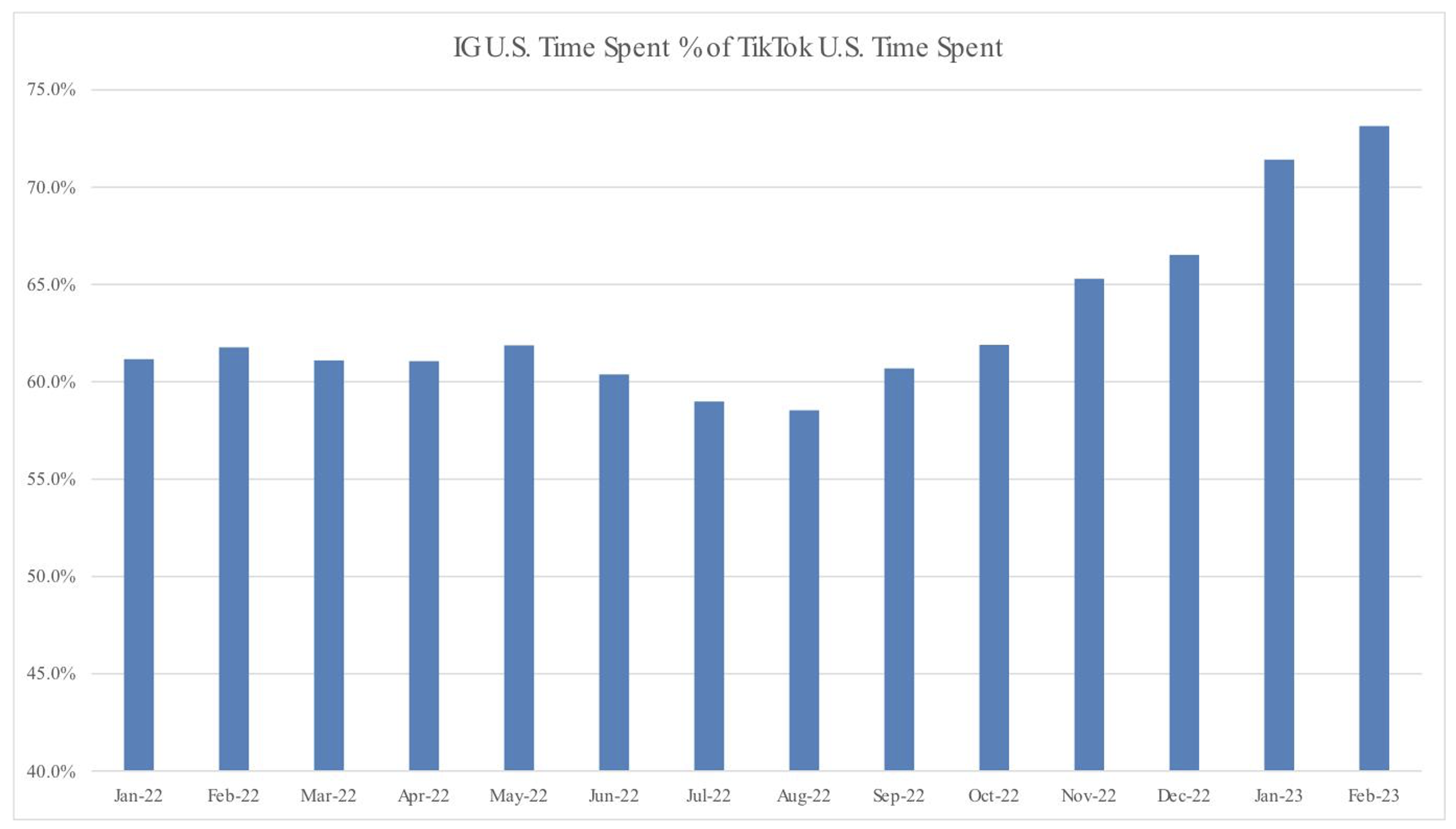 6) Speaking of things our country would be better off without... Kudos to comedian John Oliver for this scathing exposé of the timeshare industry.
I knew that buying a timeshare was almost always a terrible idea, but didn't fully appreciate how terrible – and wasn't at all aware of an equally predatory industry that's sprung up as a result: businesses offering to get you out of your timeshare contract (for a fee of course).
Here's a Guardian article about the segment: John Oliver on timeshares: 'Lying is a key strategy.' Excerpt:
Oliver cited a 2018 study which found that 85% of timeshare owners who got to contract regretted their purchase, "which is a rate of regret on par with people who bought teacup pigs only to realize that 'teacup pigs' don't really exist. What do exist are baby pigs that grow into a 90lb piece of livestock that can suffocate your cat."

Why the regrets? First, cost – the upfront cost for an annual timeshare can average about $24,140, not including annual maintenance fees in the thousands of dollars and pressure to upgrade for more money. Oliver played a news clip featuring one man who was pressured to upgrade for $15,000 for a timeshare he'd never been able to book after three years of ownership. "Being asked to pay $15,000 for something that you've only seen in pictures is not a timeshare," said Oliver. "That's an expensive and remarkably niche OnlyFans response."

It's also very hard to leave, because of the "perpetuity clause" which makes the purchase a non-cancellable, lifetime obligation. "Which is ridiculous!" said Oliver. "A contract for a vacation shouldn't be harder to get out of than fu**ing Scientology."

It can be hard if not impossible to sell a timeshare; Oliver pointed to the real estate website Red Week, where some timeshares were listed for literally $0. "Keep that in mind anytime anyone says timeshares are an 'investment'," he said. "Investments are supposed to gain value. A timeshare is as sound an investment as opening a Ghislaine Maxwell-themed restaurant."

Which is why a secondary industry of allegedly getting people out of timeshares has sprung up. The so-called "timeshare exit industry" would seem like the good guys, "given how critical they are of the timeshare industry", said Oliver. "Unfortunately, they are very much not." Timeshare Termination Team in Denver, for example, took $14,000 of one woman's money and then disappeared from their office.
Best regards,
Whitney
P.S. I welcome your feedback at [email protected].