1) In last Tuesday's e-mail, I reviewed the 69 bearish calls I made last year: 58 stocks plus scam cryptocurrency Dogecoin (DOGE-USD). Of those, 59 – 86% – declined... It's a performance even more remarkable in light of the strong markets.
I want to start this year fresh, so I'm closing out all of last year's ideas except this group of dogs I'm calling the "Dirty Dozen." I've written about most of these – you can search the archive here:
The dumbest meme stock: headset maker Koss (KOSS) 
Why does this money-losing company still exist, much less have a $5.4 billion enterprise value? Blackberry (BB)
The two worst electric-vehicle promotions: Nikola (NKLA) and Workhorse (WKHS) 
The three worst alternative energy promotions: Plug Power (PLUG), FuelCell Energy (FCEL), and Ballard Power Systems (BLDP)
Another obvious promotion: Nano-X Imaging (NNOX) (here are links to three short reports on it)
A year ago, I wrote this about Freedom Holding (FRHC):
My friend Roddy Boyd at the Foundation for Financial Journalism recently exposed one of the most obvious promotions I've seen in quite some time – which has a $3 billion market cap! Freedom Holding: After 'Borat,' the Silliest Kazakh Import of the Century.
Since then, the stock is up 39%! Go figure...
As I did all last year with my Short Squeeze Bubble Basket, I'll be tracking the Dirty Dozen and keeping you posted...
2) For two decades, my favorite source of both long and short ideas has been Value Investors Club, which was established and is still run by my friends Joel Greenblatt of Gotham Asset Management and John Petry of Sessa Capital.
To read the latest ideas and post comments, you need to apply to become a member, in a highly selective process, but guests can read anything 45 days and older.
This Twitter thread by Campbell Wilson of Old Well Partners sure brought back some memories! Here's his introduction and first three favorite historical ideas: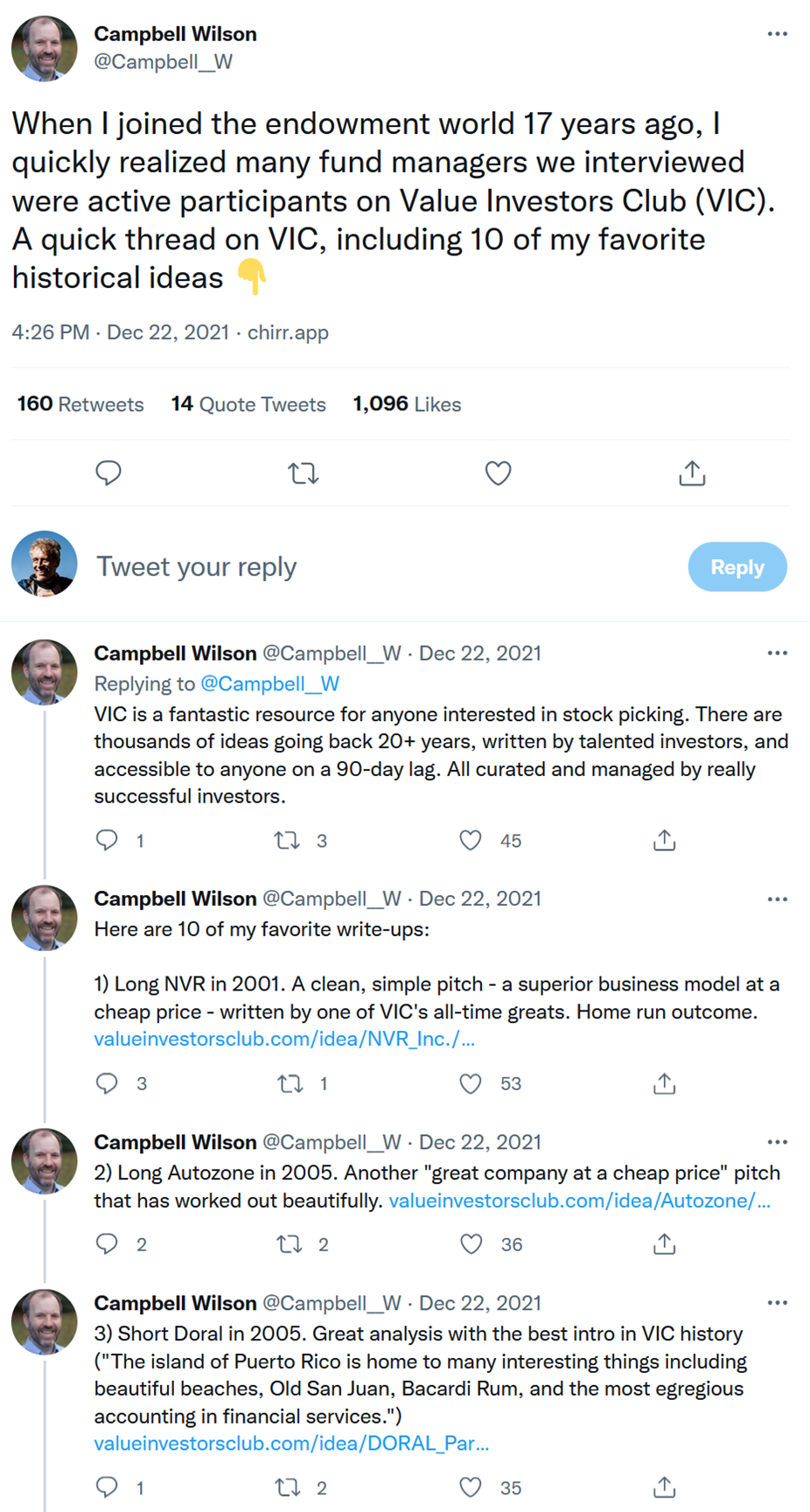 Here are three of my favorites:
Orthodontic Centers of America was one of the first stocks I ever shorted, thanks to this compelling write-up in June 2002. It went bankrupt in 2006.
I posted the short I'm most well-known for, Lumber Liquidators (LL), in November 2013 at $101.81. It later went below $10 after I gave the story to 60 Minutes, which aired an epic takedown.
In April 2020, near the depths of the COVID-19 crash, my friend Harris Kupperman of Praetorian Capital Management posted a speculative long idea of beaten-down oil and gas company SandRidge Energy (SD). It was too small for any of our newsletters, so I bought it in my personal account and made seven times my money in a year and a half, as I discussed in six of my daily e-mails in October, starting with this one and ending with this one.
3) This is a great story from Brazil! Fed-Up Banker Quit for a Startup, and Now She's a Billionaire. Excerpt:
Cristina Junqueira knew she needed to make a change.

She'd left management consultancy to get an MBA from Northwestern University and had ended up in banking, overseeing a portfolio of credit cards at Brazil's Itau Unibanco Holding SA. She rose through the ranks for four years until 2013, when she quit – tired of selling people products she said they didn't actually want.

Shortly after, she met David Velez, a Colombia-born private equity executive who was trying to start a digital bank to compete with Brazil's behemoth lenders. But he was in need of someone with inside knowledge.

"I knew the industry, and saw the perfect opportunity to prove them wrong, to build something people actually wanted," Junqueira said in a 2019 interview.

Fast forward eight years, and the 39-year-old Brazilian is on the cusp of joining an extremely small group of self-made female billionaire bankers.

When Nu Holdings, the digital bank they created together, prices its initial public offering on Wednesday, Junqueira's stake could be valued at as much as $1.1 billion.
4) I got a kick out of this New York Times quiz, even though I bombed it, getting only 29 of 52 correct: Quiz: Do You Recognize These Notable People of 2021?
If you need any proof that my colleague Berna Barshay is up to speed on the latest in popular culture, consider that she got 48 right!
5) When my aunt Dorothy decided to join us on our Kenya trip a couple of months ago, we discovered that her passport was expired and had to scramble because a normal renewal can take eight to 10 weeks, which meant that she might not get it in time.
So, I once again turned to Amin Manji of A-Passport & Visa Services, who worked a miracle for me in July, getting me a visa at the very last moment so I could visit my dad in Uzbekistan.
He worked his magic again and soon Dorothy had a new passport.
Trust me, if you ever need help with a passport or visa, he's the guy to call...
If you want to reach him (use my name), his e-mail is [email protected] and his cell is (646) 996-0954.
Below is a picture of us when we met on the street in July where he gave me my passport with the Uzbekistan visa: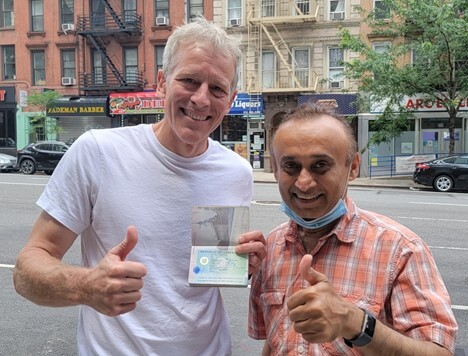 Best regards,
Whitney
P.S. I welcome your feedback at [email protected].