1) Picking up where I left off in Friday's e-mail about commitment bias, ride-hailing company Uber (UBER) has been my favorite short for a while. I've written about it regularly in my Empire Financial Daily e-mails and pitched it at the Robin Hood Investors Conference in late October (Uber shares are down 16% since then).
In light of my very public commitment to this idea, I recognize that it's critical for me to actively seek out and listen carefully to the bull case for the stock. So I was delighted when an old friend of mine told me last week that he recently met with Uber CEO Dara Khosrowshahi and had established a small long position.
Here are the key elements of his bull case, with my comments and those of Richard Kramer of Arete Research, the only analyst with a "sell" rating on Uber…
On technicals/sentiment: Negativity is so high that shares might see a bounce into high $30s.
Comment: True. It's easy for the sell-side analysts at the investment banks that took Uber public in May to pitch the stock as a long under $30 per share since they all told investors that shares were undervalued at the $45 IPO price!
As for the possibility that Uber could beat earnings numbers, Kramer adds:
You need to bear in mind that the fourth quarter is a weak one with slow sales, so a blowout earnings report is unlikely. Keep an eye on how much the company lowers guidance so it can say it "beat" estimates.
The collapse of WeWork and other "unicorns" is the best thing that ever happened to Uber because the company is no longer facing competitors with an unlimited ability to lose money.
Comment: From a competitive perspective, this is indeed a positive for Uber. But it will make it harder for the company to raise money… which it will need to do if it keeps burning cash, as I expect. Nor is weak investor sentiment toward money-losing companies good for Uber's stock.
As reported earlier this year, Uber may sell its No. 3 food delivery business in India, Uber Eats, to market leader Swiggy – which would eliminate a $500 million annual cash burn.
Comment: True. But it also reduces Uber's total addressable market and its desire to be a "life app." Here's an excerpt from a company press release in September:
We want Uber to be the operating system for your everyday life: however you want to move around your city, and whatever you need, we want Uber to be your go-to app.

Uber started with on-demand rides, but we've grown to offer access to everything from food delivery to electric bikes and scooters.
There's lots of opportunity to do similar deals with other money-losing parts of Uber's business.
Comment: Same comment as above… Kramer argues that "Uber can have profits or growth, but not both."
Uber will receive approval for its operations in London. (Last month, Transport for London – the city's transportation authority – for the second time in two years, declared that Uber was not "fit and proper" to operate in the city. Uber is appealing the ruling.)
Comment: Kramer writes, "This is simply uninformed. I'm based in London, and this is being taken extremely seriously. Reading the release for 'British English' shows how damaging the findings were."
And even if Uber prevails here, it faces another existential threat in Britain… In a case that mirrors the California law that's due to go into effect on January 1, its drivers have sued to be considered employees, not contractors – and have been winning so far.
The California law won't be as bad as feared. There will likely be a hybrid outcome in where drivers will get some more benefits, but not be regular employees. Thus, costs might go up 15% instead of 30%. Uber will simply raise prices – which will hurt growth, but will not cause big losses.
Comment: It's hard to know how much this legislation will increase costs and how much increasing prices will dampen demand. But it isn't good news, so investors should take the company's assurances with a huge grain of salt.
Kramer adds: "Uber is misleading investors when it says that 92% of its drivers work fewer than 40 hours a week and 45% drive fewer than 10 hours. This overlooks the fact that 10% of drivers do the same as 50% of the rest! It is on those drivers that Uber faces higher costs, which might also change the shape of their workforce."
Uber has a good, profitable core business in many markets, but this is being masked by bad markets and money-losing side businesses (mainly Eats) – but these can be dealt with.
Comment: This is similar to the old "good bank, bad bank" argument. But much of Uber's enormous $48 billion market cap is based on investors' belief in a massive total addressable market – which goes away if Uber starts exiting various geographies and lines of business.
The industry is shaking out to become a duopoly with Uber and Lyft (Lyft), both of which have strong incentives to be rational (i.e. raise prices). Name any other industry dominated by two players which is a bad business for them…
Comment: Kramer notes, "This overlooks the city-by-city combat. It's not one market, but a series of U.S. cities and local delivery markets that Uber and Lyft fight over – and neither can afford to lose ground."
This argument also overlooks the many other competitors (including regular taxis) that aren't likely to go away. This industry isn't like airlines or railroads, where there are huge barriers to entry and natural oligopolies.
2) I knew the market was having a strong year, but hadn't realized that it's on track for its best year since 2013 – as this article in the Wall Street Journal highlights: Bull Market Shrugs Off Weak Start to December. Here's the chart that accompanied it: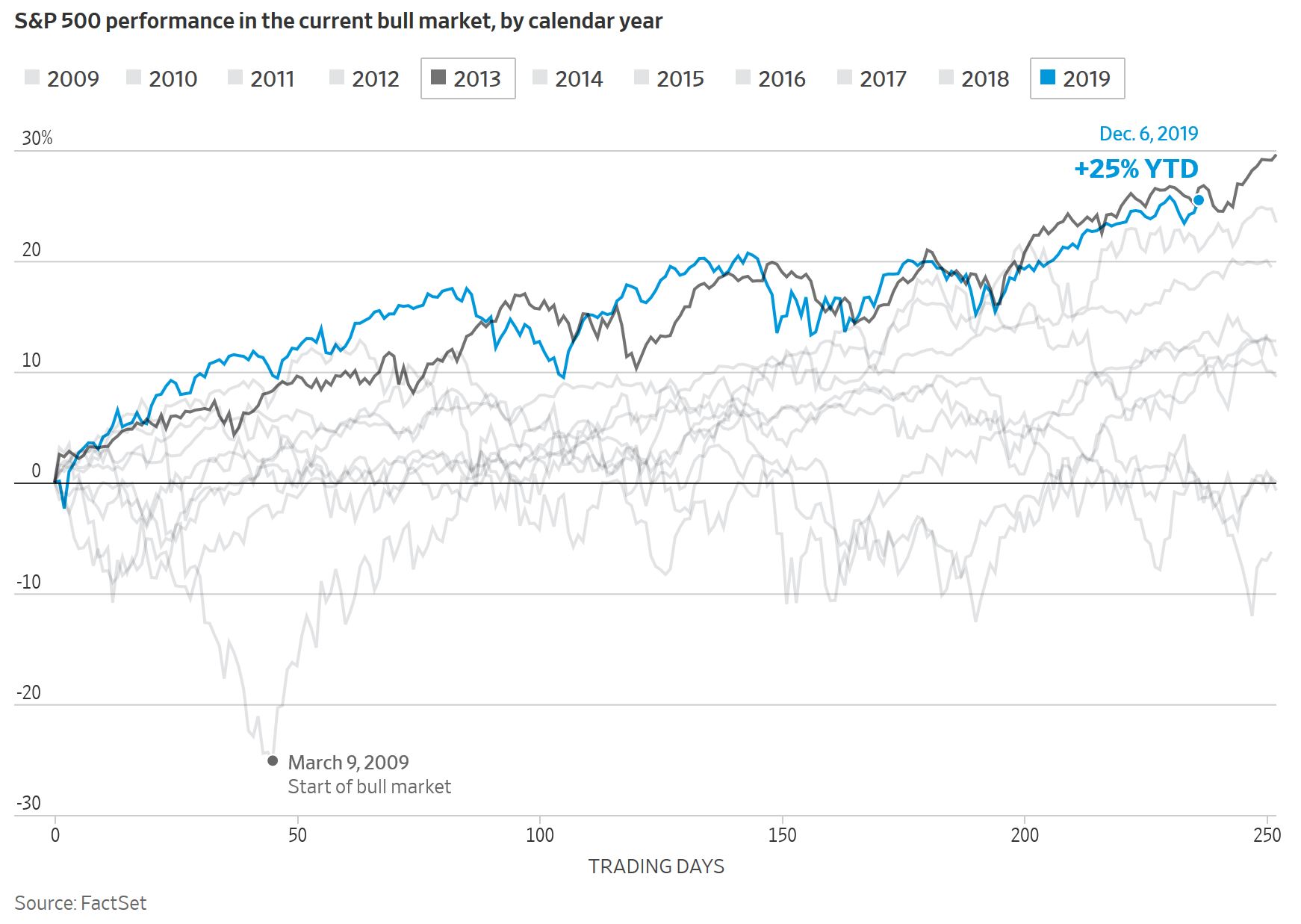 3) Investors are getting very spoiled, as this funny tweet highlights: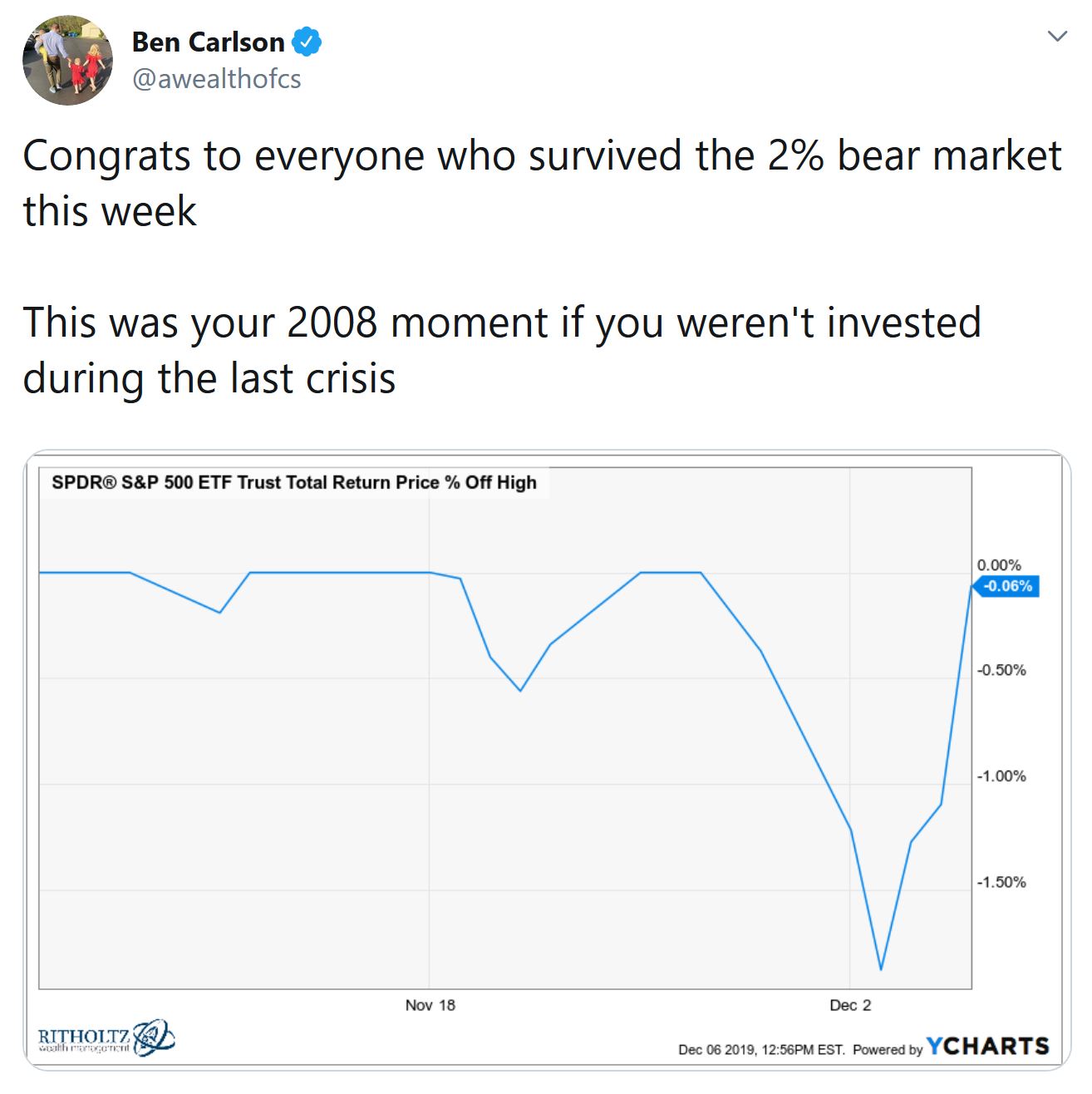 4) Reason No. 6 why making a lot of money can actually increase the odds that your marriage goes bad: Deciding how to spend (or not spend) the newfound wealth can lead to conflict.
One friend told me that when he hit it big, he couldn't wait to spend his fortune to enjoy the luxuries of life. In particular, he wanted to live in a big brownstone and own a mansion in the Hamptons.
But his wife was super frugal, so she was uncomfortable with their newfound wealth – and even more uncomfortable with showing it. He ignored her wishes and bought a big, fancy brownstone – and an even bigger, fancier weekend home. He believes that this is the main reason that they got divorced a number of years later…
Best regards,
Whitney