► The pandemic has been a boon to digital payments…
In late July, digital-payments giant PayPal (PYPL) held its second-quarter conference call to discuss the factors that drove it to beat expectations, top $5 billion in quarterly revenue for the first time, and record the highest quarterly profit in its corporate history. As CFO John Rainey boldly stated…
This is quite possibly an inflection point in the growth of e-commerce and digital payments…

What at first looked like a potentially short-lived phenomenon resulting from initial panic and pantry packing, and even stimulus checks, has become a much more durable and profound behavioral shift. We've seen the strongest and most encouraging new customer volume and engagement trends in our history.
It seems like we have yet another pre-COVID trend shifting into overdrive during the pandemic.
Rainey went on to compare the demand surge that PayPal encountered in the second quarter to what the company typically only experiences around Black Friday. His comments were reminiscent of Target's (TGT) comments about the average day in April seeing bigger order volume than Cyber Monday. As Rainey explained…
Three months ago, the idea that our PayPal branded experiences would enjoy TPV [Total Payment Volume] growth for an entire quarter, at a level consistent with and only previously seen during high velocity holiday selling days like Black Friday and Cyber Monday was bold and even somewhat inconceivable, especially in the midst of a global pandemic and the highest levels of unemployment in our lifetime.
► PayPal wasn't the only payments firm witnessing an inflection point in the second quarter…
On its earnings call, credit-card giant Visa (V) told analysts that card-not-present transactions – the ones conducted online or over the phone when the card isn't physically swiped – were up 25% every week since mid-April. This is an acceleration versus the pre-pandemic rate, when these types of transactions were growing about half as fast.
Visa noted that as stores reopened in May and June, and card-present (in-store) transactions began to recover, card-not-present transactions continued to grow at the elevated rate…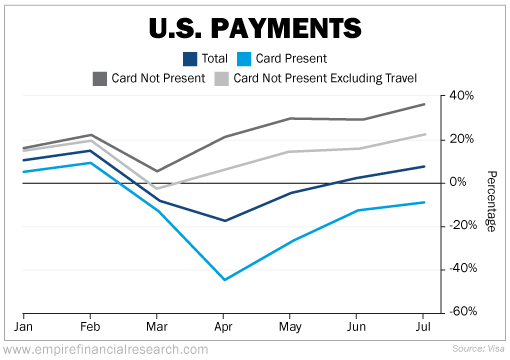 Management indicated that card-not-present transactions show no sign of slowing down.
► The move to non-cash payments has been ongoing…
The growth of e-commerce means the growth of non-cash payments for obvious reasons. And as I have discussed before ad nauseum, store closures and quarantines pulled forward years of online shopping growth into just a few months.
PayPal's Rainey apparently agrees. As he noted in the second-quarter call…
In the first half of 2020, the penetration of e-commerce as a percentage of retail sales outpaced prior external forecasts by an astonishing three to five years.
Adding to the tailwind to digital payments from e-commerce, a fear factor has also been eroding the use of cash at stores.
Whether it has a basis in science or not, people have clearly been turning their back on physical currency when they can, out of fear of COVID-19 surface transmission. On the call, PayPal CEO Daniel Schulman noted how consumers were looking for contactless payments, even when shopping in-store…
This is an existential issue for merchants, who realize that reopening the retail stores depends on touchless forms of payments to keep both their employees and customers safe and healthy. There are numerous market research studies highlighting that consumers no longer want to handle cash or other forms of payments that require any physical touch at checkout.
While the pandemic may be temporary, the habits people are forming now may not be. As Josh Silverman, CEO of online marketplace Etsy (ETSY) noted in the company's second-quarter conference call, we can add "pandemic" to the very short list of life events that really make people change their habits…
We are all creatures of habit and shopping is largely habit-driven, and there are very few times in one's life when you have an opportunity to reshape their habits. The classic three are when you get married, when you move home, and when you have a baby. And otherwise, your habits are pretty cemented, and you're not really open to forming new habits. And so, what this current moment has created is… it's created a moment when everyone's habits are up for grabs.
► This trend has gotten so extreme that we're now experiencing nationwide coin shortages…
By the end of the second quarter, banks and businesses were finding themselves short on coins. For many people, staying home also meant not bringing their piggy bank or coin jar to the store and dumping it in a Coinstar counting machine.
With consumers not turning coins into bills at their normal pace, the U.S. Federal Reserve wasn't able to completely fill orders from banks for pennies, nickels, dimes, and quarters. It began rationing the coin supply in mid-June.
Some of the shortage is clearly being exacerbated by businesses that are requesting more coins than they need at banks, essentially hoarding them so they don't run out later. So as toilet paper was to April, pennies are to August. We have a supply-demand imbalance, but one that should sort itself out as time goes on… The U.S. Treasury has already responded by ramping up coin production at the U.S. Mint.
► But the pandemic could nevertheless prove fatal for the penny…
Many other countries, such as England and Australia, have already stopped making their once smallest-denomination coins. Canada stopped making pennies in 2012.
The argument for dumping the penny boils down to utility and cost. You can't buy anything for $0.01 anymore. You can't even buy anything for $0.04… so wouldn't nickels be sufficient as a smallest denomination?
The rest of the argument revolves around the wasteful and high cost of manufacturing something so useless.
And it's a money-losing endeavor to make pennies. They cost about $0.02 each to make, and the Mint made 7 billion of them last year… for a loss of more than $70 million.
Penny defenders lean hard into nostalgia for their arguments, but also make a valid economic argument that with so many dollar stores and other retailers pricing items at a price that ends in $0.99, getting rid of pennies would just lead to prices going up by $0.01 for all those items. Penny elimination enthusiasts counter that prices get rounded down as often as they are rounded up.
For the penny to go away, it would take an act of Congress… neither the Treasury nor the Fed has the power to make this decision unilaterally. The last time Congress voted to eliminate a coin was 1857, when it discontinued the half-cent.
Unfortunately, given the inability of Congress to agree on pretty much anything, I think the penny enthusiasts are safe for now.
► Cash and coins may not be dead yet, but they're certainly on the decline… which brings us back to PayPal…
The company is a market leader that has only strengthened its positioning as a result of the pandemic. PayPal is a natural beneficiary of what I think will be a highly sticky shift towards e-commerce, which is in turn supportive to the growth of digital payments over the long term.
PayPal started as the payments engine of eBay (EBAY) but has become integrated into an increasingly wide number of online merchants, both large and small. I suspect I'm not alone in having turned to new online merchants during the pandemic and having used PayPal to complete the transaction… I'm sure many people favor using PayPal simply because it saves them from getting up to retrieve their wallet and credit card.
But PayPal has several other growth engines up its sleeve. It's a back-end provider to Facebook (FB) payments, and it's unlikely the social media giant would ever try to insource this function.
PayPal is also pursuing the in-store contactless payment opportunity by using mobile wallets and QR code technology.
Perhaps the biggest opportunity for the company would be finding a monetization path for its peer-to-peer social payment app Venmo, which has been racking up new customers but doesn't generate a lot of income. PayPal is exploring monetization routes for the app, such as branded credit cards.
While PayPal isn't a particularly cheap stock and PYPL shares have doubled from their March lows, it operates in a space that supports steady revenue growth in the high teens or even low 20s. With more than 300 million user accounts and more than 25 million merchant accounts, PayPal is in a great position to service both sides of the transaction and should enjoy network effects that give it a sustainable position within the digital payments space. Long-term investors should consider PayPal for their stock account… as well as their wallet.
► In today's mailbag, a smorgasbord of thoughts on Las Vegas, IAC, and department stores…
Do you use digital payments? Which service(s) do you use, and why? Share your thoughts in an e-mail to [email protected].
► "Hi Berna, I read your article on MGM. I did very well selling the $6 puts during the early crash of the pandemic. I live in Vegas and have been to the Fashion Show mall on the strip. It's a lot quieter than ever before but the shopping is actually great. Fewer people and full inventory, but limited hours. If our governor and the service union would allow it the place would fill up. The locals casino, Sunset Station, had a completely full parking lot today!" – Dan E.
Berna comment: Congrats on that amazing put sale, Dan, and thanks for the boots-on-the-ground intel on Vegas.
► "Will disagree on a friendly basis on IAC segment… 2 main reasons… #2 [the less important of the two]… online gaming is ready to explode and will multiply when 12 states approve it on November ballots, and rapidly states scratching for revenue will approve legislatively shortly thereafter. 35 million members ready made for online gambling.
#1- The crown jewel of IAC is Vimeo which is 5 to 10 times better quality and has vastly more flexibility then Zoom or Microsoft's suite and the other minor competitors. The true value of Vimeo is a multiple of the current IAC enterprise value. Many other things are good about IAC and my belief is this stock will double fairly quickly." – Patrick W.
Berna comment: I think we're more in agreement than you think, Patrick. I agree entirely that this coming election season could be pivotal for online gaming, and a precursor to industry growth accelerating. I am just not sure MGM Resorts (MGM) will ultimately be a winner in sports betting – based on how things have developed in New Jersey – the first truly developed state market.
I probably wasn't clear enough in my piece – but I actually like InterActive Corp's (IAC) stock… I just didn't like this deal. I think IAC picked the wrong horse for online betting, and that the company doesn't bring that much to the table in increasing the odds of success at MGM in online gaming. But I agree with you that IAC has valuable assets elsewhere in the portfolio.
► "Hello Berna, Thank you for your insights on Ralph Lauren. A quick comment on Dillard's: I agree that Q2 results could be quite ugly. But Dillard's is a very special situation: it has low debt and a large (more than its market cap) credit revolving facility available; it owns 90% of its stores, which makes it almost a real estate company; and it has been using the cash flows it generates (hidden by the fact that it is depreciating its assets) to buyback a very large amount of its own stock these last few years. Right now, the short interest represents between 85% and 100% of the float, so a short squeeze is a real possibility if the company announces new buybacks or any 'not so bad' news. – Philippe L.
Berna comment: Philippe, you bring up a couple of points here that I want to dive into…
First, the high short interest. You're correct, it currently stands at 95% of the free float, which makes this a company inappropriate for shorting (betting the stock will fall), no matter how badly you think it will perform. When contemplating shorting or buying puts on a stock, make sure to check out the short interest.
Results at Dillard's (DDS) were indeed awful last Thursday when the company reported, but the stock squeezed 9% on Friday. But it's giving it all back today. Suffice to say, that much short interest is a deal killer for shorting but isn't the basis of a long thesis, either. Don't short stocks with insanely high short interest, but don't buy them either unless you have high confidence in their business model and earnings power.
Since you mentioned the real estate… I did a deep dive into Dillard's real estate holdings a few years ago. Most of their stores are in "B/B-" malls and they have quite a few in "C" malls. Dillard's only has a handful of "A" mall stores, and since it doesn't own 10% of its stores and doesn't disclose which ones it owns and which ones it leases, there's no guarantee that it owns the property in the handful of "A" malls where it has stores.
As I wrote about last week, I don't think "B" or "C" mall real estate has much market value… There's just a tremendous glut of it. So real estate isn't a compelling long thesis for me on Dillard's.
Several retailers have had big runs on the owned real estate thesis – including Macy's (M) and Sears (SHLDQ). It hasn't gone well for investors in either of these, unless they were nimble and got out as the real estate excitement was building… because the real estate ultimately didn't protect either stock from an eroding business outlook.
Regards,
Berna Barshay
August 17, 2020