---
Recommended Link:
GM's next big release has no engine and no wheels

In a shocking move, auto giant General Motors is venturing into a whole new space (hint: NOT electric vehicles). While industry analysts see this as a way of catching up with Tesla, the bigger reason could be because this new space is getting the full backing of the current administration and could mean huge tax credits in the future. Or it could just be that this fledgling industry has more scope than the declining auto industry. Whatever it may be, this move could put GM into the same bracket as Apple, Google, Microsoft, and Amazon. Get the details of this massive trend here.
---

I go out of my way to steer clear from writing about politics, but I'm finding it hard to sit still on one story in particular anymore...
I'm talking about members of Congress trading stocks.
Last time I looked, there was supposed to be some kind of bill ready in August that banned lawmakers from trading stocks... and did so more explicitly than the existing Stop Trading on Congressional Knowledge Act of 2012 (better known as the "STOCK Act").
The STOCK Act was set up to eliminate conflicts of interest and insider trading by members of Congress and other public employees.
Congress was shamed into passing it after a 60 Minutes segment in 2011 spotlighted congressional insider trading... But it didn't outright ban members of Congress and their families owning and trading stocks.

Then came last year's flap over Speaker Nancy Pelosi, via trades by her husband, Paul...
Starting last January, Pelosi herself was suggesting she would support a broader ban, saying, "I just don't buy into it, but if members want to do that, I'm OK with that."
It appears that's exactly what members wanted... And based on headline after headline and Congressional press release after press release from both sides of the aisle, new legislation was supposedly being rolled out last month.
Whenever it does come, it won't be a moment too soon. Pelosi may be the poster child, but her situation is nowhere near the worst.
According to the website Stacker, Pelosi doesn't even rank in the top 20 so far among this year's very bipartisan list of traders.

Leading the pack is Alabama Sen. Tommy Tuberville...
Tuberville, the former longtime college football coach, made 172 trades valued between $1.7 million and $6 million. According to the story...
Jointly, Tuberville and his wife Suzanne invested in large companies such as PayPal and U.S. Steel, among others. In addition, the Tubervilles purchased shares of Alibaba as part of a strategy called "buying to cover" in order to divest the Chinese e-commerce company from their portfolio after critical press coverage.
The SEC's full list of Senate stock trades, including family-related activity, can be seen here. You can find Tuberville's specifically here, with a partial list below...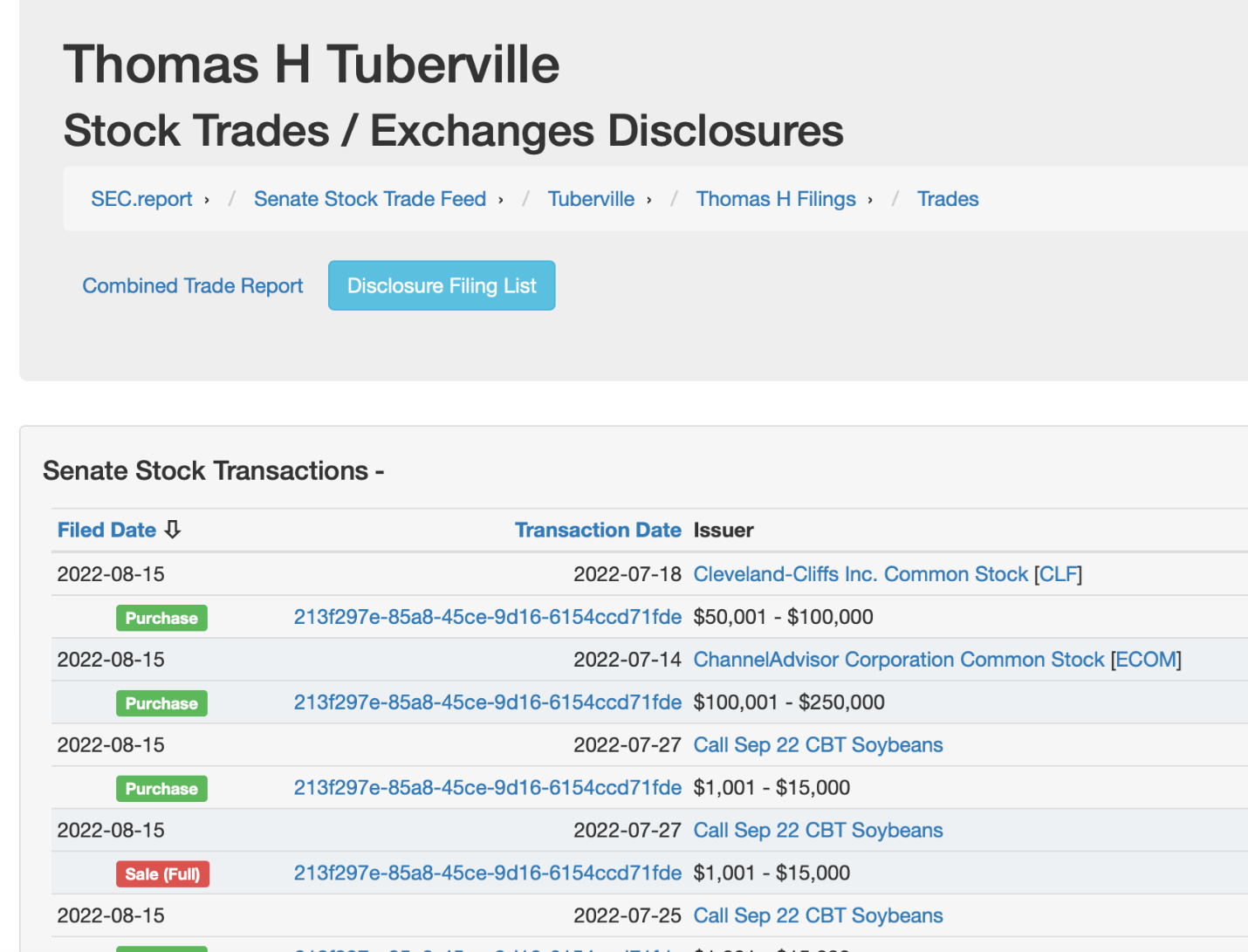 Source: SEC.report
His purchase of ChannelAdvisor (ECOM), the second transaction on the above list, has itself sparked quite a bit of interest since Tuberville had bought $575,000 shares since March. Two weeks ago the company agreed to be acquired, and its shares jumped by 55%, resulting in a huge gain for Tuberville.
If the number, size, and timing of his trades aren't worrisome enough, according to the Stacker story, Tuberville has been a "keen investor in commodities," with disclosures showing purchases of cattle, corn, and soybeans futures.
The kicker? He sits on the Senate Agriculture Subcommittee on Commodities, Risk Management, and Trade, which oversees matters regarding production agriculture, including commodity programs, crop insurance, commodity exchanges, agriculture trade, international food assistance, and credit.
If that's not a conflict...
And Tuberville isn't alone. The New York Times reported today that its analysis found that 97 lawmakers or their family members bought or sold financial assets over a three-year span in industries that could be affected by their legislative committee work.
As the story went on to say...
Over the three-year period, more than 3,700 trades reported by lawmakers from both parties posed potential conflicts between their public responsibilities and private finances.

But wait, there's more!
Not only are some of these trades potentially conflicted, but as Stacker pointed out...
Tuberville was also a prolific investor in 2021 – although he didn't always meet the disclosure deadlines required in the STOCK Act and disclosed 132 trades weeks or months too late.
And according to Business Insider, which has an ongoing "Conflicted Congress" series, more than a few members of Congress can't even file the required disclosures of their trade on time... almost as if the laws don't apply to them.
I get it – life gets in the way, and we all miss deadlines. But as of a week ago, the publication counted 72 who were late.
Which gets us back to the idea of banning trades altogether...
Given the nature and realities of Congress, there will always be tricky situations like Dianne Feinstein's late husband Richard Blum, who ran his own investment firm for decades – starting it a few years before they married. I'm sure the SEC can figure out how to handle those types of unique situations.

As for Tuberville and the possibilities of an all-out ban, he was quoted earlier this year as saying...
I think it would really cut back on the amount of people that would want to come up here and serve, I really do. We don't need that.
To which I say: Senator, that's what blind trusts are for.
I have no doubt that most members of Congress who ambitiously trade are not trading on insider information or have conflicts of interest.
The problem is the appearance and avoiding that one trade that inadvertently causes a problem.
A ban on stock trading would appear to be one of the obvious tradeoffs for that level of public service.

My bias: As a journalist who covered the markets, I couldn't trade individual stocks, period...
I created a self-imposed ban early in my career as a stocks columnist – well before my employer at the time, the San Francisco Chronicle, had a formal policy. (The ban did not include mutual funds.)
I did it after hearing rumors that I was front-running whatever I was publishing on.
I wasn't, of course. But given my high profile – not to mention the number of people likely investigating me as my column took on more of an edge – I personally extended the ban to my immediate family.
Today, most large news organizations, especially ones engaged in covering companies and stocks, have stock-trading rules. Even here at Empire Financial Research, editors can't own the stocks they recommend. (I think that rule is absurd, but I fully understand why it exists.)
With that as the backdrop, it's hard to understand what's taking Congress so long... its broader dysfunction notwithstanding.
A stock ban is the ultimate no-brainer.
As always, feel free to reach out via e-mail by clicking here. I look forward to hearing from you.
Regards,
Herb Greenberg
September 13, 2022