► We all have at least one of them...
I'm talking about stocks we never want to hear about again.
You know, the stocks that you know you had nailed – long or short – that went on to remind you just how humbling the stock market can be.
High on my own list is software giant Oracle (ORCL).
In my world, which has long been associated with pointing out risk, Oracle is known as a "Teflon stock." It simply has never paid to bet against chairman and co-founder Larry Ellison.
No matter what you throw at the company, nothing sticks... and I mean nothing. Oracle has faced several controversies over the years, ranging from scrapes with regulators over aggressive revenue recognition to something seemingly worse... being late to the cloud, after claiming early on that it was little more than "hype."

But one thing Oracle has done an excellent job of over the years is beating earnings estimates...
Stock buybacks have been one of its go-to levers to make sure it beats earnings expectations.
In fact, on a recent earnings call, management pointed out that over the past 10 years, Oracle has bought back a staggering 44% of its shares.
You can see that quite plainly in the chart below. As outstanding shares have plunged, adjusted earnings per share ("EPS") have ratcheted higher...
Many companies buy back their own shares under the guise that their stock is cheap and it's the best use of their money... making them a great gift to shareholders.
Some investors like the strategy. Some like it only if the stock is really cheap when the company is buying shares. Other investors think it's a waste of money, especially if the stock price winds up falling.
With Oracle's stock hovering just under its record of nearly $100, its buybacks had looked brilliant... especially over the past two years, when it bought nearly 700,000 of its own shares at an average price of roughly $61.
If nothing else, the buyback boosts to EPS have helped investors ignore revenues, which have barely budged.
And investors have loved it. After languishing from 2017 through 2020, the stock has pretty much doubled over the past year to record highs. Take a look...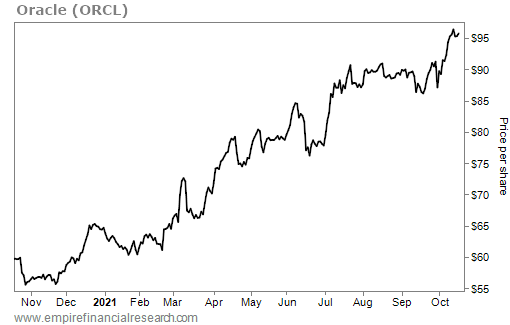 There's just one catch...
Based on its balance sheet, Oracle can't keep up this pace of purchases much longer.
As an old acquaintance who spends his spare time as an expert witness in complex securities lawsuits put it...
Revenue and earnings aren't growing, but the amount of shares it's buying back is. That's a game a lot of companies are playing, just not to this degree.
To be sure, Oracle is near the top of all companies in terms of what percentage of shares it's buying back.
Just look at the Invesco BuyBack Achievers exchange traded fund (PKW), which is a basket of stocks that aggressively buy back their own shares. Today, Oracle is the second-largest holding, behind only cybersecurity stock Fortinet (FTNT).
And while Oracle has the cash flow to fund part of the buybacks, as my friend points out...
The company is borrowing money to do it. And net debt is now double operating cash flow and roughly triple free cash flow.
More to the point, as the chart below shows, the cash-to-debt part of the Oracle story – which was once the one thing nobody could poke a hole in – is now fair game. In the past three years, net debt has skyrocketed...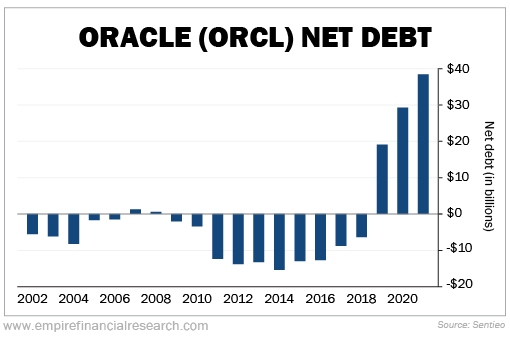 As my friend astutely concludes, "Eventually, Oracle will borrow as much as it can borrow."
He figures the company has one, maybe two years before that happens.
The trouble is this: As Oracle's stock price rocketed higher, its revenue has barely budged. EPS growth has outpaced not only revenues but net income, too.
To counter criticism, Oracle has been telling investors for at least two years that it's "committed to returning value to our shareholders" by pulling a variety of levers, including buybacks and paying a dividend, which yields around 1.3% today.

The obvious question is, what will Oracle do for an encore?
The answer, according to the company, is that it is about to flex its muscle as a cloud company, where it has lagged in the face of Amazon's (AMZN) web services ("AWS"), Microsoft (MSFT), and Alphabet's (GOOGL) Google.
Is it too little, too late? Like I said, historically, it has been foolish to bet against Ellison, who is among the wiliest of CEOs.
As for my friend? While he's short Oracle, he's only short it as a hedge against his Salesforce (CRM) long. But that doesn't mean his conviction is shaky... It just means he knows which of the two of these high-flyers he thinks is the better investment today.
As always, feel free to reach out via e-mail at [email protected]. And if you're on Twitter (TWTR), you can follow me at @herbgreenberg. My DMs are open. I look forward to hearing from you.

In the mailbag, readers are talking about my comments from last week on Dutch Bros...

"Great article. [The] only critique I would have is that these are not your standard drive-thru locations. These are tiny buildings, kiosk-like. You can pop those up almost anywhere. And the coffee is amazing." – David

"Herb, There are 4 Dutch Bros. within 10 miles of my home and each one is near a Starbucks (SBUX).
"It's strategic. The closest DB (one mile) is directly across the street from a fairly new Starbucks." – B.B.
Herb comment: Thanks for your comments. Just to clarify...
The key point here isn't that they operate near or across the street from Starbucks (SBUX). It's the availability of space, in general, for drive-thrus. Even if they're not what you typically think of like a drive-thru, they still face the same zoning hurdles and overall lack of land – especially in a coveted area like Southern California. (Or, more specifically, where I live in San Diego.)
That was an issue even before the pandemic. As Jonathan Maze wrote in Restaurant Business back in March...
Local government resistance had been growing, with planners citing the impact of so many idling cars on the environment along with disturbances to nearby neighborhoods. The City of Minneapolis famously decided to refuse any new drive-thrus in 2019. But it wasn't the only municipality to voice objections. "We've run into it more and more," Taco John's CEO Jim Creel told the Restaurant Business podcast "A Deeper Dive" in July.
Add the pandemic-fueled demand for drive-thrus into the mix, and competition for limited land is only more intense. Look no further than recent investment calls by a few quick-serve restaurant companies. Among them...
Del Taco (TACO):
It's not the old kind of cookie-cutter model anymore. And we've expanded the asset group to be drive-thru-only, which is a smaller footprint.
Restaurant Brands (QSR) (Burger King, Tim Hortons, and Popeyes):
There [are] a lot of different opportunities for growth here, especially given the expansion of our service modes, including off-premises, drive-thru, and delivery.
And Jack in the Box (JACK):
We now have solutions to gain access to more sites and channels, cost-effective real estate, including urban centers, in-cap or in-line conversion, and smaller drive-thru-only sites.
This gets us back to the Restaurant Business article:
Unsurprisingly, the pandemic-fueled demand has only made drive-thrus more attractive. With more types of chains – including Shake Shack (SHAK) – building these units, real estate prices for drive-thru sites are expected to soar. And few locations are expected to come available.

"Those opportunities are going to be few and far between," said Barry Wolfe, senior managing director of investments for Marcus & Millichap.

Indeed, the market was highlighted last year when Chipotle (CMG) contacted sites even before they closed, offering to buy out their leases.
And therein lies the story – and risk – for Dutch Bros. It has nothing to do with whether you like the coffee. I've heard from people on both sides of that battle. It's all about the real estate.
Regards,
Herb Greenberg
October 19, 2021