► The market is on fire, but I'm cautious…
Last week, a colleague asked me to summarize the reasons why I'm bullish on the stock market right now. I struggled to come up with an answer, since I think chances are good that we "retest" the lows.
While I'm still invested heavily in stocks, I reduced my holdings in February and early March, and haven't been tempted to increase my exposure. The market goes up over time, and if your investing horizon is three-plus years, owning stocks is a good bet. But I also believe we'll get a chance to buy high-quality stocks at a discount to today's levels.
As I told my colleague…
The market is juiced up on crack provided by the Federal Reserve, who intervened in ways deeper than we have ever seen before (including buying high-yield bonds – a first). The Fed will do anything it can to keep the market up, because the current administration has chosen the S&P 500 as a primary benchmark of its own performance.

I thought stocks were wildly overvalued in January and that the economy was already slowing down pre-COVID. Why would we possibly make new highs unless you believe that the economy will be much better in 2021 than it was in 2019?
► We're seeing a disconnect between the real economy and the stock market…
Everyone knows this quarter's earnings will be a train wreck. Many normally profitable businesses will lose money. Expectations for the third quarter aren't great, but simply "less bad."
But the expectations for the S&P 500's earnings starting in the fourth quarter imply we're in for a sharp "V-shaped" recovery.
So many people I know are super-bullish, citing the unprecedented amount of monetary stimulus and the economy's imminent reopening. But when I talk to my friends and professional contacts who work in brick-and-mortar businesses outside of finance and technology, their outlook is much more dour. Many employees are furloughed or laid off. Many small business owners are worried they will lose everything.
The bulls think the economy will reopen, that we'll slowly get back to normal, and that all the jobs will come back.
This is highly unrealistic.
► Take the restaurant industry, for example…
In the U.S., restaurants are nearly a trillion-dollar industry with almost 16 million workers.
According to the nonprofit James Beard Foundation, as many as 80% of restaurants that are currently closed may never reopen.
More than 20 million people have lost their jobs in the U.S., and the unemployment rate is nearing 15%. A big chunk of those people worked in restaurants.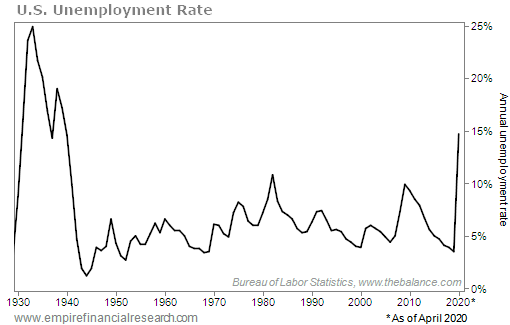 If as many as 80% of restaurants across the country never reopen, those employees are out of a job. And we're unlikely to see a huge wave of new restaurants rushing in to fully replace those that closed.
Based on how many people work in discretionary services and that almost none of those businesses are profitable with traffic down 15% or more, people are too optimistic for a sharp rebound in employment… and thus, in earnings.
Some of my colleagues are super-bullish on pent-up demand and think people will be back in restaurants, movie theaters, casinos, and on planes in no time. The polling I've seen so far indicates a high degree of caution for all these activities for more than half of the population.
The one thing that would get me more bullish is a medical miracle (i.e., a vaccine, highly effective therapy, or the virus just burning out faster than expected). I'd love to see that happen… but it's not an investment thesis.
► Despite exceptional uncertainty, the market isn't cheap on any traditional metric…
Right now, investors are paying a price-to-earnings (P/E) multiple of roughly 19 on last year's earnings for the S&P 500 – significantly more expensive than the long-term average of around 15. Zero-percent interest rates justify paying a higher multiple for stocks, but even adjusting for rates, the market looks expensive.
Looking at it another way, total equity market cap to GDP is around 130%, a chip shot away from the dot-com bubble's peak of 140%.
Risk is exceptionally high and visibility is exceptionally low. The market just suffered its fastest decline ever… unemployment is at its highest level since 1939… and most infectious-disease experts are warning of a second wave of COVID-19 in the fall.
Beyond that, a number of other risks are lurking – including potential state and municipal bankruptcies… a reigniting of the trade war with China… and the possibility that a failure of the USPS wreaks havoc with the November elections.
► As always, psychology is at play…
It's hard for people to accept the possibility that our lives will be altered for 12 to 18 months (or more). Shelter-in-place orders will end, but I expect social distancing will remain in place for the foreseeable future, delaying our ability to get back to "normal" for a while.
Perhaps I spend too much time listening to scientists. But it seems the executives at major corporations must be listening to the same scientists and are planning accordingly.
The thing I've noticed on a bunch of earnings calls is that big public companies seem way more conservative in their approach to reopening than the federal government and the majority of state governments. Lots of discretionary retailers aren't opening yet in places they're technically allowed to open. Public movie theaters are waiting until later in the summer. As I noted yesterday, Disney (DIS) is waiting to open its theme parks. Tech giants Amazon (AMZN) and Microsoft (MSFT) are continuing work from home until October… and Facebook (FB) until the end of the year. I'm not sure if the caution is because of legal liability or heightened reliance on scientific consultants, but their discretion level versus the federal government is astounding.
So many friends, colleagues, government officials, and investors seem to be completely over this pandemic and are ready to move on. Pandemic fatigue is real. But we can't simply decide unilaterally that the pandemic is over.
Many people can't face the fact their life has changed for the intermediate term – which means it will be less fun and more inconvenient – so they're pretending as if things will immediately return somewhat back to normal, and that by the end of summer this will just seem like a bad dream.
What if the fixation on the V-shaped recovery is one giant collective coping mechanism?
► My colleague Enrique Abeyta has an alternative view…
Bear markets always have rallies, so the strong performance over the past six weeks hasn't altered my overall market view. That said, I've been very wrong the past several weeks… and Enrique (and Whitney) have been very right. They pounded the table, telling everyone who would listen to "buy the dip."
Enrique offers several reasons for his optimism. First, the incremental news is going to get better. As he told his Empire Elite Trader subscribers…
Take restaurants, for example. Think of how many of them were open (and their economic activity) a month ago (right as we entered into the full lockdown), and then consider how many will be open next month. This number is going to be higher – probably a lot higher.

Now, this doesn't mean that restaurants are going back to where they were in January or February. It also doesn't mean we won't have a "start-stop" situation depending on the coronavirus mitigation efforts. But ultimately, the activity will be higher.

Some would argue that the market has already gone to levels where the "valuation" has priced this in and that stocks are due for a correction. But I don't ascribe to this view. It's not "valuation" that matters most for stock prices, it's "stimulus"…

In the markets if we receive negative stimulus, it triggers a "panic" response and we look to flee. We sell stocks. If we receive a positive stimulus, it triggers a "pleasure" response and we want more of it. We buy stocks…

The thing that people miss, though, is that the negative or positive stimulus isn't absolute, but relative to expectations. If the incremental news is good, expensive stocks get more expensive. If incremental news is bad, cheap stocks get cheaper. By definition, the incremental news for the economy is getting better and, for right now, probably a lot better!
Enrique is also bullish on both the magnitude and sustainability of the Fed's actions. He continues…
Given the unheard-of magnitude of the amount of monetary liquidity injected into global economies, it's possible we might see a continued rally well beyond anyone's expectations. We could see the S&P 500 at new highs by the end of the summer. I'm not saying that this is probable… but it's possible.
Enrique also offered a simple analogy for what the Fed's action implies…
Use the simplest of models and imagine stocks as "widgets." Prior to the current crisis, we had a certain amount of dollars swishing around the economy to go out and buy those widgets.

Now, global governments have injected 5 times the amount of those dollars… while the widgets roughly stayed the same.

So guess what happens to the price of the widgets… It goes up.

Sure, this may be the most simplistic analysis possible for an incredibly complex financial system. But when you ask yourself how asset prices can continue to go up in the face of the terrible fundamentals, think about how much more money there is to buy stock "widgets."
► Though Enrique and I may not agree on where stocks are headed over the short term, we are both ultimately long-term bullish…
And no matter what comes next, his readers are positioned for success.
His Empire Elite Growth portfolio is carefully constructed to outperform in up and down markets. During the most recent sell-off, some of the stocks in his model portfolio actually went up. Across the board, he dramatically outperformed the overall market.
If we do see a retest, his readers will have access to a shopping list of world-class businesses trading at "no brainer" prices.
Some of the companies in the Empire Elite Growth portfolio are actually thriving right now because they're 100% digital. Others are benefiting because their competition is starting to die off, which has allowed them to go out and grow their businesses with much less investment than normal. The rest of his portfolio is made up of unique "trophy assets" whose values are largely unaffected by the current environment.
And if we don't see a retest, you may never have another chance to buy these stocks at such attractive prices again.
As a reminder, for the next few days, we're making a special "charter member" offer for Empire Elite Growth. It's by far the most generous offer we'll ever make… and it comes with more than $2,200 worth of free bonuses. Get the details here.
► I'm overwhelmed with the positive feedback that has poured into the mailbag over the past week…
As always, I want to hear from you. Are you team bull or team bear? If you own or manage a small or medium business, what is your outlook? Share your thoughts with me at [email protected].
► "Berna, after the first week of your inaugural newsletter at Empire, I wish to tell you: 'Job well done'. Each day I have more in my inbox than I can ever weed through, but your essay adds something relevant to every day." – Garin B.
► "I am a newsletter junkie and just wanted to say this is now my favorite daily report. I find Berna's writing fresh and so informative. I am a lifetime member to Empire Research and this is the exact value I was hoping to see. I can't wait till Berna launches her new premium newsletter. What a great addition she has been. Also love Enrique's newsletter as well. Keep up the good work Whitney. I am a Stansberry Alliance Member as well and I am starting to favor Empire over Stansberry Research. Well done." – Jeff A.
Berna comment: Thanks for the incredibly kind words, Jeff! I'm contributing to the Empire Stock Investor and Empire Investment Report until I have a paid product of my own, so make sure you're signed up to get both of those newsletters.
► "Berna, thanks for your great emails. Really enjoy the detail and thought that you put into your daily pieces. You are giving Whitney a run for his money! I look forward to reading more." – Vince V.
► "Outstanding concise updates. Thanks for all of the insightful commentary." – Mel C.
► "Berna, thanks for your comments on Wayfair. Not your finest hour? I found your take concise, reasonable and actionable, so much so that I'm happy to short it at this level. Cheers!" – Bruno F.
► "Dear Berna, as a lifetime member of Empire Financial Research (and an Alliance member of Stansberry Research and a Chairman's Circle member of the Oxford Club), I wanted to let you know how much I appreciate the quality of your writing. Your insights are far too good to be given away for free. The write ups on SBUX and W are terrific and lend themselves to potentially profitable option trading ideas. Welcome to the team and keep up the great work! Stay safe and healthy, savor every precious moment and always take time to enjoy the 'present.'" – Peter S.
► "The bad news is we are addressing the forever procrastination projects. The good news is we are addressing the procrastination projects. It would be nice to have the discretionary income to purchase some of the great buys out there, bought what I could, but google is way to expensive. A lingering question when doing the above mentioned projects: Do I do this project or is it now ok to start happy hour at 11am? Love your articles Berna." – Gene H.
Berna comment: Hey, it's 5 o'clock somewhere…
Regards,
Berna Barshay
May 8, 2020