► It has been a little over a week since Jeff Bezos shocked the world with the announcement he would step down as CEO at Amazon (AMZN), the $1.6 trillion e-commerce titan he created…
Many would say that Bezos was the most important and influential businessperson of his generation.
Not only the second-richest man in the world – after recently being dethroned by Tesla's (TSLA) Elon Musk – Bezos stands alone as the only leader to take a company from pre-revenue to over a trillion-dollar market cap.
NYU Professor Scott Galloway did a good job summing up the Bezos legacy by the numbers on Twitter…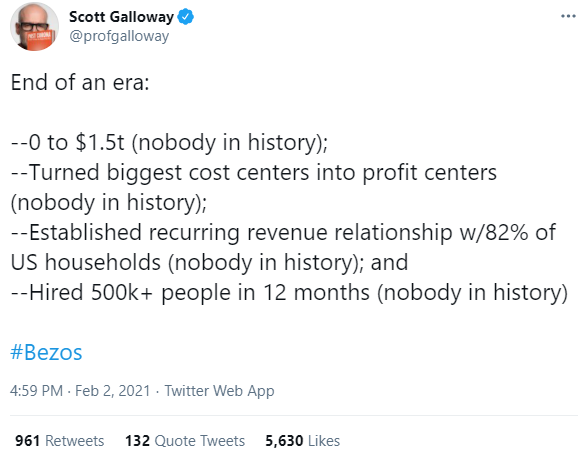 Source: Twitter.com/profgalloway
The numbers only tell part of the story of his legacy, though… Unlike many famous founders who are associated with a signature product – like Apple's (AAPL) Steve Jobs and the iPhone – the Bezos legacy is a story of business processes and corporate culture.

We've forgotten all the things that Amazon has innovated over the past 25 years…
There was a time when leaving product reviews was controversial… and when storing address and payment information to speed up checkout was new. A lot of the basic elements of e-commerce we take for granted were innovations popularized by Amazon, which quickly became the industry standard for running an e-commerce site.
Amazon wasn't first to the idea of aggregating third-party sellers and creating a marketplace – eBay (EBAY) was first to that. But Amazon was first to hold third-party inventory and provide fulfillment services – another innovation now copied by competitors, notably Walmart (WMT).
If there was a single area on the retail side where Amazon raised the bar, it was its relentless pursuit of faster delivery times. And when it launched Prime in 2005 – with its free, fast shipping – the company delighted customers while causing a headache that exists to this day for other retailers, who have been forced to match this offer in price… if not as often in speed.
Amazon Prime was for sure a cost center for Amazon – any heavy user would surely incur more freight charges than that initial $79 annual subscription charge. And that doesn't even count the costs that Amazon absorbed to build a Hollywood studio to populate Prime Video or the discounts Prime members get when they shop at Whole Foods.
But Prime was a brilliant loss leader that wooed an estimated 150 million worldwide subscribers into almost buying everything and anything on Amazon.
I remember 10 years ago when most retailers were building up their e-commerce arms, the dream was that sales online would be higher margin than those in stores because of less rent and possibly less labor. Free shipping killed that dream, and most omnichannel retailers have yet to see e-commerce margins match the ones in legacy stores… precisely because of the burden of free shipping and returns.
Amazon was built on the premise of taking customer centricity to the max. The consumer has won thanks to speed, convenience, and low price – not just from Amazon, but from virtually every e-commerce player. Most e-commerce operators have lost, as industry standards – set by Amazon – have boxed them into lower margins than they had hoped for.
This works out well for Amazon because – even as a "new economy" company – it wins with an "old economy" strategy. What it loses on margin, it makes up on volume… in a way that no other company can.

But Amazon didn't only reinvent retail…
It had a major role in building the infrastructure that allowed other Internet giants like Netflix (NFLX) and Airbnb (ABNB) to grow.
Amazon Web Services ("AWS") is the engine that powers a massive share of the Internet. Everyone knows this… But what isn't as highly appreciated is how the company came to be in this business.
Amazon had to fix its own tech infrastructure so it could scale. And once it did that, it decided to sell the knowledge it acquired in the process to everyone else. It's quite likely that a lot of big Internet businesses we know today wouldn't be as large as they are – or even exist at all – if Amazon hadn't figured out how to scale technology cheaply.
There was an incredible tweet thread in January from Dan Rose, the Chairman of Coatue Ventures, and an Amazon alum, which explains how the company was forced to switch its infrastructure from extremely stable – but extremely pricey – Sun servers to HP/Linux. As it begins…
Source: Twitter.com/DanRose999
Rose goes on to describe how product and site development ground to a halt for a year while engineers prepared for the infrastructure shift. They had to slow revenue growth and raise prices to conserve cash, and the company came within a few quarters of running out of money. Bezos bet the company on this strategy, and it paid off – reducing infrastructure costs by 80% or more.
But what's even more amazing is this big corporate bet led Amazon to start AWS, the primary driver of profits in recent years. Rose continues in his thread…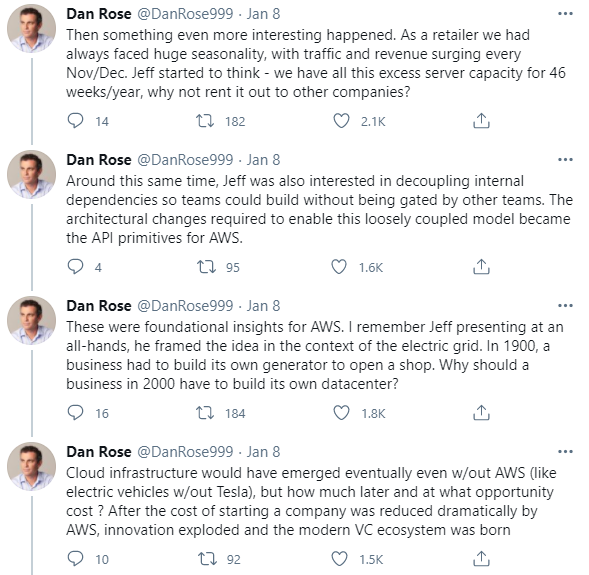 Source: Twitter.com/DanRose999
It's a remarkable story, and Rose wraps up his tweet thread with the phase, "Never let a good crisis go to waste!" (You can read the whole thread here.)
And it certainly wasn't the only time Amazon heeded that advice… Last week, Inc. ran a piece that explained how Amazon's Fire phone – Bezos' biggest flop – led to the technology for the cloud-based voice assistant Alexa. This has been crucial to the sale of hundreds of millions of Echo speakers, Fire TVs and tablets, and third-party products.
Whether you look at the AWS side or the retail side, the commonality is customer focus and a culture of continuous innovation and process improvement. Innovation can come in the form of drone delivery… facial-recognition software… or the perfect-fitting T-shirt, customized via phone imaging technology for a mere $25. (I recommend you check the "Made for YOU" selection on Amazon – it's neat!)
That focus on always getting better and pushing boundaries is what many employees will tell you makes Amazon a great – but stressful – place to work.

Critics will pick a different set of numbers to dive into…
Amazon, like Walmart before it, has been accused of putting hourly workers last in its drive to put customers first.
The cost of delivering great service at a low price is either low wages or demands for incredible productivity. Walmart pays notoriously low wages and benefits. Amazon, conversely, pays a minimum wage of $15 per hour to workers in its distribution centers ("DCs") – well above the minimum wage in almost every jurisdiction.
The critique instead centers more on working conditions at the DCs, with website Mashable reporting a serious work-related injury rate of 7.7 per 100 workers at these sites in 2019.
And while Amazon is inarguably above market in its compensation to workers, Bezos is a walking embodiment of income inequality. Mashable estimates that his compensation last year was a stunning $13 million per hour. Even if he's the best of the best, is any CEO worth 867,000 times what the lowest-paid worker in the company makes?
Given its market dominance – the company is responsible for an estimated half of all U.S. online purchases and its share of cloud services stands at nearly 50% too – it's no surprise that accusations of monopoly power abound… and Amazon is facing no fewer than five antitrust cases across the globe.
Environmentalists will also criticize the company for the packaging waste it creates. Nonprofit Oceana estimates that Amazon generated 465 million pounds of plastic waste in 2019, although the company counters it was "only" a mere 119 million.
After a walkout by headquarters workers to protest the company's environmental impact, Bezos committed $10 billion of his own money to fight climate change.

Many traditional retailers wouldn't be too kind either in summing up the Bezos legacy…
When Amazon went public in 1997, it warned – and trained investors to expect – growth, and not profits for a long time.
The company first made a meager profit five years later in 2002… and didn't have what I would characterize as meaningful profitability until 2007. That was 10 years after the initial public offering ("IPO").
Amazon actually reverted to losing money again (but not burning cash) in 2014. But in the past five years, profits have exploded, along with AWS… which is roughly 10 times more profitable than the retail operations and accounts for nearly 60% of the company's operating earnings.
Growth over profits always existed in the world of venture capital, but it was uncommon in the public markets (outside of perhaps the biotech sector).
Investor tolerance for losses was a key competitive advantage, particularly on the retail side of the business.
Amazon was playing by a totally different set of rules than its competitors… mom-and-pop brick-and-mortar stores couldn't tell their landlords they were emphasizing growth over profits. And the many public retailers that found themselves in Amazon's crosshairs couldn't get investors to let them play by the same rules of optional profits.
When Borders, Toys "R" Us, and Circuit City couldn't compete with Amazon selling books, toys, and TVs on razor-thin margins, they went bankrupt.
While Amazon claims to be a fast follower now in matching the lowest prices in the market, there was a time when it wasn't afraid to lead prices lower…
For example, the company famously sold diapers at a loss until Diapers.com agreed to sell itself to Amazon… which then raised diaper prices shortly after the deal closed. The anecdote is a reminder of what a relentless competitor Bezos was in order to get the company to where it stands today.

Amazon's successful growth over profits strategy may prove one of Bezos' great legacies…
Perhaps because of my financial markets bias, to me, the most resonant part of the Bezos legacy is his changing the markets (possibly forever).
The promise of something being "the next Amazon" has taught public markets investors to tolerate many years of losses in large public companies, as long as the total addressable market ("TAM") is large enough. This simply didn't happen before Amazon.
Because of Amazon, some incredible company will likely get built which otherwise might not have. In pre-Amazon days, an entity that needed to consume a lot of capital might die before reaching its promise… and profitability.
On the flip side, there's no doubt in my mind that the thirst to be in early on "the next Amazon" will cause a big transfer of losses from venture capitalists to public markets investors. Some of these "big dream" companies with large capitalizations and no proof of being able to make money will eventually go bankrupt, taking a lot of public markets money with them.
I think ride-hailing company Uber (UBER) – with a current market cap of more than $110 billion, even though it lost nearly $25 billion in just the past five years – is a good candidate for a business that in olden days would have died when venture capitalists gave up on funding its endless losses. Instead, it got tossed like a hot potato into the public markets.
Its largest investor, Japanese tech holding company SoftBank (9984.T) has been puking shares. It almost stuffed the public markets with another likely dud that it controls, co-working company WeWork, until investors balked at the IPO.
Maybe I'll be wrong about Uber. But there's no doubt that Bezos and Amazon validated the idea of growth over profits… and markets will never be the same.

During the JPMorgan Chase (JPM) earnings call, CEO Jamie Dimon somewhat unexpectedly asserted that more needed to be done to help the poorest folks in the U.S. I asked readers to send in their ideas about this, which I'll share today…
What do you think are the most important elements of Bezos' legacy at Amazon? Did I leave anything important out? Share your thoughts in an e-mail to [email protected].

"Berna, In my opinion the best way to help poor people is education. Particularly in the minority communities where the schools have the lowest rates of success. Vocational training should be a key part of this remake of the schools.
"I always look forward to getting your letters." – Tom O.

"We must replace all welfare and other subsidies with direct payments to families that show an interest in school, job training, and good housing. Millions of piecemeal programs are overlapping and wasting billions of dollars. Social workers must meet one on one with each family in their home, make a plan, and follow up at least monthly. Nothing has changed here in Minnesota even with the legislature meeting monthly to talk Covid. Now they are looking at legalizing marijuana and sports betting. This truly shows there is no desire to face and change racism. Cities burned and all is good now?" – Kathleen V.

"Start by not charging income tax on stimulus money. Stop Required Minimum Distributions (RMD) on IRAs. Eliminate income tax on IRA withdrawals below $50K or $75K. Immediately stop the war on the fossil fuel industry. In short, stop taking money from the low income people that you're trying to help. Send this response to President Biden and company." – Peter F.
Berna comment: These are all interesting ideas… I wish I had a line to the White House! Hopefully people over there and in Congress are thinking about these things.
Regards,
Berna Barshay
February 11, 2021