► Last year, every restaurant chain wanted a piece of the breakfast business…
Fast-food companies had stars in their eyes as they contemplated serving breakfast. The meal was outgrowing the lunch and dinner business industrywide, as busy commuters and parents increasingly sought "grab and go" options that they could pick up on their way to the office or after school drop off.
While consumers had long been eating an ever-growing number of meals out of the home for decades, breakfast was the least penetrated meal for dining out, take out, and delivery. The combination of hectic schedules, coffee culture, and a dietary move away from carbs towards proteins to start the day had been driving people to commercially prepared breakfasts more and more in recent years.
As you can see in the chart below from the Wall Street Journal, breakfast visits to fast-food restaurants had grown about 8% per year from 2014 to 2019. That also drove an even larger dollar growth trend, with revenue from breakfast growing about 31% at fast-food chains, per research firm NPD.
Not only was breakfast a great growth opportunity, but growth in sales made during the morning also looked to be a potential offset to stagnating lunch and dinner visits, which were down about 1% over the same time frame.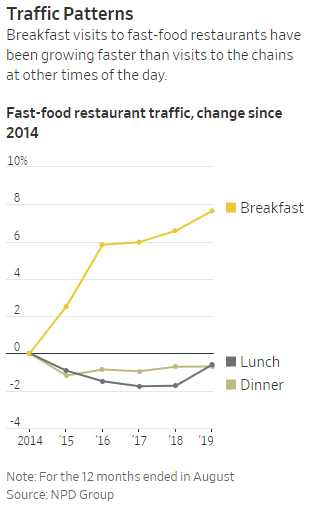 Source: Wall Street Journal
The titans of breakfast have long been McDonald's (MCD) and Starbucks (SBUX), duking it out for top share within the breakfast daypart. But plenty of other chains with a toehold were looking to expand their business – including smaller, regional ones like Shake Shack (SHAK), which entered the breakfast game in 2017 with egg sandwiches… and regional incumbents, like Dunkin' Brands (DNKN), that were looking to export already dominant local breakfast market share into new regions.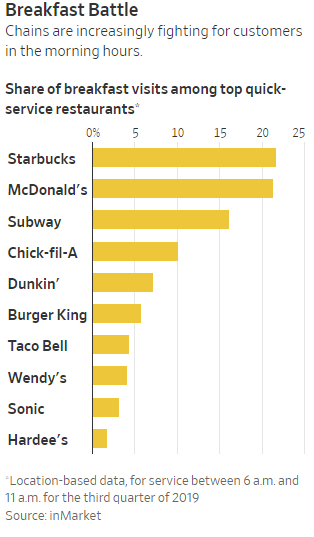 Source: Wall Street Journal
Big chains that didn't have a piece of the action wanted in… Given the high fixed cost of running a restaurant (rent, maintenance capital expenditures, etc.), going after a new daypart adds a whole new slug of revenue to amortize fixed expenses over. Given food costs generally are only about 25% to 30% of the cost of a menu item, the incremental breakfast sales have a high contribution margin to a restaurant unit's bottom line.
In 2019, Wendy's (WEN) spent tens of millions of dollars and hired thousands of people to re-launch a breakfast offering. When I read about this initiative, it felt like déjà vu… because it was.
The last time I owned WEN shares – which was more than 10 years ago – it was because of the opportunity to enter and take share in the breakfast daypart and greatly improve restaurant-level margins in the process. This would improve investment returns for franchisees, which would ultimately lead to growth in franchise fees to Wendy's. But at the time, the company didn't execute successfully. This was many years ago, and apparently, Wendy's is back at it… for a third time! There must have been another unsuccessful breakfast launch I had missed along the way…
This time, the pillar of the breakfast launch at Wendy's is the Breakfast Baconator, an egg sandwich featuring six strips of bacon, a sausage patty, two slices of cheese, and a cheese-based Hollandaise sauce… and 730 calories and 50 grams of fat. Ahh, innovation!
Wendy's aimed to get breakfast sales to 10% of total revenue. Over at Restaurant Brands International's (QSR) Burger King, the goal was 15%. Dunkin' was adding breakfast bowls for the carb-phobic and introducing the Beyond Breakfast plant-based sandwich to serve the meat-phobic.
The onslaught of competition meant that breakfast sales continued to grow at McDonald's, but growth at breakfast started to lag that of lunch and dinner. In order to fight back, McDonald's offered limited-time items like donut sticks and a seasonal cinnamon cookie latte.
It seemed like every quick-service restaurant chain save Chipotle Mexican Grill (CMG) had thrown their hat in the breakfast ring and were going hard at the business.
And it appeared to be working. As the Wall Street Journal explained last week…
Breakfast transactions for fast food during one week in March were up 5% from a year earlier, according to the market-research firm NPD Group, a big increase from recent years' pace.

Of course, shortly after that, the overall restaurant business came screeching to a halt with lockdowns…
And the daypart hurt most of all was breakfast. The Journal continued…
Then came widespread lockdown orders, and millions of Americans stopped commuting as they shifted to remote work. By mid-April, breakfast transactions were down 54% from a year earlier, worse than the 42% drop for restaurant transactions overall. Breakfast transactions have since recovered some, running 10% below last year's levels for the week ending Oct. 25, according to NPD Group. That trails improvement in fast-food transactions overall.
What had been the tailwind for the industry turned into a headwind, particularly for leaders Starbucks and McDonald's.
By the end of the third quarter, business had largely bounced back for the quick-service restaurants in the U.S., which have benefited from being low cost, primed for takeout business, and full of distancing-friendly drive-thrus. In addition, many chains had already made big investments in apps that facilitate a quick pick-up or curbside delivery. At both McDonald's and Dunkin, 20% of sales in 2020 are expected to be made digitally.
But despite the resilience of the industry generally, breakfast has continued to lag, mostly because of the absence of office workers. On its most recent earnings call for the fourth quarter, Starbucks blamed sales declines on the lack of traffic in urban areas…
As evidence of these traffic shifts, U.S. sales comps were solidly positive for our drive through locations and suburban stores for the fourth quarter and the month of September respectively. Although this was offset by negative sales comps in our dense metro stores, particularly on weekdays, those numbers reflect the fact that approximately 3% of our stores were temporarily closed across the entire quarter, effectively weighing down the market comp by about 2 percentage points.
McDonald's was seeing similar trends… and noted in May that half of U.S. sales declines could be attributed to the breakfast business, despite breakfast only accounting for a quarter of the chain's sales.

But there seems to be a ray of light at McDonald's…
On its second-quarter call, the company's president indicated that the chain was again taking share at breakfast – benefitting from its app, drive-thrus, and the fact that many smaller players had temporarily stopped opening for breakfast in an effort to streamline operations.
By the third quarter, much of the chain's competition was back at it with breakfast. But yesterday at its virtual investor day, held after it reported earnings which beat consensus handily, McDonald's indicated there may be a light at the end of the tunnel when it comes to the breakfast business. Joe Erlinger, president of McDonald's USA, noted that the chain had seen positive breakfast comps in both September and October, and that the better performance in the morning hadn't affected performance later in the day. While breakfast still lags lunch and dinner in terms of making a pandemic recovery, it has reached an inflection point at which the morning daypart has returned to growth.
Meanwhile, McDonald's is fighting to maintain and grow share of breakfast. At the end of October, the chain introduced an all-day McCafé bakery line, including an apple fritter, blueberry muffin, and cinnamon roll catering to both the breakfast visitor and the afternoon snacker. McDonald's has also brought back the requisite fall McCafé Pumpkin Spice Latte.
The company is also carefully targeting its promotions to support the lagging breakfast business – another thing Erlinger talked about in yesterday's meeting…
When you look at some of what is really driving the business right now, it is some of the local push that we have in marketing. Right now, we have a lot of local value going on, specifically at breakfast but beverages as well, and so that local spend will continue to be important as we have a regional and local competition.
As with its wildly successful September promotion with hip-hop star Travis Scott, McDonald's seems to be making all the right marketing moves to support its breakfast business. Layer on some menu innovation in baked goods that expands choice without adding on a ton of kitchen complexity, and McDonald's is well-positioned to capitalize on the great breakfast recovery – which already looks to be underway.
This isn't the first time I've discussed MCD shares… They're up around 16% since I told Empire Financial Daily readers to put the stock on their radar (however, the shares have retreated from their late October highs, largely because of a wall of worry about a COVID-19 second wave). But this company is as well-positioned as any if things get worse – with its drive-thru lanes and a great app for digital ordering. Even in the worst-case scenarios, I have no doubt McDonald's will come out the other side of the pandemic and rebound to an even stronger position relative to its competitors, not unlike what we've seen recently with its challenged breakfast business.

In today's mailbag, a reader asks about a recent initial public offering ('IPO'), and the comments about social media, prompted by The Social Dilemma documentary, keep rolling in…
If they involved visiting a restaurant, have you returned to your pre-pandemic breakfast habits? What are your favorite commercial breakfast offerings? Send an e-mail to [email protected].

"Dear Berna, Whitney, perhaps at some point you can comment on and make your readers try to make sense of the following. A data storage company, Snowflake, IPO'd at a valuation of $33 BN. It has revenues of $260 million and losses of $350 million.
"If I was buying as asset for $33 BN, at some point in the not too distant future, I would expect it to earn say a return of 10% or $3 BN. And to earn that, assuming a 10% return on sales, it would have to have sales of $33Bn. Perhaps it earns 20%. That would still mean sales of $ 15 BN.
"When is this supposed to happen? 2030?
"What are investors seeing in this company that is so unusual? Especially if Berkshire has invested $600 million in it at these valuation levels." – Haroon A.
Berna comment: Haroon, I haven't looked at the recently IPO'd Snowflake (SNOW). But my colleague Whitney commented with skepticism about it in the September 17 issue of Whitney Tilson's Daily…
The shares of data warehousing company Snowflake (SNOW) – which is in part backed by Warren Buffett's Berkshire Hathaway (BRK-B) – skyrocketed 112% yesterday on its initial public offering ("IPO"). This gives the company a market cap of $70 billion, equal to 178 times trailing revenue.

I've heard good things about Snowflake (and am happy to see that one of my favorite companies, Berkshire, is benefitting), but that's one of the most extreme valuations I've ever seen…

"I'm glad you mentioned Shoshana Zuboff. Suggest you read her book 'The Age of Surveillance Capitalism'. I saw 'The Social Dilemma.' The book demonstrates that by 2019, the situation was FAR worse than the film describes." – Anna P.

"Dear Berna, Last night I watched a David Letterman interview with President Obama that took place about 4 years ago. Among the many topics covered, Obama articulately described much of what is covered in The Social Dilemma regarding the separate realities we inhabit, how our opinions are reinforced depending on which news program we follow.
"The fact that we ourselves are the product being bought and sold is not a new concept, either. Even a decade ago, ads from sites I'd recently been on would mysteriously pop up almost immediately after I'd been on them. At the time, one of my kids had a job in online marketing and explained to me how this worked. I think one of the early mistakes we ALL made, especially on a regulation level, was to accept the concept of this being legal. We were all just excited about the incredible access to information and to each other while our right to privacy was extinguished. Opting out meant filling out forms and snail-mailing them back, and with limitations on what we could opt out of! Our government took a lot of heat for tracking phone numbers and monitoring communications, and had to change course a bit after a huge public outcry during the Edward Snowden scandal. Yet corporations had been doing this to us for years – and making profits from it – with little or no resistance.
"I never joined Facebook, and I've missed out on lots of news and pictures from acquaintances, friends and family that way. But I don't miss the additional tracking or harvesting of my opinions, preferences and actions by companies… and I am already tracked enough by just participating in the digital world. At least The Social Dilemma documentary has made more people aware of the impact the digital world has on our actual lives." – Amy D.
Regards,
Berna Barshay
November 10, 2020