► Right now, you can't download or update a wildly popular video game on Apple's (AAPL) App Store or Alphabet's (GOOGL) Google Play Store…
On August 13, both tech giants removed Fortnite from their app stores. Fortnite is a juggernaut in the gaming world, with more than 350 million registered players and estimated revenues of $1.8 billion last year.
But Fortnite maker Epic Games saw the title pulled after the company encouraged gamers to use a new feature that enables them to pay Epic directly. This sidesteps the app stores and payment systems sponsored by Apple and Google.
Every time you download a paid app or make an in-app purchase from their stores, Apple and Google take a 30% revenue share. Epic thinks this is usurious, and tried to go around them.
The powerful tech titans – who have been accused of having a monopoly on the mobile app distribution market – flexed their muscle by yanking Fortnite out of their stores. The move precludes new prospective users from downloading the game and also prevents Epic from pushing updates to new users, which could become an issue when Fortnite launches its fourth season this Thursday.
While Epic is battling both Apple and Google, the fight with Apple is more significant financially because Google allows Android users to download apps outside of its Play store… so while iPhone and iPad users are locked into Apple's walled garden if they want an app, Android users always had the choice to go around Google.
► Epic clearly knew exactly what it was doing when it picked this fight…
Shortly after Fortnite was booted from the App and Play stores, Epic filed an antitrust suit against Apple. As the lawsuit asserts…
Apple's removal of Fortnite is yet another example of Apple flexing its enormous power in order to impose unreasonable restraints and unlawfully maintain its 100% monopoly over the [in-app payment market for iOS devices].
Lengthy legal documents take days, if not weeks, to prepare. Epic clearly knew it was firing the first shot in a long battle when it tempted users to circumvent the app store… and the speed of the filing is proof.
But this war will be fought in the court of public opinion as much as the physical courtroom. As further evidence of Epic's war-readiness, the company rolled out an expertly coordinated public relations campaign within hours of getting booted out of the App Store. The centerpieces of the campaign were the #FreeFortnite hashtag, which was top trending on Twitter shortly after its debut in the other PR campaign highlight: a searing and satiric YouTube video called Nineteen Eighty-Fortnite.
The video mocks Apple's seminal Orwell-inspired TV ad, which aired during the 1984 Super Bowl and regularly tops the rankings of the best or most memorable television spots of all time. The New York Times praised the effectiveness of the campaign…
Epic rolled out a sophisticated public-relations campaign that depicted Apple, one of the industry's most image-conscious companies, as the stodgy old guard trying to stifle the upstart. To do so, it used Apple's own imagery against it, mimicking Apple's iconic "1984" ad from its own fight against IBM 36 years ago.

This time, Fortnite characters were defying Apple's totalitarian regime.
(You can see a side-by-side video comparing Epic's "1984" with Apple's "1984" right here.)
►  This is set up like a classic David versus Goliath showdown…
Privately held Epic is a major player in gaming – with a $17 billion valuation and backing from Chinese Internet giant Tencent (TCEHY), Sony (SNE), and blue-chip venture-capital and private-equity firms like Kleiner Perkins and KKR (KKR).
But its resources are no match for Apple, which recently became the first U.S. company worth $2 trillion… and it has almost $200 billion in cash sitting on its balance sheet.
While the absence of Fortnite will make iPhones less attractive at an inopportune time – with the launch of the iPhone 12 just a month or two away – it's both costly and time-consuming for existing users to defect from iOS to Android.
Despite the long odds, Epic seems dug in for battle. Epic Founder and CEO Tim Sweeney has made it clear that he sees this fight as about a lot more than Epic. He's framing this as a fight against the excessive control Apple asserts in the mobile app market. As he tweeted on the day of Fortnite's removal…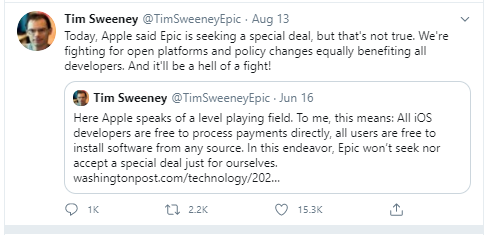 Source: twitter.com/TimSweeneyEpic
► Epic charges Apple with being a monopoly, but its lawyers reply that it's a platform builder…
Apple issued a statement defending itself after Epic filed its suit…
Epic has had apps on the App Store for a decade, and have benefited from the App Store ecosystem, including its tools, testing, and distribution that Apple provides to all developers… The fact that their business interests now lead them to push for a special arrangement does not change the fact that these guidelines create a level playing field for all developers and make the store safe for all users.
At the core of the argument, Epic objects to iOS users having no choice in where they download apps and how they pay for them. Apple is countering that mobile phone buyers have a choice of which phone they buy and which operating ecosystem they join.
Epic has repeatedly asserted – even before the recent scuttle – that Apple's (and Google's) 30% revenue share is too high a toll to take on developers. Epic also may have a problem with the toll applying to in-app purchases as well as the initial download, as court arguments seem to imply.
Apple counters that it invests billions per year in the technology that runs the App Store and iPhones, and it has a right to charge for creating the "ecosystem." It also emphasizes that all developers live by the same rules, including that 30% revenue share… Although leaked documents indicate that Apple did cut its fee in half in 2016 to coax e-commerce titan Amazon (AMZN) to put its Prime Video app in the store.
While this lawsuit is new, the quest to loosen Apple's grip on the app market dates back to 2018, when Epic created a competitive app store, and only charged developers 12% revenue share to list on it.
► Epic could save a lot of money if it knocked down Apple's fees…
But Sweeney clearly wants to frame this as a lawsuit in the interest of the entire developer community. In his public statements, he's emphasizing fairness in commerce and pro-consumer policies, more than the money Apple extracts from Epic. In an interview, he said he was taking on this fight to "make this industry a better and fairer place."
And this isn't the first time the App Store has come under scrutiny… Its potentially monopolistic practices were a focus at the Congressional hearings with Big Tech just a few weeks ago. Congress would have done well to seek an assist in their questioning from Mr. Sweeney.
European regulators are also looking into the anti-competitive nature of the App Store.
Swedish streaming giant Spotify (SPOT) – which competes head-to-head with Apple in the music streaming space – has a longstanding battle with the company over the App Store (You can see the history of Spotify's beef with Apple in this infographic). And not surprisingly, Spotify was quick to issue its support for Epic…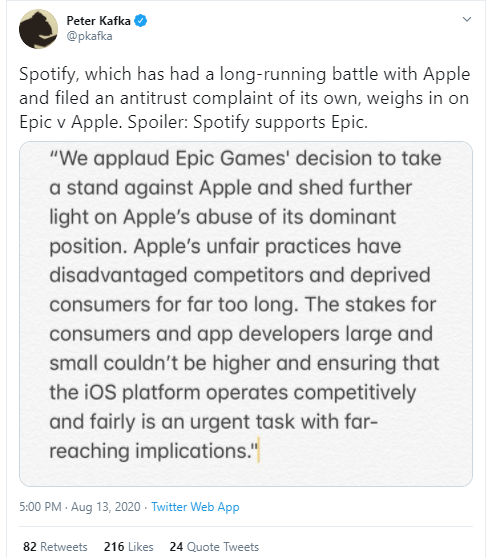 Source: twitter.com/pkafka
Tech giant Microsoft (MSFT) also filed a brief in support of one of Epic's claims, and online dating company Match Group (MTCH) was among several others that weighed in on the side of Epic.
Epic is winning the PR battle right now and is doing a great job setting this up as a fight between good and evil. Sweeney – who has previously picked corporate fights with Microsoft and Google – comes off as brave and principled. But some of the comments on a New York Times profile of Sweeney this morning offer a more cynical view. As one reader writes…
Sweeney is not wrong but the hypocrisy is too much too ignore. Amongst the gaming community Sweeney and Epic are famous for these very same practices, controlling [independent] games and keeping them exclusively on the heavily controlled Epic games store and off the open market like Steam.

The Epic game store is basically the opposite of an open platform. Sweeney is targeting the bigger fish for using the exact same strategies he employs on the smaller fish. He is not a gaming idealist, he is an exploiter, and I [can't] say I mind watching the bigger exploiters give him a taste of his own medicine.
► The stakes are high for Epic, but this is serious business for Apple as well…
Revenue share payments from Epic only account for a few hundred million dollars in annual sales at Apple – an insignificant number for a company that does almost $300 billion in sales. Apple can live without Epic much easier than Epic can live without Apple.
But Apple can't cut a side deal with Epic to make this go away, because it would create a slippery slope for other developers seeking a deal. While it may have created a precedent by cutting fees for Amazon, it certainly doesn't want to open Pandora's box by doing it again.
Apple's services division is a hotly watched component of its business by analysts, and its second-biggest revenue contributor after the iPhone. But with the iPhone 12 launch on the horizon, this spat is jeopardizing the growth of the company's most significant business.
How much Fortnite matters to iPhone buyers remains to be seen. It's undoubtable that Apple is damaging its "street cred" with younger users… but whether that's enough to cause iOS defections is unclear.
Just as important, this battle is taking a toll on Apple's already fragile relationship with app developers. According to one veteran developer, this is something that can have longer-term implications…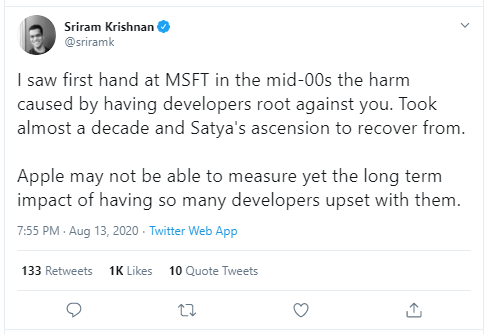 Source: twitter.com/sriramk
Gamers and developers – along with regulators in the U.S. and Europe – will be closely watching developments in this court case… as should Apple shareholders.
The battle with Fortnite is unlikely to be a key catalyst in bringing down AAPL shares… But there are other reasons to be cautious with Apple now, despite its tremendous 69% year-to-date performance.
AAPL shares are trading at a valuation last seen in 2007 – when the company was a tenth of its current size in terms of revenue… and the iPad, iWatch, and Apple Music didn't yet exist. Growing a $275 billion revenue company is a lot harder than growing a $25 billion revenue one… Even if Apple crushes Epic, the easy money may have been made in AAPL shares for the time being.
Of the 27 Wall Street analysts currently recommending AAPL shares, only five have a price target above the current quote. It might be a good time to take profits on a portion of your AAPL shares… even for holders who want to maintain some exposure for perpetuity.
► In the mailbag, a variety of comments: why we have shortages, challenges to the sharing economy, Walmart (WMT), and White Claw…
Whose side do you take in the smackdown between Apple and Epic Games? Are there any readers who want to offer an argument against taking at least partial profits in Apple here? Share your thoughts in an e-mail to [email protected].
► "One aspect that was not discussed – taxes. In Connecticut and I am sure many other states, whatever inventory is on hand as of October 1st of each year is taxed. So, no one keeps inventory. I see it in the steel industry where fabricators used to keep many of the 'regular' sizes in stock, now practically no one does, they order what they need when it is needed. This also results in some 'slowing down' of construction (another cost)." – Richard L.
Berna comment: Thanks, Richard… I had never heard of inventory tax before. As of 2016, it looks like at least 14 states have some variation of business tangible property tax. This seems like it would discourage having emergency inventory on hand.
► "You're incorrect on the time to build paper towel and toilet paper manufacturing plants. Mini mills (Merso, etc.) can be up and running in 12 months or less. Especially if it's an expansion of an existing facility (see Sofidel USA). Pulp may be a raw materials issue but that's about it." – Pablo J.
Berna comment: The Wall Street Journal cited long lead times based on the equipment needed… "The central piece of the machinery needed to make paper towels takes years to assemble." It's possible the article was only talking about large mills and not mini ones. Even if a new plant can get up and running in a year, that would be a risky investment because the current thinking is the surge demand will probably abate by the time of expected completion.
► "Hi – Prior to the pandemic I was a big business traveler flying about 100K miles a year and a platinum user of Uber. I have not ridden in an Uber since March since I no longer have to travel for work. This is the case for all of my co-workers and professional colleagues who normally travel a lot for work. I barely drive my car… fill the gas tank about every 6 to 8 weeks!
"I agree that Uber and Lyft will have very challenging times ahead, especially with little to no business travelers, who are likely the power users.
"I am not an Airbnb person and prefer hotels so can't really comment. Thanks for your interesting emails!" – Kelly C.
► "No mention that Walmart stock was down amongst all those earning reports." – Richard H.
Berna comment: WMT shares were down roughly 1% after the earnings report last Tuesday and fell almost 2% when Target (TGT) reported the next day, because their growth in online and grocery couldn't keep pace with Target's. You make a fair point, Richard, but I guess I just didn't think this move was that material.
Home Depot (HD) – like Walmart – also beat expectations handily, but sold off by a few percent. I think these kinds of small moves are largely reflective of how big funds were positioned into the call and what "whisper numbers," or unpublished expectations were and whether the company beats or misses those. I view these small moves as "noise" and irrelevant to the longer-term investing picture… But if you're day or swing trading, these are what you are clearly playing for.
► "Until this year, I've been a Michelob Ultra drinker. This summer I discovered spiked seltzers and tried many. I now drink Corona seltzers- they are not the most flavorful (I think Truly is) but they have no carbs which satisfies my Keto diet." – Willie H.
Berna comment: Willie, Michelob Ultra has been a huge hit for Anheuser-Busch InBev (BUD) – it's one of the best parts of the portfolio. I think this low-carb/keto/low-sugar thing is here to stay. If you can find something you like to drink without sugar, as you have, why not?
Regards,
Berna Barshay
August 25, 2020