► Airlines' second-quarter earnings were just as awful as you would expect them to be…
Revenues were down by more than 80% across U.S. airlines in the quarter. The drop was primarily driven by a collapse in volume (i.e., less people flying), although pricing was also weaker overall.
Given the high fixed costs of the airline business – even when a lot of planes are parked and idle – airlines lost a ton of money in the second quarter. Looking at the majors, United Airlines (UAL) lost $1.6 billion, American Airlines (AAL) lost $2.1 billion, and Delta Air Lines (DAL) lost $5.7 billion.
Some optimism was building throughout the quarter as passenger volumes steadily climbed with the elimination of quarantine orders. More travelers were hitting the skies as we moved from April into May. Airlines – and investors – were optimistic that the improvement trajectory would continue… and by June, airline stocks had moved 50% or more off the March lows.
But the surge in COVID-19 cases in the Sun Belt and California caused that sequential improvement in air travel volumes to pull back, along with some of the optimism about airline stocks. As you can see, shares of the airlines have gotten clobbered since their June highs…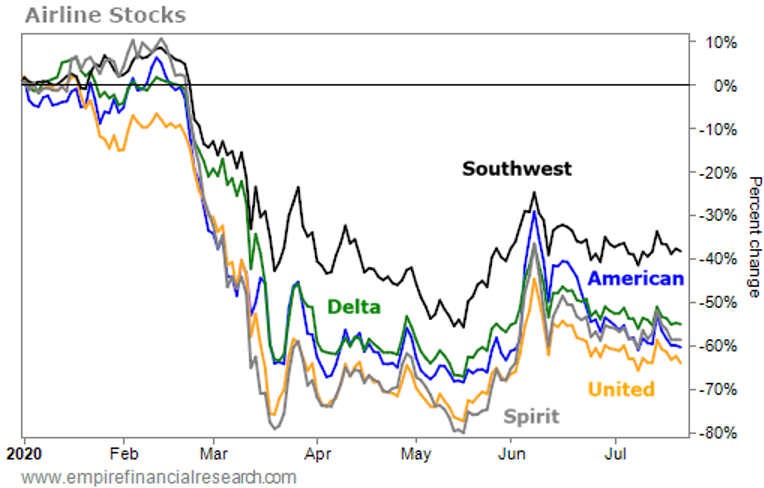 ► Airline executives expressed a cautious outlook on their earnings calls…
Somber about the plateau in travel seen in June and July, management teams stressed the lack of visibility regarding future demand and emphasized they would be flexible about schedules and capacity in the coming months.
Financial liquidity, or available cash on hand, was a big focus for companies telling their story to analysts, as was the monthly cash burn rate. With the outlook hazy, executives tried to convey their staying power in a slow recovery scenario.
► Every airline acknowledged that they're overstaffed for the current environment…
While they're prohibited from laying off any employees until October 1 under the terms of the federal government's $25 billion bailout in March, these companies are already making plans for staff cuts in the fourth quarter.
American said it has 20,000 more employees than it needs for the current environment and has issued notices warning of a potential furlough to 25,000 employees. United issued 36,000 furlough warnings and estimated its excess staffing at 18,000. In total, the airline industry could cut up to 50,000 jobs in the fourth quarter if current demand patterns persist.
Airlines reduced their burn rate via the government rescue package as well as by substantially cutting flights – which saves on fuel and prevents prices from totally collapsing in a weak demand environment. Delta said that it was burning $100 million per day in late March… and American reported a similar number for early April. But by June, the daily burn rate was down to $27 million at Delta and $35 million at American.
But with the government program supporting payrolls set to expire and with an urgent need to make their cash on hand last longer, the layoffs are coming.
With workforce reductions, airlines are hoping to further lower their cash burns. United, currently burning $25 million per day, hopes to get the number down to $20 million. Delta has even loftier goals… Currently burning $27 million per day, the company hopes to get to a run rate of cash flow breakeven by year-end.
But that goal may be tough unless borders are opened and international travel returns. On its earnings call, Delta told investors that it's currently burning $17 million daily on domestic operations and $10 million on international operations. It will be hard to reduce that international burn without open borders and free travel leading to higher passenger levels.
► All the majors were bearish on business travel, and that's bad news…
While business travelers account for only 12% of airline passengers, they pay higher fares because they book last minute and occupy more of the premium cabin seats. While the mix of leisure and business travel profits can vary by airline, at the majors, business travelers can make up to 75% of profits.
These customers stayed home in the second quarter, and management teams weren't optimistic they would return quickly. As United's Chief Commercial Officer Andrew Nocella told investors on the second-quarter call…
Corporate traffic, which was down 96% in June, will also be slower to come back than leisure, but we believe it will.
Reliance on business travelers – considered a strength when times are good – cuts both ways and will be a headwind for the major carriers… particularly Delta, which had been recently lauded for its success attracting premium travelers.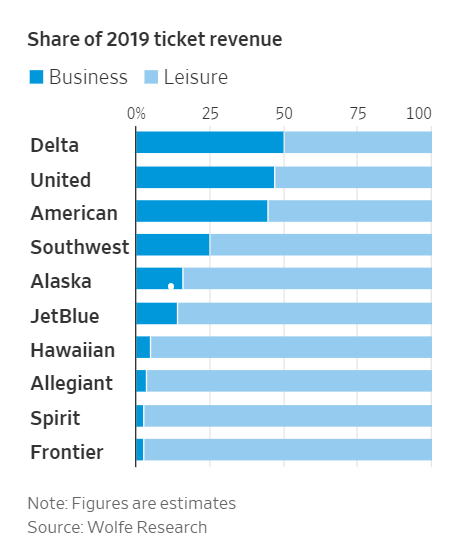 Source: Wall Street Journal
With business travel so weak, conferences and conventions canceled, and corporations worried about liability if employees on the road fall ill, airlines will rely heavily on leisure travelers.
With profitable long-haul international leisure routes off the table due to border restrictions, the major carriers have all been largely confined to carrying leisure travelers on domestic routes. In other words, they must go after Spirit Airlines (SAVE) and Frontier's discount market traveler, while still carrying the cost structure of a major airline – which means unionized employees, more aircraft variety, and larger fleets.
The question isn't only if they can fill seats… but at what price. Even with the virus still out there, enough potential leisure travelers can be tempted into flying with low rates… but selling deeply discounted seats isn't necessarily profitable for all airlines. Airlines are notorious for their cutthroat competition, and with fare sales at Southwest and others already popping up, this downturn should be no different.
► If you've read this far, you shouldn't be shocked that I don't like the sector at all…
At this point, a bullish airline bet is equivalent to a leveraged bullish bet on COVID-19 disappearing by year-end, either via a broadly applied vaccine or herd immunity being hit quickly. I'm not interested in that investment.
The airlines are largely at the mercy of the virus and public health initiatives, and the management teams admitted as much. To a lesser extent, the sector is at the mercy of Congress and the White House, as further bailouts may be necessary – especially if the virus takes longer to go away.
The rebound won't be quick. A recent poll of 537 aviation industry executives by Immarsat Aviation in collaboration with APEX indicated that the experts agree. When asked, "How long do you believe it will take the global airline industry to return to 2019 total revenue levels?" nearly half of respondents answered 18 months to three years… 19% said 12 to 18 months… and just 7% said six to 12 months.
The companies best-positioned to survive this would be the lowest-cost ones – Spirit, Frontier, and to a lesser extent, Southwest. These carriers probably have the most flexibility to match capacity to demand, as they travel point-to-point. This is unlike the major carriers that operate on a hub-and-spoke system, where canceling an empty flight can cause a cascading effect to the rest of the system.
► Capacity is a huge focus for the airlines, as well as a moving target…
Matching supply to uncertain demand will minimize costs and maximize profits. But with the outlook so uncertain, it isn't the easiest thing to do. All the carriers expressed that they would attempt to be nimble in adjusting capacity to demand as it changes. As Southwest CEO Gary Kelly asserted on the company's earnings call…
We will adjust our flight schedule aggressively and frequently in response to this volatile demand environment.
When quarantine orders first hit in March, all the airlines reduced capacity immediately. But they didn't all reduce to the same extent. Among the majors, Delta and United were much more aggressive in cutting capacity. Delta and United flew at 10% and 12% of prior-year capacity in the second quarter, whereas American was much more aggressive and kept 24% of planes in the sky.
In a bid to maintain share, American was extremely aggressive with capacity versus the other majors. As the Wall Street Journal reported last week…
From June to July, American added the equivalent of an entire airline to its schedule – as many flights as JetBlue Airways flies on a typical day. American has brought back about half the 410 jets it parked this spring when travel demand plummeted. This week, it is offering more than twice as many seats as United Airlines and nearly 50% more than Delta Air Lines, according to data provider OAG.
American's aggressive stance may prove a reckless bet, as demand growth has stalled out for now. In its earnings call this morning, the company has already backed off its aggressive capacity positioning and is aiming for a capacity level more in line with its peers.
For the third quarter, Delta and United have guided to running at 25% and 35% of last year's capacity, respectively. American will run higher at 40% for now, but this is a reduction from where it is today, while the other two majors are increasing from a lower base.
► Reckless capacity is only one of the reasons to avoid American Airlines' stock…
American is the most leveraged U.S. airline and was also the least profitable last year. Operating margins at other U.S. carriers ranged from 10% to 14% in 2019… but at American, they were only 8%. This is a case where bigger might not be better.
Given its debt position, the aggressive capacity stance showed exceptionally poor management judgment. As Nocella said on United's call yesterday…
In a world of limited demand, driving our cash burn down is absolutely a function of the amount of capacity we offer. We clearly have a long way to go to navigate COVID-19, but we got off to a relatively good start. At the start of the pandemic, many feared our outsized exposure to business traffic, international traffic and our coastal hubs would have been a drag on performance relative to other network carriers, but this was not the case as we made smart decisions about capacity.

We'll not be focusing on market share during the worst financial crisis the industry has ever faced, instead our focus is on ending cash burn and returning United to profitability.
While American is adjusting course now on capacity, the decision to be the industry leader in capacity may be putting its future in jeopardy. As the Journal recounted…
When Boeing Co. CEO Dave Calhoun told the Today show in May that a major U.S. airline could go under – without naming one – industry attention turned to American because of its debt. [American CEO Doug Parker] called Mr. Calhoun to complain.
Market share doesn't matter if you don't survive the crisis. Again, I'm not a fan of the airline sector… and I beg you to avoid AAL shares.
► In the mailbag, many readers agree with me that Beyond Burgers are tasty…
Have you flown in the COVID-19 era? What is most important to you when you choose your flight? If you haven't flown, what will it take to get you on a plane again? Send an e-mail to [email protected].
► "I am currently on a camping trip with a vegetarian friend. I purchased Beyond Meat products from the grocery store to serve exclusively as our main courses over a period of three days. I must tell you, everything we have eaten has been fantastic – smell, taste, and texture are exceptional. I am definitely sold on the frequent use of Beyond Meat products in the future." – Edward B.
► "I did a side by side taste test at Burger King and thought the Impossible burger actually tasted better, so I am definitely open to trying more plant-based products." – Joe S.
► "I purchased Beyond Meat 'burger' patties at the grocery store in my quest to find a plant based food that actually TASTES like beef and doesn't contain soy (I'm also on a lifelong quest to find the perfect onion ring, but I digress). I broiled the patties, careful not to overcook them. The texture is similar to very lean beef, and the taste, while not exactly like beef, is quite good. If surrounded by a bun, mustard, ketchup, etc., a hard-core beef eater MIGHT be fooled. The drawback for me is the price. At the moment, Beyond Meat is considerably more costly than beef. For some, the price difference could be outweighed by the other concerns surrounding meat (health, environment, animal care), but for many, beef will win out." – Ruth W.
Berna comment: Hi Ruth, I also love onion rings. Regarding the price of Beyond Burgers, I've found them to be much cheaper at Costco Wholesale (COST) than in the grocery store.
Regards,
Berna Barshay
July 23, 2020