1) There's a crisis set to change everything in your daily life – from where you shop for groceries, to what kind of car you'll drive, to where you'll go next year on vacation.
In fact, the fate of an entire continent lies in the balance due to this crisis, which could topple governments. And yet, an investing opportunity that I've been calling the "1,000% Windfall" is already shaping up to be the solution to this crisis.
This could be the investing story of the next 12 months – it's so important that I had Empire Financial Research go "on location" with a full film crew to capture all the details. Learn more here.
2) Berkshire Hathaway (BRK-B) CEO Warren Buffett released his much-anticipated annual letter on Saturday, which you can read here.
As I do every year, I asked my longtime friend and former partner Glenn Tongue, who is the axe on the company, to share his analysis of it. Here's what he sent me:
Buffett's letter is always a gem, full of insights and education. The first page is often skipped over. I would simply make two observations from that page:

1) From a stock price perspective, it was a tremendous year (after all, most people buy stocks to make money). While the S&P 500 was down 18.1% last year, Berkshire's stock was up 4.0%. This difference, called "alpha" in the investing world, was 22.1 percentage points; and

2) The stock's gain since 1965 has been 3,787,464%. That seems like a big number to me...

Perhaps Buffett's most important comment was: "At Berkshire, there will be no finish line."

This is a powerful statement of confidence in the quality of the businesses, its culture, and the strength of the succession team – all of which will lead to the future compounding of value.

Buffett also discussed how great businesses compound value in a way that can tend to overwhelm certain bad investment decisions. Two examples of great decisions were Coca-Cola (KO) in 1994 and American Express (AXP) in 1995 (although I would point out Buffett had a gigantic position in American Express back in the 1960s in the Buffett Partnerships). The value of each has grown by almost 20-fold while also paying substantial dividends along the way.

Buffett implies that these two investment decisions were extraordinary – and while he is right, I would suggest that they are only two among many he's made for Berkshire over nearly a half-century...

I offer the following thought framework: Both Coke and American Express were 5% of Berkshire's value long ago. And today, they still are, which leads to the conclusion that the other 90% of Berkshire's value has kept pace.

It's clear that Buffett's capital allocation record is far better than the "so-so" grade he gives himself...

I especially appreciated Buffett's discussion of – and tribute to – his longtime business partner, Charlie Munger. While I've met Munger a number of times, I don't know him personally. But years of studying him lead me to the conclusion that he is one of the most remarkable individuals alive today.

In any debate with Munger, I hope I would have the good sense to quickly fold, as he is a learning machine, a true renaissance individual. Quite simply, if Munger believes something, the odds are overwhelming that he is right.

Rather than interpret Buffett's thoughts, I'll simply repeat them here:

Nothing Beats Having a Great Partner

Charlie and I think pretty much alike. But what it takes me a page to explain, he sums up in a sentence. His version, moreover, is always more clearly reasoned and also more artfully – some might add bluntly – stated.

Here are a few of his thoughts, many lifted from a very recent podcast:

The world is full of foolish gamblers, and they will not do as well as the patient investor.
If you don't see the world the way it is, it's like judging something through a distorted lens.
All I want to know is where I'm going to die, so I'll never go there. And a related thought: Early on, write your desired obituary – and then behave accordingly.
If you don't care whether you are rational or not, you won't work on it. Then you will stay irrational and get lousy results.
Patience can be learned. Having a long attention span and the ability to concentrate on one thing for a long time is a huge advantage.
You can learn a lot from dead people. Read of the deceased you admire and detest.
Don't bail away in a sinking boat if you can swim to one that is seaworthy.
A great company keeps working after you are not; a mediocre company won't do that.
Warren and I don't focus on the froth of the market. We seek out good long-term investments and stubbornly hold them for a long time.
Ben Graham said, "Day to day, the stock market is a voting machine; in the long term it's a weighing machine." If you keep making something more valuable, then some wise person is going to notice it and start buying.
There is no such thing as a 100% sure thing when investing. Thus, the use of leverage is dangerous. A string of wonderful numbers times zero will always equal zero. Don't count on getting rich twice.
You don't, however, need to own a lot of things in order to get rich.
You have to keep learning if you want to become a great investor. When the world changes, you must change.
Warren and I hated railroad stocks for decades, but the world changed and finally the country had four huge railroads of vital importance to the American economy. We were slow to recognize the change, but better late than never.
Finally, I will add two short sentences by Charlie that have been his decision-clinchers for decades: "Warren, think more about it. You're smart and I'm right."

And so it goes. I never have a phone call with Charlie without learning something. And, while he makes me think, he also makes me laugh.

I will add to Charlie's list a rule of my own: Find a very smart high-grade partner – preferably slightly older than you – and then listen very carefully to what he says.

In conclusion, Buffett has a well-deserved reputation as the greatest investor of all time. Perhaps less appreciated are his communications skills. He is a natural teacher who can reduce an extremely complicated concept into an easily digestible form. All of his letters remain relevant and are priceless teaching tools (here's an archive going back to 1977). Any serious investor should study them.
Thank you, Glenn!
3) For those interested in a deeper dive on Munger, I highly recommend Poor Charlie's Almanack: The Wit and Wisdom of Charles T. Munger, which is in its third edition since it was first published in 2005.
As I've written previously, it was one of the great honors of my life to contribute to this book: I wrote chapter three, provided the transcripts of half the lectures in the book, and edited it. Here's a picture of the team behind it: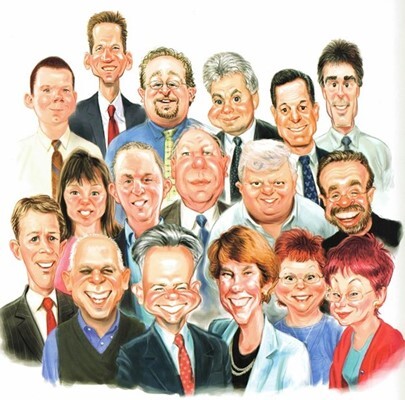 That's a (much younger) me wearing a red tie in the lower left. Others I recognize are Peter Kaufman, the primary author, in the front also wearing a red tie, and the three women to his right: legendary journalist Carol Loomis, who has worked with Warren Buffett for decades on his annual letter, Buffett's assistant (then and now) Debbie Bosanek, and Munger's assistant (then and now) Doerthe Obert.
4) On Friday, I shared the exciting news that I had surpassed $1 million raised from my family, friends, and readers for my ambulances-for-Ukraine mission. Well, it was a good weekend: Today I'm at nearly $5 million!
With the additional funds, I committed $1.75 million (and today made the first payment of $600,000) to buy 15 brand-new Toyota 4x4 Land Cruiser ambulances, which will be able to navigate the terrible roads and mud on the front lines and will be equipped with the best medical equipment and technology (monitor/defibrillator, ventilator, infusion pump, wheeled stretcher, etc.) so the doctor and medic in each vehicle can immediately treat the wounded soldiers. Here's a picture of one: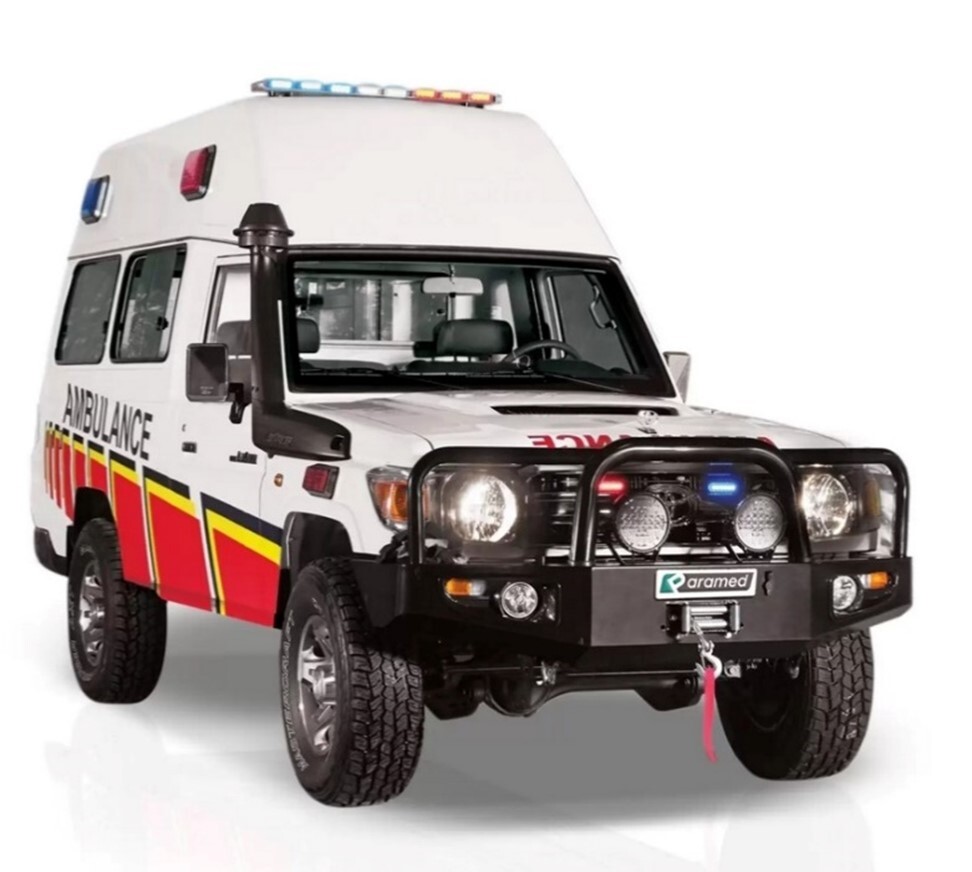 5) If you would like to learn more about my mission, first check out the latest version of my slide deck, which I have been adding to and improving every day. (In Friday's e-mail, I included more information, including how to donate.)
Then, join me on one of the three Zoom calls that I scheduled for this evening, Wednesday, and Friday to answer questions and share the crazy stories (with pictures) from the past week I can't share publicly.
The times will be:
6 p.m. Eastern time today, February 27
7 p.m. Eastern time on Wednesday, March 1
12 p.m. Eastern time on Friday, March 3
To join, simply click this link for all three.
The calls are open to anyone, so please invite any friends who you think might be interested.
Best regards,
Whitney
P.S. I welcome your feedback at [email protected].