1) Shares of Tesla (TSLA) are tanking today after the company missed its third-quarter delivery guidance of at least 100,000 cars that CEO Elon Musk hinted at only last week.
How could Musk screw this up so badly? I think there are two possible answers…
One, Tesla's internal systems/controls are seriously deficient, and/or two, Musk is living in a world of delusion and desperation – and nobody is left to rein him in (probably both, but more of the latter)… Tesla Sets Deliveries Record While Falling Short of Elon Musk's Mark. Excerpt:
The electric-car maker handed over 97,000 vehicles to customers in the third quarter, exceeding the 95,356 reported for the prior three months. The figure let down investors who bid the shares up on Sept. 26 after Musk told employees they had a shot at reaching the six-figure mark for the first time. Tesla stock plunged as much as 6% after the close.

"When Elon Musk says they are aiming for 100,000 deliveries, you are hoping for 102,000. Not 97,000," Gene Munster, a managing partner at venture capital firm Loup Ventures, said by phone. "This is a credibility hit. This is a textbook example of Elon not being disciplined and having difficulty managing expectations."
2) On Monday, my colleague Enrique Abeyta and I will present our best stock ideas at the annual Stansberry Conference at the Aria Resort & Casino in Las Vegas.
I attended and spoke at the three-day event a year ago. During my presentation, I called pot stocks an obvious bubble and said, "you will get incinerated if you own these [three] stocks for any period of time," naming Tilray (TLRY), Aurora Cannabis (ACB), and Canopy Growth (CGC), which are down 85%, 56%, and 55%, respectively, since then.
Stansberry has a fabulous lineup of speakers who will share tremendous insights and a wide range of great investment ideas. You can watch the livestream from the convenience of your home or office – just click here for more details.
3) Speaking of pot stocks, they've been getting decimated ever since I called the top a year ago, as you can see in this chart of the ETFMG Alternative Harvest Fund (MJ), which tracks the sector…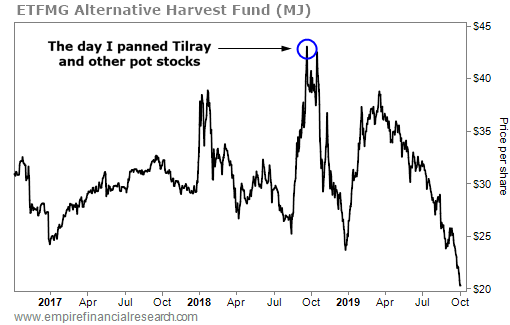 However, unlike bitcoin and other cryptocurrencies – which are nothing but a techno-libertarian pump-and-dump scheme – the cannabis sector is very real and will grow enormously from here. So my instinct is that investment opportunities are beginning to emerge in the sector.
To separate the legitimate stock ideas from the riffraff, I turned to my friend at Stansberry Research, Tom Carroll, who writes the Cannabis Capitalist newsletter.
Regular Empire Financial Daily readers will recognize Tom's name. He spent nearly two decades as an analyst and managing director at Legg Mason and Stifel Financial. As I noted in my September 12 e-mail, "His background as both an award-winning stock-picker and his profound knowledge of the health care market make him well-qualified to analyze the cannabis industry and find undiscovered gems."
In that same e-mail, I highlighted his three favorite stocks in the sector: Charlotte's Web (TSX: CWEB), Green Thumb Industries (CNSX: GTII), and Trulieve (CNSX: TRUL).
When I asked Tom for an update on the sector yesterday, he shared one more idea – KushCo (OTC: KSHB) – which he wrote up for his subscribers in a recent Cannabis Capitalist update and was kind enough to allow me to share with you: A Contrarian Bet in the Midst of the Vaping Scare. Excerpt:
The cannabis sector is currently down, and KushCo's stock price has been unfairly punished. But we remain confident that KushCo is going to be one of the big winners as marijuana legalization expands across the U.S.

So I wanted to take a minute today to explain why we're continuing to hold KushCo in our portfolio. In fact, we believe the selling has only made it a better investment… And if you haven't already established a position in the stock, you may never get a better opportunity.

As I'll explain, if anything, the vaping crisis shows the industry needs more of what KushCo provides – not less…

While traveling in southern California last week, I stopped in and had an impromptu meeting with KushCo's management…

The vaping scare notwithstanding, there are four reasons KushCo is a great contrarian buy right now…

First, while the mysterious respiratory illness brought on by vapes is horrible, the current vaping scare will be solved…

Secondly, the vaping scare will drive users to the legal markets and quality products…

Third, customized product labeling will see increased demand…

Last, KushCo shares are trading at a valuation of less than 1 times sales.
Thank you, Tom! If you're interested in learning more about and subscribing to his Cannabis Capitalist newsletter – which is the only resource I'd recommend if you're interested in learning more about potential cannabis investments – click here.
4) But Tom isn't my only smart friend who thinks the cannabis sector is compelling right now…
Doug Kass of Seabreeze Partners gave me permission to share this recent article that he posted behind the paywall at Real Money Pro:
Time to Buy Cannabis Stocks (for a Trade)… and Soon for a Long Term Investment

* CGC could trade up to over $30 on the successful House vote passage of the SAFE Banking Act announced last evening

* While the short term may remain rocky (pot stocks are down by nearly 50% since April), investors with longer term timeframes should begin to consider investing in the sold down U.S. cannabis stocks

"This must be a first step toward the decriminalization and de-scheduling of marijuana." – Steny Hoyer

My several months long research on the cannabis industry has been inconclusive – yielding some longer term pluses and some shorter term minuses. My greatest concern, however, was the price of pot stocks. Valuations, until a few months ago, were simply too high (both in the U.S. and, particularly, in Canada).

The short term road ahead for profitable growth in the cannabis business and use in health, medical and recreational applications are likely to be winding and not a straight path. The painful smack down of this space over the last few months is a testimony to those concerns.

The near term holds multiple challenges, but the intermediate and longer term are potentially promising, and I am currently considering buying a package of U.S.-based cannabis stocks as a long term investment. (Of course I will keep you up on my investing in this space).

Frankly, I have been waiting for cannabis stocks to correct – which they have, with a vengeance, dropping by nearly 50% since the April 2019 highs.

For now, let's say I am upgrading the space to "slightly positive." Cannabis stocks have been heavily debated – surrounded by zealots on both sides of the argument and in which, again, valuations have receded dramatically (in some measure because of the vaping controversy, an oversupply of weed for recreational use, credibility at CannTrust (CTST), individual company liquidity issues and concerns regarding the timing of FDA approvals and cannabis efficacy).

Late yesterday the cannabis industry scored a big victory as the House of Representatives passed (in a bipartisan vote – 321 to 103 with nearly all the Democrats and 91 Republicans favoring the Bill) the Secure and Fair Enforcement Banking Act of 2019 which allows banks to process the business of cannabis shops and related companies in 11 states and tribe-legal jurisdictions that have legalized the recreational use of marijuana.

At the very least this will lend stability to this speculative and unstable (over the last three months) sector. At the best this will provide the beginning of an important upturn for cannabis stocks.

This is the first cannabis reform bill that has ever been passed in that chamber – now it goes to the Senate where a version of the Bill is still in committee and its acceptance is still unclear. (Republican and Chairman of the Senate Banking Committee, Mike Crapo, has said he will mark the bill up by year end. Then Senator Mitch McConnell has to decide whether to take the legislation to a vote).

If passed it will lend stability and security to the cannabis industry by ending the reliance of cash as commercial banks will be allowed to serve, without criminal risks, as intermediaries in pot purchases.

Months ago I made a good trade (buying and selling) in a speculative Canopy Growth (CGC) but I prematurely repurchased it several months ago.

I recognized that CGC was highly valued but I thought the imprimatur of and investment by Constellation Brands (STZ) was an offset.

That was a mistake.

That said, I have been steadily buying CGC (which I consider to be a hybrid U.S./Canadian company) over the last week as posted in my Diary. Besides the passage of the House Bill, possibly successful company sleeping trials and the installation of a new CEO provide potential upside catalysts.

Bottom Line

The cannabis space continues to be speculative but, given the price declines, I am considering establishing a long investment stake in a package of cannabis stocks (with emphasis on U.S.-based companies).

Seen almost as consumer package goods companies, the opportunities for U.S. cannabis stocks in ingredient applications such as beverages, cosmetics, pet supplements and, ultimately, cannabis medicine, are immense.

Some potential cannabis investment ideas that have retreated in price and have become attractive include Cresco Labs (CRLBF), Curaleaf Holdings (CURLF), Green Thumb Industries (GTBIF), Harvest Health & Recreation (HRVSF), and Vireo Health International (VREOF).

Position: Long CGC (large)
Doug added this post yesterday:
Getting Higher

I have established a small package of speculative cannabis stocks this morning which includes (CRLBF) ($5.40), (HRVSF) ($2.77), (GTBIF) ($8.37) and (CURLF) ($5.30).
5) Here's my sixth strategy for winning the class participation game:
6. When you raise your hand, hold up a highlighter pen and wiggle it a bit.
Have you ever seen the studies that show that the human eye is drawn to color and movement? You want the professor to see that your hand is raised, especially if 20 others have their hands raised as well.
Best regards,
Whitney