1) I continue to follow Tesla (TSLA) closely, even though I haven't changed my view that it's a bad long and a bad short. It's just such a fascinating case study... (If you wish to subscribe to my Tesla e-mail list, simply send a blank e-mail to: [email protected].)
The bulls will no doubt be celebrating today, as the company reported that it delivered a record 308,000 vehicles last quarter, "blowing away analysts' expectations." For the year, Tesla delivered 936,000 vehicles, up 87% year over year.
The bears, on the other hand, wonder why this company has roughly half of the market cap of the entire global auto industry despite seeing its market share decline in the first 11 months of this year from 16.2% to 13.8%, as you can see in this chart: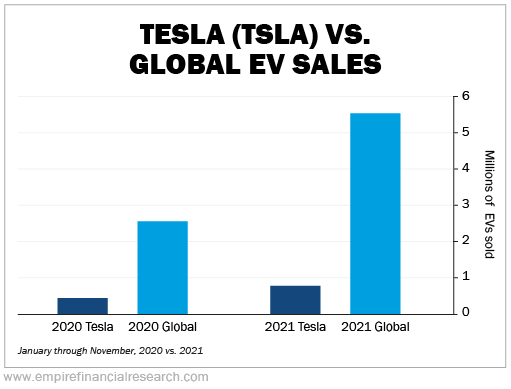 2) Speaking of Tesla, before I leave Kenya I wanted to link to something I wrote in December 2020, when I discovered that Tesla provided the battery system for the safari lodge we were staying at in the Masai Mara. We went back to the same lodge two weeks ago and the Tesla PowerPacks are still there! Click here to see my pictures and description.
3) Over the weekend, I sent two more in-depth missives to my coronavirus e-mail list. Here's a summary of the first, which you can read in its entirely here:
Good news all around
Update on my family and me
Data from South Africa, Denmark, London, NYC (vaxxed vs. unvaxxed), U.S.
Joe Golton, Dr. Maki, Dr. Wachter and my takes
U.S. and EU deaths may not rise
Omicron is replacing delta
CDC reduces isolation period
Doctor Submits Fluvoxamine EUA Application to FDA
Unvaccinated High School Sweethearts Alvaro and Sylvia Fernandez Die of COVID on Same Day
Studies Suggest Why Omicron Is Less Severe: It Spares the Lungs
People with Omicron are less likely to need hospitalization, U.K. report finds
And here's a summary of the second one, which you can read here:
U.K. study on vaccine effectiveness
Many should get booster sooner
Dr. Maki answers questions
Omicron is spreading at lightning speed
NYC and London data
Omicron is displacing delta
Upgrade your mask
Twitter bans Dr. Robert Malone
Three questions & answers
4) I tested negative for COVID a few hours ago, so as you read this I'm at the Nairobi airport about to board a 14-hour nonstop flight to JFK, landing early tomorrow morning.
All of my Kenya-based family – both parents, sister (for the third time!), and nephew – ended up getting COVID this week (everyone only had minor symptoms, thankfully!), but all of my U.S. family – wife, three daughters, daughter's boyfriend, and aunt – has so far managed to avoid catching it. This is consistent with the latest estimates that those who are triple-vaxxed with the mRNA vaccines have 63% protection against infection and 88% against hospitalization.
5) Reader Joe M. recently sent me the following e-mail in which he advises me to stick to writing about investing, not COVID-19 and vaccinations. I hear this often enough that I wanted to share it:
Hey Whitney, I just recently joined as a Stock Investor subscriber. I am fairly new to trying to understand the world of the stock market, and felt that a lot of what you say line up with what I think is going to be the future. So, I subscribe and have taken some of your advice along the way. I am grateful for this.

I got vaccinated. I did this for two reasons: 1) I have type 1 diabetes, which was considered a co-morbidity in the beginning (maybe still is) and 2) I live in a very liberal state and was feeling that I was not going to be allowed to work, play or operate a halfway normal life without getting it (this may have been the main reason I did it). Being in healthcare, I know a little bit about all of this stuff. However, safety should never trump freedom of choice and agency.

I have been a little shocked to find you giving information and opinions on the vaccine and what people should and shouldn't do with their health. It is not your expertise and because it has been so politicized, you absolutely risk ostracizing a big chunk of people who have looked to you for financial and stock advice, as they try to improve their lives, and the lives of future generations, financially. This is why I signed up with you, and I'm guessing the same for many others.

Do what you have to do. I am okay with people using their platforms to say or do whatever they want. However, there are consequences that come with how platforms are used. Sometimes, more people's lives can be changed if we remain in common ground, rather than picking a side and bombarding people with that one perspective until they no longer want to listen to anything you have to say, even the really good things of which you are an expert. Thanks.
I replied:
Thanks for sharing your thoughts. They have validity and I've carefully considered them. Ultimately, however, I decided to use my platform to do good/save lives (as I see it) – even if it costs me some subscribers.

I can't tell if it hurts or helps my business – as you saw in my recent e-mail, I get plenty of feedback from both sides! But I think there's a good argument that my willingness to express strong, well-articulated opinions, even if they anger some of my readers, is beneficial.
6) Considering that I tested negative for COVID, I'm still planning to go to the Consumer Electronics Show ("CES") in Las Vegas later this week, as I do every year, to check out the latest technologies and hopefully find some great stocks to share with my readers.
Normally during the week of CES, most hotels on the Strip are sold out and, if you can find a room, they're $400 per night at a four-star hotel and $700 and up at the five-star ones.
But not this week... I booked a room on Booking.com (BKNG) a couple of months ago at three-star Bally's for Thursday night for $189.05. A few days ago, I decided to fly out a day early, so I went on Booking.com to add Wednesday night – and was very pleased to discover that the price for each night had dropped 57% to $80.75, so I'm now staying for two nights for less than the prior price for one!

This tells me that CES – and Las Vegas in general – must be getting hit with massive numbers of cancelations due to the rapid spread on the omicron variant...
Best regards,
Whitney
P.S. I welcome your feedback at [email protected].