Up first, I can't let the U.S. Securities and Exchange Commission's ('SEC') proposed new investor disclosure rules for special purpose acquisition companies ('SPACs') go without comment...
As my colleague Berna Barshay wrote yesterday in Empire Financial Daily...
The SEC getting involved now feels a bit like closing the barn doors after the horses have already gotten out.
Adding to the cliché fest, I agree with Berna that this is better late than never.
This passage in the SEC press release caught my attention (emphasis added)...
Further, the new rules would address issues relating to projections made by SPACs and their target companies, including the Private Securities Litigation Reform Act safe harbor for forward-looking statements and the use of projections in Commission filings and in business combination transactions.
Think about it... Here we have companies, some of which have little to no history, making projections five years out.
That's ludicrous, of course. And the actual proposal – citing complaints regulators have received – suggests as much when it refers to criticism about...
The use of projections in de-SPAC transactions that, in [commentators'] view, have appeared to be unreasonable, unfounded, or potentially misleading, particularly where the target company is an early stage company with no or limited sales, products, and/or operations.
There were also several comments suggesting a focus on "conflicts of interest" involving SPAC sponsors – the folks who create the SPAC, who then look for a company to merge with. The proposal zeroes in on the type of conflicts (emphasis added)...
A notable example is the potential conflict of interest stemming from the contingent nature of the sponsor's compensation, whereby the sponsor and its affiliates have significant financial incentives to pursue a business combination transaction even though the transaction could result in lower returns for public shareholders than liquidation of the SPAC or an alternative transaction.
At its peak, the greed had run amuck. Classically Wall Street.

Up next, speaking of classically Wall Street, look no further than a headline earlier this week from CNBC...
"Regulators are worried that retail traders are getting in over their heads."
The focus of the story, by my old friend and colleague Bob Pisani, was on super-levered exchange-traded funds ("ETFs") and other products defined as "complex."
In my opinion, you cannot save people from themselves.
But here's the deal... Almost laughably, the issue of so-called "levered ETFs" – which let you supercharge long or short trades – is nothing new and has been around for years. I was writing about this as far back as 2011.
The only differences now are that the market is much higher, the people running the regulatory agencies are different, and the number of types of "complex" products has proliferated.
Not only that, but regulators typically move like slugs, and the people in charge are transitory.
In other words, chances of something being done are slim because there is nothing that really can be done, short of putting a stop to Wall Street creating exotic new investments.
But defining "exotic" is impossible... and as long as there are commissions and fees, someone will find a way around any barriers that are put up.
That's because, in the end, there's no better regulator than the market itself. It has humbled the best of them.

Moving on, a quick update on GoodRx (GDRX)...
In the October 12 Empire Financial Daily, I mentioned the company as part of a rant about rising drug prices under Medicare. I had just stumbled on GoodRx, which quite a few friends swore by. I started checking a few of my prescriptions against what I was paying, and as I wrote back then...
At the risk of sounding too promotional, especially for something I haven't yet spent a dime on...

It appears that by checking GoodRx for the most expensive drugs, I could save hundreds off my total projected costs, either with coupons or via mail order. (For what it's worth: I'm dubious of some of the cheapest mail order options.)
I also wrote that "roughly 24% of its float is sold short – suggesting that not everybody is buying the story. (To put it mildly!)."
The stock has since collapsed – GDRX shares are down more than 50% since mid-October. Take a look...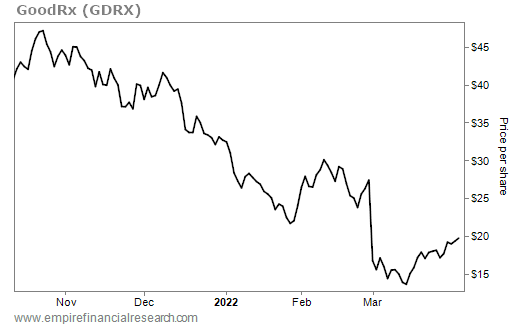 On multiple occasions over the past few months, I've whipped out my GoodRx app at the cash register only to find that the pharmacy matched it or beat it with an unadvertised discount of its own. It doesn't appear that I would have been offered that discount if I hadn't mentioned GoodRx. Just passing it along, for what it's worth...

And finally, shifting gears, an ode to the neckties...
I have a rack full of dozens of ties in my closet from my days at CNBC, which formally ended (as a full-timer) nearly 10 years ago. Since then, I've only worn a tie a few times – the most recent being two weeks ago during the special event to launch my newsletter, Investment Opportunities (until midnight tonight, you can learn more about the charter offer right here).
But some people hang on and are wistful when they recall a more fashionable time. Among them, Robert Armstrong, who recently wrote in the Financial Times...
I own 80 ties. They fall into various categories. About a quarter of them are Hermès, mostly inherited from my late father and uncle, both avid collectors. They went in for little animals, so these run mainly to foxes, donkeys, ostriches, lovebirds, and the like. Some of them, like me, date from the 1970s.

Also from my father, I have three or four lovely madras numbers, now a little tattered, from ancient American brands Robert Talbott and Bergdorf's. Somewhere along the line I've picked up various classics, in dots and paisley, from British makers like Bowring Arundel. I have the blue-and-white raw silk number I got married in, from Barneys. Two others, which I bought on my honeymoon at La Cravatta Su Misura in Rome, make my heart sing still. I have a big handful of knit ties in purples, pinks and greens from Paul Stuart. Two cashmere numbers from Emma Willis, in brown and blue, I treasure, though it looks as if someone put out a cigarette in the brown one.

I could go on. The point is, they all have two things in common. They are all very beautiful; all second-raters have been weeded out. And they are no good to me at all. The tie, already gasping a few years ago, has been struck dead by COVID.
I haven't weeded any of mine out and was thrilled to have them – not just so I had something to pull from for the recent webinar for Investment Opportunities, but for my son and his husband, who don't own a tie.
So when they recently needed ties to wear for a wedding, they turned to the only person they know who still has a few. They had imagined I had, well, you know... dad ties.
As we started going through them, I think my son pulled a thin Valentino one, while his husband went for the Armani. Or was it an Isaia?
They looked as stylish today as they did when I first got them. And that's the thing about ties... even when they went out of style, usually because of their width, they had a way of finding their way back in.
And who knows... while most men will never want to wear a tie again, especially for work, I'd be willing to bet there will be some sort of resurgence, or at least an attempt at one. In fashion, after all, what's old always has a way of becoming new again.
As always, feel free to reach out via e-mail by clicking here. And if you're on Twitter, feel free to follow me there at @herbgreenberg. My DMs are open. I look forward to hearing from you.
Regards,
Herb Greenberg
April 1, 2022
P.S. Until tonight at midnight, you can become a charter member of Investment Opportunities. We launched the initial portfolio with seven stocks... and later this evening, we're releasing a brand-new issue with another low-risk recommendation with a company whose cash flows are far stronger than they appear.
Learn more about Investment Opportunities – including how to become a charter member and receive bonuses valued at $9,200, including one free year of my favorite stock-picking system – right here.