► It hasn't been a good day for clothing company Hanesbrands (HBI)…
HBI shares plunged around 20% today and turned yesterday's 10% year-to-date gain into today's 10% year-to-date decline…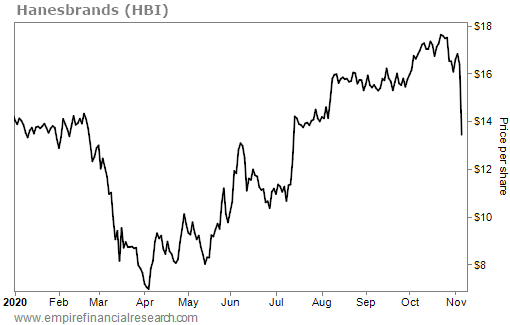 While Hanesbrands' third-quarter earnings results were roughly in line with analyst expectations and revenue outperformed estimates by 9%, a disappointing outlook for the fourth quarter sent HBI shares tumbling.
The company's domestic Innerwear segment accounts for about a third of revenues, and includes the iconic Hanes white briefs, socks, and undershirts for men, as well as women's underwear, bras, and shapewear sold under the Hanes, Maidenform, Bali, and Playtex brands.
Innerwear has been a source of problems for the company for several years. Competition from private-label and other value brands has pressured revenues, and so has decreasing retailer traffic and the emergence of new online-native brands offering underwear, bras, and socks. But this division put in a surprisingly strong quarter, with sales up 12% excluding the effect of business exits and sales of personal protective equipment ("PPE") – a temporary operation that Hanesbrands only entered this year in response to the COVID-19 pandemic.
International revenue, which constitutes 36% of company sales, was down 7% excluding the sale of protective garments. This was a disappointing result, with the company citing weak sales of innerwear in Europe, and weakness in both innerwear and outerwear in Asia and Australia. Hanesbrands blamed the problems in Asia and Australia on COVID-19 disruption… which is a little counterintuitive given most major Asian markets had returned to something close to normal over the summer, with per capita cases, hospitalizations, and deaths trailing those in the U.S. and Europe.
While the International result was a bit of a head-scratcher, the plummet in HBI shares can be traced primarily to the performance of its domestic Activewear segment, which accounts for 27% of company sales. Retailer Target (TGT) recently ended its multiyear deal with Hanes to sell athletic wear under the c9 brand, which created a one-time hit of around $380 million to Hanes' top line. But excluding the effect of the discontinuation of the c9 brand, the Activewear segment was still down 27%. Hanes cited the closure of professional sports arenas and college bookstores as headwinds.
Both the flagship Hanes brand and the Champion brand are popular makers of "blanks" – plain T-shirts and sweats that sports teams or colleges buy, print with their logos, and resell.
But over the past three years, Champion has also emerged as a fashion "athleisure" brand. Benefitting from a wave of nostalgia for brands that were popular in the 1990s as well as the continued dominance of athletically inspired streetwear within fashion, Champion had seen high growth for many quarters. Fashionable Champion goods commanded higher prices than the "blanks" business and drove margins for the Activewear segment – and Hanes overall – higher.
However, first-quarter margins were down significantly, with Hanesbrands' operating margin falling to just under 10% from more than 14% the prior year.
The company touted that domestic Champion sales were up 85% from the second quarter but declined to disclose year-over-year revenue growth for Champion in the earnings press release, as it normally does.
Only on Hanesbrands' earnings call with analysts did it disclose that sales at Champion were down 27% year over year… That's a stunning slowdown – even allowing for the pandemic – at a brand that was growing by more than 80% back in the beginning of 2019.
Hanesbrands also issued disappointing guidance for fourth-quarter earnings in the $0.25 to $0.30 range, missing analyst estimates of $0.45 by about 40% at the midpoint of the given range. The implied operating margin for the fourth quarter is just over 10% – a big drop from just under 14% in last year's fourth quarter.
Hanesbrands announced it would undertake a comprehensive strategic assessment that will look at multiple areas including the supply chain, product quality, online capabilities, retail store network, and relationships with its wholesale retail customers, companies like Walmart (WMT), Target, Amazon (AMZN), and Macy's (M).
Hanesbrands also said it would closely revisit its cost structure – something it acknowledged it had already begun doing.
► How do you have trouble selling sweatpants during a work-from-home bonanza?
It's seems counterintuitive that a company that makes its money selling Ts and sweats would see a severe slowdown during a boom for athleisure clothing. As I noted in back in August, sales of the comfy pants were up 80% in April.
And no company should have been better positioned to ride this comfort fashion wave than Hanes' Champion, which – starting in late 2017 – saw a surge in demand as everything '90s came back in style. This trend also benefitted other hot '90s brands, like PVH Corp's (PVH) Tommy Hilfiger and Calvin Klein, as well as Italian sportswear brand Fila, which is now a publicly listed company in South Korea.
The Instagram-friendliness of Champion logo gear combined with '90s nostalgia to send Champion into hypergrowth, as industry site Business of Fashion explain in April 2019…
The century-old brand best known for basic gym attire is experiencing an unlikely revival. Champion is a benefactor of three swirling style trends that converged to create a teen and millennial fashion craze: Logo apparel is in vogue; throwback gear has returned; and streetwear – the casual style derived from skateboard and sports culture – is having a moment.
Champion also benefitted from its presence on the social media accounts of celebrities. When the Kardashian sisters started frequently posting selfies in Champion gear, rumors swirled they were being paid by the company to wear the sweats. Whether they were being paid or not, the brand caught fire with musicians, athletes, and other celebs. Business of Fashion chronicled the brand's rise on social media…
Since 2016, Champion's Instagram followers have climbed from 200,000 to about 6 million… You can find Rihanna and members of the Kardashian clan wearing Champion in paparazzi pics and Instagram posts. Chance the Rapper went further last year, claiming during an Instagram livestream that he helped make the brand "unlame."
The brand's popularity was the driving factor of both sales growth and margin expansion at Hanesbrands in 2018 and 2019.
But Wall Streeters bearish on HBI shares who were shorting the stock – I counted myself among them – thought that the strength in Champion would be fleeting. While the business of selling Ts and sweats to colleges and professional sports teams isn't going anywhere, the fashion business that was driving all the growth looked like a classic fashion fad with huge, near-triple-digit growth.
Few fashion brands can sustain growth over 50% for more than a year or two, and the bears suspected Champion would be no exception. Of course, some newly emergent brands can grow that fast and then settle into a more normalized growth pattern without ever seeing their sales shrink… Deckers Outdoor's (DECK) sheepskin Ugg boots are a good example of hypergrowth settling into normalized growth without the brand ever going into severe decline.
But it looks like Champion may not have that kind of smooth landing, which has HBI investors nervous today.
► I have long expected the Champion boom to go bust, but knowing when it would happen was tricky…
I knew Champion was a fad because of who was driving the sales gains: teenagers and people in their 20s. This is a notoriously fickle cohort, which can turn on a brand just as quickly as it embraces it.
Meanwhile, Hanesbrands decided to make long-term investments into what could prove a short-term fad. The company opened a flagship Champion fashion boutique in Los Angeles in 2018 and has followed up with more Champion stores in ritzy areas of cities like New York, Chicago, Boston, and Philadelphia. There are now 38 Champion stores in cities and malls around the U.S.
In its second-quarter earnings call, the company had noted that Champion sales in the U.S. had come roaring back 70% in June when lockdowns ended, so the fact they were down 27% over the months of July, August, and September is strange.
The company was light on details during its conference call, and flat out refused to discuss its outlook for Champion in 2021… even though by early November, it has good visibility on orders for first-quarter deliveries to retail partners. The lack of disclosure around Champion on the call as well as the misleading data point given in the press release – offering a sexy-sounding quarter to quarter gain in lieu of a bearish year-over-year sales contraction make me think that the Champion brand has peaked.
While Hanesbrands doesn't disclose sales totals for the domestic Champion business, it does give directional commentary on year over year sales, and the trend isn't good. Take a look…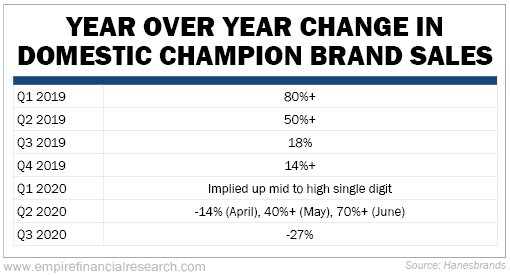 ► Attributing all the trouble at Hanesbrands to the pandemic or even the slowdown at Champion may be a mistake…
The Hanesbrands of today is the product of nine acquisitions made between 2010 and 2018. Hanes has been around 120 years, but since 2010, the company grew its top line by 75%, primarily thanks to the acquisitions since the market for tighty whities and "blanks" hasn't grown anywhere close to 75% over the past decade. Hanesbrands is a "roll up" these days – a company that has grown primarily by acquisitions.
Because of the accounting conventions around mergers, acquisitive companies tend to take a lot of one-time charges to reflect integration expenses, goodwill write-offs, inventory value adjustments, and other expenses that should be non-recurring. Those one-time charges run through reported GAAP earnings, but are excluded from "adjusted earnings" – the ones that Wall Street analysts talk about.
While such charges can be and usually are totally legitimate, when a company is constantly doing acquisitions, you almost never get a clean quarter when GAAP earnings and adjusted earnings are the same… which leads to questions about "quality of earnings," and whether the adjusted earnings accurately reflect the economic conditions of the business.
Going back to 2014, adjusted earnings and GAAP earnings started to diverge wildly at Hanes. GAAP earnings would end up being much lower as the company took tons of charges related to acquisitions. At the same time, the adjusted operating margin started to grow, but the GAAP operating margin didn't.
For years, I've had concerns that when the acquisitions stopped and profitability became less clouded with charges, Hanesbrands would look a lot less profitable than the picture it had painted with all the adjustments. While the pandemic has been a headwind for the company, Hanes will likely never return to the profit margins it reported on an adjusted basis now that the one-time merger charges are fading away.
Don't go bargain shopping with HBI shares. Between the Champion bubble bursting and low quality of earnings, you can find better places to put your money to work.
► In the mailbag, questions about retail and Disney (DIS) and a comment about the real estate market…
Are you a Hanes loyalist for your innerwear basics, or have you succumbed to the many new offerings from private-label brands or new e-commerce sites? Let me know in an e-mail to [email protected].
► "I'm impressed with the SaaS model business. Tell me Berna, in your opinion… do you think SaaS business can be used in retail business?" – Fredrik H.
Berna comment: Retail will never technically be software as a service ("SaaS") because selling clothes, food, home furnishings, etc., involves the transfer of tangible, physical goods… not software. But in the sense that SaaS is synonymous with subscription and recurring revenues, yes, retail is leaning into the subscription trend.
We see this with newer companies like clothing-rental site Rent the Runway and older companies like Harry & David with its Fruit of the Month Club. Subscription boxes are also popular for things ranging from food kits – think Blue Apron (APRN) – to pet supplies (BarkBox) to personal care items (Birchbox, Billie, and Shave Club).
Retail subscription tends to either focus on replenishment – like Shave Club – or curation and discovery, as you get with Birchbox sending you cosmetics to try or Rent the Runway allowing you to try a new designer without committing to a buying an item.
► "Good Morning: As someone who has worked in mortgage loan securitization since 1995, I am less concerned about CMBS then I am about Freddie Mac K deals. Freddie has flooded the market with capital over the last 10 years rewarding large multifamily apartment owners with huge-cash out refinances when they have raised tenant rents and as interest rates declined. Large multifamily loan borrowers ($20MM and greater) are receiving sub-3 interest rates. On a positive side, which I would like to highlight, the money Freddie has put out has allowed many of these property owners to invest in property upgrades and material property preservation capex, like roofs and boilers.
"Yes, CMBS is a concern, as it was during the housing crisis, Freddie K deals are also a concern that didn't exist in the early 2000s." – Gina M.
► "The Paris Disney park is completely independent of corporate DIS. It was spun off to European investors years ago. The news about it closing due to Covid would have no material effect on the DIS stock. It's going up $3 has no connection to what happens at the Paris park." – Gene N.
Berna comment: Hi Gene, Disney bought back Disneyland Paris in 2017.
Regards,
Berna Barshay
November 5, 2020