1) With the trade war heating up and signs that the economy is slowing, it's not surprising that stocks are at a two-month low, and the yield on 10-year Treasuries is approaching a three-year low. A lot of stocks are selling off – and any company that misses earnings is getting obliterated.
One example would be the opioid manufacturers that I warned my readers about in my e-mail only two weeks ago. Teva Pharmaceutical (TEVA), Mallinckrodt (MNK), and Endo International (ENDP) are down 14%, 22%, and 30%, respectively, in only 11 trading days.
2) Another example is Lumber Liquidators (LL), which reported second-quarter earnings this morning. The stock is down double-digits today and has now fallen around 40% in the past three weeks to an all-time low.
If you just watched the stock price, you would think that the business was completely falling apart, but that's not the case at all. The company is facing tariff, economic, and competitive headwinds to be sure, so it's like a car stuck in neutral – but it's not going in reverse, which is what the stock price is indicating.
While sales, margins, and profits have been roughly flat – which the company, in taking down guidance slightly today, expects to continue for the rest of the year – this isn't a business in terminal decline like so many other retailers. Excluding one-time legal settlements, Lumber Liquidators has been free cash flow positive for each of the past three quarters. The company occupies a nice niche and has meaningful competitive advantages against both the independent flooring retailers, which still account for half of the market, as well as the big chains Home Depot (HD) and Lowe's (LOW).
Dozens of times in my career, I've owned or recommended a stock in which the financials – and the stock – went into freefall. But a case like this, in which there's a huge disconnect between the stock and the fundamentals, is quite rare. These are the kinds of market inefficiencies where long-term-oriented investors with strong nerves can make big money...
In two weeks, I will be sending Empire Investment Report subscribers a full update on Lumber Liquidators with a recommendation... likely how much to add to the position.
3) Every investor today is probably dealing with at least one stock in his portfolio that has gotten walloped. I won't mince words: It sucks! But it's also inevitable – and how you deal with such setbacks will go a long way toward determining your investment returns over time.
Here are a few quick thoughts for a day like today:
Just as there is no top for a stock of a company that consistently beats estimates and raises guidance, there is no bottom for a company that misses and lowers. The key is to find inflection points, where a company makes the turn from miss-and-lower to beat-and-raise. It's hard to get the timing exactly right, however... 
It's important to have a diversified portfolio. That's why I first recommended to my subscribers that they establish a solid base of stalwarts – including Berkshire Hathaway (BRK-B) – before I recommended a riskier stock like Lumber Liquidators.
Position sizing is critical. Berkshire Hathaway is perhaps the safest business in the world, so I recommended a generous position size. I suggested a smaller position size for my tech plays, and an even smaller position for LL... because I recognized that with higher upside also came higher risk (defined as the possibility of permanent capital loss) and greater volatility.
Don't use stop losses (if you know what you're doing; if you don't know what you're doing, then you shouldn't own any stocks at all). As an investor, your challenge is to figure out when the market is making a mistake and to take advantage of it. So why would you tie your hands behind your back with a crude tool like a stop loss? In fact, when a stock falls substantially from your purchase price (which happens all the time – I don't know anyone who always precisely time the bottom), that could be a great time to double down. It could also, of course, be a good time to hold or get out. I'll discuss these judgment calls in greater detail in a future e-mail. They are what separate the winners from the losers in the investment world. But it's important to realize that these decisions must be a judgment call, rooted in good information and analysis, not emotion – and certainly not a formula like a stop loss. To quote the father of value investing and Warren Buffett's teacher, Ben Graham, "Mr. Market is your servant, not your master."
In summary, by having a diversified portfolio and appropriate position sizing and not using a stop loss, we're now in a good position to take advantage of the wildly overdone sell-off in LL shares.
4) Wow, these two charts from this report are stunning...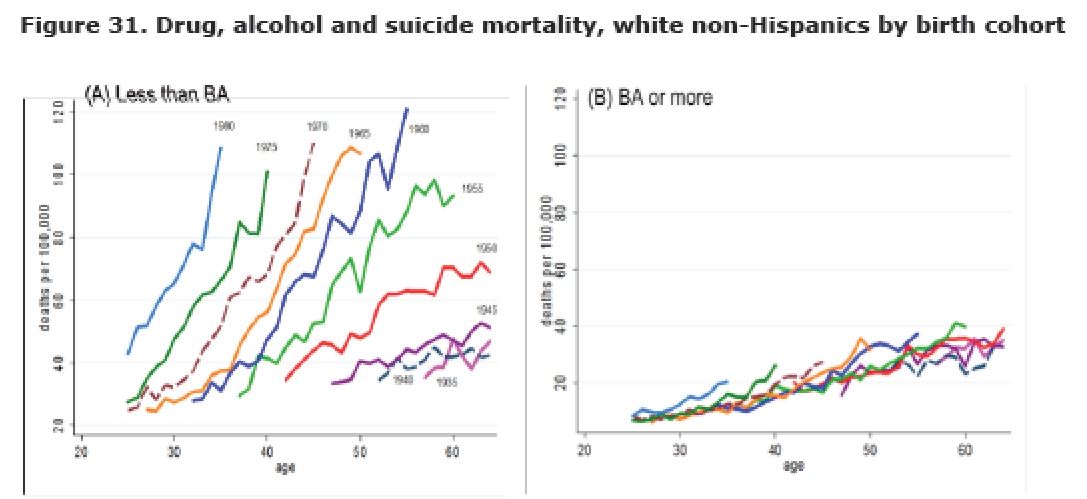 They show that non-college-educated white Americans are killing themselves – both slowly (via drug and alcohol abuse) and quickly (suicide) – at alarming and accelerating rates, starting with those born in 1950 – i.e., those entering the workforce around 1970, just as the post-World War II economic boom that benefited all levels of society tapered off. Since then, the earnings, benefits, and job security of non-college-educated folks, especially men, have flatlined – for nearly half a century!
The result is rising household debt, lower social stability (e.g., a steady job, intact families), and skyrocketing rates of depression and despair (plus, I'd argue, anger and xenophobia), all of which are leading to, among other things, much higher rates of premature death and lower life expectancy overall for the first time in American history.
There are – and, I believe, will continue to be – significant economic, social, and political consequences of what's happening here.
For more on this story, see:
 Best regards,
Whitney