---
Recommended Link:
GM's next big release has no engine and no wheels

In a shocking move, auto giant General Motors is venturing into a whole new space (hint: NOT electric vehicles). While industry analysts see this as a way of catching up with Tesla, the bigger reason could be because this new space is getting the full backing of the current administration and could mean huge tax credits in the future. Or it could just be that this fledgling industry has more scope than the declining auto industry. Whatever it may be, this move could put GM into the same bracket as Apple, Google, Microsoft, and Amazon. Get the details of this massive trend here.
---

With mortgage rates hovering at around 6%, the effect on housing is obvious...
This is making it a topic of discussion, seemingly... everywhere. And for good reason: The increase in rates is a jaw dropper.
It's pretty much summed up in this tweet from Charlie Bilello of Compound Capital Advisors...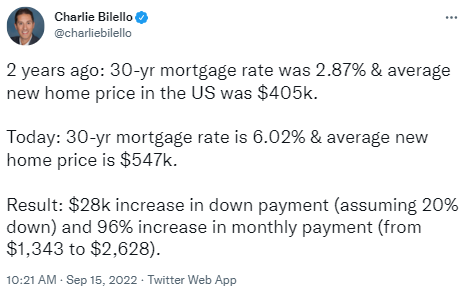 Source: Twitter/@charliebilello
He added...

Source: Twitter/@charliebilello
My colleague Sam Latter, Empire's Editor in Chief, tells a similar story...
My buddy just bought a house listed at 25% less than what we paid in June 2021, but he got a 30-year mortgage in the 5% range (versus our 3.125% rate)... and he's paying $1,000 more than I am every month.
It's a stunner, for sure. And that story can be seen in the rate of increase, which is summed up in this chart from the St. Louis Federal Reserve...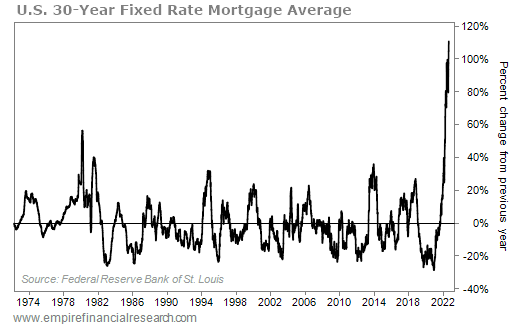 Yowzah!

It's bad, even scary, but the rate of change only tells part of the story...
The other part is that as steep as the rate of increase has been, the next chart shows that rates are still – historically – a bargain.
I know what those higher rates feel like – I bought a house in 1981, just as rates were peaking at around 18%... and had to get a home equity loan of even more to replace the roof.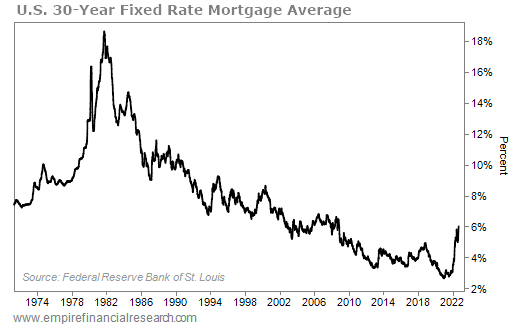 That's not to diminish the effect of rising rates, economically and psychologically, on anybody currently in the market for a new home... and the potential for broader ramifications for the economy.
And that's not to say things won't get considerably worse from here – there's a vocal camp that believes it will... and they may be right.

But regular Empire Financial Daily readers know how I feel about predicting the future, especially in this market...
The variables are so great and uncertainties so... uncertain... that the direction, duration, and level of duress are impossible to game. Additionally, geopolitical events – entirely out of anybody's control ­– are the ultimate wildcard.
That leaves us with little more to go on than the kind of backward-looking data relied upon by the Fed, forecasts that rely on timing and luck, and the status quo... which is where we are right now.
The reality is, that bounce in rates from the bottom wasn't as great when they hit 18%, but it arguably was 3 times more brutal than today.
As bad as things are, or seem it be, sometimes it really does help to keep things in perspective.

Speaking of housing, a quick flashback on Opendoor (OPEN), which looks perilously close to its own foreclosure... but is it?
When I first wrote about the company in the November 30 Empire Financial Daily, the stock was around $14 per share, and Zillow (Z) had just shut its real estate "iBuying" business.
I had quoted an old friend, Rohit Malik – who created a variation of the theme in India – on why he felt the business in the U.S. would be challenged. As I wrote back then...
iBuying pretty much started in Phoenix for a specific reason: Thanks to the cookie-cutter approach to building homes in Phoenix, many homes look alike, making them easy to price.

That's where this gets interesting, and more challenging. Or as Malik puts it, "Everybody got Phoenix right because it's a homogenous product and it is easy to price."
And as Rohit went on to say...
The problem is the long term. How do they figure out margins? Think about it: The consumer is more intelligent than even three years ago. So, they negotiate a better price from them.
That was when housing prices were still frothy and rising. Since then, reality has closed in on Opendoor...
In simple terms, the company bought too many homes and is now stuck with too much inventory that it likely overpaid for.
Or as a recent Bloomberg story points out (emphasis added)...
The company, which sells thousands of homes in a typical month, lost money on 42% of its transactions in August, according to research from YipitData. Opendoor's performance – as measured by the prices at which it bought and sold properties – was even worse in key markets such as Los Angeles, where the company lost money on 55% of sales, and Phoenix, where the share was 76%.
That's astonishing, but not surprising. In fact, as I wrote in the August 2 Empire Financial Daily, Opendoor warned in a boilerplate risk factor in its SEC filings that this was possible. Here's what the company had to say (emphasis added)...
An oversupply of home inventory will generally cause downward pressure on our sales prices and margins and increase our average days to sale. Our inventory of homes purchased has typically represented a significant portion of total assets.

Having such a large portion of our total assets in the form of non-income-producing home inventory for an extended period of time subjects us to significant holding costs, including financing expenses, maintenance and upkeep, insurance, property taxes, homeowners' association fees, and other expenses that accompany the ownership of residential real property and increased risk of depreciation of value.
Guess what? That's exactly what has happened. Sometimes those boilerplates are there for a reason.
Going into this mess, the company's model hadn't yet been stress tested yet. It has now, with the proof in its stock... which trades around $3 per share. Take a look...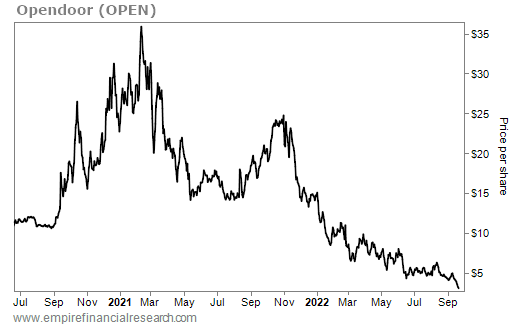 Opendoor's future is uncertain, but one thing is certain: The value of those houses that the company is stuck with won't be falling to zero... and those houses will be standing even if Opendoor isn't.
As always, feel free to reach out via e-mail by clicking here. I look forward to hearing from you.
Regards,
Herb Greenberg
September 23, 2022