Since this will be my last Empire Financial Daily for the year, it seems like a good time to reflect on the year that just passed and take a look at what's ahead...
Before we move onto the outlook, let's review some of the things that defined 2021...
In no particular order, 2021 will be remembered for meme stocks and short squeezes... a deluge of initial public offerings ("IPOs")... the return of inflation and the closely related "Great Resignation"... the continued rise of Big Tech... gurus – who others accuse of being charlatans – like Chamath, Cathie, and Elon... the bust in special purpose acquisition companies ("SPACs")... supply chain panic – which mostly turned out to be a nothingburger when it came to the holidays... Bill Hwang's stunning crash and burn at Archegos Capital... the energy stock comeback that took so many by surprise... the implosion of U.S.-listed Chinese stocks... and of course, the explosion in trading cryptocurrencies and non-fungible tokens ("NFTs")... and the stunning 440% rise in the price of ethereum.
Some other stories that took way more space in my brain than I would have expected coming into the year... the explosion in the metaverse and the related rise of Roblox (RBLX)... dog coins, aka cryptocurrencies named for dog breeds... the billionaire space race... the ascendance of Korean culture in media, music, and cosmetics... endless conspiracy theories about just about everything... and the power of a streaming documentary and the social media masses to #freeBritney.
I turned to Google Trends to see what search volumes could tell us about what was on people's minds in 2021. One surprise was that AMC Entertainment (AMC) has apparently overtaken GameStop (GME) as king of the memes, based on the top trending news stories...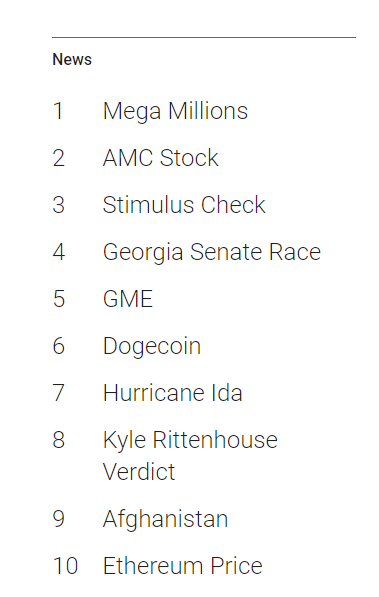 Source: Google Trends
Other things taking up a lot of space in the American collective consciousness, according to tech giant Alphabet's (GOOGL) Google Trends... everything Gen Z... TikTok pasta recipes... streamer Netflix's (NFLX) Squid Games... Disney (DIS)/Marvel's Black Widow... Olivia Rodrigo's anthem for the broken-hearted, "Driver's License"... how to get a stimulus check... and where to find a COVID-19 vaccine or test.
One of the more random and amusing entries from Google Trends is this list of words and phrases that people need help pronouncing...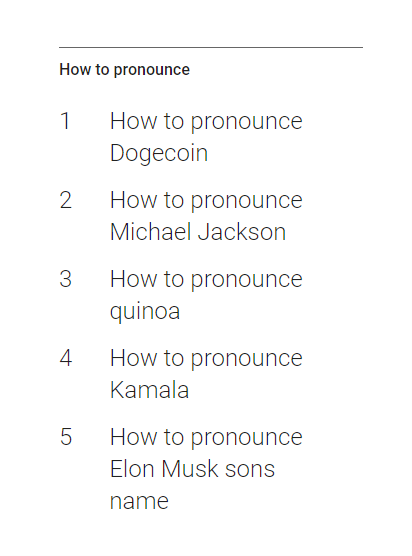 Source: Google Trends
No. 2 on the list above is a real head scratcher! As is how it was just this year that Bernie Sanders' mittens trended, making them the No. 1 meme of the year... It feels like longer ago.

Coming back to the markets and looking ahead to 2022, there are some burning questions out there...
In no particular order, here are some of the big questions facing the markets and the economy in 2022...
Will the market have more breadth?
I mentioned yesterday that just five tech stocks were responsible for one-third of S&P 500 Index returns this year and just over 50% since April. This narrow leadership has masked a lot of carnage happening beneath the surface.
Will small caps make a comeback?
The small-cap Russell 2000 Index is up just over 13% this year, about half the return of the larger-cap S&P 500 Index and the larger-cap and tech-heavy Nasdaq 100 Index. Small-cap underperformance is a byproduct of market leadership being concentrated in mega-cap tech stocks... so for small caps to catch up, the market will need to have more breadth.
Will fundamentals matter more?
The meme stock phenomenon, the rise of hard-to-value cryptos, and big pops from a parade of IPOs with no history of making profits left many professional investors scratching their heads, while less experienced or less disciplined traders cleaned up. We've seen a rout in some of these more speculative assets in recent weeks... but we haven't necessarily seen good fundamentals prop up less speculative assets, except in the case of the largest tech stocks. I would say that we're moving in the direction of a more fundamentally oriented market... but we aren't necessarily there yet.
Will the IPO market remain robust? 
The fate of the IPO market is closely related to how much investors are focused on fundamentals. A banner year for IPOs is behind us – most companies that wanted to go public had their chance. Many of them seized the window of opportunity... even if their business models weren't ready for prime time. There's no doubt there will be appetite for the IPOs of some of the big, high-profile companies that have so far kept us waiting – companies like payments/FinTech darling Stripe, social media apps Reddit and Discord, and delivery service Instacart. But the market may prove pickier in 2022 when it comes to smaller, loss-making companies – at least if recent IPO stock performance is any clue. You can read more of my thoughts on the outlook for the IPO market in the piece I wrote for MarketWatch this week, which you can find here.
Will we see many mergers and acquisitions?
While rising rates may make doing deals marginally more expensive, I think the "winner takes all" economy that we increasingly live in will keep deal flow robust.
Will we see the return of some of 2021's fading trends, like meme stock squeezes and SPACs?
I think not... although there will be some bargains to be found in the bombed-out land of SPACs. While I don't think GameStop: The Sequel is a high-probability event, I have no doubt that something else wacky will come along to surprise us in the markets.
Will ESG (environmental, social, and governance) investing flame out?
In a word, no. For better or worse, expect to hear more about this. Steering capital to good corporate citizens will be the "better" part. Inconsistent evaluation criteria and "greenwashing" will be the "worse" part.
Will we get resolution on some of the biggest battleground stocks?
I think by the end of 2022, we will have a much better look at the ultimate trajectory for some of the most divisive stocks that tend to inspire the most impassioned debate – stocks like home-fitness company Peloton (PTON), meme movie-theater chain AMC, and kings of the pandemic like video-conferencing app Zoom (ZM) and vaccine maker Moderna (MRNA). I think the jury will be out for several years on controversial electric-vehicle makers Tesla (TSLA) and Rivian Automotive (RIVN), which are both playing a long game.

I said I was listing the big questions for 2022 in no particular order, but I did save the most burning ones for last...
The two biggest questions are highly interrelated...
Will inflation continue to run so hot?
I think there is pretty strong consensus that inflation will cool off as pandemic-related interruptions to the global supply chain abate. Manufacturing shutdowns and production shortfalls have been rippling through the global economy, which is also stressed at points by transportation and freight shortages. Most economists and market watchers believe that these stresses will lessen in the second half of 2022, as production "catches up" from the pandemic, and in certain specific areas, additional capacity is built.
With consensus building on that front, the biggest remaining question about inflation is whether or not normalization of supply chains will be enough to get the developed economies back to a 2% inflation trend. The wild card here will be labor... which continues to be a tight market.
In the U.S., we had decades of wage deflation coming into this year. For that reason, I don't see 2021's hard-earned wage gains reversing – at least not for hourly workers and other low-compensation workers. Many people have also disappeared out of the job force due to early retirements prompted by health concerns or investing windfalls... while other folks discovered ways to hustle their way into self-employment during the pandemic. So I think the pressure on labor costs may be more persistent than the pressure on goods.
And of course, the trillion-dollar question...
When will the U.S. Federal Reserve begin its taper and how much will it do?
No other macro uncertainty dominates like this question, which is closely related to the inflation question. If inflation stays hotter, the answer becomes sooner and more than if it doesn't. We've seen the prospect of tapering take a bite out of valuations already, especially for longer-duration securities. I wish I had an answer for this one...

Other things that I am looking out for in 2022 in my focus sectors of media, tech, and consumer...
I'll be closely watching these trends and how they set up for investment opportunities...
The continued rise of the metaverse. In addition to benefitting tech companies like Facebook parent Meta Platforms (FB) and Roblox, the metaverse is going to create big money-making opportunities for the strongest consumer brands in apparel and footwear, luxury goods, and food and beverage – as well as music companies. 
The return of consuming experiences over consuming things. This trend was in place for years before the pandemic, which severely disrupted it. We've had some false starts on the experience front because of the emergence of COVID-19 variants... but when safety is 100% back, so will be spending on experiences.
Companies that excel in omnichannel will be the retail winners. We're already seeing this... but being sharp in-store and online will only get more important as time passes. 
What happens to the exclusive theatrical window for movies as safety concerns subside. This question is closely related to not only the fate of the movie chains, but the opportunities ahead for streaming entertainment services and greenlighting decisions and profits at the big studios.
Consumer preference for curated goods and experiences should persist, as well as high interest in customizable products. I think home spending will stay stronger than some other folks believe, because even a small increase in time at home spurs investment in one's surroundings.
The endless proliferation of goods and services aimed at the Global 1%.

While at times 2021 felt like a scene out of the movie Groundhog Day, it's important to remember than 2021 was a great improvement over 2020...
There's a lot of pandemic fatigue right now, and everyone is handling the ongoing viral threats different ways, depending on their own risk tolerance. Things are crazy in New York at the moment – the outbreak is very real, but also thankfully, appears not to be very lethal. This decidedly isn't March 2020, and everything remains open... but if you had asked me in April, I would not have thought we would be dealing with this level of infection right now. Predictions for a conclusive end to the pandemic that didn't come to pass make me feel a bit like Charlie Brown when Lucy pulls the football away from him yet again at the last second.
The lingering pandemic understandably has many people feeling down or frustrated... but we are clearly getting closer to the end of it. And it's easy to take for granted how much better this year was than last. As I wrote to some friends the other day...
2021 was MUCH better than 2020! Full-time school. Near-normal summer camp. Return to after school activities. We were able to travel more. See more friends and family. The summer was great!
What I will remember from 2021 the most was the first everything back... the first plane trip, the first family vacation, the first Broadway show, the first hugs with my older relatives. Being deprived of these things in 2020 made me have more gratitude for them when I got them back.
As for the markets, I think I will most remember the shock of the initial meme wave and how ridiculous some of the late 2021 consumer sector IPOs were (I'm looking at you, Rent the Runway (RENT) and Sweetgreen (SG)!).
On the personal front, I'll never forget the deafening roar coming out of my daughter when she played Roblox with her friends. A better case for noise-canceling headphones has never been made!
On a bittersweet note, 2021 will always be the year I lost my little chihuahua Prince...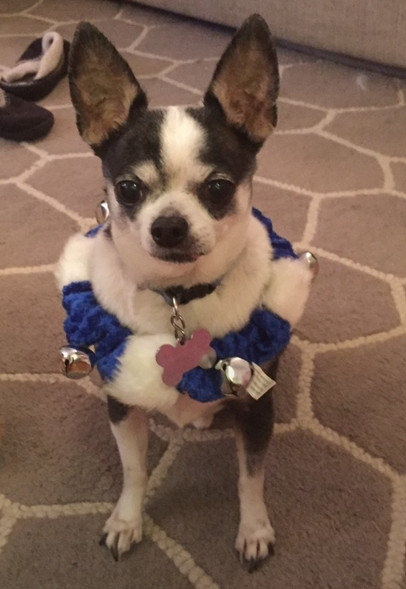 I miss you, little buddy!

That's a wrap for me for 2021...
The Empire Financial Research offices are closed tomorrow and Monday in observance of the Christmas holiday, so we'll be running a series of guest essays in Empire Financial Daily starting Tuesday, December 28. I'll be back with my Empire Financial Daily essays and the mailbag on January 3.
I wish my readers a wonderful and safe finish to 2021 and start to 2022. It's my privilege to write for you.
Let me know what you'll remember most from 2021 – from the markets, the news, or life in general. What are you grateful for this year? And what's on your mind for 2022? Are you bullish, bearish... or something in between? Share your thoughts on these topics or what you want to read about in 2022 in an e-mail by clicking here.
Happy Holidays and Best Wishes for a Prosperous and Healthy New Year,
Berna Barshay
December 23, 2021