► Halloween during a pandemic threatens to be more trick than treat…
It's October, so expect to see a deluge of articles asking the question, "Is Halloween Canceled?"
A pandemic that has caused public health officials to warn against large gatherings and encourage social distancing and the minimization of face-to-face contact with strangers isn't the most conducive to trick-or-treating.
The Centers for Disease Control and Prevention ("CDC") has even categorized "participating in traditional trick-or-treating where treats are handed to children who go door to door" as a "higher-risk activity." The public health agency also deemed trunk-or-treat events "where treats are handed out from trunks of cars lined up in large parking lots" as "higher risk."
The CDC went on to be an even bigger buzzkill by advising against indoor costume parties and haunted houses. None of this is surprising given what we know about COVID-19 transmission… but it's still a bummer.
As an alternative, the CDC suggests a bunch of "lower-risk activities" that mostly center around yet more self-isolation, like carving pumpkins with your family, decorating your house, and watching Halloween movies at home. Borrowing from Easter, distanced scavenger hunts for candy are another option on the menu. The CDC also suggests having a virtual Halloween costume contest. Zoom Halloween, anyone?
Acknowledging that we're not quite there yet with virtual candy consumption, the CDC does offer some suggestions for "moderate-risk activities," including socially distant, six-feet-apart costume contests and parades with protective masks, outdoor socially distanced Halloween movie nights, and one-way trick or treating, in which "individually wrapped goodie bags are lined up for families to grab and go while continuing to social distance (such as at the end of a driveway or at the edge of a yard)."
I'm personally opting for a lot of these "moderate-risk activities," including the one-way trick-or-treating and a showing of Hocus Pocus at the local drive-in. Halloween is my favorite holiday, and I refuse to cancel it this year (nor do I want to suffer the wrath of a certain seven-year-old in such a scenario).
And there are a lot of companies out there who are surely hoping that other families make a similar decision to ours…

Halloween is big business…
According to the National Retail Federation ("NRF"), Americans spent around $9 billion celebrating Halloween last year. About 172 million people, or half of Americans, reported celebrating the holiday, and the average spend was just over $86 per person.
Halloween is one of the most widely celebrated holidays because it isn't associated with one particular religion, it's beloved by children (and plenty of adults), and who doesn't like candy?
The gateway to celebrating Halloween is buying a few bags of candy – something that costs less than $20 – which about 95% of Americans do every year. This makes Halloween one of the cheaper holidays to celebrate, and, along with nagging children and grandchildren, drives widespread participation. Candy accounts for slightly less than 30% of Halloween spending.
The pricier part of Halloween is costumes… According to the NRF, 67% of Americans spend a total of more than $3 billion on them each year, and they account for about 35% of Halloween spending.
(Fun fact: The pet costumes category is one of the fastest-growing parts of the Halloween economy, with millennials driving the spike in hot dog, pumpkin, and bumble bee outfits for Fido. It's a half-a-billion-dollar business… and last year, 17% of millennials bought a pet costume.)
Other big pieces of the Halloween economy include home décor, as anyone who has ever visited a HomeGoods in September or October can confirm. Halloween decorations are a $2.7 billion business – as big as Halloween candy.
A good or a bad Halloween can often foreshadow the strength or weakness of the all-important holiday season for retailers, when about 15% to 20% of annual sales occur in the month between Thanksgiving and Christmas.
The complications around Halloween this year may make the holiday a hazier indicator than usual for what's down the pike for retail. Right now, the NRF is expecting consumer spending on Halloween to fall 8% this year… but really, it's anyone's guess.

What does a potential reduction in trick-or-treating mean for candy makers?
According to research firm IRI, Halloween candy sales were up 13% in the four weeks ending September 16. Despite the glaring lack of office candy bowls this fall and the uncertainty over trick-or-treating, so far, the candy is moving.
This should come as a big relief to candy giants like Hershey (HSY), Italy's privately held candy giant Ferrero – which owns Nestlé (NSRGY) products in the U.S. – and Mondelez (MDLZ).
Halloween makes up 13% of annual candy sales in the U.S. It's the largest holiday for the candy industry by far, 1.5 times the size of the Christmas confectionary business and almost 3 times as big as Valentine's Day.
Privately held Mars Wrigley even gives the president of its U.S. operations the title "Chief Halloween Officer" from July through October. According to CNBC…
The holiday is so significant for Snickers maker Mars Wrigley that it starts planning two years in advance, working with retailers on emerging trends and new flavors. The privately held company began pivoting its plans in March.
After spring lockdowns made for a tough Easter candy season, manufacturers have started to get out in front of the challenges… which is why you might have seen prominent Halloween candy displays go up at your local supermarket or drugstore well before Labor Day this year.
While it may seem that holiday marketing starts earlier every year (last year, I noticed a lot of Christmas stuff out before Halloween), the pumpkins, ghouls, and candy bags definitely hit about three weeks earlier than usual this year.
Mondelez and Hershey seem unfazed – both companies predict that their sales will be up this Halloween season. Hershey even told CNBC in mid-September that Halloween sales were up a massive 21% in the prior six weeks.
With people eating out less, they're buying more groceries – which is giving a boost to the candy makers. The pandemic has also created a bull market for home indulgences, which would include candy, since you need to grab the fun where you can.

One company that may not fare as well is privately held Spirit Halloween…
The company only operates stores from late August through early November, and its pop-up shops are notoriously crowded, and its inventory picked-over.
The company has decided to open as usual but could be hurt by the likely cancelation of adult Halloween parties – which typically occur indoors and often in venues like bars, which may not even be open right now. Yet as of mid-September, things looked OK… Spirit Halloween CEO Steven Silverstein told the NRF in September that sales so far were on par with 2019.
Party City (PRTY) gets about 20% of its annual sales from Halloween and is another company to keep an eye on.

The pandemic will change Halloween, but can't cancel it…
I admit full bias here… I love Halloween, and always have. I dressed up for Halloween parties well into my 30s, and since becoming a mom, great effort has gone into coordinated family Halloween costumes, often including – yes, I confess – dog costumes.
One tradition our family won't be able to keep up this year is the annual pilgrimage to the Walt Disney World Halloween party – which Disney (DIS) canceled this year, along with its holiday parties, which usually happen in November and December…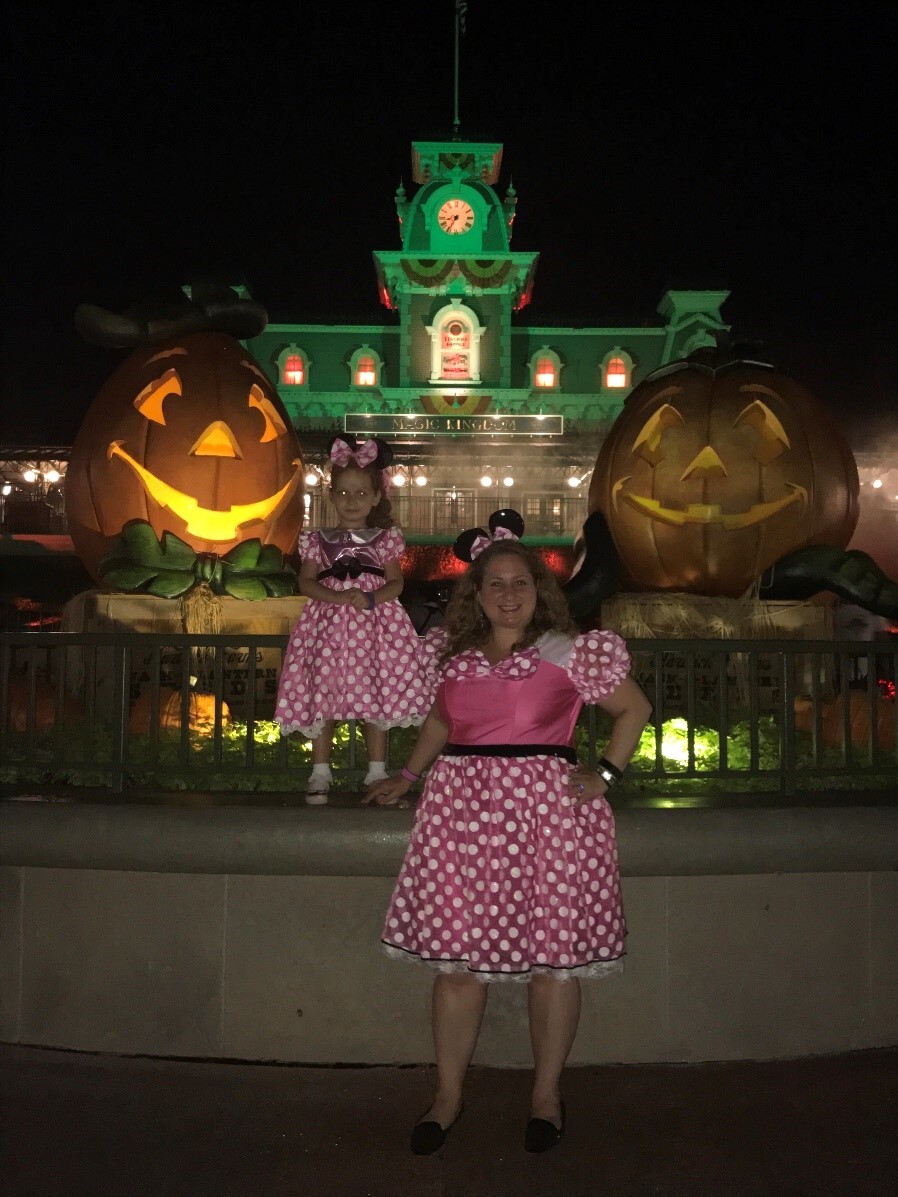 Knott's Berry Farm and Comcast's (CMCSA) Universal Studios have also canceled their Halloween parties – a blow for the Universal Studios theme parks, where the Halloween Horror Nights drove a 30% jump in theme park revenue during the 2019 Halloween season.
While some traditions may change, I plan to figure out a safe way to give out candy, and at least part of what I don't spend on travel or throwing a party will surely be redirected to decorations and holiday-themed home items.
I agree with Christopher Gindlesperger, the senior vice president of public affairs at the National Confectioners Association, who said, "people are going to have to get creative this year, but that doesn't mean they have to sit this year out."
As Spirit Halloween's Silverstein told the NRF…
The magic of Halloween is transformative. We need this now more than ever. It brings sheer fun and joy for families, especially for the kids. That is the beauty of Halloween – it's stress-free and designed to be outdoors. It's a celebration and opportunity to transform into whoever or whatever you want to be.
For the sake of TJX Companies' (TJX) HomeGoods, Target (TGT), Five Below (FIVE), Spirit Halloween, and a slew of other retailers and candy makers, I hope I'm not alone in my quest to spend my way into a socially distanced – but decidedly not canceled – Halloween.
I've recommended Mondelez – the maker of Swedish Fish and Sour Patch Kids – in the past. It's up 12% since my July 10 Empire Financial Daily write-up, and I still like the stock as a Halloween – and year-round – play.
However, I remain skeptical in general of candy corn – particularly this new version for 2020… Turkey Dinner Candy Corn, complete with green bean-flavored pieces.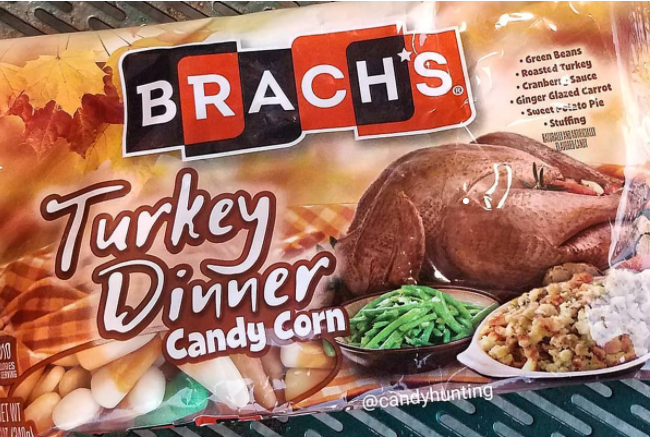 Source: Taste of Home

In today's mailbag, readers react to recent pieces on Amazon's (AMZN) Luxury Stores launch and the 'K shaped' economic recovery, plus a Tesla (TSLA) fan…
For those of you that plan to celebrate, what will change about Halloween plans this year? Will you trick-or-treat with your kids or grandkids? Is anyone going to try that nasty-sounding Turkey Dinner candy corn? Let me know at [email protected].
Take the Empire Financial Daily Halloween quiz here! I want to know your favorite candy!

"Hello Berna, thank you for your article.
"I find it very ironic that Amazon is trying to sell luxury items online. It's because it has such a bad reputation for selling counterfeits from China and other countries. Birkenstock and Nike, though not luxury brands, have pulled their items from Amazon several years ago. Amazon knows about this problem but seldom does anything to stop it.
"Thank you for your insightful articles and keep up the good work!" – Mary C.

"I've purchased many clothes items from Amazon, but the one I remember best was a rather nice tuxedo, with dress shirt, studs, bow tie and cummerbund. I needed it quickly for an appearance in a live concert, and getting to a department store – over a 9,000 mountain pass in winter – was going to be tough. It worked out perfectly, and I still wear that tuxedo on the rare occasions today when I need one." – Daniel F.

"I rented a Tesla 3 for a day and loved it Very sporty and great software" – Terrence K.

"I'm surprised to read that Fast Company thinks 10% of the households hold 84% of the stock market. Seems like they're ignoring the portion that is held by pensions, which if memory serves is multiple trillions of dollars. I'll have to go look it up.
"I am also surprised that the impact of low interest rates on pensions get so little attention. As you highlight when you go through the math for an individual, the non-bond portion has to return more as rates drop to make up for the lack of return in bonds. That's why you see pensions directing more money into 'alternate asset classes.'
"The alternative is to save more money to begin with to generate more income. In the case of the pensions, 'saving more money to begin with' means more contributions from the sponsor. If it's the pension for General Dynamics, that means lower profits. If it's the California State Teachers Retirement System, that means higher taxes across California. An additional dollar sent to Sacramento is one that doesn't get spent somewhere in the economy – the pension puts it in some asset somewhere.
"So low rates, whether you think they are engineered by the Fed or not, have the effect of siphoning more money out of the economy and sending it into investable assets. The lower rates go, the more money you feed into investable assets, driving prices up (and yields down) and future returns lower." – Jeff M.
Berna comment: Jeff, the 84% of all stocks being held by the top 10% of households includes pension plans, 401(k)s, and IRAs. The ultimate interests in those pension plans and other retirement vehicles are concentrated with wealthier households as well. Here's a second source on this: from the New York Times in 2018…
A whopping 84% of all stocks owned by Americans belong to the wealthiest 10% of households. And that includes everyone's stakes in pension plans, 401(k)'s and individual retirement accounts, as well as trust funds, mutual funds and college savings programs like 529 plans.
I agree with you that perennially low interest rates are a problem for not only individual retirees, but any institution that is managing money to fulfill fixed future obligations – such as the pension funds you mention, as well as college endowments and charitable foundations.
The low rates are causing funds to funnel more into higher-return asset classes like equities, and as you mention, alternatives. This in turn is as you say is driving up the prices of investable assets, as we see with the multiple expansion in the S&P 500 Index and individual stocks.
Even in the land of alternatives, private-equity multiples are substantially higher than they were prior to the 2008 to 2009 financial crisis, which was the birth of zero interest rate policy ("ZIRP") on a broad scale, outside of Japan.
Regards,
Berna Barshay
October 1, 2020