1) Both the S&P 500 Index and Tesla (TSLA) hit all-time highs yesterday. I don't know which is more astounding…
Regarding the former, the S&P 500 has now soared 55% from its intraday low less than five months ago on March 23. I'm proud to say that part of my subject line in my daily e-mail that very day was, "Why this is the best time to be an investor in more than a decade," and I wrote of the free webinar my colleague Enrique Abeyta and I were hosting the next day:
I've given hundreds of presentations over the years, including many in which I warned investors about the great financial crisis long before the storm hit.

But I think this presentation is the most important of my life…

During the webinar, we'll explain, in great detail, why we've come to the firm conclusion that this is the absolute best time to be an investor in more than a decade. To borrow a phrase from one of my friends, "we're trembling with greed" right now.
That said, I didn't predict such a fast recovery to new highs – I thought it would take until the end of 2021 – and can't think of anyone who did. In fact, I conducted a survey of my readers 10 days before the bottom on March 13, asking the following question:
When do you think the S&P 500 will close higher than its February 19, 2020 peak of 3386.15 (this would require a rise of 36.4% from its close on March 12)?
I received 845 responses, broken down as follows: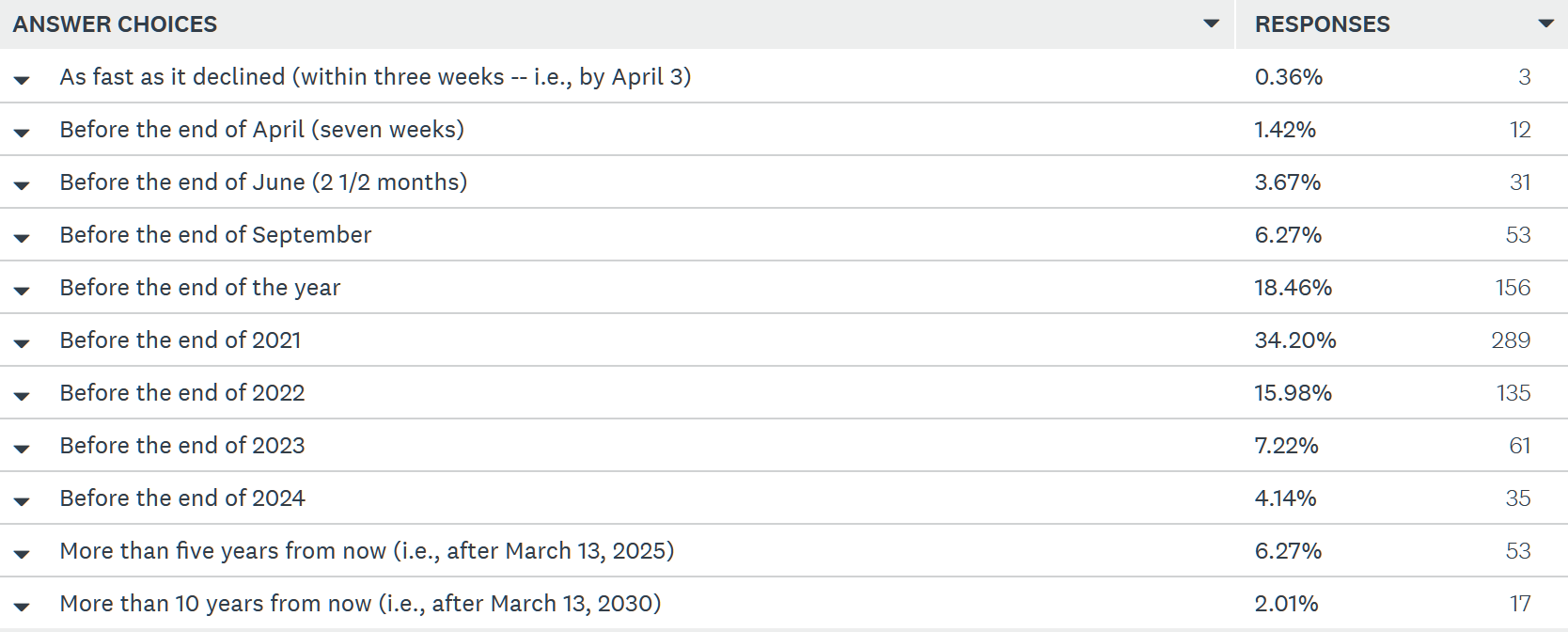 Fewer than 12% of respondents guessed earlier than the end of September, and the median guess (including mine) wasn't until the end of next year.
Even after the big rally had started, there was still widespread skepticism. On April 13, with the S&P up 26% from its low only a few weeks earlier, I sent out another survey asking:
On March 23, 2020, the intraday low for the S&P 500 was 2,191.86. Do you think this will be the low for the year?
Of the 878 people who replied, 56% answered "No."
So much for the wisdom of crowds… (which, by the way, is a great book, by James Surowiecki).
2) What explains such an astonishing move? As the New York Times' Andrew Ross Sorkin explains:
As irrational as it might seem, here's the way investors rationalize the bullish stock market to themselves (we'll only find out whether they are right or wrong in the future):

1. The stock market is forward-looking: Investors are betting on what the world and the economy look like in 12 to 18 months from now, not what they look like today, tomorrow or this fall.

2. The big get bigger: Much of the stock market's success has been the result of a run-up in value for a few big technology companies – including Apple, Amazon, and Microsoft – that make up a large share of the index. And retailers like Walmart and Home Depot are growing in part because small businesses have closed, allowing the bigger companies to take even more market share.

3. Betting on a vaccine: Given the daily headlines about the potential for a vaccine, investors want to be invested in the market when the news comes that there is a genuine vaccine, on the assumption that it will send stocks even higher.

4. The only game in town: With the Federal Reserve planning to print money for the foreseeable future, investors don't want to be in cash or bonds, which are steadily losing value. So where else can they put their money? The stock market has become a default.

5. Help from Washington: As dysfunctional as Congress has proved to be, investors are betting that Republicans and Democrats will find a way to keep plying the economy with stimulus. (Anecdotal stories suggest some Americans have even taken their $600 unemployment checks and invested them in the stock market.)

Of course, all of these rationalizations don't take into account the possibility of a terrible second or third coronavirus wave, a delay in the discovery of a vaccine, a constitutional crisis come the election in November, runaway inflation, the prospect of higher taxes to pay for the stimulus, a more significant trade war with China, or the dozens of other risks that seem to be bubbling just below – and in some cases on – the surface.

In the meantime, happy trading!
3) Meanwhile, Tesla is up 351% this year, from $418.33 on December 31 to yesterday's close at $1,887.09… giving the company a mind-boggling market cap exceeding $350 billion.
I've never seen anything like it (and continue to breathe a sigh of relief that I told my readers on October 24 – when Tesla was trading for less than $300 per share – that it was no longer a good short after the company surprised investors by reporting a profitable quarter).
But not every short-seller listened to me. As this Institutional Investor article notes – 'The Longest Unprofitable Short I've Ever Seen' – those shorting Tesla's stock have lost more than $21 billion this year! Excerpt:
On July 20, Tesla did something that no company had ever done before: It saw the volume of bets made by its "haters" – the term co-founder Elon Musk uses to describe investors who bet that the electric-car company's stock will fall – cross $20 billion.

To this day, those bets are a painful reminder that the "haters" have been consistently wrong. The company's shares sped to a new high on August 17 – rising 11 percent from the record set the previous day of trading – to close at about $1,836 each. Their climb continued Tuesday to an unprecedented $1,887.

"It's a picture of the perseverance of the short-sellers that are left," says Ihor Dusaniwsky, managing director of predictive analytics at S3 Partners, a financial-analysis company that shared data with Institutional Investor. The magnitude of losses short-sellers have endured is "just absurd," he says, compared to bets against other companies, with Tesla "by far the longest unprofitable short I've ever seen."

Yet Dusaniwsky saw no mad rush for the exits as Tesla's shares skyrocketed almost 300 percent on the year to close at a then-record high of $1,643 on July 20. With the company's market value soaring past price targets set by Wall Street analysts, he says, "it's by far and away the largest short."
My view on the stock hasn't changed since I last wrote about it in my July 23 e-mail:
I'm not pounding the table that Tesla's stock is a great short here. On the fundamentals, the company has a big lead in multiple enormous emerging markets, making this a very open-ended situation. Plus, to their credit, CEO Elon Musk and his engineers have consistently achieved things I wouldn't have thought possible. And, as for the stock, the cult around it is unlike anything I've ever seen.
(If you wish to join my Tesla e-mail list, simply send a blank e-mail to: [email protected].)
4) It's feast or famine out there.
Most companies have gotten hammered by the pandemic and resulting lockdowns… but some are benefitting immensely, like Target (TGT) and Lowe's (LOW). I don't have an opinion on their stocks, but they just reported astounding second-quarter earnings results.
Target's same-store sales were up 24.3%, the fastest pace in the retailer's 58-year history – crushing analysts' estimates for a 5.8% increase. Meanwhile, Lowe's reported 34.2% comps, more than double estimates of 16.3%. Wow…
5) My parents have lived in Kenya for the past 15 years and are now retired there. Every summer, they come back to the U.S. for a couple of months, mostly staying at our extended family's house on Lake Sunapee, New Hampshire.
This year, it's no surprise that they had trouble confirming flights to the U.S., despite having bought tickets in February. The first two reservations in late July and early August were canceled (presumably due to lack of passengers), but they were finally able to fly out on Sunday from Nairobi on Lufthansa through Frankfurt in Germany, and landed at Boston's Logan International Airport yesterday afternoon.
My immediate family and I are spending the month at the family lake house as well, so I drove down to pick them up and bring them back here. It was wonderful to see them! Here's a picture of all of us this morning: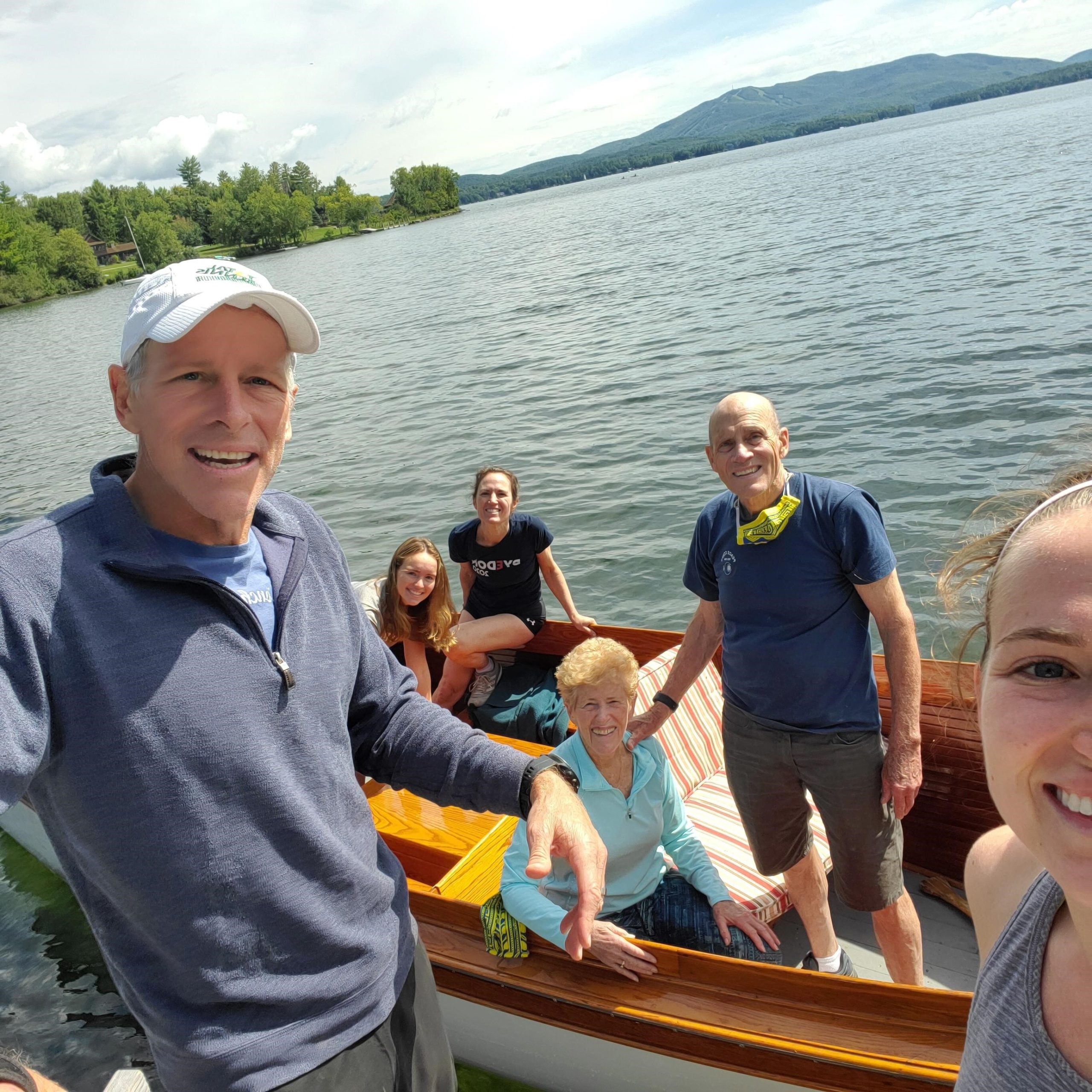 (For you antique boat lovers, that's a 1906 Fay & Bowen.)
They said both flights were roughly 75% full. The Frankfurt airport had about half of the usual crowd (though it was very early in the morning), but the international terminal at Logan was a ghost town. At 4 p.m. on a Monday afternoon, no shops were open… and my parents' flight was the only one on the baggage claim board!
Both on departure from Nairobi and on arrival in Frankfurt, they had their temperatures checked and filled out health forms. When I asked what kind of precautions they observed the U.S. taking to ensure that they weren't carrying COVID-19 into our country, they said those were minimal.
Before they were allowed to board their flight in Frankfurt, they had to complete an online form that Massachusetts required, asking about their general health and contact information while in the U.S. In addition, on the flight, they filled out a one-page form that asked for similar information and handed it to some college kids who were manning a table as they entered the terminal.
Otherwise, it was just like every other time they'd come to the U.S., as if there was no global pandemic. Nobody took their temperature, inquired whether they had any symptoms or what their plans were to quarantine, or asked for proof of a negative COVID-19 test (much less administered one on the spot – see below).
It is so shocking – yet totally par for the course (at least our course!) – that, six months into the pandemic, we can't get even the most basic stuff right…
In contrast, friends of ours recently flew to Japan and told us that it took four hours of something just short of the Spanish Inquisition before they were allowed to leave the airport. As part of the extensive screening, each was given a COVID-19 test in which they spit into a test tube, and results came back almost immediately (they had not yet passed through immigration, so anyone who tested positive would not have been allowed into the country).
While Japan has rolled out the latest saliva-test technology, our testing system is so backlogged as to be almost useless. This article in today's Wall Street Journal highlights how we botched development of a COVID-19 test in the critical early days, leaving us blind as the virus spread unchecked: What Derailed America's COVID Testing: Three Lost Weeks.
Best regards,
Whitney