► Friday was a brutal day in retail news…
The morning started with an April retail sales report that was literally off-the-charts bad…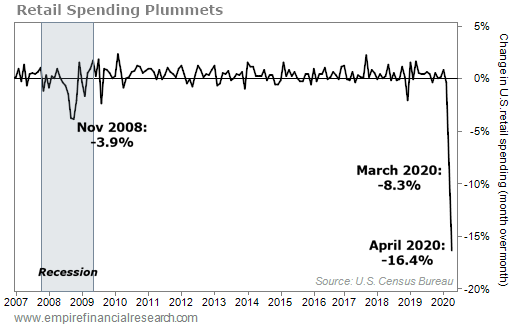 On a month-over-month basis (comparing April 2020 with March 2020), retail sales fell more than 16%. For context, the greatest month-to-month drop-off during the 2008/2009 financial crisis was 4%. On a year-over-year basis compared with April 2019, things were even more dire… with sales off 22%.
One of the bright spots in the report was the grocery store number, up 12% year-over-year as people ate at home more… but down sequentially from March (negative 13%) as food stockpiling seems to have abated a bit. Home improvement retailers were a standout, with sales up 0.4% year over year, and down just 4% from March. One surprise on the necessities front: drug stores were down 15% sequentially and down 10% year-over-year.
Among the most battered retail segments were clothing and clothing accessories (down 89% year-over-year), furniture stores (down 67%), and department stores (down 47%).
Investors had been bracing for a poor retail sales report, but this news was even worse than feared. Going into the report, estimates were for a 12% drop in the headline number, versus the 16% collapse.
► Later on Friday, department store J.C. Penney (JCP) filed for bankruptcy…
While the 118-year-old retailer's problems long predated the coronavirus, the crisis presented additional challenges that complicated its future outlook.
Usually a large retailer in distress, like J.C. Penney now, would file a Chapter 11 pre-packaged bankruptcy with the support of its main creditors. Then, it would look to re-emerge as a public company after the benefit of breaking unwanted leases and employment contracts.
In a conventional strategic retail bankruptcy, J.C. Penney would restructure and emerge from its reorganization with a smaller footprint but more solvent. But several industry insiders think this could be the end of the road for the storied chain. As Michael Gould, former chairman and CEO of upscale department store Bloomingdale's, told trade magazine Women's Wear Daily in this morning's issue…
I really wish Penney's is successful – absolutely. Just think about the thousands of employees there… But I don't think Penney's has a viable future in retail. I have felt this way about Penney's for three years, since way before the terrible coronavirus.

They don't have the capital to drive the redo of stores, to compete online. The business would go to Kohl's, Macy's, TJ Maxx, and places like that. It's very dismal for them, and I don't think they are integral to the vast majority of malls around the U.S.
Those who think J.C. Penney can survive advise the retailer to lean hard into offering customer service, as a way to differentiate from e-commerce players and off-price retailers like TJX Companies' (TJX) TJ Maxx.
Looking at the safety constraints that Macy's (M) has mandated for its store reopenings indicates that adding customer service may be nearly impossible in the short term. Macy's is eliminating alterations, product testing at beauty counters, and bra fittings… These are some of the highest added-value services a department store can offer.
► After a catastrophic April sales report for apparel, this is a contrarian place to seek future growth online…
Revolve (RVLV) is a site that sells relatively high-priced, fashion-forward clothes designed for parties, travel, and (music festival) Coachella.
The online fashion company, which targets Gen Z and millennial customers, provided a surprisingly upbeat outlook when it reported first-quarter earnings on Wednesday. Revolve, which had been enjoying 20% sales growth for the first 11 weeks of the year, noted that its sales for the last two weeks of March had been cut in half.
But each week since then has shown sequential improvement… and as a result, sales in the first 10 days of May were down only 25%. While a decline like that is nothing to cheer about, Revolve was confident that the pandemic has not affected its long-term prospects.
The company has a unique business model that involves sending free clothes to a select group of Instagram fashion influencers and throwing parties where they can model their new duds. Revolve drives traffic to its site and interest on a product level through its own Instagram account, as well as the posts and stories of its influencer partners.
This clever model has driven excellent growth while keeping marketing expenses in check… but with influencers grounded from travel – and all parties, concerts, festivals, and clubs canceled and likely to stay that way for a while – Revolve has had to reinvent its formula.
Influencers are focused more on cozy, at-home posts and have showcased how they dress for working from home and a date night in… but despite marketing ways to dress up to stay in, Revolve is admittedly selling fewer dresses and more elevated, fashionable sweat suits now.
Co-founder and co-CEO Michael Mente remained upbeat because his digital, data-driven company stands to benefit greatly from the accelerated shift to online sales. He explained to analysts on Revolve's earnings call…
Our brand connection with customers continues to grow stronger, and we believe the pandemic will further accelerate the shift to consumer spending online… 2020 is anything but a normal year. The concept of online shopping has never been more relevant than today. We believe there will be an acceleration of e-commerce that is benefiting capital-efficient companies like Revolve.
While things are admittedly not great right now at Revolve, the company offered some "green shoots" and displayed some executional prowess by reporting inventories up only 4% at the end of quarter.
The sudden store closures at the exact moment that most retailers would have been at or near peak spring inventory left many retailers overloaded. Many will have to hold unprofitable "fire sales" for their spring season merchandise to raise cash to pay for fall and holiday merchandise.
Revolve management's relative optimism doesn't seem entirely unfounded. Despite horrible headlines for overall apparel sales – which brick-and-mortar retailers still dominate – we can still see signs of life in online fashion shopping…
E-commerce software company Nosto reports that after a decline of 30% in March, global fashion online revenue swung to a 21% increase in April.
Additionally, marketing technology software company BounceX noted that open rates for marketing e-mails from retailers are running 40% higher now than pre-COVID. Maybe it's because people have more time on their hands… or maybe they can be tempted into shopping with the right promotion or product.
Revolve was a much-hyped initial public offering ("IPO") last summer – the rare retail "unicorn" (a startup valued at more than $1 billion). The stock nearly doubled on its first day of trading and was up more than 160% two weeks into its life as a public company.
But since then, the wind had come out of its sails, even before the virus surfaced…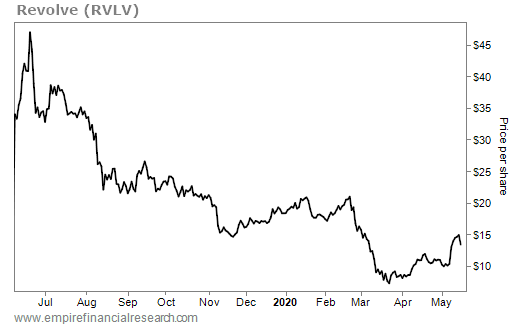 With RVLV shares roughly 25% below the IPO price – and the company trading under 2 times enterprise value ("EV") to sales, with a $950 million market cap – Revolve could be an interesting speculative buy for investors with a long-term investment horizon and a high enough risk tolerance for small caps.
The company's unique business model, proven digital and social marketing prowess, loyal customer base, and 100% online presence leaves it in a strong position to navigate the post-coronavirus retail landscape.
► Vogue just identified fashion's 'breakout trend of the summer'…
And it's… a mask that matches your outfit, as sported by supermodel Cindy Crawford in an Instagram post last week: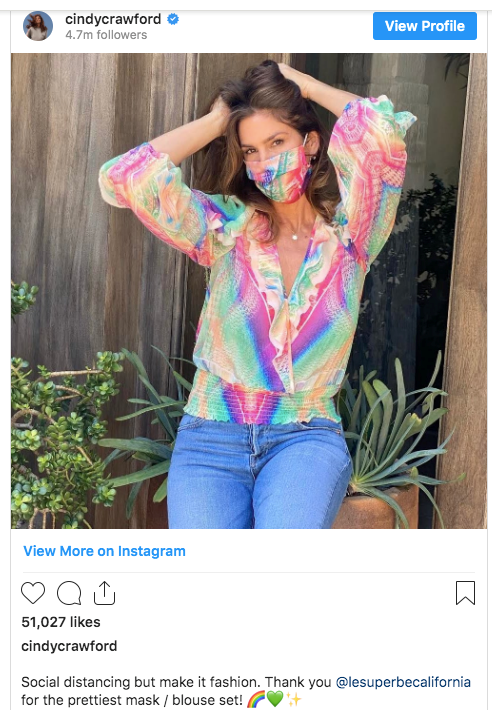 Source: instagram.com/cindycrawford
As Vogue explains…
In some ways, this trend feels inevitable. Fashion is built on creatively revising necessities. The fashionable mask takes a public good and turns it into an individual statement…

It also seems unlikely that we'll see the same kind of summer trends we've seen in years before. But there's one piece of fabric that most people will need to wear, and that's a mask. Why not make it a total look?
► In today's mailbag, readers weigh in on some recent topics…
Do you still shop regularly at department stores? If so, which ones? Will you be sad to see J.C. Penney go if the company liquidates? I'd love to hear your thoughts – send an e-mail to [email protected].
► "Hi Berna, Am enjoying your daily emails. I was in the restaurant business for many years. Now I am a full time investor.
"IMO, these dire predictions of 80% failure of independent restaurants is way off the mark. By far the largest cost of opening a restaurant is the build out. Other than build out, restaurants need very little working capital. That's why Fully built out restaurants are extremely attractive to restauranteurs. Once we get past the period of limited capacity, most closed restaurants will reopen. Some no doubt will be with new owners and a new chef but I think many will reopen with the prior owner/chef. I think most landlords will work with their tenant to make an economically sensible deal in the interim limited seating period; it's not as if another restaurant could pay a higher rent with the same capacity rules.
"Bottom line, people love to eat out. The human talent will still be around. Fully built restaurants are ready to reopen one way or the other." – Simon J.
► "Everyone is upset with [Uber's] extortionary rates. Local companies are setting up to compete. Not to mention what happens 'down the road' when there are self driving vehicles." – Richard Z.
► "Why wouldn't Spotify do what Netflix does? Their biggest expense is royalty. They could hire songwriters and get musicians to record them–reduce their royalties over the long term. Or hire a great artist, like a Nike athlete, for streaming only – let the artist keep the touring business. If it's must have music, it drives subscription revenue. Spotify gets instant feedback when they slip a song into the stream because users can give them the thumbs up or thumbs down." – Chris H.
Berna comment: We've heard rumors that Spotify Technology (SPOT) will do this, but it's easier said than done. Established artists are locked into long-term contracts… and when they turn over, they tend to be very expensive.
Spotify might do better by signing young up-and-comers, but music is a crowded space. With millions of songs on Spotify, it's hard to break out. The big three music publishers have a long history and well-established tactics for promoting new artists. And even with their expertise, they have plenty of flops. Of course, Spotify can use its real estate on the app to promote artists, and that may very well work… but it wouldn't be a strategy likely to produce meaningful immediate results. It would take lots of spending and slow build over many years to make a dent in the big three, who supply 87% of the plays on Spotify now.
Regards,
Berna Barshay
May 18, 2020